Check out Decks Unique - Wyandanch's Exceptional Deck Building Professionals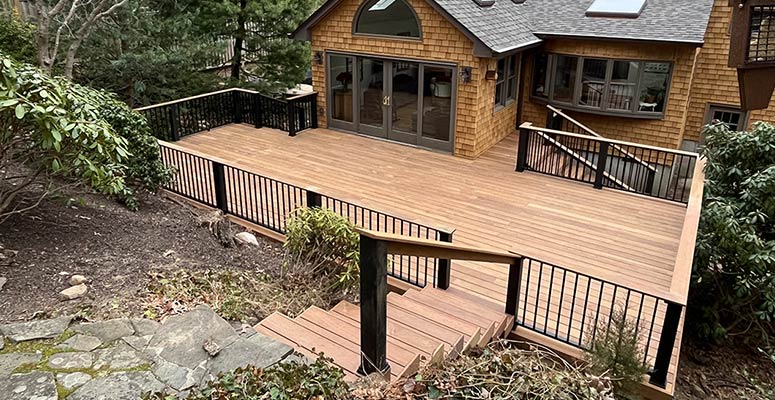 Decks Unique, a family-run business specializing in custom deck design and construction, has been serving the Long Island community and surrounding regions, including Wyandanch, for more than two decades. Our zeal for design and unwavering commitment to professionalism, truthfulness, and innovation have propelled us to become the top provider of high-quality decks on Long Island, setting precedence within the industry. We specialize in designing and building custom decks, porches, gazebos, pergolas, wood awnings, and other outdoor structures that add value, beauty, and functionality to your Long Island home.
Deck Building Services with Expertise and Experience in Wyandanch
Decks Unique advocates that a meticulously designed deck is a sound investment when evaluating home improvement options. Our proficient group of skilled deck craftspeople prioritizes first-rate quality, adheres to streamlined production timelines, and lets you rest assured knowing our warranties carry lasting worth. Our devotion to superior standards has led to innumerable content clients and decks they can happily display for the foreseeable future.
Our Long Island decking crews are accredited to fit all primary composite deck options, such as Trex, TimberTech, and Azek. We present free home evaluations and computerized decking layouts to enable you to picture your project before it becomes reality. Choose your backyard as the focus of our next enterprise!
Boost Your Home's Worth with a Personalized Deck
A great deck not only enhances the outdoor living space of your Wyandanch home but also adds significant value to your property. We, at Decks Unique, focus on the development and creation of bespoke decks that address the specific requirements and tastes of each client. If you want a casual space for hosting gatherings or an upscale oasis to soak up the beautiful weather, our professionals will diligently work alongside you to realize your vision.
We appreciate that every homeowner has distinct preferences and needs for their outdoor environments. This is the reason we present various materials, styles, and characteristics to craft the ultimate deck that suits your house and lifestyle. From standard wood options like pressure-treated lumber, cedar, and redwood to the easy upkeep of composite and PVC decking, we provide the right answer to accommodate every budget and personal taste.
Unparalleled Commitment to Quality and Customer Satisfaction
Decks Unique aims to excel in workmanship quality and customer satisfaction. Utilizing premium materials and employing accomplished builders allows us to uphold the highest standards in every project we handle.
In our view, clear communication is essential to a project's success, and we're committed to keeping our clients up-to-date at every stage. Our reliable team is there for you, from the initial consultation and design brainstorming, through the construction journey, and even after the final review, to make sure all questions are answered, fears are addressed, and your satisfaction with the new deck is undeniable.
Allow Decks Unique to create a beautiful outdoor living area in your Wyandanch backyard. Message us today to secure a free consultation and experience the exceptional Decks Unique service.
In-depth Decking Assistance in Wyandanch
At Decks Unique, our goal is to offer a vast selection of tailored decking services, tailored to meet the needs of our Wyandanch clients. Our proficiency extends from designing and constructing tailor-made decks to managing repairs, maintenance, and refinishing tasks. Decks Unique also offers an assortment of standout features and add-ons to improve and elevate your outdoor living area. Now, let's examine our wide variety of services more closely.
Custom Deck Design: Creating the Perfect Dream Deck for You
Our proficient deck designers will partner with you to develop a bespoke deck that embodies your personal preferences, augments your home, and fulfills the distinct requisites of your property. With the purpose of helping you make smart decisions, our experts will navigate you through choosing materials, securing a long-lasting and beautiful result that stands the test of time.
Top-Notch Deck Construction: High-Quality Craftsmanship for a Beautiful Outdoor Living Space
As the preeminent deck builder, our commitment is to use solely premium materials and execute safe, effective workmanship. Our expert staff are certified installers of top composite decking brands, such as Trex, TimberTech, and Azek. With extreme care for details and keeping structural sturdiness in mind, we ensure your deck is not only visually stunning but also built to last.
Deck Upkeep and Restoration: Guarding Your Investment
To keep your deck beautiful and functional, regular maintenance is essential. When it comes to wood or composite decks, our committed team covers all aspects of repair and maintenance. Our services range from comprehensive inspections to pinpoint potential problems, to expert repairs for weather or wear damage, ensuring we're the ultimate solution for all your deck maintenance needs. Our planned maintenance plans offer reassurance, ensuring your deck stays in top shape throughout the entire year.
Deck Refinishing and Restoration: Renew Your Outdoor Oasis
Eventually, even the best quality decks might display signs of wear and might need refinishing to preserve their look. Our expert group can recover your deck's beauty with the help of professional cleaning, staining, weatherproofing, and sealing services. Besides, we can execute structural adjustments, assuring that your deck maintains its safety and functionality in the years to come.
Adapted Facets and Complementary Elements: Optimize Your Deck Satisfaction
In order to uplift your outdoor living space, we extend a series of personalized features and additional components aimed at boosting your deck. Some of the options are energy-efficient light fittings on decks, internal seating, exterior cooking areas, and fire-inspired features. By blending these factors into your deck's design, we fashion a hospitable and cozy setting for you to relish alongside your loved ones in Wyandanch.
Providing top-notch decking solutions to clients and nearby areas is a specialty of Decks Unique. In our 20 years of experience, we have garnered a reputation for being professional, sincere, and inventive. Should you need assistance in designing a new deck or improving a current one, our competent team has your back. Connect with us today to set up a no-charge consultation and learn how your outdoor space can become a gorgeous, practical escape.
Track Down the Best Deck Material for You: Weighing Wood and Composite Options
At Decks Unique, we are committed to helping you create the perfect outdoor oasis for your home. This is the reason we provide an extensive array of decking materials, encompassing wood and composite selections. Each of the materials has its own merits, helping you to decide on the top option that matches your distinct demands and inclinations.
Wood Decking Offers Timeless Elegance
Wooden materials possess a lasting, adaptable nature that grants a sense of comfort and allure to any outdoor setting. A variety of wood decking options are offered to match each person's style and monetary constraints.
Treated Lumber: Inexpensive and Strong
Pressure-treated lumber is a popular choice for many homeowners due to its affordability and durability. A specific treatment process shields this decking material from decomposing and insect problems. Pressure-treated decks last a long time and necessitate minimal care due to this treatment.
Cedar and Redwood: Nature's Luxury with Built-In Resistance
For individuals searching for a lavish choice, cedar and redwood decking are additionally available. These attractive and upscale woods have innate resistance to rot and infestation, resulting in a long-lasting deck that weathers beautifully. The strong colors and exclusive grain formations of cedar and redwood decks make them a visually appealing complement to any home.
Exotic Hardwoods: Beautiful and Durable
For a truly unparalleled and elegant choice, give some thought to exotic hardwoods such as Ipe, Tigerwood, or Cumaru. Internationally appreciated for their exceptional endurance and dramatic looks, these woods are notably dense and durable. The vivid colors and elaborate patterns of exotic hardwood decks create an awe-inspiring centerpiece for your outdoor living space.
Experience Low-Maintenance Living through Composite and PVC Decking
For anyone interested in an eco-friendly and easy-to-maintain alternative, explore composite and PVC decking. These contemporary materials integrate the appeal of wood and the sturdiness of synthetic elements, endowing homeowners with a largely maintenance-free outdoor living area.
Why Choose Composite Decking: Benefits and Advantages
With a mixture of repurposed wood fibers and plastic, composite decking is a resilient and Earth-friendly selection. The decking material's ability to resist warping, cracking, and fading ensures a gorgeous and durable deck with a low level of necessary upkeep. Cleaning composite decks is hassle-free, as they just need the occasional washing to ensure that the outdoor area stays spotless.
Composite Materials: Industry-Leading Brands
Decks Unique is proud to work with the leading brands in composite decking, including Trex, TimberTech, and Azek. As authorized installers of these exceptional products, we can provide Wyandanch homeowners with the highest quality materials, ensuring a gorgeous and long-lasting outdoor space.
Customize Your Deck with Color and Texture Options
Composite decking comes with the advantage of a plethora of customization options. With a variety of color and texture choices, you can create a one-of-a-kind outdoor space that perfectly suits your home's aesthetic. Any preference for natural wood aesthetics or contemporary designs can be accommodated with the right composite decking choice.
Boost Your Deck's Appeal with Railing and Baluster Alternatives
The ultimate deck won't be whole without the fitting railing and baluster system. At Decks Unique, we offer a wide range of options to complement your deck design and ensure the safety and functionality of your outdoor space.
Wooden Barrier Systems: Timeless and Classic
A wood railing system is worth considering for a classic and ageless look. By integrating a wood railing system with either a wood or composite deck, you can achieve a smooth and consistent design. For a striking finale, customize your wood railing system by painting or staining it to match your deck or the exterior of your Wyandanch home.
Metal and Glass Railing Systems: Fashionable and Uncluttered
Desiring a more current and polished appearance, you might want to look into metal or glass railing systems. Such choices add a modern twist and can elevate the vista from your outdoor space, making them an attractive option for homeowners with striking scenery.
Composite Railing Systems: Low-Maintenance, Aesthetic Appeal
For individuals who desire a low-upkeep solution while maintaining sophistication and elegance, composite railing systems make an ideal choice. The resilient and captivating railings offer a consistent aesthetic when used in conjunction with composite decking, cultivating an exquisite outdoor space with low maintenance needs.
Regardless of your favorite styles, Decks Unique is ready to help you identify the ideal decking components for your household. Contact our team today to share your needs and initiate the planning process for your dream outdoor living space.
Enhance Your Outdoor Living Space with Our Additional Services in Wyandanch
Decks Unique strives to change your outdoor living space into a lavish and efficient extension of your home. Besides our excellent deck building services, we also deliver a wide array of extra services, including wood awnings, cabanas, gazebos, pergolas, and porch construction. Our skilled professionals in Wyandanch work closely with you to bring your vision to life while ensuring the highest quality and durability.
Wood Awnings: Incorporate Style and Shade to Your Outdoor Area
Through wood awnings, you can effortlessly introduce both shade and grace to your exterior area. Our proficient crew at Decks Unique will offer guidance in determining the perfect design and materials for a visually appealing and practical wood awning that goes well with your home's decor. These structures not only protect you from harsh weather conditions but also enhance the overall value of your property.
Cabanas: Construct a High-end Refuge in Your Wyandanch Yard
Combining luxury, comfort, and privacy expertly, cabanas are perfect for enhancing any open-air area. Our expert team will collaborate with you to develop and construct a bespoke cabana tailored to your requirements and desires. Whether you're looking for a comfortable nook to unwind or a sophisticated space to entertain visitors, we can fashion a cabana that becomes your ultimate al fresco getaway.
Gazebos: A Dreamy Addition to Your Garden or Patio Area
A gazebo is a timeless addition to any garden or patio, providing a charming focal point and a shaded area for outdoor relaxation. Our knowledgeable team guides you through the process of choosing the perfect style, materials, and location for your gazebo, guaranteeing harmonious fusion with your existing landscape. Thanks to our masterful craftsmanship, you can delight in a splendid gazebo that boosts the allure of your outdoor space for many years to come.
Pergolas: Boost Your Outdoor Environment's Appeal and Functionality with Architectural Flair
Pergolas provide a superb means of incorporating architectural charm and practicality to your outdoor space. By combining the benefits of shade with the ability to filter in natural light, these structures are perfect additions to garden walks, patios, and open-air dining spaces. Let Decks Unique's knowledgeable professionals plan and build a customized pergola to match your style, and in doing so, increase your home's value.
Porch Construction: Enhance Your Home's Curb Appeal and Outdoor Living Space
A skillfully designed porch not only boosts your home's curb appeal but also gives a welcoming outdoor living space for you and your family to savor. Our seasoned group will join forces with you to execute a customized porch design that suits your home's architecture and meets your purposeful needs. With our comprehensive attention to even the smallest detail and steadfast pledge to premium quality, you can breathe easy knowing your porch assembly project is in proficient hands.
Reach out to Decks Unique to transform your Wyandanch outdoor living space
At Decks Unique, we take pride in providing high-quality, custom outdoor living solutions to our clients in Wyandanch and the surrounding areas. Our knowledgeable team is eager to assist if you're considering adding a wood awning, cabana, gazebo, pergola, or porch to your outdoor area. Don't hesitate to get in touch with us today to talk about your project and unveil how we can morph your outdoor living space into a sumptuous and functional part of your home.
Expert Deck Consultation and Design in Wyandanch
Decks Unique prides itself on presenting custom consultations and deck designs, designed to cater to the distinctive needs of our clientele. With over 20 years of experience, our professional deck designers will work closely with you to create a deck that enhances your home's aesthetics and functionalities. Leveraging the latest 3D modeling and visualization processes, we'll actualize your dream deck and ensure the completed product is in line with your desired expectations.
High-Quality Deck Materials for Lasting Durability
Decks Unique, the top Long Island-based deck builder, is an approved installer for all major composite decking brands, including Trex, TimberTech, and Azek. We also put forward various wood decking options to conform to your preferences, like pressure-treated wood pieces, cedar, redwood, and luxurious hardwoods. The use of only premium materials in our work reflects our commitment to building durable, low-maintenance decks.
Superior Deck Construction Services in Wyandanch
At Decks Unique, our highly trained deck construction crew is dedicated to upholding superior craftsmanship and optimal efficiency during the complete building venture. Due to our profound expertise in building codes, standards, and permits, you can depend on us to oversee the complete project from inception to completion, delivering a striking and functional outdoor area.
Defend and Resurrect Your Deck's Splendor
At Decks Unique, we are conscious of the pivotal role regular maintenance plays in preserving your deck's visual charm and solid framework. Decks Unique's expert team can scrutinize and discover any issues or possible concerns, providing the necessary solutions to preserve your deck in peak condition. Additionally, we offer deck refinishing and restoration services, including cleaning, staining, weatherproofing, and sealing to protect and enhance your deck's appearance.
Augment Your Alfresco Space with Customized Enhancements and Features
To honestly create a one-of-a-kind backyard sanctuary with your deck, Decks Unique makes available a selection of bespoke aspects and supplements, encompassing deck light systems, incorporated chairs, outdoor culinary spaces, and fire-based amenities. These augmentations not only amplify effectiveness, but they also cultivate a friendly and cozy aura for you and your company to enjoy.
Wide-Ranging Decking Services and Extra Offerings
Decks Unique, known for its expertise in deck design and construction, also offers expertise in other outdoor structures, including wood awnings, cabanas, gazebos, pergolas, and porch construction. These structures can further enhance your Long Island home's outdoor space, making it the perfect area for relaxation and entertainment.
Decks Unique can tackle your entire Wyandanch decking necessities. Uncover the change our pledge of quality, professionalism, and customer delight brings to your outdoor environment. Connect with us today to arrange a cost-free consultation, and allow us to transform your outdoor area into a breathtaking masterpiece.
Honored to serve the people of Wyandanch, Valley Stream, South Farmingdale, Roslyn, Plainview, North Merrick, New Cassel along with other Long Island regions.
Offering Long Island Quality Deck Designs and Services: