Skip to Main Content
High-Quality ACQ / Cedar Decks Improving Local Homes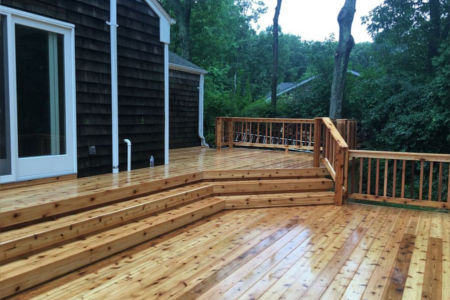 At Decks Unique, Inc., we've earned our impeccable reputation by taking good care of our local customers with quality custom decks. This includes offering a unique variety, like ACQ / Cedar Decks.
Real deck building experts can offer clients options that your average provider may not be capable of or willing to. Beyond standard wood or composite, you should have exciting options like ACQ / Cedar Decks.
However, if you're not already familiar with this style of decking, now is an excellent time to learn what it has to offer you. Before making your final decision, make it a point to learn more about all of your material options.
What Makes Cedar Popular
You can enhance the exterior of a distinctive home with the addition of an outdoor living space, like ACQ / Cedar Decks. If you'd like to be a savvy consumer and homeowner, it's a good idea to have some knowledge about the reasons cedar is so popular:
Rot Resistant
Doesn't Absorb Moisture
Lays Flat / Doesn't Warp
Longevity up to 20 Years
Affordable
Plus, once you set your eyes on a cedar deck, it's hard to imagine using any other material, especially if you want that level of beauty. Adding a deck of this caliber to your home is well worth the investment because it enhances the property value so much.
Are ACQ / Cedar Decks Right For You?
It's essential to be as aware of the cons as well as the pros. One area of concern is that cedar is a softwood, and that makes it more susceptible to scratches.
You may find yourself frequently mending scratches from furniture, pets, or animals. If you want to prevent the natural fading and grey color that occurs over time, you'll need to keep it treated.
This means sealing it every few years. Doing so doesn't just help the visual aesthetics; it helps to protect it against the elements.
If you're using this type of material for a ground-level deck, you can expect it to deteriorate faster. Plus, decking that's located in highly shaded areas will dry out more quickly.
Plan on investing more care and maintenance for this type of deck, in comparison to alternative options that you have. In return, you get the natural beauty and aroma of stunning Cedar wood.
You can rest assured that your custom cedar deck will be wildly unique even if your next-door neighbor has one. No two cedar plans are the same, let alone finished decking projects.
If you're considering ACQ / Cedar Decks, call us for the best local service from Long Island deck building experts.
What Our Clients Say
About Decks Unique
The design of the deck is beautiful; the materials are of the highest quality, and the construction if flawless [...]
We were very impressed with the quality of the workmanship and the contractors were quick and very clean [...]