Meet Decks Unique - The Finest Deck Builders Serving North Merrick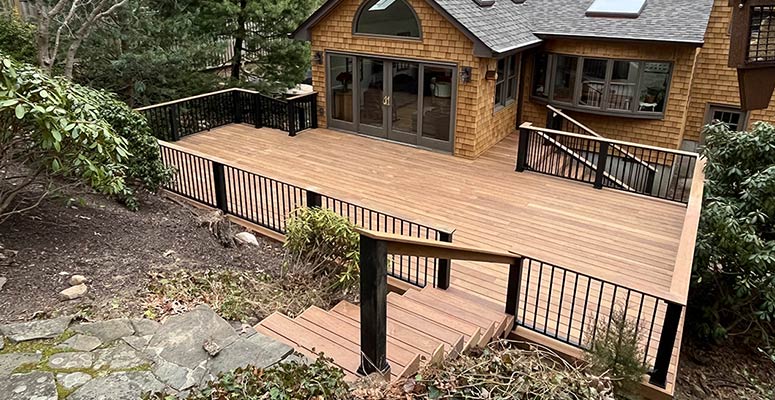 As a family-owned and operated business for over 20 years, Decks Unique has provided custom deck design and construction services to the people of Long Island and neighboring regions, such as North Merrick. Decks Unique's love for design and unyielding commitment to professionalism, honesty, and innovation have made us the dominant producer of exceptional decks in Long Island, influencing the industry's standards. Our area of expertise involves creating and building custom decks, verandas, gazebos, pergolas, wooden awnings, and other external structures that add worth, allure, and functionality to your Long Island abode.
Deck Building Services with Expertise and Experience in North Merrick
Decks Unique upholds the idea that a thoughtfully devised deck design constitutes a wise investment in home improvement. Our expert team of professional deck builders is dedicated to delivering superior quality, maintaining efficient production schedules, and ensuring that our warranties have true lasting value. This unwavering dedication to excellence has manifested in numerous delighted customers and impressive decks they can confidently display for years to follow.
Our Long Island deck building specialists are licensed to install all top composite deck brands, such as Trex, TimberTech, and Azek. We offer free home consultations and computerized deck designs so that you can visualize your project before it comes to life. Give us the chance to make your backyard our succeeding project!
Boost Your Home's Worth with a Personalized Deck
Besides improving the exterior living area of your North Merrick residence, an exceptional deck can also drive up property value. Decks Unique specializes in the planning and building of tailor-made decks that satisfy each of our clients' distinctive needs and inclinations. If you're seeking an intimate area for hosting gatherings or a lavish exterior sanctuary to revel in pleasant weather, we will collaborate closely with you to make your dream a reality.
We know that each property owner has their own distinct taste and requirements for their outdoor living areas. That's why we make available a large range of materials, designs, and components to fashion the perfect deck that aligns with your house and personal routines. From time-honored wood choices such as pressure-treated lumber, cedar, and redwood to the low-maintenance advantages of composite and PVC decking, we offer an ideal solution for each budget and liking.
Incomparable Devotion to High Quality and Customer Fulfillment
Decks Unique is deeply committed to delivering top-notch workmanship and ensuring our clients' satisfaction. We are dedicated to utilizing only top-grade materials and partnering with expert, seasoned builders to guarantee our projects meet the most stringent standards.
We think that effective communication is crucial for project success, and it's our top priority to keep clients in the loop throughout the process. Throughout the entire journey, from the initial consultation and design to construction and the final inspection, our team is committed to being there to assuage any doubts, allay concerns, and ascertain your utmost satisfaction with your new deck.
Permit Decks Unique to convert your North Merrick backyard into a delightful outdoor living space. Don't hesitate to contact us today for a free consultation and to witness the Decks Unique experience.
Wide-ranging Decking Services for North Merrick
In North Merrick, Decks Unique boasts a comprehensive variety of decking services, all geared towards satisfying the unique demands of our clients. Our expertise at Decks Unique ranges from crafting custom deck designs and construction to handling repair work, maintenance, and refinishing projects. Alongside our main services, we offer a selection of unique features and supplementary options to enrich your outdoor living experience. We invite you to explore our extensive selection of services more closely.
Custom Deck Design: Materializing Your Dream Deck with Expertise
Our skillful deck designers will collaborate intimately with you to assemble a custom-built deck that exemplifies your private style, seamlessly integrates with your home, and meets the peculiar specifications of your property. By assisting you in making informed choices, our connoisseurs will facilitate your material selection journey, assuring lasting charm and toughness.
Expert Deck Assembly: Fine Craftsmanship for an Attractive External Space
Being an esteemed deck builder, we dedicate ourselves to using only first-class materials and ensuring safe, efficient labor. Our capable personnel are accredited installers of prestigious composite deck products, including Trex, TimberTech, and Azek. By giving close attention to detail and prioritizing structural strength, we ensure that your deck is not only breathtaking but also withstands the passage of time.
Taking Care of Your Deck: Ensuring Your Investment Stays Protected
Routine maintenance is necessary for preserving the attractiveness and usefulness of your deck. Our expert team provides full repair and maintenance services for both wooden and composite decks. Providing extensive inspections to identify possible challenges, coupled with expert repairs tackling weather or wear-and-tear damages, we serve as your primary choice for all deck maintenance tasks. With the help of our consistent maintenance plans, rest assured that your deck will continually be kept in superb condition, regardless of the time of year.
Deck Renovation and Restoration: Update Your Open-air Retreat
Over time, even the highest quality decks may show signs of wear or require refinishing to maintain their appearance. Our knowledgeable team can recuperate your deck's attractiveness by utilizing expert cleaning, staining, weatherproofing, and sealing techniques. Notably, we can apply structural ameliorations, securing your deck's safety and utility for the future.
Personal Customizations and Upgrades: Enrich Your Deck Leisure
To step up your outdoor living zone, we bring forth a multitude of bespoke aspects and add-ons fashioned to amplify your deck. The available options consist of energy-efficient illumination on decks, embedded seating, exterior kitchens, and fire amenities. We merge these features into your deck's overall structure, creating an inviting and pleasant ambiance for you to cherish with family and friends in North Merrick.
Decks Unique focuses on offering unparalleled decking assistance to customers and areas close by. With two decades of industry experience, we have cultivated a reputation for professionalism, genuineness, and forward thinking. Our adept team is eager to assist you with designing a brand-new deck or revamping your old one. Touch base with us today to organize a free consultation, and let us demonstrate how we can change your outdoor area into a beautiful and practical haven.
Find Your Ultimate Deck Material: Wood vs. Composite Choices
Decks Unique's primary focus is to support you in building the perfect exterior paradise at your home. This is why we have an expansive array of decking materials at our disposal, featuring both wood and composite options. Each of the materials has its own merits, helping you to decide on the top option that matches your distinct demands and inclinations.
Wood Decking Offers Timeless Elegance
The flexibility and timelessness of wood provides a pleasant warmth and beauty to all kinds of outdoor spaces. We present a wide assortment of wood deck options, ensuring compatibility with any style and budget.
Pressure-Treated Wood: Cost-effective and Long-lasting
A significant number of homeowners find pressure-treated lumber appealing for its inexpensive and durable aspects. This decking material receives a distinctive treatment, making it resistant to rotting and insect infestations. Pressure-treated decks, as a consequence, stand the test of time and demand little maintenance.
Premium and Resistant: Cedar and Redwood's Natural Features
Should you seek a more sumptuous choice, we also present cedar and redwood decking. These elegant and premium woods possess natural resistance to decay and pests, guaranteeing a durable deck that matures with elegance. The vibrant hues and distinct grain designs of cedar and redwood decks create an impressive enhancement to any residence.
Exotic Hardwoods: Exquisite and Long-Lasting
If you're looking for a truly unique and exquisite option, consider exotic hardwoods like Ipe, Tigerwood, or Cumaru. These remarkable hardwoods are extremely dense and strong, making them known for their outstanding longevity and striking visual charm. Captivating colors and fascinating patterns of exotic hardwood decks contribute to a magnificent centerpiece for any outdoor environment.
Turn to Composite and PVC Decking for a Low-Maintenance Lifestyle
Those looking for a low-maintenance and green choice should think about composite and PVC decking. These innovative materials combine the beauty of wood with the durability of synthetic materials, providing homeowners with a nearly maintenance-free outdoor space.
Discover the Benefits and Advantages of Composite Decking
Made from recycled wood fibers and plastic, composite decking is a strong and environmentally friendly preference. Thanks to its resistance to warping, cracking, and fading, this decking material yields an eye-catching, long-lasting deck that demands minimal maintenance. Composite decks also have an advantage in their ease of cleaning, with only sporadic washing needed to keep the outdoor area immaculate.
The Foremost Brands in Composite Materials Industry
Decks Unique is delighted to cooperate with the foremost brands in composite decking, including Trex, TimberTech, and Azek. As accredited installers of these extraordinary products, we offer North Merrick homeowners the finest materials to create beautiful and enduring outdoor areas.
Custom-build Your Deck with a Range of Color and Texture Combinations
A key benefit of composite decking is the broad spectrum of customization opportunities. The assortment of color and texture choices enables you to construct an unparalleled outdoor space that adheres to your home's visual appeal. No matter if you appreciate the visuals of natural wood or a cutting-edge design, you'll find a composite decking solution that fits.
Boost Your Deck's Appeal with Railing and Baluster Alternatives
The perfect deck is incomplete without the proper railing and baluster system. Decks Unique offers countless options to accentuate your deck design while ensuring a safe and practical outdoor environment.
Wood Railing Solutions: Ageless and Time-honored
A wood railing system is worth considering for a classic and ageless look. Seamlessly blending with both wood and composite decks, a wood railing system offers a clean and unified design. To guarantee a beautiful final product, paint or stain your wood railing system to coordinate with your deck or North Merrick home exterior.
Metal and Glass Railing Systems: Current and Refined
Contemporary and sleek styles might lead you to consider metal or glass railing systems. These modern possibilities not only offer an up-to-date appeal but also amplify the sights from your deck, making them a top choice for homeowners immersed in picturesque backdrops.
Composite Railing Systems: Low-Care and Trendy
For individuals who desire a low-upkeep solution while maintaining sophistication and elegance, composite railing systems make an ideal choice. Featuring both durability and charm, these railings, when paired with composite decking, establish an attractive and consistent look, ultimately constructing a beautiful outdoor living area requiring limited upkeep.
No matter what you prefer, Decks Unique is available to guide you in choosing the best decking materials for your house. Contact us today to discuss your needs and begin designing the outdoor space of your dreams.
Take Your Outdoor Living Space to the Next Level with Our Added Services in North Merrick
Decks Unique strives to change your outdoor living space into a lavish and efficient extension of your home. In addition to our outstanding deck construction services, we also provide a range of supplementary services like wooden awnings, cabanas, gazebos, pergolas, and building porches. Our proficient specialists in North Merrick closely cooperate with you to materialize your vision, ensuring high quality and long-lasting durability.
Wooden Awnings: Increase Shade and Style for Your Outdoor Space
The use of wood awnings can impart both shade and refinement to your outdoor zone. Our experienced team at Decks Unique will help you choose the right design and materials to create a beautiful and functional wood awning that complements your home's aesthetic. These constructions provide both shelter from severe weather conditions and elevation in your property's total value.
Cabanas: Create a Sumptuous Escape in Your North Merrick Lawn
Providing a seamless mix of luxury, comfort, and seclusion, cabanas are an excellent enhancement to any outdoor space. We'll have our team of specialists work closely with you to create and build a custom-made cabana in line with your specific requirements and inclinations. Looking for a comfortable retreat to relax or a classy space to host events, we can design a cabana that transforms into your perfect outdoor haven.
Gazebos: An Attractive Extension to Your Garden or Patio
A gazebo adds a quaint touch to any garden or patio, creating an eye-catching centerpiece and offering shade for outdoor lounging. Our seasoned team supports you in determining the best style, materials, and spot for your gazebo, making sure it fuses effortlessly with your present outdoor space. Thanks to our superior craftsmanship, your gazebo will be a beautiful addition to your outdoor area and provide enjoyment for many years.
Pergolas: Add Architectural Interest and Functionality to Your Outdoor Area
Integrating a pergola into your outdoor living area is an outstanding approach for increasing architectural attractiveness and functionality. Pergolas are adept at creating a sheltered yet sunlit environment, making them ideal for garden strolls, patio hangouts, or dining outdoors. Decks Unique's team of seasoned professionals will custom-design and craft a pergola to suit your preferences, contributing to your home's value.
Build a Porch: Increase Your Home's Curb Appeal and Outdoor Living Environment
An expertly designed porch not only improves your home's curb appeal but also offers a cozy outdoor space for you and your loved ones to relish. Our knowledgeable team will partner with you to build a personalized porch that fits your home's architectural theme and adheres to your functional demands. With our rigorous attentiveness to detail and unyielding dedication to exceptional quality, you can rest easy knowing your porch fabrication assignment is in trustworthy hands.
Communicate with Decks Unique for your North Merrick outdoor living area transformation
Decks Unique is proud to deliver top-notch, tailor-made outdoor living solutions to customers in North Merrick and nearby regions. If adding a wood awning, cabana, gazebo, pergola, or porch to your outdoor space is what you're after, our proficient team is here to guide you. Don't hesitate to get in touch with us today to talk about your project and unveil how we can morph your outdoor living space into a sumptuous and functional part of your home.
North Merrick's Expert Deck Design and Consultation
At Decks Unique, we are proud of our ability to offer personalized consultations and custom deck designs that accommodate the unique demands of each client. Drawing from our 20-plus years of experience, our professional deck designers will closely collaborate with you to construct a deck that enriches your home's aesthetics and functions. Using advanced 3D modeling and visualization techniques, we'll bring your dream deck to life, ensuring the final product meets your expectations.
High-Quality Deck Materials for Lasting Durability
Decks Unique, the top Long Island-based deck builder, is an approved installer for all major composite decking brands, including Trex, TimberTech, and Azek. We also furnish an assortment of wooden decking options to match your likings, including pressure-treated planks, cedar, redwood, and high-quality hardwoods. Our dedication to using top-quality materials guarantees a long-lasting, low-maintenance deck for your home.
First-Rate Deck Building Services in North Merrick
Our skilled deck construction team at Decks Unique is dedicated to providing top-notch craftsmanship and efficiency during the entire building process. Due to our profound expertise in building codes, standards, and permits, you can depend on us to oversee the complete project from inception to completion, delivering a striking and functional outdoor area.
Hold and Re-establish Your Deck's Gorgeousness
The team at Decks Unique knows that consistent care is essential for maintaining the appearance and structural soundness of your deck. Our experienced team can inspect and identify any damages or potential issues, providing necessary repairs to keep your deck in top condition. In addition, Decks Unique offers deck renewal and refinishing services, featuring cleaning, staining, weatherproofing, and sealing procedures to defend and enrich your deck's visual appeal.
Augment Your Alfresco Space with Customized Enhancements and Features
To shape your deck into an unparalleled open-space sanctuary, Decks Unique supplies a multitude of custom attributes and ancillary items, incorporating lights designed for decks, in-built chair arrangements, cooking facilities for open-air settings, and fire-centric highlights. These enhancements not only add functionality but also create a comfortable and inviting atmosphere for you and your guests to enjoy.
Extensive Decking Solutions and Supplementary Services
Decks Unique, known for its expertise in deck design and construction, also offers expertise in other outdoor structures, including wood awnings, cabanas, gazebos, pergolas, and porch construction. These additions can greatly improve your Long Island residence's outdoor area, turning it into an ideal spot for unwinding and entertaining guests.
In North Merrick, count on Decks Unique to cater to all your decking requirements. Feel the distinction our devotion to quality, professionalism, and customer contentment makes in your outdoor setting. Get in touch with us now to set up a complimentary consultation and watch us turn your backyard into a beautiful work of art.
Taking great pleasure in assisting North Merrick, New Hyde Park, Melville, Malverne, Lake Grove, Hempstead, Garden City and other Long Island districts.
Offering Long Island Quality Deck Designs and Services: