Skip to Main Content
Wood Awning Installations Add To A Long Island Porch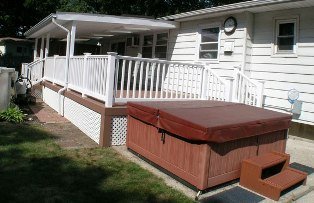 Having a wood awning installed is a great addition to you your Long Island porch, patio, or deck. Wood Awning building will provide protection and also decoration and value to your home.
Decks Unique is your experienced wood awning installation specialist helping you decide what awning is best for you. They can provide permanent shade or temporary shade by having a retractable awning installed.
Long Island Awnings Provide Adaptability
Canopy awnings can be installed if there is limited space between your gate and your door. This will also provide protection from rain, and too much sun exposure. Whether it be porch or patio awnings, they come in many different types of styles and colors.
Sensor-Automated Retractabl Awnings
For close consumers who want the latest in retractable awnings, there are sensor automated awnings that detect wind activity. When the wind becomes too strong for the awning to handle, the sensor sends a command to the motor and it is automatically retracted. Saving you possible damage.
Quality Deck Designs and Services:
What Our Clients Say
About Decks Unique
The design of the deck is beautiful; the materials are of the highest quality, and the construction if flawless [...]
We were very impressed with the quality of the workmanship and the contractors were quick and very clean [...]