Skip to Main Content
Custom Decks for Baldwin Yards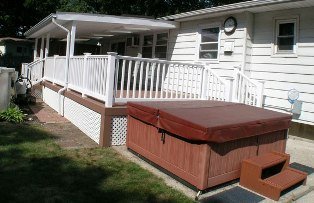 Spring always brings out the best in people. The warmer weather seems to awaken within us the cold-weary better angels of our nature, and in a burst of song, we find ourselves unable to control the joy we feel when the first warm rays of sunshine cross our patios
From boring scientific reasons having to do with sunshine and vitamin D, to the fascinating study of how good ol' fashioned play reduces stress, the health benefits of fresh air and outdoor activity are numerous. Even light greenhouse gardening or reorganizing the shed can be good cardiovascular exercise, and a fast-paced, all-absorbing game of Ultimate Frisbee can cure a world of stress-related maladies. Just look out for the big maple tree that forms one side of your goal post, or you'll be putting any real health benefits derived from such an activity in jeopardy.
One of the best places to enjoy to outdoor activity of your choice is from a custom deck. It provides all of the benefits of being outdoors and gives you a place to sit and enoy the warm weather. Maybe you like to read books or maybe just watch the world go by what ever summer time things that you enjoy can be all that more interesting while setting on a deck.
So if you are in the market for a new custom deck that will fit your needs give our trained professionals a call and see what kind of custom decking solution they can provide you with.
Decks Unique is a professional custom deck builder providing quality services.
Offering Long Island Quality Deck Designs and Services:
What Our Clients Say
About Decks Unique
The design of the deck is beautiful; the materials are of the highest quality, and the construction if flawless [...]
We were very impressed with the quality of the workmanship and the contractors were quick and very clean [...]