Skip to Main Content
Pergola Building Makes Long Island Unique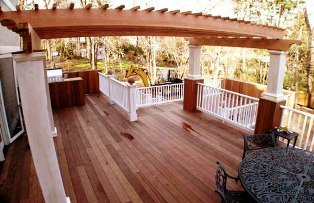 Pergola building is becoming more and more popular in Long Island and offers a great way to transform your yard.
Pergolas are shaded spaces consisting of a passageway with roof-supporting columns. Originally designed to provide a shaded walk way, pergola building has also become a way to provide one single place of shade, for example, over a hot tub. Decks Unique can provide experienced pergola building and designs which best suit your needs and space of your yard.
Types and Benefits of Pergola Building
Pergolas usually come in a couple different types. The design is close to a gazebo design, but is often cheaper to build. With the help of an experienced pergola builder, you will have many great ways to spend your time.
Attached pergola
Free standing pergola
Free standing beside a structure
Apply vines to grow around the trellis
With or without trellis on the sides
Professional Pergola Building Gallery
Pergola building can be considered an art. Taking the idea in your head and turning it from paper to building is something Decks Unique has years of experience in doing. Below you will find the proven quality of a Long Island pergola building specialist.
Quality Deck Designs and Services:
What Our Clients Say
About Decks Unique
The design of the deck is beautiful; the materials are of the highest quality, and the construction if flawless [...]
We were very impressed with the quality of the workmanship and the contractors were quick and very clean [...]