Skip to Main Content
Enhance & Enjoy With PVC Decks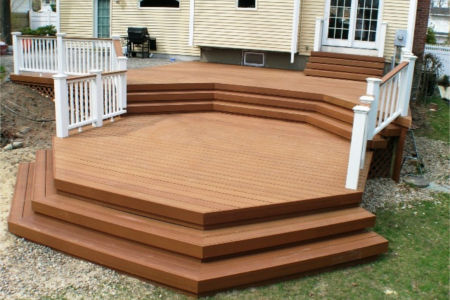 Decks Unique, Inc. offers a variety of services for local customers, including PVC decks. In recent years, this material has become increasingly popular, as any reputable deck building expert will tell you.
A well-designed and constructed deck can enhance any home, providing you with a place to host events or just hang out with the family. Don't feel overwhelmed trying to decide if PVC decks are right for you.
Work with a professional, and you'll get the advice you need to make good choices. We pride ourselves on offering the best for our customers, from building materials and labor to input and feedback.
What Makes PVC Decks so Popular
Each custom deck is generally designed so you get a unique final product, compared to the design and layout each of your neighbors has. If you can dream it, we can make it your outdoor living space reality.
So, when you're considering PVC decks, here are some helpful things to know:
Whatever size, shape, or style you can think of, PVC can accommodate. It's easy to create a variety of deck experiences by using PVC as the building material.
There are various colors to consider in order to really customize your look. Or, maybe you'd rather replicate the look of real wood but without the care and upkeep that's required.
PVC is an affordable option. That affords you the ability to go bigger or more elaborate than you had initially assumed was possible.
Because it's easier to install than other types of building materials, which also helps you save money with the overall cost of the job, plus, you and your family will be able to enjoy your deck that much sooner.
Durable materials make the best choice when it comes to something exposed to the elements all day every day.
Making the Right Choice for Your Home
What may surprise you is that's not all the benefits. There are even more advantages you can expect, such as:
Eco-friendly
Durability
Low Maintenance
Visually Appealing
Adds Value
It can fade and be more challenging to repair than alternate options like wood. It's important to know the pros and cons of each material so you can make the choice that works best for you.
Your home is your most significant investment, and you want to feel good about each decision that you make. This includes the decisions you make about adding outdoor living space.
If you're considering PVC decks, call our Long Island deck building expert team. We'll go above and beyond to deliver the best results for you.
What Our Clients Say
About Decks Unique
The design of the deck is beautiful; the materials are of the highest quality, and the construction if flawless [...]
We were very impressed with the quality of the workmanship and the contractors were quick and very clean [...]