Meet Decks Unique - The Finest Deck Builders Serving New Cassel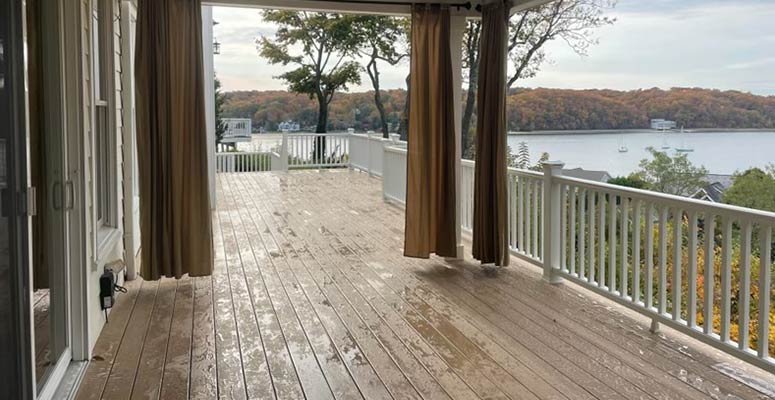 Decks Unique, a family-owned and operated company specializing in custom deck design and construction, has served the communities of Long Island and the surrounding areas, such as New Cassel, for over two decades. We have become the preeminent supplier of high-quality decks on Long Island through our passion for design and dedication to professionalism, honesty, and innovation, shaping the industry standards. Our specialization includes creating custom decks, porches, gazebos, pergolas, wooden awnings, and various outdoor structures that contribute to the value, charm, and utility of your Long Island home.
Specialized and Experienced Deck Building Providers in New Cassel
Decks Unique maintains that a well-designed deck is a smart investment when thinking about ways to improve your home. The Decks Unique team of experienced deck builders is committed to providing top-notch quality, keeping effective production timelines, and ensuring that our warranties offer enduring value. This relentless dedication to superior workmanship has delivered countless gratified customers and exceptional decks they can take pride in for years.
Our deck construction crews on Long Island are endorsed to deploy all renowned composite deck products, including Trex, TimberTech, and Azek. We offer free home consultations and computerized deck designs so that you can visualize your project before it comes to life. Make your backyard the site for our subsequent project!
Raise Your Home's Value by Installing a Bespoke Deck
Besides improving the exterior living area of your New Cassel residence, an exceptional deck can also drive up property value. Decks Unique specializes in the planning and building of tailor-made decks that satisfy each of our clients' distinctive needs and inclinations. If you want a casual space for hosting gatherings or an upscale oasis to soak up the beautiful weather, our professionals will diligently work alongside you to realize your vision.
For outdoor spaces, we understand that each homeowner has their own distinct tastes and necessities. This is the reason we present various materials, styles, and characteristics to craft the ultimate deck that suits your house and lifestyle. From standard wood options like pressure-treated lumber, cedar, and redwood to the easy upkeep of composite and PVC decking, we provide the right answer to accommodate every budget and personal taste.
Exceptional Attention to Premium Quality and Client Pleasure
At Decks Unique, our focus is on exceptional workmanship and happy customers. Our commitment to using only high-quality materials and employing skilled, experienced builders ensures that each project we undertake is completed to the highest standards.
In our view, clear communication is essential to a project's success, and we're committed to keeping our clients up-to-date at every stage. From the initial consultation and design process through construction and final inspection, our team is always available to answer questions, address concerns, and ensure that you are completely satisfied with your new deck.
Trust Decks Unique to morph your New Cassel backyard into an impressive outdoor living space you'll enjoy for years. Contact us immediately to set up a complimentary consultation and feel the Decks Unique superiority.
In-depth Decking Assistance in New Cassel
In New Cassel, Decks Unique boasts a comprehensive variety of decking services, all geared towards satisfying the unique demands of our clients. We specialize in a variety of custom deck services, including designing and building decks, as well as providing repairs, maintenance and refinishing. Decks Unique also offers an assortment of standout features and add-ons to improve and elevate your outdoor living area. Let's explore further the array of services we provide at Decks Unique.
Custom Deck Design: Realizing Your Dream Deck through Expert Design
Our talented deck designers will team up with you to generate a one-of-a-kind deck that represents your signature style, blends well with your home, and meets the special requirements of your property. By assisting you in making informed choices, our connoisseurs will facilitate your material selection journey, assuring lasting charm and toughness.
Exceptional Deck Creation: Superior Quality in Craftsmanship for an Eye-Catching Outside Space
As the preeminent deck builder, our commitment is to use solely premium materials and execute safe, effective workmanship. Our highly-experienced teams have the approval to install leading composite decking brands like Trex, TimberTech, and Azek. By meticulously focusing on details and emphasizing structural quality, we make sure your deck is not only attractive but also withstands time's challenges.
Deck Preservation and Fixing: Sustaining Your Investment's Worth
Regular maintenance is essential to preserving the beauty and functionality of your deck. Our expert team provides full repair and maintenance services for both wooden and composite decks. From exhaustive assessments aimed at spotting potential concerns, to professional repair of damages resulting from weather or age, consider us your all-encompassing deck maintenance provider. You'll have peace of mind with the knowledge that your deck will remain in exceptional condition year-round, thanks to our regular maintenance programs.
Deck Restoration and Refinishing: Reimagine Your Outdoor Sphere
Over an extended period, even the outstanding quality decks might exhibit symptoms of wear or require refinishing to preserve their attractiveness. Our experienced team members can renew the visual appeal of your deck via expert cleaning, staining, weatherproofing, and sealing techniques. Moreover, we can implement structural enhancements, guaranteeing your deck's safety and function for the foreseeable future.
Personalized Attributes and Extras: Improve Your Deck Enjoyment
To enrich your outdoor living quarters, we supply a wide range of specialized characteristics and extras designed to improve your deck. These alternatives feature energy-conserving illumination for decks, inbuilt seating, open-air kitchens, and fire components. By fusing these elements within the deck design, we cultivate a warm and comfy place for you and your kin to share memorable moments in New Cassel.
We, at Decks Unique, excel in delivering the finest decking solutions to our customers and areas nearby. With two decades of industry experience, we have cultivated a reputation for professionalism, genuineness, and forward thinking. Whether designing a novel deck or enhancing a current one, our proficient team is available for assistance. Give us a call today to plan a free consultation, and let us show you how to morph your outdoor area into an impressive, functional refuge.
Compare Wood and Composite Options to Discover Your Perfect Deck Material
Decks Unique is dedicated to assisting you in developing the ideal outdoor sanctuary for your residence. This is why we have an expansive array of decking materials at our disposal, featuring both wood and composite options. Each decking material possesses its advantages, which allows you to select the most suitable option for your particular necessity and preference.
Wood Decking: A Refined Classic Look
Timber brings a classic, adaptable quality while offering organic coziness and appeal for all outside areas. Explore our broad selection of wood deck options created to suit diverse styles and budgets.
Pressure-Treated Boards: Economically Viable and Robust
Because of its budget-friendliness and lasting quality, pressure-treated lumber is popular among numerous homeowners. A specific treatment process shields this decking material from decomposing and insect problems. Minimal maintenance is needed for these durable, pressure-treated decks as a result of the treatment.
High-End and Resilient Cedar and Redwood: A Natural Concoction
For individuals searching for a lavish choice, cedar and redwood decking are additionally available. These gorgeous and top-tier woods boast natural resistance to rot and insect infestations, offering a lasting deck that matures gracefully. Cedar and redwood decks, showcasing rich coloration and individualistic grain patterns, bring a significant accent to any living space.
Exotic Hardwoods: Sophisticated and Long-lived
To find an extraordinary and outstanding option, contemplate using exotic hardwoods like Ipe, Tigerwood, or Cumaru. These woods, with their incredible density and toughness, are recognized for their lasting quality and remarkable aesthetics. The stunning shades and complex configurations of exotic hardwood decks act as a captivating centerpiece in every outdoor space.
Achieve Low-Maintenance Living with the Use of Composite and PVC Decking
If you're seeking an eco-conscious, low-maintenance solution, contemplate composite and PVC decking. These advanced materials merge wooden charm with synthetic endurance, offering homeowners an almost maintenance-free open-air space.
Composite Decking: Exploring Its Benefits and Advantages
With a mixture of repurposed wood fibers and plastic, composite decking is a resilient and Earth-friendly selection. Thanks to its resistance to warping, cracking, and fading, this decking material yields an eye-catching, long-lasting deck that demands minimal maintenance. Furthermore, composite decks are simple to maintain, needing just infrequent washing to preserve the cleanliness of your outdoor area.
Top Brands in the Composite Materials Industry
It is an honor for Decks Unique to collaborate with the best composite decking brands, including Trex, TimberTech, and Azek. As authorized installers of these exceptional products, we can provide New Cassel homeowners with the highest quality materials, ensuring a gorgeous and long-lasting outdoor space.
Enhance Your Deck's Appearance with Different Color and Texture Options
One main strength of composite decking is the numerous customization alternatives. With numerous color and texture options, you can design a unique outdoor area tailored to your home's style. Whether your liking leans towards natural wood or a more sophisticated design, composite decking has something for you.
Amplify Your Deck's Look with Railing and Baluster Additions
A flawless deck needs the correct railing and baluster system to be fully realized. At Decks Unique, we offer a wide range of options to complement your deck design and ensure the safety and functionality of your outdoor space.
Timber Handrail Solutions: Time-honored and Lasting
For a classic and timeless look, consider a wood railing system. The use of a wood railing system can create a harmonious, unified design for both wood and composite decks. Painting or staining your wood railing system to align with your deck or New Cassel home exterior helps ensure a captivating final aesthetic.
Metal and Glass Railing Systems: Fashionable and Uncluttered
When a refined and modern vibe is what you're after, metal or glass railing systems may be perfect for you. Providing a fresh, up-to-date feel, these options can also boost the visuals enjoyed from your deck, appealing to homeowners who are surrounded by idyllic landscapes.
Composite Railing Systems: Low Fuss and Attractive
Composite railing systems provide a great option for those who seek low-maintenance alternatives without sacrificing style and elegance. Pairing these durable, eye-catching railings with composite decking generates a visually consistent look, transforming the area into a striking outdoor haven that requires little care.
Regardless of your tastes, Decks Unique can assist you in selecting the ideal decking materials for your residence. Touch base with us today to present your needs and launch the design of the outdoor sanctuary of your dreams.
Transform Your Outdoor Living Space with Our Extra Offerings in New Cassel
At Decks Unique, our goal is to transform your outdoor living space into a luxurious, functional extension of your house. Our expertise extends beyond exceptional deck building, as we also offer additional services like wood awnings, cabanas, gazebos, pergolas, and porch construction. Our talented experts in New Cassel partner with you to create your desired outdoor space, ensuring the utmost quality and lasting durability.
Wood Awnings: Add Shade and Style to Your Outdoor Space
Wood awnings are an outstanding means of providing both shade and sophistication to your outdoor setting. The experienced specialists at Decks Unique will aid you in choosing the ideal design and materials for creating a charming and efficient wood awning that matches your home's visual appeal. These timber structures not only shield you from adverse weather but also enhance the total value of your property.
Cabanas: Construct a High-end Refuge in Your New Cassel Yard
Cabanas deliver a flawless fusion of opulence, comfort, and seclusion, making them the ultimate addition to any outdoor setting. Our skilled professionals will partner with you in designing and constructing a personalized cabana that fulfills your unique necessities and preferences. Whether your desire is a welcoming respite for relaxation or an elegant setting for entertaining guests, we can create a cabana that presents an idyllic outdoor escape.
Gazebos: A Picturesque Addition for Your Backyard Garden or Patio
A gazebo remains a cherished inclusion in gardens and patios, lending an appealing visual interest and a comfortable shaded zone for outdoor leisure. The experienced team at Decks Unique will help you identify the perfect style, materials, and positioning for your gazebo, so it blends seamlessly with your existing landscape. With our expert craftsmanship, you can enjoy a stunning gazebo that enhances the beauty of your outdoor space for years to come.
Pergolas: Enhance Your Outdoor Space with Architectural Beauty and Function
To elevate the visual interest and practicality of your outdoor space, consider adding a pergola. Pergolas are adept at creating a sheltered yet sunlit environment, making them ideal for garden strolls, patio hangouts, or dining outdoors. Our specialists at Decks Unique have the expertise to engineer and erect a bespoke pergola that aligns with your design tastes and bolsters your property's worth.
Porches: Enhancing Your Home's Curb Appeal and Expanding Outdoor Living Space
A proficiently designed porch not only increases your home's curb appeal but also presents a comfortable open-air living space for you and your family to take pleasure in. Our expert team will work with you to create a custom-designed porch that complements your home's architecture and meets your functional needs. With our keen eye for detail and dedication to excellence, you can have peace of mind knowing your porch construction endeavor is well taken care of.
Talk to Decks Unique for improving your New Cassel outdoor living space
Decks Unique specializes in delivering premium, custom-crafted outdoor living solutions to our New Cassel clients and the surrounding areas. Seeking to integrate a wood awning, cabana, gazebo, pergola, or porch into your outdoor area? Our team of specialists is prepared to help. Contact us today to discuss your project and discover how we can transform your outdoor living space into a luxurious and functional extension of your home.
Proven Deck Design and Consultation Excellence in New Cassel
Delivering personalized consultations and tailor-made deck designs that satisfy every client's specific needs is what sets Decks Unique apart. With over 20 years of industry know-how, our experienced deck designers will work side by side with you to create a deck that amplifies your home's appearance and practicality. Leveraging the latest 3D modeling and visualization processes, we'll actualize your dream deck and ensure the completed product is in line with your desired expectations.
Outstanding Decking Materials for Long-lasting Resilience
Decks Unique, the leading deck builder in Long Island, is a certified installer for top composite deck brands like Trex, TimberTech, and Azek. We also present an array of wooden decking alternatives to accommodate your preferences, like pressure-treated timber, cedarwood, redwood, and rare hardwoods. Our resolve to employ only high-quality materials ensures a long-lasting, easy-to-maintain deck for your property.
Expert Deck Construction Services in New Cassel
At Decks Unique, our highly trained deck construction crew is dedicated to upholding superior craftsmanship and optimal efficiency during the complete building venture. Armed with our extensive understanding of building codes, rules, and permits, you can rely on us to manage the whole project from beginning to end, resulting in a breathtaking and practical outdoor space.
Secure and Reinstate Your Deck's Grace
The Decks Unique team acknowledges the importance of ongoing maintenance to conserve the appearance and structural reliability of your deck. Our proficient staff at Decks Unique can inspect and uncover any damages or potential problems, administering essential repairs to maintain your deck in an optimal state. Apart from that, we deliver deck refinishing and refurbishment services, including cleaning, staining, weather-resistant treatments, and sealing to preserve and augment your deck's attractiveness.
Boost Your Outdoor Setting with Custom Solutions and Add-ons
To design your deck into a distinctive open-air living space, Decks Unique proposes a wide selection of made-to-order facets and additions, such as lighting specifically for decks, seating integrated within the deck's design, kitchen areas meant for outdoor use, and fire-involved features. These advancements not only heighten practical use, but they also build a pleasant and convivial milieu for you and your visitors to take pleasure in.
Exhaustive Deck Installation and Additional Features
Decks Unique, besides being skilled in deck design and construction, is also an expert in crafting other outdoor structures such as wood awnings, cabanas, gazebos, pergolas, and porch construction. These structures can further enhance your Long Island home's outdoor space, making it the perfect area for relaxation and entertainment.
Turn to Decks Unique for addressing all your decking needs in New Cassel. Notice the transformation our dedication to quality, expertise, and client satisfaction creates in your outdoor living area. Get in touch with us now to set up a complimentary consultation and watch us turn your backyard into a beautiful work of art.
Happy to support the communities of New Cassel, Melville, Malverne, Lake Grove, Hicksville, Garden City, Elmont, and other areas throughout Long Island.
Offering Long Island Quality Deck Designs and Services: