Skip to Main Content
Custom Decks for Bethpage Yards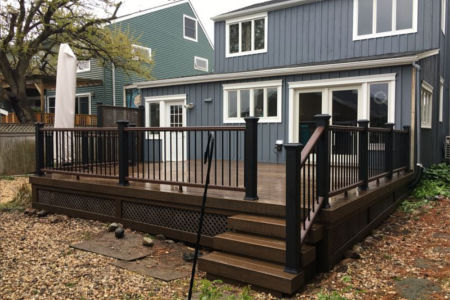 Decks in Bethpage, NY are great.Everyone knows that, right? Maybe not. IF you have thought about installing a deck for your home, but are wondering if it is really the right choice for you then I might have a few things you should know about. What does a deck do for your outdoor living space? Does it add to your home's value? What does it do for resale? Is it a good strategy to add a deck if you are planning to sell anytime soon?
Decks Unique Increased outdoor living space. As attractive as your yard is, it gets uncomfortable after a while to sit on the grass or dirt. Being able to sit on a level, firm surface is much more pleasurable. Your guests and family are able to enjoy the experience much better as well.
Our trained experts have years of experience and training in building custom decks for the Bethpage area and can build whatever custom decking needs you have. The first step is for you to give us a call and see what our trained experts can do for you. So give them a call today as they are waiting to here for you and assist you with your needs.
Unique is a professional custom deck builder providing quality services.
Offering Long Island Quality Deck Designs and Services:
What Our Clients Say
About Decks Unique
The design of the deck is beautiful; the materials are of the highest quality, and the construction if flawless [...]
We were very impressed with the quality of the workmanship and the contractors were quick and very clean [...]