Skip to Main Content
Look at What Composite Decks Can Offer You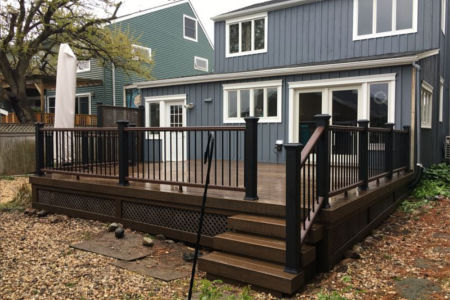 In recent years, the biggest change in the decking industry has been the development and increase in popularity of composite decks. You can feel confident that no one locally knows this branch of the custom deck industry like Decks Unique, Inc.
We're a local leader in this field and specialists in all deck materials, including composite. We're proud that our name has become recognized as a deck building expert resource.
The combination of different decking materials is how you make composite decking. Typically, composite decks are made from a combination of wood and plastic, lending a unique set of benefits.
Know the Advantages of Composite Decks
Before making a choice about custom decks, it's essential to know about the options you have, including material choices. When it comes to composite decks, here are some of the benefits that you should be aware of:
Low Maintenance
Sturdy & Durable
Enhanced Property Value
Visual Aesthetics
Return on Investment
A main reason homeowners prefer composite to a material like natural wood is that it requires less maintenance. As beautiful as real wood is, it's also demanding when it comes to upkeep and care.
Plus, you don't have to worry about afflictions that occur with real wood, like mold or rot. Your deck with be even more durable and sturdy than real wood without the concern of issues that can compromise it, like rot or termites.
Adding a high-quality deck that also improves the curb appeal, increases the value as well. And all of this makes adding a composite deck to your home a good investment with adequate returns.
Composite Decking for Long-Lasting Deck Solutions
Is your deck showing its age? If it's composite, then the answer is no, but the same can't be said for other materials after just a few years.
Aside from getting it pressure washed by a professional, your deck will look as good as new. There's a reason that wood is quickly becoming the secondary choice to durable composite decks. When you're seeking visual appeal, high performance, and optimal longevity, this is the best long-term solution.
Wood was more prevalent during a time when decks were added more for status and used only occasionally. Now, families are using outdoor living spaces as much as possible, and for as long into the year as the weather will allow.
With composite materials, you also know that, come spring, your deck will be looking good and ready to go, minus maybe a thorough cleaning. Plus, being made from recyclable materials makes Eco-conscious households ready to get on board.
Get in touch with us now and let us show you what a difference it makes to work with a Long Island deck building expert.
---
Latest Projects
What Our Clients Say
About Decks Unique
The design of the deck is beautiful; the materials are of the highest quality, and the construction if flawless [...]
We were very impressed with the quality of the workmanship and the contractors were quick and very clean [...]