Skip to Main Content
Gazebos Add To Long Island Appearance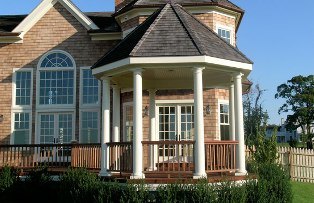 A gazebo in your Long Island garden is a wonderful way to spend summers with family and friends. You can entertain with dining, barbecues, or take time out for yourself by lounging with a book.
There are many variations for gazebo designs, and ultimately, it's all up to what you want. An experienced gazebo builder can not only build the final design, but assist you in designing your ultimate back yard hideaway.
Gazebo Variations for Long Island Residents
Decks Unique Inc, can build your gazebo domed and fully enclosed or partially enclosed with trellis. A trellis refers to a latticework of wood, plastic or metal allowing plant life to grow and provide shading. Some other variations and additions to gazebo building can include:
Built-in benches, or outdoor furniture
Add screens around the gazebo
Skylights
Attached to a deck for increased space
Built as a stand-alone for a small private area
Long Island's Premier Gazebo Builder
Decks Unique is a your professional gazebo builder with many years of experience. They can provide you with quality designs or help bring your own idea to life. Below are a few example so Professional gazebo building designs.
Quality Deck Designs and Services:
What Our Clients Say
About Decks Unique
The design of the deck is beautiful; the materials are of the highest quality, and the construction if flawless [...]
We were very impressed with the quality of the workmanship and the contractors were quick and very clean [...]