Visit Decks Unique - South Farmingdale's Most Reliable Deck Builder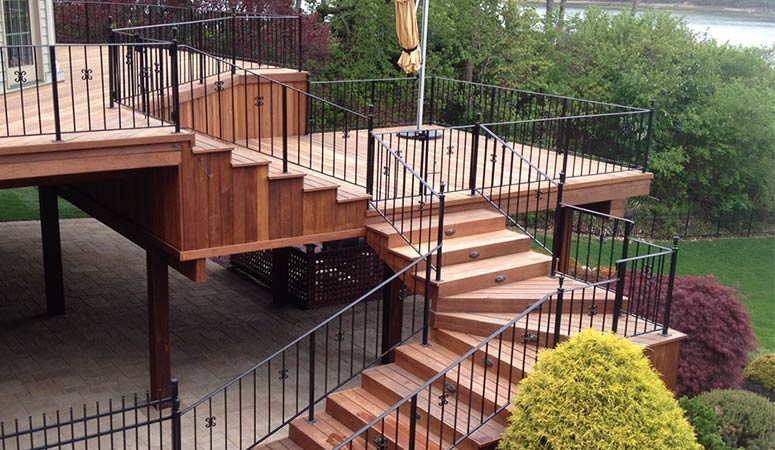 Over the past 20 years, Decks Unique, a family-owned and operated company, has been dedicated to offering custom deck design and construction services in Long Island and the surrounding areas, including South Farmingdale. Our zeal for design and unwavering commitment to professionalism, truthfulness, and innovation have propelled us to become the top provider of high-quality decks on Long Island, setting precedence within the industry. We're experts in designing and building custom decks, porches, gazebos, pergolas, timber awnings, and other outdoor features that enhance the value, beauty, and functionality of your home in Long Island.
South Farmingdale's Expert and Experienced Deck Builders
At Decks Unique, we are convinced that a well-organized deck layout offers a sensible investment in home improvement projects. Our highly skilled team of seasoned deck constructors consistently strives for exceptional quality, adheres to effective timetables, and guarantees long-lasting warranties. Our unwavering dedication to outstanding results has produced countless satisfied clients and striking decks they can be proud of for years.
Our certified Long Island decking contractors can install all popular composite decking brands, including Trex, TimberTech, and Azek. We provide complimentary in-home consultations and digital deck plans to help you envision your project prior to its completion. Let's tackle your backyard as our next challenge!
Add Value to Your Home with a Custom Deck
Your South Farmingdale home's outdoor living space is not only enriched by a fine deck but also experiences a boost in overall worth. Decks Unique's forte is in the design and production of bespoke decks that adhere to the distinct demands and tastes of all our customers. From a warm and welcoming spot for get-togethers to an elegant outdoor refuge for enjoying the splendid weather, our team will work intimately with you to fashion your desired space.
For outdoor spaces, we understand that each homeowner has their own distinct tastes and necessities. This is the basis for our extensive variety of materials, styles, and elements to establish the flawless deck that lines up with your home and lifestyle. Starting from conventional wood materials like pressure-treated lumber, cedar, and redwood, through to the low-maintenance compound and PVC decking options, we cater to every budget and predilection.
Unequaled Focus on Superior Standards and Customer Gratification
Decks Unique is deeply committed to delivering top-notch workmanship and ensuring our clients' satisfaction. To ensure that all our projects are up to the highest standards, we are devoted to using only top-quality materials and hiring expert builders with a wealth of experience.
We're firm believers that strong communication is a major factor in a project's success, and we go above and beyond to maintain clear lines of communication with our clients. From the moment our initial consultation begins, through the design and construction phases, and all the way up to the final inspection, our team is tirelessly committed to answering inquiries, tackling concerns, and guaranteeing your happiness with your new deck.
Enable Decks Unique to make your South Farmingdale backyard into an inviting outdoor living environment you'll appreciate. Message us today to secure a free consultation and experience the exceptional Decks Unique service.
Extensive Deck Construction Services in South Farmingdale
In South Farmingdale, Decks Unique boasts a comprehensive variety of decking services, all geared towards satisfying the unique demands of our clients. From creating custom decks and construction to repair, maintenance, and refinishing, Decks Unique offers a wide range of expert services. In addition to our core offerings, Decks Unique provides a variety of exceptional enhancements and additions to upgrade your outdoor living. Let us examine the range of services we provide in greater detail.
Custom Deck Design: Crafting Your Dream Deck with Precision
Our adept deck designers will cooperate with you to create a personalized deck that expresses your distinctive style, accents your home, and accommodates the particular requirements of your property. With the purpose of helping you make smart decisions, our experts will navigate you through choosing materials, securing a long-lasting and beautiful result that stands the test of time.
Superior Deck Construction: Exceptional Expertise for a Breathtaking Outdoor Area
Being an esteemed deck builder, we dedicate ourselves to using only first-class materials and ensuring safe, efficient labor. Our seasoned teams are approved installers of leading composite decking materials, including Trex, TimberTech, and Azek. With careful scrutiny of detail and a dedication to solid structure, we guarantee that your deck is not only aesthetically pleasing but also long-lasting.
Maintaining and Repairing Decks: Preserving Your Investment
Keeping your deck beautiful and functional requires regular maintenance. Our skilled team is available to provide detailed repair and maintenance services for wood and composite decks. Offering complete inspections to uncover potential issues and expert repair services for damages due to the elements or wear, we are your ultimate destination for all things related to deck maintenance. Our planned maintenance plans offer reassurance, ensuring your deck stays in top shape throughout the entire year.
Deck Resurfacing and Restoration: Refresh Your Outside Area
With the passage of time, even first-rate decks might show evidence of wear or need refinishing in order to continue looking great. Our expert group can recover your deck's beauty with the help of professional cleaning, staining, weatherproofing, and sealing services. Moreover, we can implement structural enhancements, guaranteeing your deck's safety and function for the foreseeable future.
Adapted Facets and Complementary Elements: Optimize Your Deck Satisfaction
To heighten your outdoor living space experience, we introduce an array of distinct features and add-on choices devised to augment your deck. Such choices encompass energy-saving lighting for decks, integrated seating, alfresco kitchens, and fire elements. By blending these factors into your deck's design, we fashion a hospitable and cozy setting for you to relish alongside your loved ones in South Farmingdale.
At Decks Unique, our expertise lies in providing exceptional decking services to clients and neighboring regions. With over 20 years of experience in the industry, we have built a reputation for professionalism, honesty, and innovation. Whether designing a novel deck or enhancing a current one, our proficient team is available for assistance. Contact us today to schedule a free consultation and discover how we can transform your outdoor space into a stunning and functional retreat.
Determine the Best Deck Material for Your Space: Wood and Composite Possibilities
Decks Unique is dedicated to assisting you in developing the ideal outdoor sanctuary for your residence. That's why we offer a wide variety of decking materials, including both wood and composite options. Every material comes with distinct benefits, guaranteeing the optimal option tailored to your individual requirements and tastes.
Discover the Classic Appeal of Wood Decking
Wood is a timeless and versatile material, providing natural warmth and charm to any outdoor space. Explore our broad selection of wood deck options created to suit diverse styles and budgets.
Pressure-Treated Timber: Economical and Resilient
Because of its budget-friendliness and lasting quality, pressure-treated lumber is popular among numerous homeowners. This decking material receives a distinctive treatment, making it resistant to rotting and insect infestations. This ensures that pressure-treated decks remain durable and need only minimal maintenance.
The Luxury of Cedar and Redwood: A Natural Resistance
For a more luxurious selection, our offerings include cedar and redwood decking. These beautiful and high-end woods are naturally resistant to decay and insects, ensuring a long-lasting deck that ages gracefully. Cedar and redwood decks, featuring deep colors and one-of-a-kind grain patterns, add a striking touch to any household.
Exotic Hardwoods: Gorgeous and Long-lasting
If you want an exceptional and one-of-a-kind option, look into using exotic hardwoods like Ipe, Tigerwood, or Cumaru for your project. Thanks to their substantial density and ruggedness, these woods are celebrated for their incredible durability and strikingly beautiful appearance. The vivid colors and elaborate patterns of exotic hardwood decks create an awe-inspiring centerpiece for your outdoor living space.
Embrace Low-Maintenance Living with the Help of Composite and PVC Decking
Should you desire an environmentally-friendly and low-maintenance option, look into composite and PVC decking. These inventive materials amalgamate the natural beauty of wood with the durability of synthetic compounds, bestowing homeowners with a virtually maintenance-free outside setting.
The Upsides and Benefits of Composite Decking
By combining recycled wood fibers and plastic materials, composite decking offers a durable and eco-friendly option. By resisting warping, cracking, and fading, this decking material ensures an attractive and long-lasting deck, while keeping maintenance to a minimum. Also, composite decks are notably easy to clean, and a bit of occasional washing is sufficient to maintain a clean outdoor space.
The Best Brands in the World of Composite Materials
Decks Unique is proud of their association with top composite decking brands like Trex, TimberTech, and Azek. As accredited installers of these extraordinary products, we offer South Farmingdale homeowners the finest materials to create beautiful and enduring outdoor areas.
Custom-build Your Deck with a Range of Color and Texture Combinations
The extensive range of customization choices is a primary perk of composite decking. The assortment of color and texture choices enables you to construct an unparalleled outdoor space that adheres to your home's visual appeal. Whether your liking leans towards natural wood or a more sophisticated design, composite decking has something for you.
Optimize Your Deck's Design with Railing and Baluster Options
An impeccable deck isn't finished without the suitable railing and baluster system. At Decks Unique, we feature a vast collection of alternatives to match your deck design and ensure your outdoor area remains safe and functional.
Timber Handrail Solutions: Time-honored and Lasting
A wood railing system is worth considering for a classic and ageless look. The use of a wood railing system can create a harmonious, unified design for both wood and composite decks. For a striking finale, customize your wood railing system by painting or staining it to match your deck or the exterior of your South Farmingdale home.
Metal and Glass Railing Systems: Chic and Smooth
Desiring a more current and polished appearance, you might want to look into metal or glass railing systems. Such choices add a modern twist and can elevate the vista from your outdoor space, making them an attractive option for homeowners with striking scenery.
Composite Railing Systems: Effortless Maintenance and Stylish
Composite railing systems provide a great option for those who seek low-maintenance alternatives without sacrificing style and elegance. These strong and stylish railings, when matched with composite decking, bring about a cohesive appearance, resulting in a stunning low-maintenance outdoor space.
No matter your preferences, Decks Unique is here to help you choose the perfect decking materials for your home. Touch base with us today to present your needs and launch the design of the outdoor sanctuary of your dreams.
Revamp Your Outdoor Living Area with Our Additional Services in South Farmingdale
At Decks Unique, our goal is to transform your outdoor living space into a luxurious, functional extension of your house. Besides our excellent deck building services, we also deliver a wide array of extra services, including wood awnings, cabanas, gazebos, pergolas, and porch construction. In South Farmingdale, our skilled team works closely with you to achieve your outdoor vision, guaranteeing top-quality and durable results.
Wooden Awnings: Increase Shade and Style for Your Outdoor Space
The addition of wood awnings provides both shade and a touch of elegance to your exterior living area. At Decks Unique, our experienced staff will assist you in the process of choosing the right design and materials to craft an elegant and functional wood awning that harmonizes with your home's aesthetic. These structures not only protect you from harsh weather conditions but also enhance the overall value of your property.
Cabanas: Construct a High-end Refuge in Your South Farmingdale Yard
Cabanas are a fantastic combination of luxury, convenience, and privacy, making them the perfect addition to any outside area. Our expert team will collaborate with you to develop and construct a bespoke cabana tailored to your requirements and desires. Whether your desire is a welcoming respite for relaxation or an elegant setting for entertaining guests, we can create a cabana that presents an idyllic outdoor escape.
Gazebos: A Picture-Perfect Addition for Your Garden or Patio
A lasting gazebo makes any garden or patio more appealing, presenting an attractive central feature and a shaded retreat for outdoor recreation. Our knowledgeable team guides you through the process of choosing the perfect style, materials, and location for your gazebo, guaranteeing harmonious fusion with your existing landscape. With our high-quality craftsmanship, you'll have a gorgeous gazebo that not only complements but also enhances your outdoor space for years to come.
Pergolas: Boost Your Outdoor Environment's Appeal and Functionality with Architectural Flair
Adding a pergola is a fantastic method for enhancing your outdoor area's architectural appeal and usefulness. Pergolas are adept at creating a sheltered yet sunlit environment, making them ideal for garden strolls, patio hangouts, or dining outdoors. At Decks Unique, our qualified experts are capable of designing and constructing a personalized pergola that fits your aesthetic desires and adds worth to your residence.
Porches: Enhancing Your Home's Curb Appeal and Expanding Outdoor Living Space
A proficiently designed porch not only increases your home's curb appeal but also presents a comfortable open-air living space for you and your family to take pleasure in. Our efficient group will work jointly with you to conceive a made-to-order porch that corresponds with your home's architecture and satisfies your conducive needs. With our keen eye for detail and dedication to excellence, you can have peace of mind knowing your porch construction endeavor is well taken care of.
Get in contact with Decks Unique for your South Farmingdale outdoor living space renovation
Decks Unique specializes in delivering premium, custom-crafted outdoor living solutions to our South Farmingdale clients and the surrounding areas. If you're interested in incorporating a wood awning, cabana, gazebo, pergola, or porch to your exterior space, our team of experts is ready to assist. Let's chat about your project today, and we'll reveal how we can change your outdoor living space into a luxurious and practical component of your home.
Expert Deck Consultation and Design in South Farmingdale
At Decks Unique, we excel in offering customized consultation services and creating unique deck designs to fulfill the expectations of our clients. With over 20 years of industry know-how, our experienced deck designers will work side by side with you to create a deck that amplifies your home's appearance and practicality. We'll employ top-tier 3D modeling and visualization strategies to turn your dream deck into a reality, guaranteeing that the resulting product lives up to your anticipations.
Durable Deck Materials for Extended Life Expectancy
Decks Unique, the top Long Island-based deck builder, is an approved installer for all major composite decking brands, including Trex, TimberTech, and Azek. We also put forward various wood decking options to conform to your preferences, like pressure-treated wood pieces, cedar, redwood, and luxurious hardwoods. The use of only premium materials in our work reflects our commitment to building durable, low-maintenance decks.
Exceptional Deck Construction Services in South Farmingdale
Decks Unique's seasoned deck construction team is all about offering unparalleled artistry and streamlining efficiency throughout the entire construction process. With our expert knowledge of building codes, regulations, and permits, you can trust us to handle the entire project from start to finish, leaving you with a stunning and functional outdoor living space.
Uphold and Revamp Your Deck's Charm
Decks Unique comprehends the crucial role of ongoing maintenance in preserving your deck's attractiveness and solid construction. Our experienced team can inspect and identify any damages or potential issues, providing necessary repairs to keep your deck in top condition. Apart from that, we deliver deck refinishing and refurbishment services, including cleaning, staining, weather-resistant treatments, and sealing to preserve and augment your deck's attractiveness.
Elevate Your Outdoor Environment with Customized Features and Add-ons
For truly fashioning your deck into a singular open-air refuge, Decks Unique proffers an assortment of tailor-made components and augmentations, such as lighting solutions for decks, seats integrated into the design, kitchens designed for the outdoors, and flame-oriented installations. These embellishments not only extend usability, but they also create a snug and appealing air for you and your guests to find joy in.
Comprehensive Decking Services and More
Decks Unique, besides being skilled in deck design and construction, is also an expert in crafting other outdoor structures such as wood awnings, cabanas, gazebos, pergolas, and porch construction. With these extra outdoor installations, your Long Island home's outdoor ambience can be significantly improved, making it the best spot for relaxation and amusement.
In South Farmingdale, count on Decks Unique to cater to all your decking requirements. Observe the effect of our commitment to outstanding quality, professionalism, and customer satisfaction on your outdoor living space. Contact us today to book a free assessment and let us change your backyard into an astonishing piece of art.
Dedicated to attending to the needs of South Farmingdale, Roslyn Heights, Port Washington, North Valley Stream, North Amityville, Melville, Malverne, and various other Long Island zones.
Offering Long Island Quality Deck Designs and Services: