Skip to Main Content
IPE / Mahogany Decks for New York Homes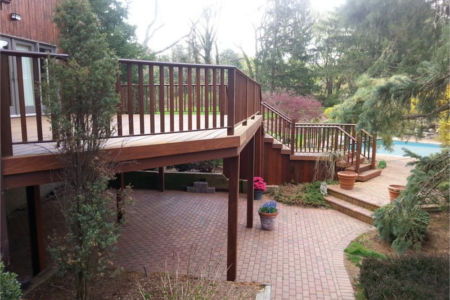 Leave it to Decks Unique, Inc. to provide you with options for decking materials that not all outdoor living space companies offer, like IPE / Mahogany Decks. This is an exotic wood from South America that is also known as Brazilian Walnut.
Any reputable deck building expert will tell you, and its properties make it the ideal material for your deck. Plus, if you're looking for a way to add a feature of your home that not all your neighbors are going to have, IPE / Mahogany Decks are the way to go.
You truly get a one-of-a-kind look and can feel confident that you'll be keeping up with the Jones, without replicating them. If beautiful, durable, and unique are traits you're looking for in a deck, look no further than this style of decking material.
Why Choose IPE Decks?
You may have already started your research on custom decks, maybe even a bit on IPE / Mahogany Decks. As deck specialists, here's some information we'd like to share:
This type of wood comes from the Tabebuia Tree, which is native to the subtropics of Central America and South America.
It's a naturally treated wood, which means it holds its beauty and remains durable for a lengthy amount of time, no matter where it's installed.
Natural durability is one of the traits of this wood, and that's a direct result of growing in the environment that it does.
It can hold up as well as synthetics, with proper care, while looking more naturally beautiful.
IPE is one of the world's densest woods, making it a perfect candidate for building your deck.
Unique, Durable & Beautiful IPE
This wood has a lot going for it with only a few minor drawbacks:
Heavy Wood
Requires Regular Oiling
Costs More Upfront
Limited to Darker Colors
Less Suitable for Large Deck Plans
Yet, generally speaking, these are rarely enough reasons for a consumer to decide against using it. Keep in mind that heavy means sturdy and durable, exactly what you're looking for when building a deck.
Plus, while the colors range from olive to almost black, many homeowners appreciate this. Now every home is meant to have a white painted or buttery yellow wood stained deck.
The best thing that you can do is schedule an appointment with our team and let us review the options that you have. We want you to have an outdoor living space that you can live with and love for years to come.
Call us now for the best IPE / Mahogany Decks, from your preferred New York deck building expert.
What Our Clients Say
About Decks Unique
The design of the deck is beautiful; the materials are of the highest quality, and the construction if flawless [...]
We were very impressed with the quality of the workmanship and the contractors were quick and very clean [...]