Skip to Main Content
Get Superior Results for Your Wood Deck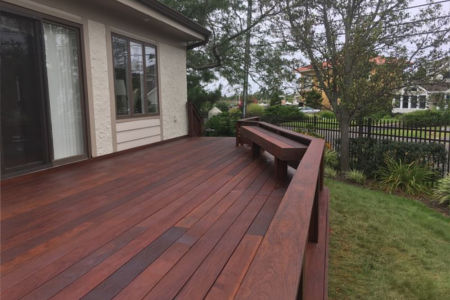 Wood decks are an exquisite choice to make when you're looking for a way to add outdoor living space. Ask any reputable deck building expert, and they'll agree that there's no right or wrong answer for selecting the right decking material.
Decks Unique, Inc. is the preferred service provider for any style of deck that you decide to add to your home. We promise you a level of unsurpassed quality that will provide you with years of enjoyment.
Wood decks become the ideal spot to make family memories and host social events. From simple and sophisticated to oversized and ornate, whatever style of deck you'd like, we can design and install.
Enjoying the Benefits of Your New Wood Deck
For many homeowners, there's simply nothing as classic as wood. It's a point that can't easily be argued.
With proper maintenance, wood is perfect for custom decks, as it is for fencing and other components of your home. Wood decks are an ideal choice for anyone who wants:
Beautiful Visual Aesthetics
Optimal Longevity
Enhanced Property Value
Unique Wood Grain
Sturdy and Durable
Preferred among traditionalists, wood decks just fit the look of the great outdoors. Of course, you don't have to be a traditionalist to appreciate the natural beauty, especially since you can choose to paint it and change the wood's appearance.
Whether you stain it to complement the natural wood grain or seal it with the paint color of your choice, you'll appreciate the outcome. While the wood used is pressure treated to prevent decay and termite damage, there's still a level of required maintenance involved.
Choices You Can Live With
The important thing is to be aware of the maintenance needs and make sure keeping up with it is realistic. The trend of outdoor living isn't going away anytime soon, and houses without this type of addition will be left behind when it comes to the housing market.
Plus, you'll be missing out if you don't start thinking seriously about having yours added. Now, all you have to decide is what material to use.
Treated lumber is more affordable than most people realize. Of course, with a lower price tag comes some drawbacks to consider.
Requires Greater Maintenance
Staining/Painting Needed
Shrinking Over Time
Warping with Age
Cracking or Splintering
The care involved and how it weathers with time has a lot to do with the type of wood you select too. Our job is to help you better understand the options.
For results you'll love for years to come, call us now and review Long Island Wood decks by our deck building experts.
What Our Clients Say
About Decks Unique
The design of the deck is beautiful; the materials are of the highest quality, and the construction if flawless [...]
We were very impressed with the quality of the workmanship and the contractors were quick and very clean [...]