Skip to Main Content
Custom Decks for Long Beach Yards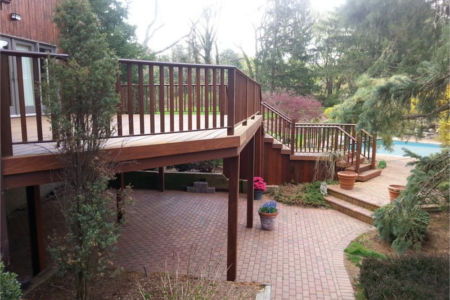 A patio deck offers accessible space for informal entertaining and day by day enjoyment of the splendid outdoors. Patios are often constructed either at the back or in front of the home. Effective patio deck designs increase the floor space of your home and add a room where you can entertain friends frequently. People who are fond of entertaining friends might fancy a patio with a private kitchen and dining area. Decks additions are amongst the least complicated and most satisfying home improvement tasks you can carry out.
wooden deck is a valuable home improvement that intensifies the magnificence and worth of your home. A deck designed as a wooden podium, competent of supporting weight, built outside and attached to your house is a good patio design choice. It might be enclosed with wooden handrail for protection depending on its loftiness. Wooden patios however, need regular maintenance and re-staining over time.
Home patios can be arranged in various forms and dimensions and can be revitalized consistently. Out-of-doors entertaining is becoming a popular mounting activity for friends and family, so having it designed to suit your tastes is immensely satisfying.
Ourtrained professional staff has the uears of experience and the skills needed to provide you with a quality home decking solutions. Whether you would like ot have a large deck or a small one our trained professional staff can assist you every step of the way.
Offering Long Island Quality Deck Designs and Services:
What Our Clients Say
About Decks Unique
The design of the deck is beautiful; the materials are of the highest quality, and the construction if flawless [...]
We were very impressed with the quality of the workmanship and the contractors were quick and very clean [...]