Uncover Decks Unique - The Leading Deck Construction Solution in Plainview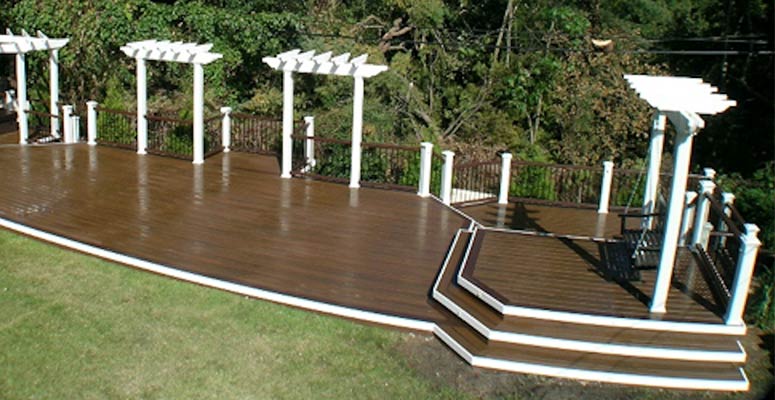 Decks Unique, a family-run business specializing in custom deck design and construction, has been serving the Long Island community and surrounding regions, including Plainview, for more than two decades. Driven by our passion for design and a strong commitment to professionalism, honesty, and innovation, we have become the leading producer of top-quality decks in Long Island, setting the standards for our industry. Our specialization includes creating custom decks, porches, gazebos, pergolas, wooden awnings, and various outdoor structures that contribute to the value, charm, and utility of your Long Island home.
Plainview Deck Building Services with Expertise and Experience
Decks Unique upholds the idea that a thoughtfully devised deck design constitutes a wise investment in home improvement. Decks Unique's highly trained team of deck builders pledges to deliver the highest quality, keep up with effective production timeframes, and guarantee that our warranties possess genuine lasting value. Our devotion to superior standards has led to innumerable content clients and decks they can happily display for the foreseeable future.
Our Long Island deck building crews are authorized installers of all major composite deck products, such as Trex, TimberTech, and Azek. We extend free residential consultations and digitally-crafted deck layouts for you to preview your project before it gets underway. Let your backyard be the canvas for our next masterpiece!
Augment the Value of Your Residence with a Unique Deck
A well-crafted deck contributes to both an increase in your Plainview home's outdoor living environment and the enhancement of its value. Decks Unique's forte is in the design and production of bespoke decks that adhere to the distinct demands and tastes of all our customers. From a warm and welcoming spot for get-togethers to an elegant outdoor refuge for enjoying the splendid weather, our team will work intimately with you to fashion your desired space.
We recognize that every homeowner has unique preferences and needs for their outdoor areas. We supply a wide scope of materials, styles, and facets to build the superb deck that goes well with your dwelling and lifestyle. Whether you prefer classic wood choices like pressure-treated lumber, cedar, and redwood, or easy-care composite and PVC decking options, we have the perfect solution for every budget and style.
Unmatched Commitment to Awe-inspiring Quality and Client Comfort
At Decks Unique, excellent workmanship and gratified clients are what we focus on. We are dedicated to utilizing only top-grade materials and partnering with expert, seasoned builders to guarantee our projects meet the most stringent standards.
We regard transparent communication as a critical component of project success, and we dedicate ourselves to keeping our clients informed at all times. Our team is at your service, from the very beginning with the consultation and design stage, throughout construction, and up until the final inspection, to address any queries or concerns and to make certain you are fully satisfied with your deck.
Let Decks Unique transform your Plainview backyard into an outdoor living space you'll love. Connect with us today to book a free consultation and find out what sets Decks Unique apart.
In-depth Decking Assistance in Plainview
Decks Unique specializes in providing a wide assortment of decking services, designed to suit the preferences of our Plainview customers. We specialize in a variety of custom deck services, including designing and building decks, as well as providing repairs, maintenance and refinishing. We further supply a range of special features and add-ons designed to elevate your outdoor living quality. Let's take a closer look at the services we offer.
Custom Deck Design: Materializing Your Dream Deck with Expertise
Our adept deck designers will cooperate with you to create a personalized deck that expresses your distinctive style, accents your home, and accommodates the particular requirements of your property. By assisting you in making informed choices, our connoisseurs will facilitate your material selection journey, assuring lasting charm and toughness.
Expert Deck Construction: Quality Craftsmanship for a Stunning Outdoor Space
As the premier deck builder, we are committed to using only high-quality materials and employing safe, efficient workmanship. Our experienced crews are authorized installers of major composite deck products, such as Trex, TimberTech, and Azek. With rigorous attention to detail and a commitment to structural robustness, we confirm that your deck is not only striking but also stands firm for years to come.
Deck Preservation and Fixing: Sustaining Your Investment's Worth
Maintaining the appearance and function of your deck depends on regular maintenance. Our skilled team is available to provide detailed repair and maintenance services for wood and composite decks. From thorough inspections to identify potential issues, to expert repair of damages caused by weather or wear-and-tear, we are your go-to source for all your deck maintenance needs. Our organized maintenance plans deliver the confidence that your deck will maintain premium quality throughout the entire year.
Deck Refinishing and Restoration: Breathe New Life Into Your Outdoor Space
Eventually, even the best quality decks might display signs of wear and might need refinishing to preserve their look. Our skilled team can rejuvenate your deck's appearance with professional cleaning, staining, weatherproofing, and sealing. Also, we can provide structural modifications, making certain that your deck continues to be safe and practical for many years ahead.
Personal Customizations and Upgrades: Enrich Your Deck Leisure
To heighten your outdoor living space experience, we introduce an array of distinct features and add-on choices devised to augment your deck. Among these selections are energy-effective deck lights, inherent seating, kitchens designed for outdoor use, and features involving fire. Incorporating these aspects into the deck design, we generate a welcoming and snug habitat for you and your acquaintances to revel in Plainview.
Decks Unique focuses on offering unparalleled decking assistance to customers and areas close by. With over 20 years of experience in the industry, we have built a reputation for professionalism, honesty, and innovation. No matter if you're seeking to create a new deck or update your current one, our knowledgeable team is prepared to assist. Connect with us today to set up a no-charge consultation and learn how your outdoor space can become a gorgeous, practical escape.
Explore the Perfect Deck Material for Your Needs: Wood and Composite Alternatives
Decks Unique is dedicated to assisting you in developing the ideal outdoor sanctuary for your residence. As a result, we offer numerous decking materials, with options in both timber and composite varieties. Each material has its unique advantages, ensuring that you can choose the best option for your specific needs and preferences.
Wood Decking Offers Timeless Elegance
Wood is a timeless and versatile material, providing natural warmth and charm to any outdoor space. Our collection of wood deck possibilities is tailored to fit all styles and financial considerations.
Treated Lumber: Inexpensive and Strong
Due to its cost efficiency and resilience, pressure-treated lumber appeals to a lot of homeowners. The decking material is treated specially to guard against wood rot and insect invasion. This ensures that pressure-treated decks remain durable and need only minimal maintenance.
Elegance and Resilience: Cedar and Redwood's Natural Qualities
If you're in the market for a high-end solution, consider our cedar and redwood decking options. These elegant and premium woods possess natural resistance to decay and pests, guaranteeing a durable deck that matures with elegance. Exhibiting rich color palettes and peculiar grain motifs, cedar and redwood decks present a marvelous addition to any domestic setting.
Exotic Hardwoods: Sophisticated and Long-lived
For a truly unparalleled and elegant choice, give some thought to exotic hardwoods such as Ipe, Tigerwood, or Cumaru. These uncommonly sturdy and enduring woods are well known for their amazing long-lasting qualities and gorgeous appearance. An exotic hardwood deck's dazzling colors and intricate designs make it a standout centerpiece in any outside space.
Achieve Low-Maintenance Living with the Use of Composite and PVC Decking
For individuals in search of a low-maintenance, environmentally friendly option, composite and PVC decking are worth considering. These advanced materials merge wooden charm with synthetic endurance, offering homeowners an almost maintenance-free open-air space.
The Upsides and Benefits of Composite Decking
Using a blend of reclaimed wood fibers and plastic, composite decking delivers a long-lasting and environmentally friendly solution. Warping, cracking, and fading are no match for this decking material, which ensures a beautiful and long-lasting deck with minimal effort required. Composite decks are also known for their ease of cleaning, requiring only infrequent washes to keep your outdoor space looking its best.
Leading Brands in the Field of Composite Materials
Decks Unique is pleased to join forces with leading composite decking brands, such as Trex, TimberTech, and Azek. Being certified installers of these outstanding products, we're able to supply Plainview residents with top-notch materials for stunning and durable outdoor spaces.
Custom-build Your Deck with a Range of Color and Texture Combinations
Composite decking's large selection of customization options is one of its main benefits. Choose from many color and texture combinations to create a singular outdoor area that harmonizes with your home's décor. Regardless of your preference for natural wood's appearance or modern designs, composite decking provides a suitable option.
Revamp Your Deck Using Different Railing and Baluster Combinations
An exceptional deck is missing something without the right railing and baluster system. Decks Unique offers an extensive selection of options to work seamlessly with your deck design and promote the safety and usefulness of your exterior area.
Wood Railing Systems: Traditional and Timeless
A wood railing system is an excellent choice for a classic and never-outdated appearance. A wood railing system can complement both wooden and composite decking, providing a cohesive and polished appearance. Ensure a striking end result by customizing the finish of your wood railing system to match your deck or Plainview home exterior.
Metal and Glass Railing Systems: Contemporary and Elegant
If you prefer a more modern and sleek aesthetic, consider metal or glass railing systems. These railing systems bring a current flair while enhancing the panorama from your deck, which is highly appreciated by property owners with beautiful surroundings.
Composite Railing Systems: Low-Care and Trendy
Those in search of a stylish yet low-maintenance alternative will find composite railing systems to be an excellent selection. These robust and appealing railings, when used alongside composite decking, create a harmonious appearance and a gorgeous outdoor area with little maintenance needed.
Regardless of your personal preferences, Decks Unique stands ready to help you decide on the most suitable decking materials for your living space. Get in contact with us now to outline your requirements and initiate the creation of your perfect outdoor environment.
Optimize Your Outdoor Living Space with Our Extra Services in Plainview
Our objective at Decks Unique is to transition your outdoor living area into an elegant and useful home extension. In addition to top-notch deck building services, we also offer various other services, such as installing wood awnings, cabanas, gazebos, pergolas, and constructing porches. In Plainview, we have a team of skilled professionals who work closely with you to make your dream outdoor space a reality, while ensuring the highest quality and durability.
Wood Awnings: Bring Both Shade and Style to Your Outdoor Living Space
Installing wood awnings is a fantastic approach to enhance your outdoor area with both shade and elegance. At Decks Unique, our experienced staff will assist you in the process of choosing the right design and materials to craft an elegant and functional wood awning that harmonizes with your home's aesthetic. Not only do these structures shield you from extreme weather, but they also boost your property's overall worth.
Cabanas: Create a Luxurious Retreat in Your Plainview Backyard
Cabanas strike a perfect balance between luxury, comfort, and privacy, making them a great fit for any outdoor space. Our skilled professionals will partner with you in designing and constructing a personalized cabana that fulfills your unique necessities and preferences. From a cozy sanctuary for relaxation to a chic locale for socializing with friends, we can craft a cabana that makes for the perfect open-air haven.
Gazebos: A Visually Appealing Addition for Your Garden or Patio
A gazebo remains a cherished inclusion in gardens and patios, lending an appealing visual interest and a comfortable shaded zone for outdoor leisure. Our proficient team aids you in picking the optimal aesthetics, materials, and location to incorporate your gazebo seamlessly into your current landscape. Thanks to our superior craftsmanship, your gazebo will be a beautiful addition to your outdoor area and provide enjoyment for many years.
Pergolas: Upgrade Your Exterior Area by Adding Architectural Intrigue and Purpose
To elevate the visual interest and practicality of your outdoor space, consider adding a pergola. The interplay of sun and shade that pergolas provide makes them a great choice for garden pathways, outdoor terrace spaces, or al fresco dining venues. The proficient staff at Decks Unique can develop and assemble a custom-designed pergola to harmonize with your tastes and augment your home's value.
Porch Construction: Enhance Your Home's Curb Appeal and Outdoor Living Space
A well-planned porch not only heightens your home's curb appeal but also furnishes a snug outdoor living environment for you and your kin to relish. Our adept squad will come together with you to formulate a distinctive porch that integrates with your home's architectural layout and meets your functional preferences. With our comprehensive attention to even the smallest detail and steadfast pledge to premium quality, you can breathe easy knowing your porch assembly project is in proficient hands.
Contact Decks Unique to revamp your Plainview outdoor living area
At Decks Unique, we're committed to supplying our Plainview clients and those in the surrounding areas with outstanding, customized outdoor living solutions. Should you desire to add a wood awning, cabana, gazebo, pergola, or porch to your outdoor living environment, our adept team is here for support. Connect with us today to explore your project's possibilities and see how we can make your outdoor living space a luxurious and efficient extension of your household.
Expert Deck Consultation and Design in Plainview
At Decks Unique, we pride ourselves on offering personalized consultation and custom deck designs to fit the individual needs of our clients. Our seasoned deck designers, with over 20 years in the field, will partner with you to develop a deck that improves both your home's appearance and functionality. With state-of-the-art 3D modeling and visualization tools, we'll actualize your vision of the perfect deck, guaranteeing that the completed project satisfies your requirements.
Durable Deck Materials for Extended Life Expectancy
Decks Unique, the preeminent deck builder on Long Island, is authorized to install all renowned composite decking products, featuring brands like Trex, TimberTech, and Azek. We also present an array of wooden decking alternatives to accommodate your preferences, like pressure-treated timber, cedarwood, redwood, and rare hardwoods. Our pledge to utilize only the finest materials ensures that your new deck will withstand the test of time while demanding little maintenance.
Reliable Deck Construction Services in Plainview
Decks Unique's expert deck construction crew is committed to delivering outstanding workmanship and efficiency throughout the entire building process. With our in-depth grasp of building codes, guidelines, and permits, you can have confidence in us to take care of the entire project, from inception to conclusion, providing you with an impressive and usable outdoor space.
Maintaining & Restoring the Beauty of Your Deck
Decks Unique comprehends the crucial role of ongoing maintenance in preserving your deck's attractiveness and solid construction. Our seasoned team can conduct inspections and find any damages or potential problems, performing essential repairs to maintain your deck's prime state. Besides, we make available deck refinishing and restoration conveniences, like cleaning, staining, defending against harsh weather, and sealing techniques to uphold and heighten your deck's aesthetic value.
Elevate Your Outdoor Environment with Customized Features and Add-ons
For truly fashioning your deck into a singular open-air refuge, Decks Unique proffers an assortment of tailor-made components and augmentations, such as lighting solutions for decks, seats integrated into the design, kitchens designed for the outdoors, and flame-oriented installations. Such improvements not only boost practicality, but they also generate a cozy and welcoming ambiance for you and your visitors to appreciate.
Comprehensive Decking Services and More
Decks Unique, known for its expertise in deck design and construction, also offers expertise in other outdoor structures, including wood awnings, cabanas, gazebos, pergolas, and porch construction. These outdoor structures can elevate your Long Island property's outdoor appeal, making it a prime location for enjoying downtime and entertaining guests.
Let Decks Unique handle all of your decking needs in Plainview. Uncover the change our pledge of quality, professionalism, and customer delight brings to your outdoor environment. Contact us today to schedule a free consultation and let us transform your backyard into a stunning masterpiece.
Delighted to cater to the needs of Plainview, North Valley Stream, North Amityville, Merrick, Manhasset, Lake Grove, Hicksville, and other Long Island neighborhoods.
Offering Long Island Quality Deck Designs and Services: