Uncover Decks Unique - The Leading Deck Construction Solution in Roslyn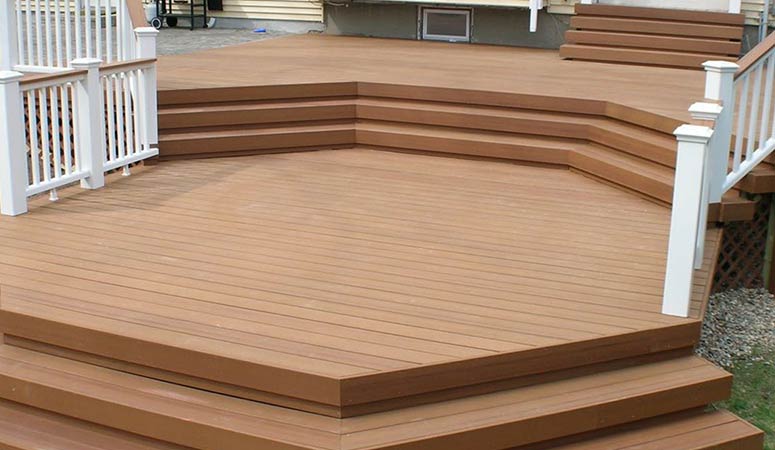 Decks Unique, a family-owned and operated company specializing in custom deck design and construction, has served the communities of Long Island and the surrounding areas, such as Roslyn, for over two decades. Driven by our passion for design and a strong commitment to professionalism, honesty, and innovation, we have become the leading producer of top-quality decks in Long Island, setting the standards for our industry. Our proficiency extends to designing and building custom decks, porches, gazebos, pergolas, wood awnings, and other outdoor fixtures that enrich the value, elegance, and usefulness of your dwelling on Long Island.
Highly Skilled and Experienced Deck Construction Services in Roslyn
Decks Unique maintains that a well-designed deck is a smart investment when thinking about ways to improve your home. Decks Unique's highly trained team of deck builders pledges to deliver the highest quality, keep up with effective production timeframes, and guarantee that our warranties possess genuine lasting value. This unswerving commitment to unparalleled standards has brought about a hundreds of happy customers and elegant decks they're excited to showcase for years to come.
On Long Island, our professional decking installers are approved to work with all major composite decking materials, like Trex, TimberTech, and Azek. We present free home evaluations and computerized decking layouts to enable you to picture your project before it becomes reality. Give us the chance to make your backyard our succeeding project!
Boost Your Home's Worth with a Personalized Deck
An outstanding deck can both improve the exterior living area of your Roslyn residence and substantially increase its worth. Our team at Decks Unique is dedicated to designing and building custom-made decks that perfectly align with every client's individual needs and preferences. Regardless of whether you want an inviting space to entertain loved ones or a haven to appreciate the delightful weather, we will work in harmony with you to actualize your vision.
We understand that each homeowner in has different tastes and requirements for their outdoor spaces. This is the basis for our extensive variety of materials, styles, and elements to establish the flawless deck that lines up with your home and lifestyle. From conventional wood selections like pressure-treated lumber, cedar, and redwood to hassle-free composite and PVC decking alternatives, we possess the perfect solution for all budgets and inclinations.
Extraordinary Concentration on Outstanding Performance and Customer Happiness
Providing exceptional workmanship and keeping our clients satisfied is our top priority at Decks Unique. Our commitment to using only high-quality materials and employing skilled, experienced builders ensures that each project we undertake is completed to the highest standards.
In our view, clear communication is essential to a project's success, and we're committed to keeping our clients up-to-date at every stage. From the start, with the initial consultation and design aspects, all through the construction phase and the final inspection, our ever-present team is here to address questions, eliminate concerns, and confirm that you are absolutely thrilled with your new deck.
Allow Decks Unique to create a beautiful outdoor living area in your Roslyn backyard. Contact us immediately to set up a complimentary consultation and feel the Decks Unique superiority.
Thorough Deck Building Solutions in Roslyn
Decks Unique takes pride in providing an extensive array of decking services, customized to accommodate the requirements of our Roslyn clientele. Our team is skilled in providing a holistic suite of services, from custom deck design and construction to repair, maintenance, and refinishing. We also offer a variety of exclusive features and extras designed to upgrade and enhance your outdoor living space. Now, let's examine our wide variety of services more closely.
Custom Deck Design: Developing Your Picture-Perfect Dream Deck
Our proficient deck designers will partner with you to develop a bespoke deck that embodies your personal preferences, augments your home, and fulfills the distinct requisites of your property. To help you make informed decisions, our experts will also guide you through material selection, ensuring long-lasting beauty and durability.
Professional Deck Development: Skillful Artisanship for a Captivating Outdoor Oasis
As the preeminent deck builder, our commitment is to use solely premium materials and execute safe, effective workmanship. Our proficient crews are authorized to install well-known composite deck materials, including Trex, TimberTech, and Azek. With thorough attention to detail and a concentration on sound construction, we ascertain that your deck is not only eye-catching but also resilient throughout the years.
Taking Care of Your Deck: Ensuring Your Investment Stays Protected
Keeping your deck beautiful and functional requires regular maintenance. We have a dedicated team that offers all-inclusive repair and upkeep services for both wood and composite decks. Providing extensive inspections to identify possible challenges, coupled with expert repairs tackling weather or wear-and-tear damages, we serve as your primary choice for all deck maintenance tasks. You'll have peace of mind with the knowledge that your deck will remain in exceptional condition year-round, thanks to our regular maintenance programs.
Deck Refinishing and Restoration: Renew Your Outdoor Oasis
Over an extended period, even the outstanding quality decks might exhibit symptoms of wear or require refinishing to preserve their attractiveness. Our expert team can restore the beauty of your deck through professional cleaning, staining, weatherproofing, and sealing. We can also effectuate structural refinements, thereby ensuring your deck remains protected and functional for years.
Made-to-order Qualities and Accessories: Strengthen Your Deck Recreation
To upgrade your outdoor living space, we present a variety of custom-made elements and additional options meant to enrich your deck. The available options consist of energy-efficient illumination on decks, embedded seating, exterior kitchens, and fire amenities. By fusing these elements within the deck design, we cultivate a warm and comfy place for you and your kin to share memorable moments in Roslyn.
At Decks Unique, we specialize in providing top-quality decking services to clients and the surrounding areas. With over 20 years of experience in the industry, we have built a reputation for professionalism, honesty, and innovation. When it comes to designing a fresh deck or improving an existing one, our expert team is at your service. Reach out to us now to book a cost-free consultation and find out how we can turn your outdoor area into a visually striking and practical haven.
Find Your Ultimate Deck Material: Wood vs. Composite Choices
At Decks Unique, we are committed to helping you create the perfect outdoor oasis for your home. That is why we present a diverse range of decking materials, featuring wooden and composite alternatives. Separate materials exhibit specific strengths so that you can determine the best option corresponding to your particular requirements and desires.
Embrace the Timeless Beauty of Wooden Decks
Wood's timeless versatility makes it an ideal material for adding warmth and charm to outdoor environments. Our collection of wood deck possibilities is tailored to fit all styles and financial considerations.
Treated Wood: Budget-conscious and Long-lasting
Because of its budget-friendliness and lasting quality, pressure-treated lumber is popular among numerous homeowners. A certain treatment process ensures this decking material remains resistant to rot and insect infiltrations. This ensures that pressure-treated decks remain durable and need only minimal maintenance.
High-End and Resilient Cedar and Redwood: A Natural Concoction
Should you seek a more sumptuous choice, we also present cedar and redwood decking. These elegant and premium woods possess natural resistance to decay and pests, guaranteeing a durable deck that matures with elegance. The vibrant hues and distinct grain designs of cedar and redwood decks create an impressive enhancement to any residence.
Exotic Hardwoods: Elegant and Resilient
If you're on the hunt for a genuinely distinct and sophisticated alternative, consider utilizing exotic hardwoods like Ipe, Tigerwood, or Cumaru. These remarkable hardwoods are extremely dense and strong, making them known for their outstanding longevity and striking visual charm. Accentuating any outdoor area, exotic hardwood decks offer eye-catching colors and ornate patterns as a stunning centerpiece.
The Benefits of Low-Maintenance Living: Composite and PVC Decking
In case you're searching for a low-maintenance and eco-centric alternative, give composite and PVC decking some thought. These groundbreaking materials fuse the visual appeal of wood with the ruggedness of synthetic ingredients, granting homeowners an essentially maintenance-free outdoor environment.
The Upsides and Benefits of Composite Decking
Composite decking, featuring a mix of reused wood fibers and plastic, is an enduring and eco-friendly solution. Being able to withstand warping, cracking, and fading, this decking material promises a visually appealing and lasting deck with minimal effort. Cleaning composite decks is hassle-free, as they just need the occasional washing to ensure that the outdoor area stays spotless.
A Look at Industry-Leading Composite Materials Brands
Decks Unique is proud of their association with top composite decking brands like Trex, TimberTech, and Azek. As authorized installers of these exceptional products, we can provide Roslyn homeowners with the highest quality materials, ensuring a gorgeous and long-lasting outdoor space.
Personalize Your Deck by Choosing Color and Texture Alternatives
A key benefit of composite decking is the broad spectrum of customization opportunities. Having a myriad of color and texture options allows you to fashion a one-off outdoor space that connects with your home's design. Regardless of your preference for natural wood's appearance or modern designs, composite decking provides a suitable option.
Amplify Your Deck's Look with Railing and Baluster Additions
An ideal deck requires the appropriate railing and baluster system to be complete. With Decks Unique, you have access to a variety of options that enhance your deck design while guaranteeing safety and functionality in your outdoor area.
Wooden Railing Designs: Everlasting and Traditional
If you want a classic and enduring aesthetic, contemplate a wood railing system. By integrating a wood railing system with either a wood or composite deck, you can achieve a smooth and consistent design. For a striking finale, customize your wood railing system by painting or staining it to match your deck or the exterior of your Roslyn home.
Metal and Glass Railing Systems: Trendy and Slick
If modern sophistication and sleekness catch your eye, metal or glass railing systems might be just the thing. These railing systems bring a current flair while enhancing the panorama from your deck, which is highly appreciated by property owners with beautiful surroundings.
Composite Railing Systems: Simple Maintenance and Sophisticated
For those seeking a low-maintenance option that still offers style and elegance, composite railing systems are a perfect choice. The resilient and captivating railings offer a consistent aesthetic when used in conjunction with composite decking, cultivating an exquisite outdoor space with low maintenance needs.
No matter your design preferences, Decks Unique is on hand to provide guidance in choosing the best decking materials for your home. Reach out to us today to discuss your goals and commence the design of your ideal outdoor space.
Raise the Bar for Your Outdoor Living Space with Our Additional Services in Roslyn
At Decks Unique, we believe in transforming your outdoor living space into a luxurious and functional extension of your home. Besides our excellent deck building services, we also deliver a wide array of extra services, including wood awnings, cabanas, gazebos, pergolas, and porch construction. In Roslyn, our skilled team works closely with you to achieve your outdoor vision, guaranteeing top-quality and durable results.
Wooden Awnings: Increase Shade and Style for Your Outdoor Space
Installing wood awnings is a fantastic approach to enhance your outdoor area with both shade and elegance. Our experienced team at Decks Unique will help you choose the right design and materials to create a beautiful and functional wood awning that complements your home's aesthetic. These constructions provide both shelter from severe weather conditions and elevation in your property's total value.
Cabanas: Create a Luxurious Retreat in Your Roslyn Backyard
Cabanas offer a perfect blend of luxury, comfort, and privacy, making them an ideal addition to any outdoor space. With the assistance of our expert team, we will design and build for you a customized cabana that aligns with your specific needs and preferences. Whether you need a soothing oasis for leisure or a fashionable area for entertaining guests, we shall produce a cabana that acts as the consummate outdoor refuge.
Gazebos: A Visually Appealing Addition for Your Garden or Patio
Adding a gazebo to a garden or patio creates an ageless charm, providing a striking focal point, and a covered spot for outdoor relaxation. With our skilled team's guidance, you'll select the right style, materials, and site for your gazebo, ensuring harmonious integration with your existing surroundings. With our high-quality craftsmanship, you'll have a gorgeous gazebo that not only complements but also enhances your outdoor space for years to come.
Pergolas: Combine Architectural Aesthetics and Utility for Your Outdoor Retreat
To elevate the visual interest and practicality of your outdoor space, consider adding a pergola. Such structures offer a mix of shade and natural light, making them ideal for garden paths, terrace areas, or al fresco dining spots. Let Decks Unique's knowledgeable professionals plan and build a customized pergola to match your style, and in doing so, increase your home's value.
Porches: Enhancing Your Home's Curb Appeal and Expanding Outdoor Living Space
A well-designed porch not only enhances your home's curb appeal but also provides a comfortable outdoor living area for you and your family to enjoy. Our knowledgeable team will partner with you to build a personalized porch that fits your home's architectural theme and adheres to your functional demands. With our attention to detail and commitment to quality, you can rest assured knowing your porch construction project is in good hands.
Contact Decks Unique for Your Roslyn Outdoor Living Space Transformation
At Decks Unique, we take pride in providing high-quality, custom outdoor living solutions to our clients in Roslyn and the surrounding areas. If you're interested in incorporating a wood awning, cabana, gazebo, pergola, or porch to your exterior space, our team of experts is ready to assist. Reach out to us today to talk about your project and find out how we can turn your outdoor living space into an opulent and functional addition to your home.
Expertly Crafted Deck Plans and Designs in Roslyn
At Decks Unique, we excel in offering customized consultation services and creating unique deck designs to fulfill the expectations of our clients. Our highly skilled deck designers, with over two decades of experience, will work intimately with you to build a deck that enhances your home's visual allure and features. Through the use of progressive 3D modeling and visualization practices, we'll breathe life into your dream deck, ensuring the end product surpasses your expectations.
Premium Deck Construction Materials for Extended Durability
Long Island's elite deck builder, Decks Unique, is a licensed installer for all primary composite decking products, such as Trex, TimberTech, and Azek. Moreover, we supply a selection of wood decking possibilities to fit your desires, featuring pressure-treated lumber, cedar, redwood, and specialty hardwoods. Our resolve to employ only high-quality materials ensures a long-lasting, easy-to-maintain deck for your property.
Superior Deck Construction Services in Roslyn
The competent deck construction crew at Decks Unique is committed to providing first-rate craftsmanship and efficiency across the entire building process. Leveraging our deep expertise in building codes, norms, and permits, you can entrust us with the full project from beginning to end, yielding an eye-catching and practical outdoor environment.
Maintaining & Restoring the Beauty of Your Deck
Decks Unique comprehends the crucial role of ongoing maintenance in preserving your deck's attractiveness and solid construction. The experienced professionals at Decks Unique can survey and determine any issues or prospective challenges, offering crucial repairs to uphold your deck's excellent quality. Additionally, we offer deck refinishing and restoration services, including cleaning, staining, weatherproofing, and sealing to protect and enhance your deck's appearance.
Elevate Your Outdoor Environment with Customized Features and Add-ons
To design your deck into a distinctive open-air living space, Decks Unique proposes a wide selection of made-to-order facets and additions, such as lighting specifically for decks, seating integrated within the deck's design, kitchen areas meant for outdoor use, and fire-involved features. These embellishments not only extend usability, but they also create a snug and appealing air for you and your guests to find joy in.
Comprehensive Decking Services and More
In addition to our proficiency in deck design and building, Decks Unique also provides expertise in constructing supplementary outdoor structures like wooden awnings, cabanas, gazebos, pergolas, and porches. These structures can further enhance your Long Island home's outdoor space, making it the perfect area for relaxation and entertainment.
For all your decking desires in Roslyn, choose Decks Unique. Find out how our dedication to top-notch quality, professionalism, and customer satisfaction affects your outdoor area. Connect with us today to arrange a cost-free consultation, and allow us to transform your outdoor area into a breathtaking masterpiece.
Taking great pleasure in assisting Roslyn, Port Washington, North Valley Stream, North Amityville, Merrick, Malverne, Lake Grove and other Long Island districts.
Offering Long Island Quality Deck Designs and Services: