Check out Decks Unique - Valley Stream's Exceptional Deck Building Professionals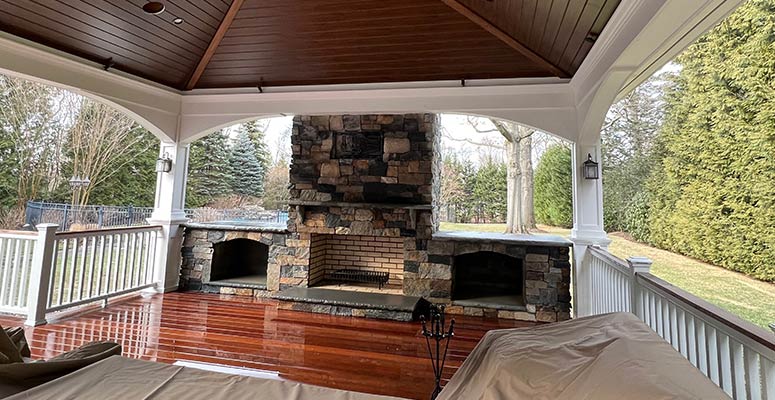 Over the past 20 years, Decks Unique, a family-owned and operated company, has been dedicated to offering custom deck design and construction services in Long Island and the surrounding areas, including Valley Stream. Our enthusiasm for design, coupled with our dedication to professionalism, honesty, and innovation, has established us as the premier producer of top-notch decks throughout Long Island, and we've set industry benchmarks. We're adept at designing and constructing personalized decks, porches, gazebos, pergolas, wooden awnings, and a variety of outdoor installations that improve the value, aesthetics, and practicality of your Long Island household.
Comprehensive and Experienced Deck Building Services in Valley Stream
At Decks Unique, we are convinced that a well-organized deck layout offers a sensible investment in home improvement projects. The Decks Unique team of master deck builders is resolute in offering optimum quality, sticking to smooth production schedules, and safeguarding the lasting merit of our warranties. Our devotion to superior standards has led to innumerable content clients and decks they can happily display for the foreseeable future.
Our Long Island deck building specialists are licensed to install all top composite deck brands, such as Trex, TimberTech, and Azek. Our services include no-cost home consultations and computer-generated deck designs, allowing you to see your project before it's brought to life. Why not turn your backyard into our following endeavor?
Heighten Your Home's Worth with Your Own Custom Deck
The addition of a fantastic deck not only expands your Valley Stream home's outdoor living space but also amplifies its market value. Our team at Decks Unique is dedicated to designing and building custom-made decks that perfectly align with every client's individual needs and preferences. If you want a casual space for hosting gatherings or an upscale oasis to soak up the beautiful weather, our professionals will diligently work alongside you to realize your vision.
We are aware that individual homeowners have varying preferences and demands for their external spaces. To accommodate these diverse preferences, we supply a wide array of materials, styles, and attributes for crafting the ideal deck to harmonize with your home and way of life. We have suitable solutions for every budget and preference, including traditional wood types like pressure-treated lumber, cedar, and redwood, as well as low-maintenance composite and PVC decking.
Unmatched Commitment to Awe-inspiring Quality and Client Comfort
Providing exceptional workmanship and keeping our clients satisfied is our top priority at Decks Unique. Our devotion to first-class materials and engaging the services of experienced contractors guarantees the superior completion of each project we take on.
We think that effective communication is crucial for project success, and it's our top priority to keep clients in the loop throughout the process. Our team is at your service, from the very beginning with the consultation and design stage, throughout construction, and up until the final inspection, to address any queries or concerns and to make certain you are fully satisfied with your deck.
Let Decks Unique enhance your Valley Stream backyard with an outdoor living space you'll be proud of. Get ahold of us today to schedule an obligation-free consultation and explore the Decks Unique benefits.
Total Deck Construction Solutions in Valley Stream
Decks Unique, located in Valley Stream, is proud to offer an extensive range of tailored decking services, designed to cater to client needs. Our team possesses the skills necessary for every step of the process, from designing and constructing custom decks to repairs, upkeep, and refinishing. At Decks Unique, we also supply a variety of distinct features and additional options to augment your outdoor living enjoyment. Let us examine the range of services we provide in greater detail.
Custom Deck Design: Crafting Your Dream Deck with Precision
Our exceptional deck designers will work side-by-side with you to fashion a tailor-made deck that conveys your personal touch, perfectly matches your home, and handles the unique expectations of your property. By assisting you in making informed choices, our connoisseurs will facilitate your material selection journey, assuring lasting charm and toughness.
Expert Deck Building: Excellent Workmanship for an Impressive Exterior Area
As the foremost deck builder, we are devoted to employing first-rate materials and maintaining secure, productive workmanship. Our accomplished crew members are qualified installers of renowned composite deck materials, such as Trex, TimberTech, and Azek. With thorough attention to detail and a concentration on sound construction, we ascertain that your deck is not only eye-catching but also resilient throughout the years.
Deck Repair and Maintenance: Protecting Your Investment
To preserve the beauty and functionality of your deck, regular maintenance is crucial. Our expert team provides full repair and maintenance services for both wooden and composite decks. Whether it's thorough inspections to uncover potential issues, or professional repairs for weather-induced damage and wear, we can handle all your deck maintenance demands. You'll have peace of mind with the knowledge that your deck will remain in exceptional condition year-round, thanks to our regular maintenance programs.
Deck Restoration and Refinishing: Reimagine Your Outdoor Sphere
As the years go by, even the highest-grade decks can demonstrate signs of wear or ask for refinishing to retain their attractiveness. Our adept team has the ability to bring back your deck's elegance using expert cleaning, staining, weatherproofing, and sealing services. Plus, we can undertake structural alterations, confirming that your deck stays safe and usable for an extended period.
Custom Features and Add-ons: Enhance Your Deck Experience
In order to uplift your outdoor living space, we extend a series of personalized features and additional components aimed at boosting your deck. Among these selections are energy-effective deck lights, inherent seating, kitchens designed for outdoor use, and features involving fire. Embedding these particulars into your deck configuration, we help form a friendly and cozy atmosphere for you to treasure with your dear ones in Valley Stream.
Providing top-notch decking solutions to clients and nearby areas is a specialty of Decks Unique. We've established a reputation for being professional, honest, and innovative, with 20 years of industry experience. Whether you are looking to design a new deck or revamp an existing one, our skilled team is here to help. Contact us today to schedule a free consultation and discover how we can transform your outdoor space into a stunning and functional retreat.
Track Down the Best Deck Material for You: Weighing Wood and Composite Options
At Decks Unique, our mission is to guide you in designing your dream outdoor refuge for your house. Hence, we put forth a broad selection of decking materials, consisting of wood and composite possibilities. Every material comes with distinct benefits, guaranteeing the optimal option tailored to your individual requirements and tastes.
Experience the Classic Charm of Wood Decking
With a classic, versatile nature, wood gives an organic warmth and stylish appeal to open-air spaces. Our collection of wood deck possibilities is tailored to fit all styles and financial considerations.
Treated Wood: Budget-conscious and Long-lasting
For many homeowners, pressure-treated lumber is a preferred option because of its budget-friendly and tough nature. Protection from wood deterioration and insect issues is provided by a special treatment process for this decking material. Consequently, pressure-treated decks have a lengthy life and demand limited upkeep.
Cedar and Redwood: The Epitome of Luxurious and Resistant Materials
If you're in the market for a high-end solution, consider our cedar and redwood decking options. These beautiful and high-end woods are naturally resistant to decay and insects, ensuring a long-lasting deck that ages gracefully. With their rich colors and unique grain patterns, cedar and redwood decks make a stunning addition to any home.
Exotic Hardwoods: Exquisite and Hardwearing
If you're on the hunt for a genuinely distinct and sophisticated alternative, consider utilizing exotic hardwoods like Ipe, Tigerwood, or Cumaru. Thanks to their substantial density and ruggedness, these woods are celebrated for their incredible durability and strikingly beautiful appearance. Accentuating any outdoor area, exotic hardwood decks offer eye-catching colors and ornate patterns as a stunning centerpiece.
Low-Maintenance Living with Composite and PVC Decking
For people who want an environmentally conscious and low-maintenance possibility, examine composite and PVC decking. These innovative materials combine the beauty of wood with the durability of synthetic materials, providing homeowners with a nearly maintenance-free outdoor space.
Discover the Benefits and Advantages of Composite Decking
Composite decking is made from a combination of recycled wood fibers and plastic, offering a highly durable and eco-friendly option. By resisting warping, cracking, and fading, this decking material ensures an attractive and long-lasting deck, while keeping maintenance to a minimum. Moreover, the ease of cleaning composite decks is an added advantage, making it a straightforward task to preserve the neat appearance of your outdoor space with periodic washes.
A Look at Industry-Leading Composite Materials Brands
It is an honor for Decks Unique to collaborate with the best composite decking brands, including Trex, TimberTech, and Azek. As accredited installers of these extraordinary products, we offer Valley Stream homeowners the finest materials to create beautiful and enduring outdoor areas.
Tailor Your Deck through Selecting Color and Texture Varieties
The extensive array of personalization options is a crucial benefit of composite decking. You can design a bespoke outdoor area that matches your home's aesthetic, thanks to various color and texture possibilities. Any preference for natural wood aesthetics or contemporary designs can be accommodated with the right composite decking choice.
Optimize Your Deck's Design with Railing and Baluster Options
An impeccable deck isn't finished without the suitable railing and baluster system. With Decks Unique, you have access to a variety of options that enhance your deck design while guaranteeing safety and functionality in your outdoor area.
Wood Railing Solutions: Ageless and Time-honored
To achieve a timeless and classic appearance, think about using a wood railing system. A wood railing system can complement both wooden and composite decking, providing a cohesive and polished appearance. A remarkable final appearance can be achieved by painting or staining a wood railing system to correspond with your deck or the exterior of your Valley Stream home.
Metal and Glass Railing Systems: Contemporary and Elegant
Contemporary and sleek styles might lead you to consider metal or glass railing systems. Such choices add a modern twist and can elevate the vista from your outdoor space, making them an attractive option for homeowners with striking scenery.
Composite Railing Systems: Low-Maintenance and Stylish
For those seeking a low-maintenance option that still offers style and elegance, composite railing systems are a perfect choice. When combined with composite decking, these rugged and elegant railings contribute to a seamless appearance, crafting a striking outdoor sanctuary with minimal required maintenance.
Regardless of your favorite styles, Decks Unique is ready to help you identify the ideal decking components for your household. Connect with us today to explore your desires and kick off the design of the outdoor oasis you have always wanted.
Enhance Your Outdoor Living Space with Our Additional Services in Valley Stream
Our mission at Decks Unique is to convert your outdoor living area into a deluxe and practical extension of your abode. Besides our excellent deck building services, we also deliver a wide array of extra services, including wood awnings, cabanas, gazebos, pergolas, and porch construction. In Valley Stream, our skilled team works closely with you to achieve your outdoor vision, guaranteeing top-quality and durable results.
Wooden Awnings: Increase Shade and Style for Your Outdoor Space
Adding wood awnings is a superb method to introduce shade and elegance to your outdoor space. The knowledgeable professionals at Decks Unique can help you determine the best design and materials to construct a gorgeous and useful wood awning that aligns with your home's aesthetic. Not only do these structures shield you from extreme weather, but they also boost your property's overall worth.
Cabanas: Design a Lavish Getaway in Your Valley Stream Garden
With a remarkable marriage of luxury, ease, and privacy, cabanas make for an outstanding complement to any outdoor space. Collaborating with our expert team, you'll be able to design and build a cabana customized to your precise needs and tastes. Regardless of whether you want an intimate hideaway for unwinding or an upscale space for entertaining company, we can construct a cabana that serves as your ideal outdoor sanctuary.
Gazebos: A Dreamy Addition to Your Garden or Patio Area
A gazebo adds a quaint touch to any garden or patio, creating an eye-catching centerpiece and offering shade for outdoor lounging. The experienced team at Decks Unique will help you identify the perfect style, materials, and positioning for your gazebo, so it blends seamlessly with your existing landscape. Through our outstanding craftsmanship, we create a captivating gazebo that augments the splendor of your outdoor area for many years ahead.
Pergolas: Amplify Your Outdoor Setting's Distinction and Practicality with Architectural Elements
A great way to boost architectural allure and functionality in your outdoor living area is by installing a pergola. Pergolas offer a balance of shading and natural illumination, which suits them well for use in garden walkways, outdoor patios, or dining areas. Our adept professionals at Decks Unique are here to design and construct a custom-built pergola that suits your preferences, adding value to your living space.
Build a Porch: Increase Your Home's Curb Appeal and Outdoor Living Environment
A tastefully designed porch not only enriches your home's curb appeal but also bestows a cozy alfresco living area for you and your family to enjoy. Our adept squad will come together with you to formulate a distinctive porch that integrates with your home's architectural layout and meets your functional preferences. With our rigorous attentiveness to detail and unyielding dedication to exceptional quality, you can rest easy knowing your porch fabrication assignment is in trustworthy hands.
Contact Decks Unique for Your Valley Stream Outdoor Living Space Transformation
At Decks Unique, we're committed to supplying our Valley Stream clients and those in the surrounding areas with outstanding, customized outdoor living solutions. Our knowledgeable team is eager to assist if you're considering adding a wood awning, cabana, gazebo, pergola, or porch to your outdoor area. Let's chat about your project today, and we'll reveal how we can change your outdoor living space into a luxurious and practical component of your home.
Specialist Deck Consultation and Design Services in Valley Stream
Delivering personalized consultations and tailor-made deck designs that satisfy every client's specific needs is what sets Decks Unique apart. With over 20 years of experience, our professional deck designers will work closely with you to create a deck that enhances your home's aesthetics and functionalities. Employing cutting-edge 3D modeling and visualization methods, we'll transform your dream deck into reality, making certain the end product aligns with your aspirations.
Superior Quality Deck Components for Prolonged Endurance
Long Island's foremost deck builder, Decks Unique, is an officially recognized installer of major composite deck materials, including brands like Trex, TimberTech, and Azek. We also put forward various wood decking options to conform to your preferences, like pressure-treated wood pieces, cedar, redwood, and luxurious hardwoods. Our resolve to employ only high-quality materials ensures a long-lasting, easy-to-maintain deck for your property.
Outstanding Deck Building Services in Valley Stream
Our skilled deck construction team at Decks Unique is dedicated to providing top-notch craftsmanship and efficiency during the entire building process. With our exceptional understanding of building codes, requirements, and permits, you can count on us to navigate the entire project from its inception to culmination, leaving you with a stunning and functional outdoor living space.
Sustain and Renew Your Deck's Appeal
The team at Decks Unique knows that consistent care is essential for maintaining the appearance and structural soundness of your deck. Our proficient staff at Decks Unique can inspect and uncover any damages or potential problems, administering essential repairs to maintain your deck in an optimal state. We extend deck restoration and refinishing assistance, comprising cleaning, staining, weather protection, and sealing measures to secure and amplify your deck's appearance.
Augment Your Alfresco Space with Customized Enhancements and Features
To actually turn your deck into a remarkable outside getaway, Decks Unique offers numerous customized details and enhancements like decking illumination, seating built into the structure, kitchens suited for the exterior, and accents centered around fire. These upgrades not only increase utility, but they also foster an inviting and comfortable setting for you and those you invite to relish.
Broad Decking Options and Additional Support
In addition to our proficiency in deck design and building, Decks Unique also provides expertise in constructing supplementary outdoor structures like wooden awnings, cabanas, gazebos, pergolas, and porches. These amenities can remarkably enhance your Long Island home's outdoor space, converting it into a perfect haven for relaxation and social gatherings.
Rely on Decks Unique for all of your decking demands in Valley Stream. Explore the difference our devotion to high-quality work, professionalism, and happy customers brings to your outdoor space. Contact us today to book a free assessment and let us change your backyard into an astonishing piece of art.
Thrilled to provide service for Valley Stream, South Huntington, Roslyn Heights, Port Washington, North Valley Stream, New Hyde Park, Melville, as well as other communities in Long Island.
Offering Long Island Quality Deck Designs and Services: