Get to know Decks Unique - Woodmere's Trusted Deck Building Specialists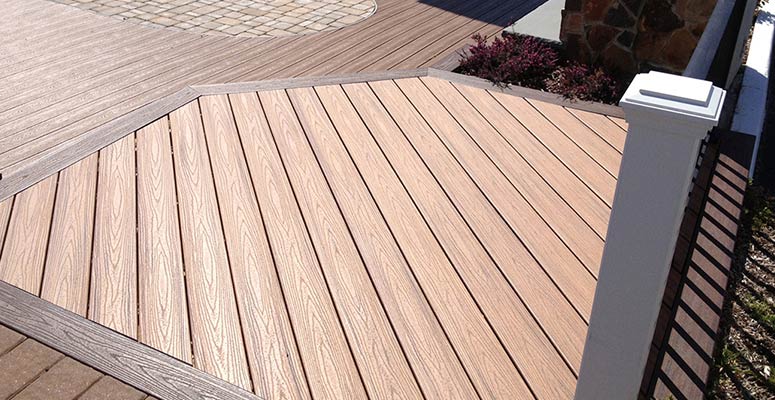 For over 20 years, Decks Unique has been a family-owned and operated company, specializing in custom deck design and construction, serving the people of Long Island and nearby areas, such as Woodmere. Decks Unique's love for design and unyielding commitment to professionalism, honesty, and innovation have made us the dominant producer of exceptional decks in Long Island, influencing the industry's standards. Decks Unique is skilled in designing and constructing tailor-made decks, porches, gazebos, pergolas, wood awnings, and other exterior structures that increase the value, attractiveness, and practicality of your Long Island residence.
Woodmere Deck Building Services with Expertise and Experience
At Decks Unique, we know that a well-executed deck design proves to be a great investment when pondering home enhancements. Our expert team of professional deck builders is dedicated to delivering superior quality, maintaining efficient production schedules, and ensuring that our warranties have true lasting value. This unyielding determination to achieve the best has yielded thousands of happy customers and decks they are eager to showcase, now and in the future.
On Long Island, our professional decking installers are approved to work with all major composite decking materials, like Trex, TimberTech, and Azek. We deliver cost-free home assessments and computer-modeled deck schemes for visualizing your project before it takes shape. Why not turn your backyard into our following endeavor?
Not only does an excellent deck boost your Woodmere home's outdoor living area, but it also raises the overall property value. Decks Unique excels at creating and constructing tailor-made decks that cater to the distinct demands and desires of every customer. Whether a comfortable venue for socializing or a plush outdoor getaway to experience the terrific weather, our committed personnel will closely cooperate with you to manifest your ideal vision.
We understand that each homeowner in has different tastes and requirements for their outdoor spaces. For this reason, we provide an extensive selection of materials, designs, and options to build the ideal deck to enhance your home and way of life. Whether you prefer classic wood choices like pressure-treated lumber, cedar, and redwood, or easy-care composite and PVC decking options, we have the perfect solution for every budget and style.
Incomparable Devotion to High Quality and Customer Fulfillment
At Decks Unique, we take immense pride in the quality of our workmanship and the satisfaction of our clients. We're committed to employing the finest materials and experienced, talented builders to make certain that all our projects live up to the highest expectations.
We regard transparent communication as a critical component of project success, and we dedicate ourselves to keeping our clients informed at all times. From beginning to end - initial consultation, design planning, construction, and final examination - our team stays engaged, ready to answer any questions you have, address any concerns, and wholeheartedly ensure you are delighted with your new deck.
Let Decks Unique remodel your Woodmere backyard into an outdoor living oasis you'll relish. Reach out to us now to organize a free consultation and understand the Decks Unique difference on your own.
Total Deck Construction Solutions in Woodmere
We take great pride in delivering a diverse range of decking services at Decks Unique, all tailored to meet the expectations of our Woodmere clientele. Our team is skilled in providing a holistic suite of services, from custom deck design and construction to repair, maintenance, and refinishing. In addition to our core offerings, Decks Unique provides a variety of exceptional enhancements and additions to upgrade your outdoor living. Take a more detailed look at the assortment of services we proudly offer.
Custom Deck Design: Making Your Dream Deck Come True
Our skilled deck designers will closely collaborate with you to design a customized deck that showcases your individual taste, enhances your home, and caters to the specific needs of your property. In order to assist you in making knowledgeable choices, our specialists will walk you through the process of selecting materials, guaranteeing lasting attractiveness and resilience.
Expert Deck Building: Excellent Workmanship for an Impressive Exterior Area
As the foremost deck builder, we are devoted to employing first-rate materials and maintaining secure, productive workmanship. Our seasoned teams are approved installers of leading composite decking materials, including Trex, TimberTech, and Azek. With considerable attention to detail and an emphasis on structural stability, we make certain that your deck is not only visually appealing but also durable over time.
Taking Care of Your Deck: Ensuring Your Investment Stays Protected
Consistent maintenance is key to maintaining the visual appeal and practicality of your deck. Our expert team provides full repair and maintenance services for both wooden and composite decks. From detailed assessments to detect possible problems, to expert damage repairs due to weather or wear, we're the one-stop-shop for all of your deck maintenance requirements. Equipped with our scheduled maintenance programs, you can rest easy knowing that your deck will be kept in pristine condition all year long.
Deck Resurfacing and Restoration: Refresh Your Outside Area
Eventually, even the best quality decks might display signs of wear and might need refinishing to preserve their look. Our proficient team can revive your deck's splendor by means of professional cleaning, staining, weatherproofing, and sealing. Moreover, we can implement structural enhancements, guaranteeing your deck's safety and function for the foreseeable future.
Personal Customizations and Upgrades: Enrich Your Deck Leisure
With the goal of elevating your outdoor living area, we put forth numerous individualized aspects and add-ons intended to accent your deck. These options include energy-efficient deck lighting, built-in seating, outdoor kitchens, and fire features. We merge these features into your deck's overall structure, creating an inviting and pleasant ambiance for you to cherish with family and friends in Woodmere.
Providing top-notch decking solutions to clients and nearby areas is a specialty of Decks Unique. We have established a strong reputation for professionalism, reliability, and originality, thanks to our 20 years in the industry. Whether designing a novel deck or enhancing a current one, our proficient team is available for assistance. Connect with us today to set up a no-charge consultation and learn how your outdoor space can become a gorgeous, practical escape.
Determine the Best Deck Material for Your Space: Wood and Composite Possibilities
Decks Unique is all about empowering you to create an amazing outdoor utopia within your home. For this purpose, we deliver a wide range of decking materials that include wooden and composite solutions. All of the materials come with their distinct advantages, allowing you to handpick the most appropriate alternative based on your specified needs and preferences.
Wood Decking Offers Timeless Elegance
Being both ageless and flexible, wood imbues a sense of inviting warmth and elegance to outdoor spaces. Numerous wood decking choices are available, suiting various tastes and budgetary requirements.
Pressure-Treated Boards: Economically Viable and Robust
Affordability and durability make pressure-treated lumber a favorite choice for numerous homeowners. This type of decking material goes through a particular treatment, helping it resist decay and insect infestations. Pressure-treated decks, as a consequence, stand the test of time and demand little maintenance.
High-End and Resilient Cedar and Redwood: A Natural Concoction
For those seeking a more luxurious option, we also offer cedar and redwood decking. These beautiful and high-end woods are naturally resistant to decay and insects, ensuring a long-lasting deck that ages gracefully. The vibrant hues and distinct grain designs of cedar and redwood decks create an impressive enhancement to any residence.
Exotic Hardwoods: Beautiful and Durable
For a truly unparalleled and elegant choice, give some thought to exotic hardwoods such as Ipe, Tigerwood, or Cumaru. Internationally appreciated for their exceptional endurance and dramatic looks, these woods are notably dense and durable. With their striking colors and intricate patterns, exotic hardwood decks are a show-stopping centerpiece for any outdoor space.
Composite and PVC Decking: Your Path to Low-Maintenance Living
For people who want an environmentally conscious and low-maintenance possibility, examine composite and PVC decking. These cutting-edge materials meld the aesthetics of wood with the longevity of artificial materials, giving homeowners a virtually maintenance-free exterior area.
The Upsides and Benefits of Composite Decking
Using a blend of reclaimed wood fibers and plastic, composite decking delivers a long-lasting and environmentally friendly solution. This decking option can withstand warping, cracking, and fading, leading to a beautiful and resilient deck that requires little care. Another benefit is the effortless cleaning of composite decks, needing only an occasional wash to retain the freshness of the outdoor environment.
Composite Materials: Industry-Leading Brands
Decks Unique is proud of their association with top composite decking brands like Trex, TimberTech, and Azek. We can deliver the best quality materials for an attractive and long-lasting outdoor space to Woodmere homeowners, as we are authorized installers of these first-rate products.
Tailor Your Deck through Selecting Color and Texture Varieties
The wide variety of customization possibilities is a major plus for composite decking. Choose from many color and texture combinations to create a singular outdoor area that harmonizes with your home's décor. Any preference for natural wood aesthetics or contemporary designs can be accommodated with the right composite decking choice.
Boost Your Deck's Appeal with Railing and Baluster Alternatives
An exceptional deck is missing something without the right railing and baluster system. Decks Unique delivers a wide variety of solutions to boost your deck design and uphold the safety and effectiveness of your outdoor space.
Timber Handrail Solutions: Time-honored and Lasting
Opt for a wood railing system if you desire a timeless and sophisticated feel. This option pairs beautifully with both wood and composite decks, creating a seamless and cohesive design. For a striking finale, customize your wood railing system by painting or staining it to match your deck or the exterior of your Woodmere home.
Metal and Glass Railing Systems: Current and Refined
In case a modern and sleek design appeals to you, take into account utilizing metal or glass railing systems. Providing a fresh, up-to-date feel, these options can also boost the visuals enjoyed from your deck, appealing to homeowners who are surrounded by idyllic landscapes.
Composite Railing Systems: Simple Maintenance and Sophisticated
People searching for a low-maintenance solution that doesn't compromise on style and elegance should consider composite railing systems. The combination of durability and beauty in these railings, alongside composite decking, fosters a cohesive design and a breathtaking outdoor setting with minimal maintenance efforts.
No matter your design preferences, Decks Unique is on hand to provide guidance in choosing the best decking materials for your home. Get in contact with us now to outline your requirements and initiate the creation of your perfect outdoor environment.
Optimize Your Outdoor Living Space with Our Extra Services in Woodmere
At Decks Unique, we believe in transforming your outdoor living space into a luxurious and functional extension of your home. We don't just provide exemplary deck building services; we also have a variety of extra services like wood awnings, cabanas, gazebos, pergolas, and porch construction. The skilled professionals at Woodmere diligently collaborate with you in order to transform your vision into reality while ensuring top-notch quality and durability.
Wooden Awnings: Add a Touch of Style and Shade to Your Outdoor Space
Through wood awnings, you can effortlessly introduce both shade and grace to your exterior area. The proficient staff at Decks Unique will guide you in picking the perfect design and materials to fashion an appealing and functional wood awning that suits your home's style. These structures not only protect you from harsh weather conditions but also enhance the overall value of your property.
Cabanas: Establish an Elegant Haven in Your Woodmere Greenspace
Cabanas deliver a flawless fusion of opulence, comfort, and seclusion, making them the ultimate addition to any outdoor setting. We'll have our team of specialists work closely with you to create and build a custom-made cabana in line with your specific requirements and inclinations. Whether you need a soothing oasis for leisure or a fashionable area for entertaining guests, we shall produce a cabana that acts as the consummate outdoor refuge.
Gazebos: An Elegant Inclusion in Your Garden or Patio
Adding a gazebo to a garden or patio creates an ageless charm, providing a striking focal point, and a covered spot for outdoor relaxation. Our accomplished team makes it easy for you to choose the most suitable style, materials, and location for your gazebo, ensuring that it merges seamlessly with your existing outdoor area. Our skilled craftsmanship ensures a breathtaking gazebo that will elevate the appeal of your outdoor environment for years in the future.
Pergolas: Combine Architectural Aesthetics and Utility for Your Outdoor Retreat
Pergolas offer a brilliant solution for infusing architectural style and practical purposes into your outdoor environment. The design of these structures allows for a combination of shade and sunlight, which makes them perfect for garden trails, patio spaces, and open-air eating areas. Our adept professionals at Decks Unique are here to design and construct a custom-built pergola that suits your preferences, adding value to your living space.
Porch Creation: Boost Your Home's Curb Appeal and Outdoor Living Space
A proficiently designed porch not only increases your home's curb appeal but also presents a comfortable open-air living space for you and your family to take pleasure in. Our seasoned group will join forces with you to execute a customized porch design that suits your home's architecture and meets your purposeful needs. With our keen eye for detail and dedication to excellence, you can have peace of mind knowing your porch construction endeavor is well taken care of.
Approach Decks Unique to enhance your Woodmere outdoor living area
Decks Unique specializes in delivering premium, custom-crafted outdoor living solutions to our Woodmere clients and the surrounding areas. If adding a wood awning, cabana, gazebo, pergola, or porch to your outdoor space is what you're after, our proficient team is here to guide you. Get in touch with us now to chat about your project and learn how we can convert your outdoor living area into a lavish and practical extension of your residence.
Top-notch Deck Consulting and Design Solutions in Woodmere
At Decks Unique, we take great pride in providing customized consultations and tailor-made deck designs to cater to the specific requirements of our customers. Drawing from our 20-plus years of experience, our professional deck designers will closely collaborate with you to construct a deck that enriches your home's aesthetics and functions. Utilizing innovative 3D modeling and visualization approaches, we'll make your dream deck a reality, confirming that the finished result meets your standards.
Finest Quality Deck Materials to Guarantee Durability
On Long Island, Decks Unique is the top deck builder and authorized installer for leading composite deck products such as Trex, TimberTech, and Azek. Moreover, we supply a selection of wood decking possibilities to fit your desires, featuring pressure-treated lumber, cedar, redwood, and specialty hardwoods. With a commitment to using only exceptional materials, you can trust that your new deck will be long-lasting and require minimal maintenance.
High-Quality Deck Construction Services in Woodmere
The proficient deck construction team at Decks Unique takes pride in offering excellent craftsmanship and streamlined efficiency during every step of the building process. With our in-depth grasp of building codes, guidelines, and permits, you can have confidence in us to take care of the entire project, from inception to conclusion, providing you with an impressive and usable outdoor space.
Uphold and Revamp Your Deck's Charm
The Decks Unique team acknowledges the importance of ongoing maintenance to conserve the appearance and structural reliability of your deck. The experienced professionals at Decks Unique can survey and determine any issues or prospective challenges, offering crucial repairs to uphold your deck's excellent quality. Besides, we make available deck refinishing and restoration conveniences, like cleaning, staining, defending against harsh weather, and sealing techniques to uphold and heighten your deck's aesthetic value.
Transform Your Outside Space with Personalized Additions and Features
For truly fashioning your deck into a singular open-air refuge, Decks Unique proffers an assortment of tailor-made components and augmentations, such as lighting solutions for decks, seats integrated into the design, kitchens designed for the outdoors, and flame-oriented installations. These advancements not only heighten practical use, but they also build a pleasant and convivial milieu for you and your visitors to take pleasure in.
Comprehensive Decking Services and More
Decks Unique specializes not only in deck design and building but also in constructing other outdoor structures such as wooden awnings, cabanas, gazebos, pergolas, and porches. These amenities can remarkably enhance your Long Island home's outdoor space, converting it into a perfect haven for relaxation and social gatherings.
Decks Unique can tackle your entire Woodmere decking necessities. Feel the distinction our devotion to quality, professionalism, and customer contentment makes in your outdoor setting. Contact us today to book a free assessment and let us change your backyard into an astonishing piece of art.
Eager to accommodate the residents of Woodmere, Uniondale, Sound Beach, Roosevelt, Patchogue, North Massapequa, Nesconset, and other Long Island territories.
Offering Long Island Quality Deck Designs and Services: