Check out Decks Unique - Roosevelt's Exceptional Deck Building Professionals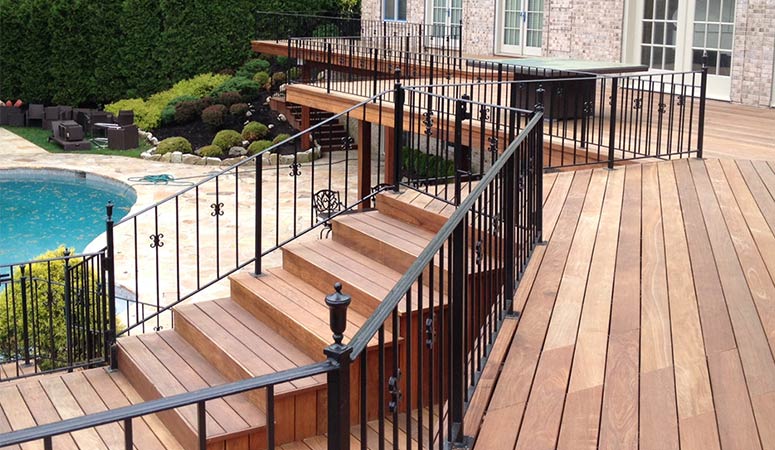 Decks Unique, a family-owned and operated company specializing in custom deck design and construction, has served the communities of Long Island and the surrounding areas, such as Roosevelt, for over two decades. Driven by our passion for design and a strong commitment to professionalism, honesty, and innovation, we have become the leading producer of top-quality decks in Long Island, setting the standards for our industry. We're adept at designing and constructing personalized decks, porches, gazebos, pergolas, wooden awnings, and a variety of outdoor installations that improve the value, aesthetics, and practicality of your Long Island household.
Comprehensive and Experienced Deck Building Services in Roosevelt
Decks Unique maintains that a well-designed deck is a smart investment when thinking about ways to improve your home. Our knowledgeable assembly of expert deck builders is determined to ensure top-quality outcomes, preserve efficiency in production, and ascertain that our warranties hold significant enduring value. Our unwavering dedication to outstanding results has produced countless satisfied clients and striking decks they can be proud of for years.
On Long Island, our skilled deck builders are qualified to set up all leading composite deck materials, like Trex, TimberTech, and Azek. Benefit from our complimentary at-home consultations and computer-aided deck templates so you can envisage your project ahead of construction. Allow us to transform your backyard into our upcoming venture!
Increase the Value of Your Home with a Custom-Built Deck
A great deck not only enhances the outdoor living space of your Roosevelt home but also adds significant value to your property. Decks Unique is specialized in crafting and assembling personalized decks that fulfill the requirements and appeals of our diverse clientele. No matter if you desire a comfy location for social events or a grand outdoor paradise to savor the charming weather, our staff will partner with you to create your ideal space.
Each homeowner has specific desires and requirements for their outdoor settings, which we acknowledge. Therefore, we offer a vast array of materials, styles, and qualities to develop the perfect deck that blends with your abode and your daily life. From traditional wood options like pressure-treated lumber, cedar, and redwood to low-maintenance composite and PVC decking, we have the right solution for every budget and preference.
Adherence to Exceptional Quality and Consumer Satisfaction
At Decks Unique, we take immense pride in the quality of our workmanship and the satisfaction of our clients. We're committed to employing the finest materials and experienced, talented builders to make certain that all our projects live up to the highest expectations.
In our experience, consistent communication is the foundation of a successful project, and we never falter in our commitment to keep clients apprised of progress. Throughout the entire journey, from the initial consultation and design to construction and the final inspection, our team is committed to being there to assuage any doubts, allay concerns, and ascertain your utmost satisfaction with your new deck.
Enable Decks Unique to make your Roosevelt backyard into an inviting outdoor living environment you'll appreciate. Contact us today to schedule a free consultation and experience the Decks Unique difference for yourself.
Exhaustive Decking Offerings in Roosevelt
We at Decks Unique are proud to offer a broad selection of decking services, designed to address the specific needs of our customers in Roosevelt. Our team is skilled in providing a holistic suite of services, from custom deck design and construction to repair, maintenance, and refinishing. Besides our primary services, we also offer numerous distinctive features and upgrades to improve your outdoor living space. Let's delve deeper into the services we have available.
Custom Deck Design: Manifesting Your Dream Deck into Reality
Our skilled deck designers will closely collaborate with you to design a customized deck that showcases your individual taste, enhances your home, and caters to the specific needs of your property. Our masters will help you make discerning selections by providing guidance on material options, ensuring that your deck possesses long-lasting allure and hardiness.
Professional Deck Development: Skillful Artisanship for a Captivating Outdoor Oasis
Being the top deck builder, we are dedicated to utilizing only the best materials and ensuring the safety and efficiency of our workmanship. Our accomplished crew members are qualified installers of renowned composite deck materials, such as Trex, TimberTech, and Azek. By giving close attention to detail and prioritizing structural strength, we ensure that your deck is not only breathtaking but also withstands the passage of time.
Deck Care and Repairs: Keeping Your Investment Secure
To preserve the beauty and functionality of your deck, regular maintenance is crucial. For both wood and composite decks, our committed team provides extensive maintenance and repair services. Whether it's thorough inspections to uncover potential issues, or professional repairs for weather-induced damage and wear, we can handle all your deck maintenance demands. With the help of our consistent maintenance plans, rest assured that your deck will continually be kept in superb condition, regardless of the time of year.
Deck Refinishing and Restoration: Renew Your Outdoor Oasis
Over the years, even the finest decks might manifest signs of wear or ask for refinishing to conserve their visual charm. Our team of specialists can reinstate the aesthetic charm of your deck through professional cleaning, staining, weatherproofing, and sealing procedures. Plus, we can undertake structural alterations, confirming that your deck stays safe and usable for an extended period.
Personalized Attributes and Extras: Improve Your Deck Enjoyment
In order to uplift your outdoor living space, we extend a series of personalized features and additional components aimed at boosting your deck. These options consist of energy-wise deck lights, fixed seating, kitchens intended for open-air use, and fire configurations. Through integrating these attributes into your deck plan, we'll establish a congenial and snug environment for you and your companions in Roosevelt.
Decks Unique is dedicated to providing premium decking services to clients in the surrounding areas. With two decades of industry experience, we have cultivated a reputation for professionalism, genuineness, and forward thinking. Our talented team is ready to assist, whether you'd like to create a new deck or upgrade an existing one. Schedule a complimentary consultation with us today, and explore the possibilities to transform your outdoor space into a beautifully functional sanctuary.
Identify the Ideal Deck Material: Wood and Composite Choices
Decks Unique is dedicated to assisting you in developing the ideal outdoor sanctuary for your residence. As a result, we offer numerous decking materials, with options in both timber and composite varieties. All materials have exclusive benefits that let you settle on the best choice based on your specific desires and favorites.
Wood Decking Provides an Ageless Beauty
Wooden materials possess a lasting, adaptable nature that grants a sense of comfort and allure to any outdoor setting. Our collection of wood deck possibilities is tailored to fit all styles and financial considerations.
Pressure-Treated Lumber: Affordable and Durable
Because of its budget-friendliness and lasting quality, pressure-treated lumber is popular among numerous homeowners. This decking material receives a distinctive treatment, making it resistant to rotting and insect infestations. Because of this, pressure-treated decks offer enduring performance with low maintenance requirements.
High-End and Resilient Cedar and Redwood: A Natural Concoction
For those pursuing a deluxe option, we feature cedar and redwood decking in our offerings. The stunning and high-quality woods are naturally resistant to deterioration and bug infestations, ensuring a deck that lasts and ages with charm. With their deep pigments and singular grain markings, cedar and redwood decks offer a captivating augmentation to any home.
Exotic Hardwoods: Exquisite and Hardwearing
In your quest for a truly matchless and opulent option, weigh the idea of choosing exotic hardwoods like Ipe, Tigerwood, or Cumaru. Internationally appreciated for their exceptional endurance and dramatic looks, these woods are notably dense and durable. Accentuating any outdoor area, exotic hardwood decks offer eye-catching colors and ornate patterns as a stunning centerpiece.
Pursue a Low-Maintenance Lifestyle with Composite and PVC Decking Options
For people who want an environmentally conscious and low-maintenance possibility, examine composite and PVC decking. These inventive materials amalgamate the natural beauty of wood with the durability of synthetic compounds, bestowing homeowners with a virtually maintenance-free outside setting.
Pros and Perks of Composite Decking
With a mixture of repurposed wood fibers and plastic, composite decking is a resilient and Earth-friendly selection. This decking material is resistant to warping, cracking, and fading, ensuring a beautiful and long-lasting deck with minimal upkeep. Moreover, the ease of cleaning composite decks is an added advantage, making it a straightforward task to preserve the neat appearance of your outdoor space with periodic washes.
Industry-Leading Brands in Composite Materials
Decks Unique is honored to partner with renowned composite decking brands, including Trex, TimberTech, and Azek. As approved installers of these remarkable products, we can furnish Roosevelt homeowners with premium materials for an elegant and lasting outdoor living area.
Enhance Your Deck's Appearance with Different Color and Texture Options
A major selling point of composite decking is its wide customization choice range. You can design a bespoke outdoor area that matches your home's aesthetic, thanks to various color and texture possibilities. You can find a fitting composite decking solution to satisfy your inclination for natural wood or modern design aesthetics.
Boost Your Deck's Appeal with Railing and Baluster Alternatives
A top-notch deck demands the right railing and baluster system to be truly complete. At Decks Unique, we provide numerous choices to augment your deck design and maintain the security and practicality of your outdoor living space.
Wooden Railing Systems: Classic and Everlasting
To achieve a timeless and classic appearance, think about using a wood railing system. Wood railing systems work well with both wooden and composite decks, resulting in a harmonious and unified style. For a striking finale, customize your wood railing system by painting or staining it to match your deck or the exterior of your Roosevelt home.
Metal and Glass Railing Systems: Current and Refined
Opt for metal or glass railing systems if you're inclined towards a sophisticated and current aesthetic. Boosting the enjoyment of your deck view, these selections add a 21st-century touch and cater to homeowners who are lucky enough to have gorgeous surroundings.
Composite Railing Systems: Low Fuss and Attractive
Those in search of a stylish yet low-maintenance alternative will find composite railing systems to be an excellent selection. Featuring both durability and charm, these railings, when paired with composite decking, establish an attractive and consistent look, ultimately constructing a beautiful outdoor living area requiring limited upkeep.
No matter what your tastes are, Decks Unique is committed to helping you find the perfect decking materials for your living quarters. Touch base with us today to present your needs and launch the design of the outdoor sanctuary of your dreams.
Upgrade Your Outdoor Living Environment with Our Extra Services in Roosevelt
Decks Unique is committed to turning your outdoor living area into a lavish and practical extension of your residence. Our expertise extends beyond exceptional deck building, as we also offer additional services like wood awnings, cabanas, gazebos, pergolas, and porch construction. The skilled professionals at Roosevelt diligently collaborate with you in order to transform your vision into reality while ensuring top-notch quality and durability.
Wooden Awnings: Increase Shade and Style for Your Outdoor Space
Adding wood awnings is a superb method to introduce shade and elegance to your outdoor space. Our experienced team at Decks Unique will help you choose the right design and materials to create a beautiful and functional wood awning that complements your home's aesthetic. These structures not only protect you from harsh weather conditions but also enhance the overall value of your property.
Cabanas: Put together a Plush Solace in Your Roosevelt Garden
Combining luxury, comfort, and privacy expertly, cabanas are perfect for enhancing any open-air area. We'll have our team of specialists work closely with you to create and build a custom-made cabana in line with your specific requirements and inclinations. Looking for a comfortable retreat to relax or a classy space to host events, we can design a cabana that transforms into your perfect outdoor haven.
Gazebos: A Stunning Complement to Your Garden or Patio Space
In any garden or patio, a gazebo is an enduring addition that supplies an appealing focal point and a cool refuge for outdoor leisure. With the help of our skilled team, you'll be able to decide on the ideal style, materials, and placement for your gazebo, ensuring it integrates smoothly with your current outdoor space. Thanks to our superior craftsmanship, your gazebo will be a beautiful addition to your outdoor area and provide enjoyment for many years.
Pergolas: Create Eye-catching Architectural Features and Functionality for Your Outdoor Living Area
The addition of a pergola can dramatically improve the architectural design and usefulness of your outdoor space. Such structures offer a mix of shade and natural light, making them ideal for garden paths, terrace areas, or al fresco dining spots. The team of skilled experts at Decks Unique can create and construct a tailor-made pergola that complements your taste and enhances your home's worth.
Porch Assembly: Augment Your Home's Curb Appeal and Outdoor Living Space
An expertly designed porch not only improves your home's curb appeal but also offers a cozy outdoor space for you and your loved ones to relish. Our professional team will collaborate with you to develop a tailor-made porch that harmonizes with your home's architectural style and fulfills your practical requirements. With our comprehensive attention to even the smallest detail and steadfast pledge to premium quality, you can breathe easy knowing your porch assembly project is in proficient hands.
Get in touch with Decks Unique for transforming your Roosevelt outdoor living area
Decks Unique is committed to offering top-tier, made-to-order outdoor living solutions for our Roosevelt clients and their neighboring areas. If you're interested in incorporating a wood awning, cabana, gazebo, pergola, or porch to your exterior space, our team of experts is ready to assist. Contact us today to discuss your project and discover how we can transform your outdoor living space into a luxurious and functional extension of your home.
Specialist Deck Consultation and Design Services in Roosevelt
At Decks Unique, we take great pride in providing customized consultations and tailor-made deck designs to cater to the specific requirements of our customers. With over 20 years of experience, our professional deck designers will work closely with you to create a deck that enhances your home's aesthetics and functionalities. By harnessing the power of advanced 3D modeling and visualization techniques, we'll materialize your dream deck, while ensuring the final version fulfills your expectations.
First-Rate Deck Materials for Maximum Strength
Decks Unique, the leading deck builder in Long Island, is a certified installer for top composite deck brands like Trex, TimberTech, and Azek. We also propose a diverse set of wood decking choices to meet your specific preferences, such as pressure-treated building materials, cedar, redwood, and upscale hardwoods. With a commitment to using only exceptional materials, you can trust that your new deck will be long-lasting and require minimal maintenance.
Top-Notch Deck Building Services in Roosevelt
Decks Unique's seasoned deck construction team is all about offering unparalleled artistry and streamlining efficiency throughout the entire construction process. Leveraging our deep expertise in building codes, norms, and permits, you can entrust us with the full project from beginning to end, yielding an eye-catching and practical outdoor environment.
Secure and Reinstate Your Deck's Grace
Decks Unique is well aware of the value of routine maintenance in sustaining both the visual allure and durability of your deck. Our proficient staff at Decks Unique can inspect and uncover any damages or potential problems, administering essential repairs to maintain your deck in an optimal state. Moreover, we render deck rejuvenation and refinishing solutions, such as cleaning, staining, weatherproofing, and sealing operations to maintain and enhance your deck's facade.
Boost Your Outdoor Setting with Custom Solutions and Add-ons
For authentically crafting your deck into a standout alfresco haven, Decks Unique brings you a variety of individualized elements and add-ins, featuring lighting systems for decks, seats embedded within the layout, cooking zones suitable for outdoor use, and fire-related fixtures. These embellishments not only extend usability, but they also create a snug and appealing air for you and your guests to find joy in.
Wide-Ranging Decking Services and Extra Offerings
In addition to our proficiency in deck design and building, Decks Unique also provides expertise in constructing supplementary outdoor structures like wooden awnings, cabanas, gazebos, pergolas, and porches. By adding these structures, you can further enhance your Long Island house's outdoor space, creating an idyllic area for relaxing and entertaining.
Allow Decks Unique to manage all your decking requirements in Roosevelt. Uncover the change our pledge of quality, professionalism, and customer delight brings to your outdoor environment. Get in touch right away to arrange a free consultation and let us transform your backyard into an impressive work.
Thrilled to provide service for Roosevelt, Plainview, North New Hyde Park, New Hyde Park, Melville, Lynbrook, Kings Park, as well as other communities in Long Island.
Offering Long Island Quality Deck Designs and Services: