Experience Decks Unique - The Premier Deck Building Service in North Massapequa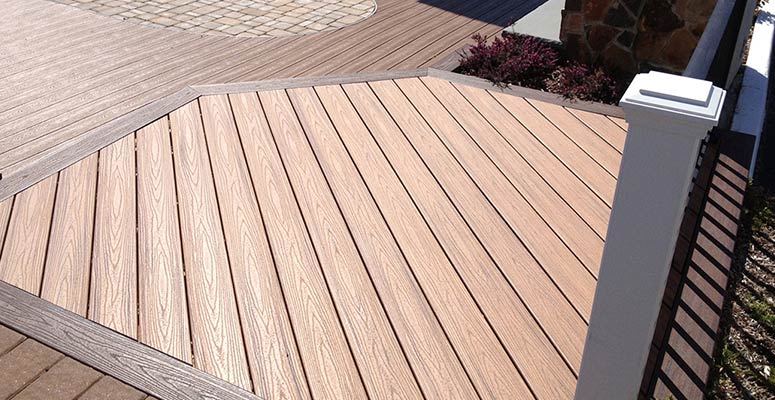 Family-owned and operated Decks Unique provides custom deck design and construction services to the people of Long Island and its surrounding areas, including North Massapequa, and has done so for over 20 years. Our zeal for design and unwavering commitment to professionalism, truthfulness, and innovation have propelled us to become the top provider of high-quality decks on Long Island, setting precedence within the industry. We pride ourselves on developing and constructing custom decks, porches, gazebos, pergolas, wood awnings, and assorted outdoor structures that bolster the appeal, worth, and function of your Long Island home.
Specialized and Experienced Deck Building Providers in North Massapequa
At Decks Unique, our conviction is that a carefully planned deck design serves as a smart investment for home enhancements. Our expert team of professional deck builders is dedicated to delivering superior quality, maintaining efficient production schedules, and ensuring that our warranties have true lasting value. Our unwavering dedication to outstanding results has produced countless satisfied clients and striking decks they can be proud of for years.
Our certified Long Island decking contractors can install all popular composite decking brands, including Trex, TimberTech, and Azek. We provide complimentary in-home consultations and digital deck plans to help you envision your project prior to its completion. Choose your backyard as the focus of our next enterprise!
Heighten Your Home's Worth with Your Own Custom Deck
A great deck not only enhances the outdoor living space of your North Massapequa home but also adds significant value to your property. Our area of expertise at Decks Unique lies in conceiving and erecting individualized decks that accommodate the unique necessities and preferences of our clients. If you're seeking an intimate area for hosting gatherings or a lavish exterior sanctuary to revel in pleasant weather, we will collaborate closely with you to make your dream a reality.
We recognize that every homeowner has unique preferences and needs for their outdoor areas. To accommodate these diverse preferences, we supply a wide array of materials, styles, and attributes for crafting the ideal deck to harmonize with your home and way of life. From conventional wood selections like pressure-treated lumber, cedar, and redwood to hassle-free composite and PVC decking alternatives, we possess the perfect solution for all budgets and inclinations.
Unmatched Dedication to Excellence and Client Contentment
High-quality workmanship and customer satisfaction are at the heart of what we do at Decks Unique. Our devotion to first-class materials and engaging the services of experienced contractors guarantees the superior completion of each project we take on.
For a project to be successful, we believe communication is key, and we place great importance on keeping our clients aware of every development. Throughout the entire journey, from the initial consultation and design to construction and the final inspection, our team is committed to being there to assuage any doubts, allay concerns, and ascertain your utmost satisfaction with your new deck.
Give Decks Unique the chance to modify your North Massapequa backyard into a cozy outdoor living space you'll love. Connect with us today to book a free consultation and find out what sets Decks Unique apart.
Total Deck Construction Solutions in North Massapequa
A vast array of personalized decking services are available at Decks Unique, aimed at fulfilling the requirements of our clients in North Massapequa. At Decks Unique, we excel in everything from creating custom deck designs and constructions to carrying out repairs, maintenance, and refinishing. We also offer a variety of exclusive features and extras designed to upgrade and enhance your outdoor living space. Allow us to provide you with a more in-depth overview of our services.
Custom Deck Design: Turning Your Visionary Deck into Reality
Our skilled deck designers will closely collaborate with you to design a customized deck that showcases your individual taste, enhances your home, and caters to the specific needs of your property. To empower you to make well-versed decisions, our seasoned consultants will lead you through the material-picking phase, promising sustained grace and durability for your deck.
High-Quality Deck Production: First-Class Workmanship for a Magnificent Outdoor Environment
As the leading deck builder, we pledge to use only top-notch materials and practice secure, effective workmanship. Our skilled personnel are licensed installers of prominent composite deck products, like Trex, TimberTech, and Azek. With careful scrutiny of detail and a dedication to solid structure, we guarantee that your deck is not only aesthetically pleasing but also long-lasting.
Deck Repair and Maintenance: Protecting Your Investment
Routine upkeep is fundamental for preserving your deck's beauty and function. Our skilled team is available to provide detailed repair and maintenance services for wood and composite decks. From exhaustive assessments aimed at spotting potential concerns, to professional repair of damages resulting from weather or age, consider us your all-encompassing deck maintenance provider. Through our pre-scheduled maintenance programs, you can enjoy the certainty that your deck's outstanding condition will be sustained year-round.
Deck Refinishing and Revitalization: Energize Your Exterior Living Space
As time elapses, even the most exceptional decks can present signs of wear or need refinishing to maintain their aesthetic. Our capable team can reestablish the gorgeousness of your deck using professional cleaning, staining, weatherproofing, and sealing methods. Further, we can administer structural optimizations, keeping your deck safe and efficient for a considerable duration.
Distinctive Details and Expanded Options: Intensify Your Deck Gratification
To upgrade your outdoor living space, we present a variety of custom-made elements and additional options meant to enrich your deck. Some of the options are energy-efficient light fittings on decks, internal seating, exterior cooking areas, and fire-inspired features. We merge these features into your deck's overall structure, creating an inviting and pleasant ambiance for you to cherish with family and friends in North Massapequa.
At Decks Unique, our expertise lies in providing exceptional decking services to clients and neighboring regions. We've established a reputation for being professional, honest, and innovative, with 20 years of industry experience. Should you need assistance in designing a new deck or improving a current one, our competent team has your back. Schedule a complimentary consultation with us today, and explore the possibilities to transform your outdoor space into a beautifully functional sanctuary.
Track Down the Best Deck Material for You: Weighing Wood and Composite Options
Decks Unique prides itself on helping you construct an exceptional outdoor sanctuary for your living space. Hence, we put forth a broad selection of decking materials, consisting of wood and composite possibilities. Individual materials offer distinct advantages, making certain that you have the capability to pick the ideal option that aligns with your needs and likes.
Wood Decking: A Refined Classic Look
Being both ageless and flexible, wood imbues a sense of inviting warmth and elegance to outdoor spaces. We have an extensive range of wood deck choices designed to address every aesthetic and budget.
Pressure-Treated Wood: Cost-effective and Long-lasting
Due to its cost efficiency and resilience, pressure-treated lumber appeals to a lot of homeowners. This type of decking material goes through a particular treatment, helping it resist decay and insect infestations. Consequently, pressure-treated decks have a lengthy life and demand limited upkeep.
Cedar and Redwood: Luxurious and Naturally Resistant
If you're in the market for a high-end solution, consider our cedar and redwood decking options. These attractive and upscale woods have innate resistance to rot and infestation, resulting in a long-lasting deck that weathers beautifully. With their deep pigments and singular grain markings, cedar and redwood decks offer a captivating augmentation to any home.
Exotic Hardwoods: Strikingly Attractive and Durable
For an absolutely unique and luxurious solution, explore the possibility of using exotic hardwoods like Ipe, Tigerwood, or Cumaru. These exceptionally dense and robust hardwoods boast impressive durability and a stunning appearance. Exotic hardwood decks, known for their brilliant colors and involved patterns, act as show-stopping centerpieces in all outdoor spaces.
Experience Low-Maintenance Living through Composite and PVC Decking
In case you're searching for a low-maintenance and eco-centric alternative, give composite and PVC decking some thought. These groundbreaking materials fuse the visual appeal of wood with the ruggedness of synthetic ingredients, granting homeowners an essentially maintenance-free outdoor environment.
Advantages and Benefits of Composite Decking
Composite decking, which combines recycled wood fibers and plastic, is a sturdy and green choice. Being able to withstand warping, cracking, and fading, this decking material promises a visually appealing and lasting deck with minimal effort. Moreover, the ease of cleaning composite decks is an added advantage, making it a straightforward task to preserve the neat appearance of your outdoor space with periodic washes.
Composite Materials: Industry-Leading Brands
Decks Unique is honored to partner with renowned composite decking brands, including Trex, TimberTech, and Azek. Being certified installers of these outstanding products, we're able to supply North Massapequa residents with top-notch materials for stunning and durable outdoor spaces.
Create a Distinctive Deck with Color and Texture Selections
Composite decking comes with the advantage of a plethora of customization options. You can put together a custom outdoor setting that reflects your home's aesthetics with the diverse color and texture options available. Composite decking caters to your taste, whether you favor traditional wood or a more up-to-date design.
Amplify Your Deck's Look with Railing and Baluster Additions
An impeccable deck isn't finished without the suitable railing and baluster system. We furnish a multitude of choices at Decks Unique to amplify your deck design and confirm the security and utility of your outdoor setting.
Timber Railing Systems: Conventional and Enduring
A wood railing system is worth considering for a classic and ageless look. Both wood and composite decks can be perfectly matched by a wood railing system, ensuring a smooth and integrated look. Create a breathtaking finished look by painting or staining your wood railing system to complement your deck or the exterior of your North Massapequa home.
Metal and Glass Railing Systems: Sophisticated and Well-defined
When a refined and modern vibe is what you're after, metal or glass railing systems may be perfect for you. Providing a fresh, up-to-date feel, these options can also boost the visuals enjoyed from your deck, appealing to homeowners who are surrounded by idyllic landscapes.
Composite Railing Systems: Low Fuss and Attractive
Composite railing systems present an exceptional option for those who want style and elegance without the hassle of constant maintenance. These robust and appealing railings, when used alongside composite decking, create a harmonious appearance and a gorgeous outdoor area with little maintenance needed.
No matter your design preferences, Decks Unique is on hand to provide guidance in choosing the best decking materials for your home. Touch base with us today to present your needs and launch the design of the outdoor sanctuary of your dreams.
Transform Your Outdoor Living Space with Our Extra Offerings in North Massapequa
Decks Unique aims to turn your outdoor living space into a charming and functional extension of your dwelling. In addition to top-notch deck building services, we also offer various other services, such as installing wood awnings, cabanas, gazebos, pergolas, and constructing porches. In North Massapequa, we have a team of skilled professionals who work closely with you to make your dream outdoor space a reality, while ensuring the highest quality and durability.
Wood Awnings: Add Fashion and Functionality for Your Outdoor Space
Wood awnings are a perfect way to add both shade and elegance to your outdoor area. The knowledgeable professionals at Decks Unique can help you determine the best design and materials to construct a gorgeous and useful wood awning that aligns with your home's aesthetic. These structures not only protect you from harsh weather conditions but also enhance the overall value of your property.
Cabanas: Put together a Plush Solace in Your North Massapequa Garden
Combining luxury, comfort, and privacy expertly, cabanas are perfect for enhancing any open-air area. Our expert team will collaborate with you to develop and construct a bespoke cabana tailored to your requirements and desires. No matter if you're seeking a snug haven for relaxation or a stylish area for hosting gatherings, we can design a cabana that is the ideal outdoor escape.
Gazebos: A Picturesque Addition for Your Backyard Garden or Patio
A gazebo remains a cherished inclusion in gardens and patios, lending an appealing visual interest and a comfortable shaded zone for outdoor leisure. Our professional team will help you choose the ideal style, materials, and location for your gazebo, ensuring a seamless integration with your existing landscape. Utilizing our exceptional craftsmanship, we provide a beautiful gazebo that bolsters the aesthetic appeal of your outdoor space for years to follow.
Pergolas: Integrate Architectural Style and Functionality into Your Open-air Space
Pergolas provide a superb means of incorporating architectural charm and practicality to your outdoor space. These structures provide partial shade while still allowing natural light to filter through, making them perfect for garden walkways, patios, or outdoor dining areas. The team of skilled experts at Decks Unique can create and construct a tailor-made pergola that complements your taste and enhances your home's worth.
Creating a Porch: Upgrade Your Home's Curb Appeal and Outdoor Living Areas
A skillfully designed porch not only boosts your home's curb appeal but also gives a welcoming outdoor living space for you and your family to savor. Our professional team will collaborate with you to develop a tailor-made porch that harmonizes with your home's architectural style and fulfills your practical requirements. With our keen eye for detail and dedication to excellence, you can have peace of mind knowing your porch construction endeavor is well taken care of.
Get ahold of Decks Unique for upgrading your North Massapequa outdoor living space
Decks Unique specializes in delivering premium, custom-crafted outdoor living solutions to our North Massapequa clients and the surrounding areas. Should you desire to add a wood awning, cabana, gazebo, pergola, or porch to your outdoor living environment, our adept team is here for support. Contact us right away to go over your project and learn how we can transform your outdoor area into a plush and purposeful extension of your living space.
Expert Deck Consultation and Design in North Massapequa
At Decks Unique, we take great pride in providing customized consultations and tailor-made deck designs to cater to the specific requirements of our customers. Our highly skilled deck designers, with over two decades of experience, will work intimately with you to build a deck that enhances your home's visual allure and features. Through the use of progressive 3D modeling and visualization practices, we'll breathe life into your dream deck, ensuring the end product surpasses your expectations.
High-Quality Deck Materials for Lasting Durability
As Long Island's premier deck builder, Decks Unique is an authorized installer of all major composite deck products, including Trex, TimberTech, and Azek. We have a range of wood decking options to cater to your needs, such as pressure-treated boards, cedar, redwood, and imported hardwoods. Our dedication to using top-quality materials guarantees a long-lasting, low-maintenance deck for your home.
Top-Notch Deck Building Services in North Massapequa
The competent deck construction crew at Decks Unique is committed to providing first-rate craftsmanship and efficiency across the entire building process. With our extensive know-how of building codes, statutes, and permits, you can rely on us to steer the whole project from its start to finish, leaving you with a visually striking and practical outdoor living area.
Defend and Resurrect Your Deck's Splendor
The team at Decks Unique knows that consistent care is essential for maintaining the appearance and structural soundness of your deck. The experienced professionals at Decks Unique can survey and determine any issues or prospective challenges, offering crucial repairs to uphold your deck's excellent quality. Besides, we make available deck refinishing and restoration conveniences, like cleaning, staining, defending against harsh weather, and sealing techniques to uphold and heighten your deck's aesthetic value.
Upgrade Your Outdoor Area with Custom Features and Add-ons
In order to transform your deck into a distinctive outdoor haven, Decks Unique provides an array of personalized options and extras like deck illumination, integrated seating, open-air cooking areas, and fire elements. These refinements not only contribute to usefulness, but they also establish a warm and alluring environment for you and your guests' enjoyment.
Thorough Decking Services and More
Decks Unique, known for its expertise in deck design and construction, also offers expertise in other outdoor structures, including wood awnings, cabanas, gazebos, pergolas, and porch construction. These outdoor structures can elevate your Long Island property's outdoor appeal, making it a prime location for enjoying downtime and entertaining guests.
Decks Unique can tackle your entire North Massapequa decking necessities. Observe the effect of our commitment to outstanding quality, professionalism, and customer satisfaction on your outdoor living space. Message us today to plan a free meetup, and let us make your backyard into a stunning display.
With pride, offering our assistance to North Massapequa, New Cassel, Medford, Lynbrook, Kings Park, Hauppauge, Freeport and additional Long Island locales.
Offering Long Island Quality Deck Designs and Services: