Welcome to Decks Unique - Nesconset's Premier Deck Builder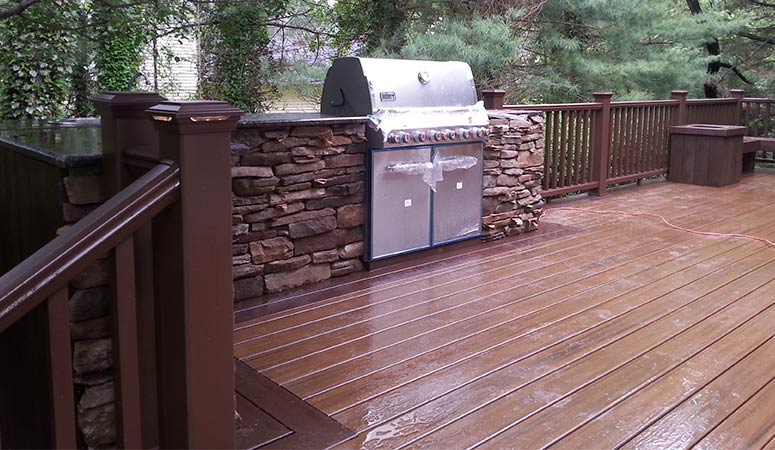 Decks Unique, a family-run business specializing in custom deck design and construction, has been serving the Long Island community and surrounding regions, including Nesconset, for more than two decades. Our enthusiasm for design, coupled with our dedication to professionalism, honesty, and innovation, has established us as the premier producer of top-notch decks throughout Long Island, and we've set industry benchmarks. Our specialization includes creating custom decks, porches, gazebos, pergolas, wooden awnings, and various outdoor structures that contribute to the value, charm, and utility of your Long Island home.
Nesconset's Expert and Experienced Deck Builders
At Decks Unique, we know that a well-executed deck design proves to be a great investment when pondering home enhancements. Our proficient group of skilled deck craftspeople prioritizes first-rate quality, adheres to streamlined production timelines, and lets you rest assured knowing our warranties carry lasting worth. Our steadfast pursuit of excellence has culminated in numerous pleased clients and deck constructions they are proud to exhibit for many years down the line.
On Long Island, our skilled deck builders are qualified to set up all leading composite deck materials, like Trex, TimberTech, and Azek. We deliver cost-free home assessments and computer-modeled deck schemes for visualizing your project before it takes shape. Let your backyard be the canvas for our next masterpiece!
Enhance Your Home's Value through a Tailor-Made Deck
Besides improving the exterior living area of your Nesconset residence, an exceptional deck can also drive up property value. Our area of expertise at Decks Unique lies in conceiving and erecting individualized decks that accommodate the unique necessities and preferences of our clients. Whether a comfortable venue for socializing or a plush outdoor getaway to experience the terrific weather, our committed personnel will closely cooperate with you to manifest your ideal vision.
We recognize that every homeowner has unique preferences and needs for their outdoor areas. This is the reason we present various materials, styles, and characteristics to craft the ultimate deck that suits your house and lifestyle. From classic wooden choices such as pressure-treated wood, cedar, and redwood, to the low-maintenance composite and PVC decking options, we have the ideal solution for any budget and taste.
Extraordinary Concentration on Outstanding Performance and Customer Happiness
High-quality workmanship and customer satisfaction are at the heart of what we do at Decks Unique. Our devotion to first-class materials and engaging the services of experienced contractors guarantees the superior completion of each project we take on.
The crux of a project's success, in our opinion, is effective communication; as such, we prioritize keeping our clients constantly informed. Our reliable team is there for you, from the initial consultation and design brainstorming, through the construction journey, and even after the final review, to make sure all questions are answered, fears are addressed, and your satisfaction with the new deck is undeniable.
Trust Decks Unique to morph your Nesconset backyard into an impressive outdoor living space you'll enjoy for years. Message us today to secure a free consultation and experience the exceptional Decks Unique service.
Total Deck Construction Solutions in Nesconset
A vast array of personalized decking services are available at Decks Unique, aimed at fulfilling the requirements of our clients in Nesconset. We specialize in a variety of custom deck services, including designing and building decks, as well as providing repairs, maintenance and refinishing. Besides our standard services, Decks Unique provides an assortment of unique features and add-ons to elevate your outdoor living experience. Now, let's examine our wide variety of services more closely.
Custom Deck Design: Creating the Perfect Dream Deck for You
Our proficient deck designers will partner with you to develop a bespoke deck that embodies your personal preferences, augments your home, and fulfills the distinct requisites of your property. By assisting you in making informed choices, our connoisseurs will facilitate your material selection journey, assuring lasting charm and toughness.
Outstanding Deck Construction: Unparalleled Craftsmanship for a Gorgeous Open-Air Space
As a distinguished deck builder, our commitment lies in using only outstanding materials and implementing safe, effective work methods. Our competent crews are licensed to install top-tier composite decking materials, such as Trex, TimberTech, and Azek. With thorough attention to detail and a concentration on sound construction, we ascertain that your deck is not only eye-catching but also resilient throughout the years.
Deck Care and Repairs: Keeping Your Investment Secure
Routine maintenance is necessary for preserving the attractiveness and usefulness of your deck. For wood and composite decks, our diligent team offers complete maintenance and repair solutions. Whether you need thorough inspections to flag potential issues or expert repairs for weather-worn or damaged decks, we are the ideal partner for all your deck maintenance necessities. With our regular maintenance schedules, you can relax, confident that your deck will be well-maintained and preserved year-round.
Deck Revamping and Restoration: Transform Your Outdoor Sanctuary
Over the years, even the finest decks might manifest signs of wear or ask for refinishing to conserve their visual charm. Our skilled team can rejuvenate your deck's appearance with professional cleaning, staining, weatherproofing, and sealing. Furthermore, we can carry out structural upgrades to make sure your deck stays secure and operational in the long term.
Individualized Aspects and Additional Pieces: Refine Your Deck Encounters
To refine your outdoor living space, we offer a collection of custom-fitted elements and added features conceived to elevate your deck. Some of the options are energy-efficient light fittings on decks, internal seating, exterior cooking areas, and fire-inspired features. Inclusion of these elements within your deck's design enables us to produce a warm and affable space for your enjoyment with family and friends in Nesconset.
Decks Unique excels in furnishing clients and the surrounding communities with superior-quality decking services. With two decades of industry experience, we have cultivated a reputation for professionalism, genuineness, and forward thinking. Our talented team is ready to assist, whether you'd like to create a new deck or upgrade an existing one. Give us a call today to plan a free consultation, and let us show you how to morph your outdoor area into an impressive, functional refuge.
Compare Wood and Composite Options to Discover Your Perfect Deck Material
Our commitment at Decks Unique is to help you establish an impeccable outdoor retreat for your dwelling. Thus, we have a vast assortment of decking materials, including alternatives made of wood and composite materials. Each decking material possesses its advantages, which allows you to select the most suitable option for your particular necessity and preference.
Experience the Classic Charm of Wood Decking
Offering unparalleled warmth and charm, wood is an eternal and versatile choice for outdoor environments. We present a wide assortment of wood deck options, ensuring compatibility with any style and budget.
Pressure-Processed Wood: Wallet-friendly and Durable
Pressure-treated wood is a sought-after choice among many homeowners owing to its reasonably priced and enduring characteristics. This decking material receives a distinctive treatment, making it resistant to rotting and insect infestations. Because of this, pressure-treated decks offer enduring performance with low maintenance requirements.
Luxury Meets Durability: The Wonders of Cedar and Redwood
For individuals searching for a lavish choice, cedar and redwood decking are additionally available. The eye-catching and high-grade woods are organically immune to decay and bug damage, ensuring a deck that remains sturdy for years to come. With their deep pigments and singular grain markings, cedar and redwood decks offer a captivating augmentation to any home.
Exotic Hardwoods: Beautiful and Durable
For an absolutely unique and luxurious solution, explore the possibility of using exotic hardwoods like Ipe, Tigerwood, or Cumaru. These dense and hard-wearing woods are famous for their amazing durability and striking visual appeal. The stunning shades and complex configurations of exotic hardwood decks act as a captivating centerpiece in every outdoor space.
Low-Maintenance Living is Easy with Composite and PVC Decking Solutions
Those looking for a low-maintenance and green choice should think about composite and PVC decking. These groundbreaking materials fuse the visual appeal of wood with the ruggedness of synthetic ingredients, granting homeowners an essentially maintenance-free outdoor environment.
Why Choose Composite Decking: Benefits and Advantages
Using a blend of reclaimed wood fibers and plastic, composite decking delivers a long-lasting and environmentally friendly solution. Unaffected by warping, cracking, and fading, the material used for this decking provides a long-lasting and beautiful deck that's easy to maintain. Additionally, composite decks are easy to clean, requiring only occasional washing to keep your outdoor space looking pristine.
A Look at Industry-Leading Composite Materials Brands
Decks Unique is pleased to join forces with leading composite decking brands, such as Trex, TimberTech, and Azek. As sanctioned installers of these exceptional products, we're able to provide Nesconset homeowners with top-quality materials for a striking and long-lasting outdoor area.
Design Your Deck with a Variety of Color and Texture Possibilities
The extensive range of customization choices is a primary perk of composite decking. With a multitude of color and texture alternatives, you can create a distinctive outdoor space that aligns with your home's ambiance. Whether your liking leans towards natural wood or a more sophisticated design, composite decking has something for you.
Elevate Your Deck with a Variety of Railing and Baluster Options
A flawless deck needs the correct railing and baluster system to be fully realized. Decks Unique presents a broad array of possibilities to enrich your deck's design and guarantee the safety and efficiency of your outdoor space.
Wooden Railing Designs: Everlasting and Traditional
Opt for a wood railing system if you desire a timeless and sophisticated feel. Wood railing systems can be used with both wooden and composite decking for a well-coordinated and seamless design. By matching the color of your wood railing system to your deck or Nesconset home exterior through painting or staining, a visually stunning result is guaranteed.
Metal and Glass Railing Systems: Sophisticated and Well-defined
In case a modern and sleek design appeals to you, take into account utilizing metal or glass railing systems. These stylish options not only contribute a contemporary element, but they also accentuate the view from your deck, making them well-liked among those who live amidst breathtaking landscapes.
Composite Railing Systems: Easy-Care and Elegant
For those seeking a low-maintenance option that still offers style and elegance, composite railing systems are a perfect choice. Not only are these railings durable and visually appealing, but they also create a unified appearance when combined with composite decking, resulting in an impressive outdoor area that demands minimal tending.
No matter your style preferences, Decks Unique is prepared to support you in determining the perfect decking materials for your domicile. Touch base with us today to present your needs and launch the design of the outdoor sanctuary of your dreams.
Boost Your Outdoor Living Space with Our Additional Services in Nesconset
Our objective at Decks Unique is to transition your outdoor living area into an elegant and useful home extension. Apart from our exceptional deck building services, we also offer a variety of additional services such as wood awnings, cabanas, gazebos, pergolas, and porch construction. In Nesconset, our expert professionals collaborate with you to realize your dream while maintaining exceptional quality and durability.
Wooden Awnings: Add a Touch of Style and Shade to Your Outdoor Space
Wood awnings are a perfect way to add both shade and elegance to your outdoor area. The knowledgeable professionals at Decks Unique can help you determine the best design and materials to construct a gorgeous and useful wood awning that aligns with your home's aesthetic. These wooden features not only act as a barrier against severe weather but also add to the total value of your property.
Cabanas: Create a Sumptuous Escape in Your Nesconset Lawn
Cabanas boast a unique mix of lavishness, relaxation, and privacy, making them an attractive addition to any outside environment. You can count on our team of professionals to design and create a unique cabana that caters to your individual needs and preferences. Whether it's a homely corner for winding down or a polished space for hosting visitors, we can conjure up a cabana that stands as your flawless exterior retreat.
Gazebos: A Dreamy Addition to Your Garden or Patio Area
A gazebo remains a cherished inclusion in gardens and patios, lending an appealing visual interest and a comfortable shaded zone for outdoor leisure. Our professional team will help you choose the ideal style, materials, and location for your gazebo, ensuring a seamless integration with your existing landscape. Our top-notch craftsmanship ensures an impressive gazebo that enriches your outdoor area and brings joy for numerous years.
Pergolas: Improve Your Outdoor Oasis with Striking Architectural Design and Function
One effective way to enrich your outdoor living space with architectural appeal and utility is by constructing a pergola. Pergolas inherently deliver a mix of shaded areas and sunlit spaces, ideally suiting them for the likes of garden promenades, terraces, or eateries outdoors. The proficient staff at Decks Unique can develop and assemble a custom-designed pergola to harmonize with your tastes and augment your home's value.
Creating a Porch: Upgrade Your Home's Curb Appeal and Outdoor Living Areas
A tastefully designed porch not only enriches your home's curb appeal but also bestows a cozy alfresco living area for you and your family to enjoy. Our experienced team will team up with you to establish a bespoke porch that matches your home's architecture and caters to your functional necessities. With our meticulous attention to detail and devotion to high standards, you can feel confident that your porch building project is in capable hands.
Contact Decks Unique for Your Nesconset Outdoor Living Space Transformation
We at Decks Unique are dedicated to offering exceptional, bespoke outdoor living solutions for our Nesconset clientele and the neighboring areas. Our knowledgeable team is eager to assist if you're considering adding a wood awning, cabana, gazebo, pergola, or porch to your outdoor area. Discuss your project with us today and find out how we can turn your outdoor living environment into a comfortable and efficient extension of your residence.
High-Quality Deck Consultation and Design in Nesconset
Decks Unique is renowned for providing individualized consultations and custom deck plans to fulfill the particular desires of our customers. Possessing over 20 years of experience, our proficient deck designers will work hand-in-hand with you to create a deck that complements your home's aesthetics and usefulness. Our use of sophisticated 3D modeling and visualization technology ensures that your ideal deck is brought to life, matching your expectations in the final outcome.
Outstanding Decking Materials for Long-lasting Resilience
Decks Unique, the leading deck builder in Long Island, is a certified installer for top composite deck brands like Trex, TimberTech, and Azek. Furthermore, we extend a multitude of wooden decking options geared to your tastes, including pressure-treated beams, cedar, redwood, and superior hardwoods. Our promise to use only top-of-the-line materials ensures your new deck's durability with the added benefit of low maintenance.
Expert Deck Construction Services in Nesconset
Our gifted deck construction professionals at Decks Unique are devoted to ensuring top-tier quality and effectiveness during the full building process. Given our considerable insight into building codes, specifications, and permits, you can trust in us to undertake the entire endeavor from inception to completion, providing you a captivating and efficient outdoor area.
Hold and Re-establish Your Deck's Gorgeousness
At Decks Unique, we understand the importance of routine maintenance in preserving the beauty and structural integrity of your deck. The experienced professionals at Decks Unique can survey and determine any issues or prospective challenges, offering crucial repairs to uphold your deck's excellent quality. We also supply deck resurfacing and revitalization services, encompassing cleaning, staining, protecting against the elements, and sealing for the preservation and enhancement of your deck's aesthetics.
Upgrade Your Outdoor Area with Custom Features and Add-ons
For authentically crafting your deck into a standout alfresco haven, Decks Unique brings you a variety of individualized elements and add-ins, featuring lighting systems for decks, seats embedded within the layout, cooking zones suitable for outdoor use, and fire-related fixtures. These upgrades not only increase utility, but they also foster an inviting and comfortable setting for you and those you invite to relish.
All-Inclusive Decking Offerings and Additional Services
Decks Unique is well-versed in both deck design and construction as well as additional outdoor structures like wood awnings, cabanas, gazebos, pergolas, and porch construction. These structures can further enhance your Long Island home's outdoor space, making it the perfect area for relaxation and entertainment.
Rely on Decks Unique for all of your decking demands in Nesconset. Experience the difference that our commitment to quality, professionalism, and customer satisfaction brings to your outdoor living space. Contact us today to book a free assessment and let us change your backyard into an astonishing piece of art.
Eager to accommodate the residents of Nesconset, Medford, Lynbrook, Kings Park, Hempstead, Freeport, East Rockaway, and other Long Island territories.
Offering Long Island Quality Deck Designs and Services: