Get to know Decks Unique - Sound Beach's Trusted Deck Building Specialists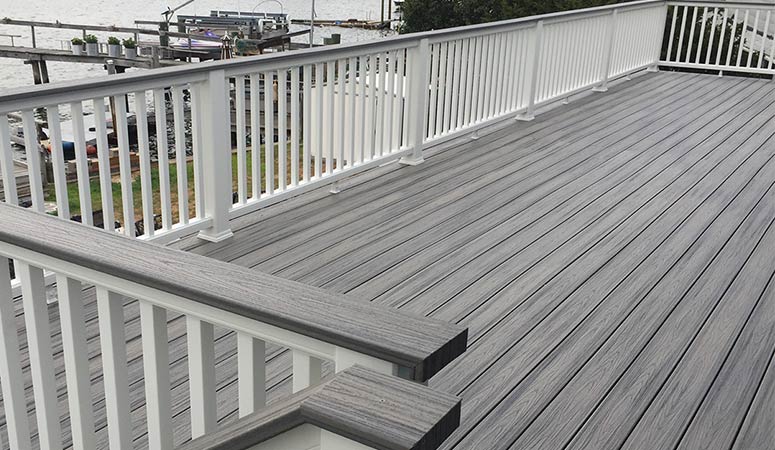 As a family-owned and operated business for over 20 years, Decks Unique has provided custom deck design and construction services to the people of Long Island and neighboring regions, such as Sound Beach. Owing to our zeal for design and unwavering dedication to professionalism, honesty, and innovation, we've become the largest producer of high-end decks on Long Island, establishing industry standards. We specialize in designing and building custom decks, porches, gazebos, pergolas, wood awnings, and other outdoor structures that add value, beauty, and functionality to your Long Island home.
Highly Skilled and Experienced Deck Construction Services in Sound Beach
Decks Unique advocates that a meticulously designed deck is a sound investment when evaluating home improvement options. Our expert team of professional deck builders is dedicated to delivering superior quality, maintaining efficient production schedules, and ensuring that our warranties have true lasting value. Our unwavering dedication to outstanding results has produced countless satisfied clients and striking decks they can be proud of for years.
Our certified Long Island decking contractors can install all popular composite decking brands, including Trex, TimberTech, and Azek. Take advantage of our free home consultations and computer-assisted decking designs to help you imagine your project before it's built. Make your backyard the site for our subsequent project!
Enhance Your Home's Value through a Tailor-Made Deck
A top-quality deck serves to enhance the open-air living quarters of your Sound Beach dwelling while also heightening its value. At Decks Unique, we specialize in designing and building custom decks that meet the unique needs and preferences of each client. Be it a snug spot to accommodate get-togethers or an opulent open-air retreat to bask in lovely weather, our crew will work hand-in-hand with you to materialize your aspirations.
We are aware that individual homeowners have varying preferences and demands for their external spaces. That is why we offer a wide range of materials, styles, and features to create the perfect deck that complements your home and lifestyle. Whether you prefer classic wood choices like pressure-treated lumber, cedar, and redwood, or easy-care composite and PVC decking options, we have the perfect solution for every budget and style.
Adherence to Exceptional Quality and Consumer Satisfaction
High-quality workmanship and customer satisfaction are at the heart of what we do at Decks Unique. Focusing on the employment of top-notch materials and the engagement of experienced, adept builders allows us to complete each project to the highest standards.
In our view, clear communication is essential to a project's success, and we're committed to keeping our clients up-to-date at every stage. From beginning to end - initial consultation, design planning, construction, and final examination - our team stays engaged, ready to answer any questions you have, address any concerns, and wholeheartedly ensure you are delighted with your new deck.
Enable Decks Unique to make your Sound Beach backyard into an inviting outdoor living environment you'll appreciate. Contact us immediately to set up a complimentary consultation and feel the Decks Unique superiority.
Wide-ranging Decking Services for Sound Beach
We take great pride in delivering a diverse range of decking services at Decks Unique, all tailored to meet the expectations of our Sound Beach clientele. Our expertise covers everything from custom deck design and construction to repair, maintenance, and refinishing. Besides our standard services, Decks Unique provides an assortment of unique features and add-ons to elevate your outdoor living experience. Let's explore further the array of services we provide at Decks Unique.
Custom Deck Design: Making Your Dream Deck Come True
Our accomplished deck designers will join forces with you to devise a custom-made deck that captures your unique fashion, enriches your home, and satisfies the exceptional criteria of your property. Our professionals are here to support you in making educated judgments by guiding you through the material selection process, ensuring the enduring appeal and robustness of your deck.
Professional Deck Development: Skillful Artisanship for a Captivating Outdoor Oasis
As a prominent deck builder, we are committed to utilizing only top-quality materials and practicing secure, proficient workmanship. Our skilled personnel are licensed installers of prominent composite deck products, like Trex, TimberTech, and Azek. With careful scrutiny of detail and a dedication to solid structure, we guarantee that your deck is not only aesthetically pleasing but also long-lasting.
Deck Maintenance & Repairs: Shielding Your Investment
Maintaining the appearance and function of your deck depends on regular maintenance. Our devoted team supplies a wide range of repair and maintenance services for wood and composite decks alike. Providing extensive inspections to identify possible challenges, coupled with expert repairs tackling weather or wear-and-tear damages, we serve as your primary choice for all deck maintenance tasks. Through our pre-scheduled maintenance programs, you can enjoy the certainty that your deck's outstanding condition will be sustained year-round.
Deck Resurfacing and Restoration: Refresh Your Outside Area
Over the years, even the finest decks might manifest signs of wear or ask for refinishing to conserve their visual charm. Our skilled team can rejuvenate your deck's appearance with professional cleaning, staining, weatherproofing, and sealing. Moreover, we can implement structural enhancements, guaranteeing your deck's safety and function for the foreseeable future.
Bespoke Features and Additions: Boost Your Deck Experiences
To heighten your outdoor living space experience, we introduce an array of distinct features and add-on choices devised to augment your deck. Some of the options are energy-efficient light fittings on decks, internal seating, exterior cooking areas, and fire-inspired features. Embedding these particulars into your deck configuration, we help form a friendly and cozy atmosphere for you to treasure with your dear ones in Sound Beach.
Providing top-notch decking solutions to clients and nearby areas is a specialty of Decks Unique. With two decades of industry experience, we have cultivated a reputation for professionalism, genuineness, and forward thinking. If you want to build a new deck or refurbish your existing one, our highly skilled team is on hand to help. Book a free consultation with us today, and find out how we can revamp your outdoor space into a stunning and functional retreat.
Determine the Best Deck Material for Your Space: Wood and Composite Possibilities
At Decks Unique, our mission is to guide you in designing your dream outdoor refuge for your house. For this purpose, we deliver a wide range of decking materials that include wooden and composite solutions. Every material comes with distinct benefits, guaranteeing the optimal option tailored to your individual requirements and tastes.
Wood Decking Offers Timeless Elegance
Wood, with its enduring and adaptable properties, naturally lends warmth and charisma to any exterior area. We offer a range of wood decking options to meet every style and budget.
Treated Wood: Budget-conscious and Long-lasting
Many homeowners prefer pressure-treated lumber because it is cost-effective and long-lasting. This type of decking material goes through a particular treatment, helping it resist decay and insect infestations. This makes pressure-treated decks not only durable but also low-maintenance.
The Luxury of Cedar and Redwood: A Natural Resistance
For those seeking a more luxurious option, we also offer cedar and redwood decking. With their inherent resistance to decay and insects, these exquisite and high-end woods offer a deck that endures and ages gracefully. Exhibiting rich color palettes and peculiar grain motifs, cedar and redwood decks present a marvelous addition to any domestic setting.
Exotic Hardwoods: Attractive and Sturdy
If you want an exceptional and one-of-a-kind option, look into using exotic hardwoods like Ipe, Tigerwood, or Cumaru for your project. These exceedingly solid and long-lasting woods stand out due to their commendable longevity and stunning appearance. An exotic hardwood deck's dazzling colors and intricate designs make it a standout centerpiece in any outside space.
Discover the Ease of Low-Maintenance Living by Choosing Composite and PVC Decking
In case you're searching for a low-maintenance and eco-centric alternative, give composite and PVC decking some thought. These advanced materials merge wooden charm with synthetic endurance, offering homeowners an almost maintenance-free open-air space.
Understanding the Benefits and Advantages of Composite Decking
Using a blend of reclaimed wood fibers and plastic, composite decking delivers a long-lasting and environmentally friendly solution. By resisting warping, cracking, and fading, this decking material ensures an attractive and long-lasting deck, while keeping maintenance to a minimum. Another benefit is the effortless cleaning of composite decks, needing only an occasional wash to retain the freshness of the outdoor environment.
Premier Composite Material Brands in the Industry
Teaming up with prominent composite decking brands like Trex, TimberTech, and Azek is a matter of pride for Decks Unique. We can deliver the best quality materials for an attractive and long-lasting outdoor space to Sound Beach homeowners, as we are authorized installers of these first-rate products.
Personalize Your Deck by Exploring Various Color and Texture Options
One of the major benefits of composite decking is the wide range of customization options. The assortment of color and texture choices enables you to construct an unparalleled outdoor space that adheres to your home's visual appeal. Your preference for natural wood visuals or a more state-of-the-art design can both be met with a composite decking option.
Upgrade Your Deck by Adding Railing and Baluster Choices
An impeccable deck isn't finished without the suitable railing and baluster system. At Decks Unique, we feature a vast collection of alternatives to match your deck design and ensure your outdoor area remains safe and functional.
Wood Railing Solutions: Ageless and Time-honored
If you're after a classic and eternal look, a wood railing system could be the way to go. Wood railing systems work well with both wooden and composite decks, resulting in a harmonious and unified style. Create a breathtaking finished look by painting or staining your wood railing system to complement your deck or the exterior of your Sound Beach home.
Metal and Glass Railing Systems: Trendy and Slick
Should you fancy a contemporary and streamlined look, think about opting for metal or glass railing systems. Boosting the enjoyment of your deck view, these selections add a 21st-century touch and cater to homeowners who are lucky enough to have gorgeous surroundings.
Composite Railing Systems: Low-Maintenance, Aesthetic Appeal
Composite railing systems present an exceptional option for those who want style and elegance without the hassle of constant maintenance. The resilient and captivating railings offer a consistent aesthetic when used in conjunction with composite decking, cultivating an exquisite outdoor space with low maintenance needs.
No matter your preferences, Decks Unique is here to help you choose the perfect decking materials for your home. Get in touch with us now to talk about your requirements and start creating your dream outdoor area.
Boost Your Outdoor Living Space with Our Additional Services in Sound Beach
Decks Unique is committed to turning your outdoor living area into a lavish and practical extension of your residence. Apart from our exceptional deck building services, we also offer a variety of additional services such as wood awnings, cabanas, gazebos, pergolas, and porch construction. Our talented experts in Sound Beach partner with you to create your desired outdoor space, ensuring the utmost quality and lasting durability.
Wooden Awnings: Add a Touch of Style and Shade to Your Outdoor Space
Wood awnings serve as an effective way to integrate both shade and elegance into your outdoor surroundings. Our team of experts at Decks Unique is here to help you decide on the right design and materials, ensuring a stunning and functional wood awning that fits your home's look. Not only do these structures shield you from extreme weather, but they also boost your property's overall worth.
Cabanas: Create a Sumptuous Escape in Your Sound Beach Lawn
With a remarkable marriage of luxury, ease, and privacy, cabanas make for an outstanding complement to any outdoor space. Our expert team will collaborate with you to develop and construct a bespoke cabana tailored to your requirements and desires. Whether it's a homely corner for winding down or a polished space for hosting visitors, we can conjure up a cabana that stands as your flawless exterior retreat.
Gazebos: A Visually Appealing Addition for Your Garden or Patio
A gazebo is a timeless addition to any garden or patio, providing a charming focal point and a shaded area for outdoor relaxation. Our expert team assists you in selecting the perfect design, materials, and placement for your gazebo, guaranteeing a smooth blend with your current outdoor environment. Through our outstanding craftsmanship, we create a captivating gazebo that augments the splendor of your outdoor area for many years ahead.
Pergolas: Amplify Your Outdoor Setting's Distinction and Practicality with Architectural Elements
A great way to boost architectural allure and functionality in your outdoor living area is by installing a pergola. Pergolas offer a balance of shading and natural illumination, which suits them well for use in garden walkways, outdoor patios, or dining areas. The team of skilled experts at Decks Unique can create and construct a tailor-made pergola that complements your taste and enhances your home's worth.
Porch Creation: Boost Your Home's Curb Appeal and Outdoor Living Space
A tastefully designed porch not only enriches your home's curb appeal but also bestows a cozy alfresco living area for you and your family to enjoy. Our experienced team will team up with you to establish a bespoke porch that matches your home's architecture and caters to your functional necessities. With our painstaking observance of detail and fidelity to outstanding quality, you can be assured that your porch manufacturing enterprise is being managed by skilled professionals.
Get ahold of Decks Unique for upgrading your Sound Beach outdoor living space
Decks Unique is committed to offering top-tier, made-to-order outdoor living solutions for our Sound Beach clients and their neighboring areas. To enhance your outdoor area with a wood awning, cabana, gazebo, pergola, or porch, rely on our team of experienced professionals for help. Connect with us today to explore your project's possibilities and see how we can make your outdoor living space a luxurious and efficient extension of your household.
Expert Deck Consultation and Design in Sound Beach
At Decks Unique, personalizing consultations and crafting custom deck designs to align with the individual requirements of our clients is our top priority. With over 20 years of know-how, our expert deck designers will cooperate closely with you to devise a deck that elevates your home's looks and utility. By harnessing the power of advanced 3D modeling and visualization techniques, we'll materialize your dream deck, while ensuring the final version fulfills your expectations.
Top-Notch Decking Materials to Ensure Longevity
Decks Unique, Long Island's leading deck builder, is accredited to install all major composite deck materials, including popular brands such as Trex, TimberTech, and Azek. We also put forward various wood decking options to conform to your preferences, like pressure-treated wood pieces, cedar, redwood, and luxurious hardwoods. With a commitment to using only exceptional materials, you can trust that your new deck will be long-lasting and require minimal maintenance.
Reliable Deck Construction Services in Sound Beach
At Decks Unique, our talented deck building professionals are devoted to ensuring exceptional quality and efficiency in all phases of the construction process. Given our vast knowledge of building codes, regulations, and permits, you can trust us to execute the full project from start to finish, creating a beautiful and efficient outdoor living area.
Secure and Reinstate Your Deck's Grace
Decks Unique is well aware of the value of routine maintenance in sustaining both the visual allure and durability of your deck. The experienced professionals at Decks Unique can survey and determine any issues or prospective challenges, offering crucial repairs to uphold your deck's excellent quality. At Decks Unique, we also propose deck revamping and restoration amenities, involving cleaning, staining, safeguarding against weather, and sealing to conserve and magnify your deck's appeal.
Custom Features and Add-ons to Elevate Your Outdoor Space
To develop your deck into a matchless outdoor hideaway, Decks Unique delivers an abundance of specialized qualities and extensions, like lighting options for deck installations, seating merged with structural design, external kitchen setups, and fire-focused touches. Such improvements not only boost practicality, but they also generate a cozy and welcoming ambiance for you and your visitors to appreciate.
All-Inclusive Decking Offerings and Additional Services
Apart from our knowledge and experience in deck design and construction, Decks Unique also extends its expertise to additional outdoor structures such as wooden awnings, cabanas, gazebos, pergolas, and porches. Such structures can augment the beauty of your Long Island home's exterior, transforming it into an excellent space for leisure and socializing.
Turn to Decks Unique for addressing all your decking needs in Sound Beach. Discover the impact our dedication to quality, professionalism, and customer satisfaction has on your outdoor area. Contact us today to book a free assessment and let us change your backyard into an astonishing piece of art.
Taking great pleasure in assisting Sound Beach, Roslyn, Plainview, North New Hyde Park, New Hyde Park, Medford, Lynbrook and other Long Island districts.
Offering Long Island Quality Deck Designs and Services: