Introducing Decks Unique - Uniondale's Top-Rated Deck Construction Company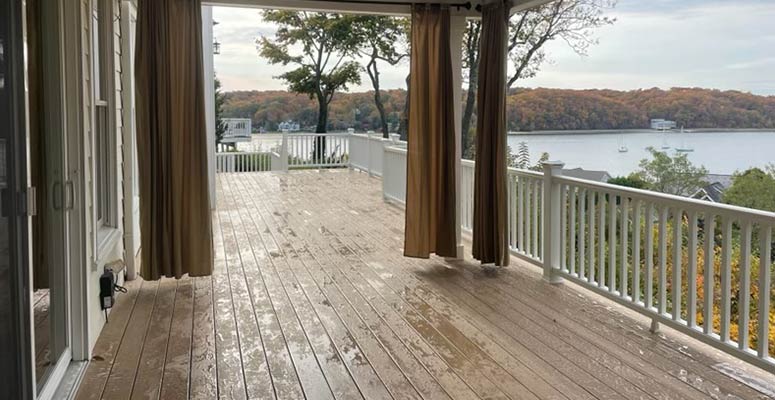 Over the past 20 years, Decks Unique, a family-owned and operated company, has been dedicated to offering custom deck design and construction services in Long Island and the surrounding areas, including Uniondale. Our enthusiasm for design, coupled with our dedication to professionalism, honesty, and innovation, has established us as the premier producer of top-notch decks throughout Long Island, and we've set industry benchmarks. Our area of expertise involves creating and building custom decks, verandas, gazebos, pergolas, wooden awnings, and other external structures that add worth, allure, and functionality to your Long Island abode.
Skilled and Experienced Deck Building Services in Uniondale
At Decks Unique, our perspective is that a well-crafted deck layout is an intelligent decision when looking at home upgrades. Our proficient group of skilled deck craftspeople prioritizes first-rate quality, adheres to streamlined production timelines, and lets you rest assured knowing our warranties carry lasting worth. This unwavering dedication to excellence has manifested in numerous delighted customers and impressive decks they can confidently display for years to follow.
Long Island-based deck building crews have authorization to use all major composite deck products, including Trex, TimberTech, and Azek. We present free home evaluations and computerized decking layouts to enable you to picture your project before it becomes reality. Permit us to create an amazing transformation in your backyard for our next project!
Increase the Value of Your Home with a Custom-Built Deck
A well-crafted deck contributes to both an increase in your Uniondale home's outdoor living environment and the enhancement of its value. Our area of expertise at Decks Unique lies in conceiving and erecting individualized decks that accommodate the unique necessities and preferences of our clients. If you want a casual space for hosting gatherings or an upscale oasis to soak up the beautiful weather, our professionals will diligently work alongside you to realize your vision.
For outdoor spaces, we understand that each homeowner has their own distinct tastes and necessities. That's why we have a diverse array of materials, styles, and features to help you create a deck that fits your home and life. We have suitable solutions for every budget and preference, including traditional wood types like pressure-treated lumber, cedar, and redwood, as well as low-maintenance composite and PVC decking.
Extraordinary Concentration on Outstanding Performance and Customer Happiness
At Decks Unique, excellent workmanship and gratified clients are what we focus on. Our dedication to the use of high-caliber materials and collaboration with skilled, seasoned builders guarantees each project we undertake is of the finest quality.
To us, seamless communication is the backbone of successful projects, and we work diligently to ensure our clients are always in the know. From the initial consultation and design process through construction and final inspection, our team is always available to answer questions, address concerns, and ensure that you are completely satisfied with your new deck.
Let Decks Unique remodel your Uniondale backyard into an outdoor living oasis you'll relish. Get ahold of us today to schedule an obligation-free consultation and explore the Decks Unique benefits.
All-inclusive Decking Solutions in Uniondale
We at Decks Unique are proud to offer a broad selection of decking services, designed to address the specific needs of our customers in Uniondale. We specialize in a variety of custom deck services, including designing and building decks, as well as providing repairs, maintenance and refinishing. Besides our standard services, Decks Unique provides an assortment of unique features and add-ons to elevate your outdoor living experience. Now, let's examine our wide variety of services more closely.
Custom Deck Design: Crafting Your Dream Deck with Precision
Our expert deck designers will work hand-in-hand with you to produce a tailored deck that mirrors your personal flair, complements your residence, and addresses the exclusive demands of your property. To help you make informed decisions, our experts will also guide you through material selection, ensuring long-lasting beauty and durability.
Outstanding Deck Construction: Unparalleled Craftsmanship for a Gorgeous Open-Air Space
As the superior deck builder, we are determined to use only exceptional materials and adhere to safe, efficient workmanship. Our highly-experienced teams have the approval to install leading composite decking brands like Trex, TimberTech, and Azek. By closely examining details and focusing on structural durability, we assure that your deck will not only look beautiful but also remain strong over time.
Maintaining and Repairing Decks: Preserving Your Investment
Regular maintenance is essential to preserving the beauty and functionality of your deck. Our expert team provides full repair and maintenance services for both wooden and composite decks. Whether you need thorough inspections to flag potential issues or expert repairs for weather-worn or damaged decks, we are the ideal partner for all your deck maintenance necessities. With the help of our consistent maintenance plans, rest assured that your deck will continually be kept in superb condition, regardless of the time of year.
Deck Restoration and Refinishing: Reimagine Your Outdoor Sphere
As time elapses, even the most exceptional decks can present signs of wear or need refinishing to maintain their aesthetic. Our skilled team can rejuvenate your deck's appearance with professional cleaning, staining, weatherproofing, and sealing. Furthermore, we can carry out structural upgrades to make sure your deck stays secure and operational in the long term.
Made-to-order Qualities and Accessories: Strengthen Your Deck Recreation
For improving your outdoor living environment, we propose a selection of customized attributes and add-ons intended to supplement your deck. These options consist of energy-wise deck lights, fixed seating, kitchens intended for open-air use, and fire configurations. By incorporating these elements into your deck design, we create a welcoming and comfortable space for you to enjoy with family and friends in Uniondale.
We, at Decks Unique, excel in delivering the finest decking solutions to our customers and areas nearby. In our 20 years of experience, we have garnered a reputation for being professional, sincere, and inventive. Whether you are looking to design a new deck or revamp an existing one, our skilled team is here to help. Contact us today to schedule a free consultation and discover how we can transform your outdoor space into a stunning and functional retreat.
Uncover the Ideal Deck Material for You: Comparing Wood and Composite Options
Assisting you in creating the ultimate outdoor getaway for your home is our commitment at Decks Unique. That is why we present a diverse range of decking materials, featuring wooden and composite alternatives. Various materials have unique positive aspects, ensuring your ability to opt for the finest choice that caters to your personal necessities and proclivities.
Wood Decking Provides an Ageless Beauty
As a versatile and enduring substance, wood imparts a sense of warmth and attractiveness to every open-air space. We have an extensive range of wood deck choices designed to address every aesthetic and budget.
Pressure-Maintained Lumber: Reasonably Priced and Rugged
Pressure-treated lumber attracts many homeowners because of its cost-saving and long-lasting properties. This decking material receives a distinctive treatment, making it resistant to rotting and insect infestations. Consequently, pressure-treated decks have a lengthy life and demand limited upkeep.
Cedar and Redwood: Nature's Luxury with Built-In Resistance
We also provide cedar and redwood decking for those wanting a more extravagant option. These attractive and upscale woods have innate resistance to rot and infestation, resulting in a long-lasting deck that weathers beautifully. Sporting vivid tones and extraordinary grain textures, cedar and redwood decks serve as a remarkable addition to any dwelling.
Exotic Hardwoods: Stunning and Enduring
For an absolutely unique and luxurious solution, explore the possibility of using exotic hardwoods like Ipe, Tigerwood, or Cumaru. Internationally appreciated for their exceptional endurance and dramatic looks, these woods are notably dense and durable. Captivating colors and fascinating patterns of exotic hardwood decks contribute to a magnificent centerpiece for any outdoor environment.
Low-Maintenance Living is Easy with Composite and PVC Decking Solutions
To find an eco-responsible and low-upkeep choice, take into account composite and PVC decking. These cutting-edge materials meld the aesthetics of wood with the longevity of artificial materials, giving homeowners a virtually maintenance-free exterior area.
The Upsides and Benefits of Composite Decking
Composite decking, composed of both reused wood fibers and plastic, presents a robust and eco-friendly alternative. This decking option can withstand warping, cracking, and fading, leading to a beautiful and resilient deck that requires little care. Cleaning composite decks is hassle-free, as they just need the occasional washing to ensure that the outdoor area stays spotless.
A Look at Industry-Leading Composite Materials Brands
Decks Unique is pleased to join forces with leading composite decking brands, such as Trex, TimberTech, and Azek. As authorized installers of these exceptional products, we can provide Uniondale homeowners with the highest quality materials, ensuring a gorgeous and long-lasting outdoor space.
Custom-build Your Deck with a Range of Color and Texture Combinations
A major selling point of composite decking is its wide customization choice range. With a variety of color and texture choices, you can create a one-of-a-kind outdoor space that perfectly suits your home's aesthetic. Whether you prefer the look of natural wood or a more contemporary design, there's a composite decking option for you.
Amplify Your Deck's Look with Railing and Baluster Additions
The ideal deck isn't all it can be without the proper railing and baluster system. Decks Unique offers an extensive selection of options to work seamlessly with your deck design and promote the safety and usefulness of your exterior area.
Wooden Railing Designs: Everlasting and Traditional
If you're after a classic and eternal look, a wood railing system could be the way to go. Wood and composite decks alike can benefit from the addition of a wood railing system, providing a seamless integration and consistent style. A remarkable final appearance can be achieved by painting or staining a wood railing system to correspond with your deck or the exterior of your Uniondale home.
Metal and Glass Railing Systems: Modern and Sleek
If you prefer a more modern and sleek aesthetic, consider metal or glass railing systems. These alternatives offer a modern accent and can improve the scenic view from your deck, becoming a favorite selection among those who live in visually stunning locations.
Composite Railing Systems: Low-Care and Trendy
For a low-maintenance, stylish, and elegant solution, composite railing systems are the perfect fit. These durable and attractive railings provide a cohesive look when paired with composite decking, creating a stunning outdoor space that requires minimal upkeep.
Regardless of your favorite styles, Decks Unique is ready to help you identify the ideal decking components for your household. Engage with us today to convey your needs and embark on the journey to design your dream outdoor space.
Raise the Bar for Your Outdoor Living Space with Our Additional Services in Uniondale
Decks Unique is committed to turning your outdoor living area into a lavish and practical extension of your residence. We don't just provide exemplary deck building services; we also have a variety of extra services like wood awnings, cabanas, gazebos, pergolas, and porch construction. Our proficient specialists in Uniondale closely cooperate with you to materialize your vision, ensuring high quality and long-lasting durability.
Wood Awnings: Add Fashion and Functionality for Your Outdoor Space
Wood awnings are a perfect way to add both shade and elegance to your outdoor area. The proficient staff at Decks Unique will guide you in picking the perfect design and materials to fashion an appealing and functional wood awning that suits your home's style. These constructions provide both shelter from severe weather conditions and elevation in your property's total value.
Cabanas: Construct a High-end Refuge in Your Uniondale Yard
Cabanas offer a perfect blend of luxury, comfort, and privacy, making them an ideal addition to any outdoor space. Our adept team will cooperate with you in the design and construction of a one-of-a-kind cabana that addresses your particular needs and desires. Whether your desire is a welcoming respite for relaxation or an elegant setting for entertaining guests, we can create a cabana that presents an idyllic outdoor escape.
Gazebos: A Beautiful Addition for Your Outdoor Garden or Patio
A timeless gazebo enhances both gardens and patios, delivering a delightful focus and a sheltered area for outdoor rest. The experienced team at Decks Unique will help you identify the perfect style, materials, and positioning for your gazebo, so it blends seamlessly with your existing landscape. Our top-notch craftsmanship ensures an impressive gazebo that enriches your outdoor area and brings joy for numerous years.
Pergolas: Combine Architectural Aesthetics and Utility for Your Outdoor Retreat
A great way to boost architectural allure and functionality in your outdoor living area is by installing a pergola. These structures adeptly merge shadow and light, creating an idyllic atmosphere for walkways in gardens, patios, or outdoor dining places. At Decks Unique, our qualified experts are capable of designing and constructing a personalized pergola that fits your aesthetic desires and adds worth to your residence.
Porch Assembly: Augment Your Home's Curb Appeal and Outdoor Living Space
A tastefully designed porch not only enriches your home's curb appeal but also bestows a cozy alfresco living area for you and your family to enjoy. Our experienced team will team up with you to establish a bespoke porch that matches your home's architecture and caters to your functional necessities. With our scrupulous focus on detail and loyalty to top-notch quality, you can relax knowing that your porch construction venture is in adept hands.
Connect with Decks Unique for your Uniondale outdoor living space makeover
Decks Unique is devoted to providing high-caliber, customized outdoor living possibilities to those in Uniondale and nearby locations. If you'd like to include a wood awning, cabana, gazebo, pergola, or porch in your outdoor living area, our expert team is on hand to help. Get in touch with us now to chat about your project and learn how we can convert your outdoor living area into a lavish and practical extension of your residence.
Skillful Deck Design and Consultation Services in Uniondale
Decks Unique prides itself on presenting custom consultations and deck designs, designed to cater to the distinctive needs of our clientele. With over 20 years of industry know-how, our experienced deck designers will work side by side with you to create a deck that amplifies your home's appearance and practicality. By harnessing the power of advanced 3D modeling and visualization techniques, we'll materialize your dream deck, while ensuring the final version fulfills your expectations.
High-Quality Deck Materials for Lasting Durability
Long Island's foremost deck builder, Decks Unique, is an officially recognized installer of major composite deck materials, including brands like Trex, TimberTech, and Azek. We also offer a variety of wood decking options to suit your preferences, such as pressure-treated lumber, cedar, redwood, and exotic hardwoods. We guarantee that, by using only the best materials, your new deck will be durable and require minimal upkeep.
Top-Notch Deck Building Services in Uniondale
The competent deck construction crew at Decks Unique is committed to providing first-rate craftsmanship and efficiency across the entire building process. With our exceptional understanding of building codes, requirements, and permits, you can count on us to navigate the entire project from its inception to culmination, leaving you with a stunning and functional outdoor living space.
Secure and Reinstate Your Deck's Grace
Decks Unique is well aware of the value of routine maintenance in sustaining both the visual allure and durability of your deck. Our adept team has the ability to check and recognize any damages or potential troubles, executing required repairs to sustain your deck's top-notch condition. We extend deck restoration and refinishing assistance, comprising cleaning, staining, weather protection, and sealing measures to secure and amplify your deck's appearance.
Raise the Standard of Your Outside Area with Unique Features and Add-ons
To design your deck into a distinctive open-air living space, Decks Unique proposes a wide selection of made-to-order facets and additions, such as lighting specifically for decks, seating integrated within the deck's design, kitchen areas meant for outdoor use, and fire-involved features. Such improvements not only boost practicality, but they also generate a cozy and welcoming ambiance for you and your visitors to appreciate.
Thorough Decking Services and More
Decks Unique specializes not only in deck design and building but also in constructing other outdoor structures such as wooden awnings, cabanas, gazebos, pergolas, and porches. With these extra outdoor installations, your Long Island home's outdoor ambience can be significantly improved, making it the best spot for relaxation and amusement.
Turn to Decks Unique for addressing all your decking needs in Uniondale. Witness the improvement our focus on quality, professionalism, and customer happiness brings to your exterior space. Reach out to us today for a free consultation, and let us convert your backyard into an exquisite showpiece.
Dedicated to attending to the needs of Uniondale, South Farmingdale, Roslyn, Plainview, North New Hyde Park, New Cassel, Medford, and various other Long Island zones.
Offering Long Island Quality Deck Designs and Services: