Visit Decks Unique - Patchogue's Most Reliable Deck Builder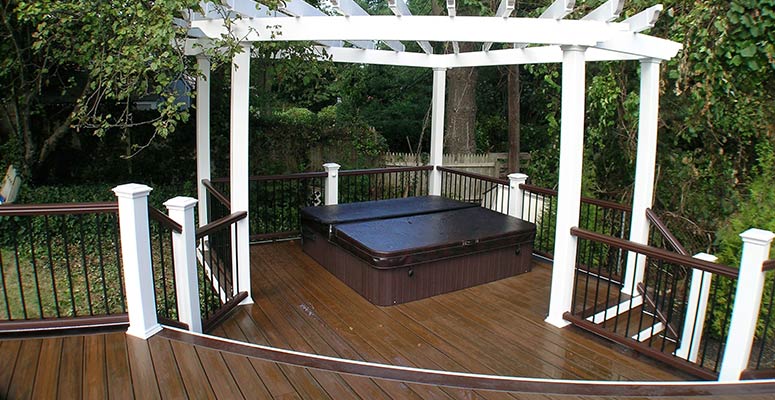 For over two decades, Decks Unique, a family-owned and operated enterprise, has offered custom deck design and construction services to the residents of Long Island and the surrounding areas, including Patchogue. Thanks to our enthusiasm for design and steadfast commitment to professionalism, integrity, and innovation, we've emerged as the top producer of premium decks on Long Island, setting the benchmark for the industry. Our area of expertise involves creating and building custom decks, verandas, gazebos, pergolas, wooden awnings, and other external structures that add worth, allure, and functionality to your Long Island abode.
Deck Building Services with Expertise and Experience in Patchogue
The belief at Decks Unique is that a well planned deck configuration presents a shrewd investment for upgrading one's home. Our expert team of professional deck builders is dedicated to delivering superior quality, maintaining efficient production schedules, and ensuring that our warranties have true lasting value. This resolute commitment to maintaining excellence has garnered numerous fulfilled clients and stunning decks they are thrilled to exhibit for years to come.
On Long Island, our skilled deck builders are qualified to set up all leading composite deck materials, like Trex, TimberTech, and Azek. We extend free residential consultations and digitally-crafted deck layouts for you to preview your project before it gets underway. Entrust us with your backyard as our forthcoming assignment!
Increase the Value of Your Home with a Custom-Built Deck
An outstanding deck can both improve the exterior living area of your Patchogue residence and substantially increase its worth. At Decks Unique, our team is committed to conceiving and constructing custom decks that match the individual requirements and predilections of every client. Whether you are looking for a cozy space to entertain friends and family or a luxurious outdoor oasis to enjoy the beautiful weather, our team will work closely with you to bring your vision to life.
We appreciate that every homeowner has distinct preferences and needs for their outdoor environments. That's why we make available a large range of materials, designs, and components to fashion the perfect deck that aligns with your house and personal routines. We have suitable solutions for every budget and preference, including traditional wood types like pressure-treated lumber, cedar, and redwood, as well as low-maintenance composite and PVC decking.
Unparalleled Commitment to Quality and Customer Satisfaction
Decks Unique is deeply committed to delivering top-notch workmanship and ensuring our clients' satisfaction. Our dedication to the use of high-caliber materials and collaboration with skilled, seasoned builders guarantees each project we undertake is of the finest quality.
The crux of a project's success, in our opinion, is effective communication; as such, we prioritize keeping our clients constantly informed. From beginning to end - initial consultation, design planning, construction, and final examination - our team stays engaged, ready to answer any questions you have, address any concerns, and wholeheartedly ensure you are delighted with your new deck.
Let Decks Unique remodel your Patchogue backyard into an outdoor living oasis you'll relish. Message us today to secure a free consultation and experience the exceptional Decks Unique service.
Comprehensive Decking Services in Patchogue
Decks Unique is proud to deliver an array of customized decking services to cater to the diverse requirements of our clients in Patchogue. Our expertise at Decks Unique ranges from crafting custom deck designs and construction to handling repair work, maintenance, and refinishing projects. At Decks Unique, we also supply a variety of distinct features and additional options to augment your outdoor living enjoyment. Take a more detailed look at the assortment of services we proudly offer.
Custom Deck Design: Realizing Your Dream Deck through Expert Design
Our proficient deck designers will partner with you to develop a bespoke deck that embodies your personal preferences, augments your home, and fulfills the distinct requisites of your property. With the purpose of helping you make smart decisions, our experts will navigate you through choosing materials, securing a long-lasting and beautiful result that stands the test of time.
Superior Deck Construction: Exceptional Expertise for a Breathtaking Outdoor Area
Being an esteemed deck builder, we dedicate ourselves to using only first-class materials and ensuring safe, efficient labor. Our skilled personnel are licensed installers of prominent composite deck products, like Trex, TimberTech, and Azek. By giving close attention to detail and prioritizing structural strength, we ensure that your deck is not only breathtaking but also withstands the passage of time.
Deck Preservation and Fixing: Sustaining Your Investment's Worth
Routine upkeep is fundamental for preserving your deck's beauty and function. Our skilled team is available to provide detailed repair and maintenance services for wood and composite decks. Whether you need thorough inspections to flag potential issues or expert repairs for weather-worn or damaged decks, we are the ideal partner for all your deck maintenance necessities. Our planned maintenance plans offer reassurance, ensuring your deck stays in top shape throughout the entire year.
Deck Refinishing and Restoration: Rejuvenate Your Exterior Space
With the passage of time, even first-rate decks might show evidence of wear or need refinishing in order to continue looking great. Our knowledgeable team can recuperate your deck's attractiveness by utilizing expert cleaning, staining, weatherproofing, and sealing techniques. Plus, we can undertake structural alterations, confirming that your deck stays safe and usable for an extended period.
Personalized Attributes and Extras: Improve Your Deck Enjoyment
To heighten your outdoor living space experience, we introduce an array of distinct features and add-on choices devised to augment your deck. These offerings contain energy-saving lighting solutions for decks, built-in places to sit, outdoor culinary areas, and fire-related elements. By fusing these elements within the deck design, we cultivate a warm and comfy place for you and your kin to share memorable moments in Patchogue.
Decks Unique is dedicated to providing premium decking services to clients in the surrounding areas. We've established a reputation for being professional, honest, and innovative, with 20 years of industry experience. Our capable team is eager to help you with planning a new deck or upgrading an old one. Book a free consultation with us today, and find out how we can revamp your outdoor space into a stunning and functional retreat.
Discover Your Perfect Deck Material: Wood and Composite Options
Our commitment at Decks Unique is to help you establish an impeccable outdoor retreat for your dwelling. That's the advantage of our extensive choice of decking materials, including both wood composite variants. All of the materials come with their distinct advantages, allowing you to handpick the most appropriate alternative based on your specified needs and preferences.
Wooden Decks Showcase Timeless Sophistication
Timber brings a classic, adaptable quality while offering organic coziness and appeal for all outside areas. We present a wide assortment of wood deck options, ensuring compatibility with any style and budget.
Treated Timber: Low-cost and Sturdy
A significant number of homeowners find pressure-treated lumber appealing for its inexpensive and durable aspects. The decking material is treated specially to guard against wood rot and insect invasion. Thus, pressure-treated decks provide enduring quality with reduced maintenance efforts.
Naturally Resistant Cedar and Redwood: A Grand Luxury
In case you desire a more opulent alternative, we provide cedar and redwood decking as well. These beautiful and high-end woods are naturally resistant to decay and insects, ensuring a long-lasting deck that ages gracefully. Exhibiting rich color palettes and peculiar grain motifs, cedar and redwood decks present a marvelous addition to any domestic setting.
Exotic Hardwoods: Exquisite and Long-Lasting
In your quest for a truly matchless and opulent option, weigh the idea of choosing exotic hardwoods like Ipe, Tigerwood, or Cumaru. These remarkable hardwoods are extremely dense and strong, making them known for their outstanding longevity and striking visual charm. With vivid colors and detailed patterns, exotic hardwood decks provide a striking focal point for outdoor spaces.
Discover the Ease of Low-Maintenance Living by Choosing Composite and PVC Decking
For people who want an environmentally conscious and low-maintenance possibility, examine composite and PVC decking. These pioneering materials blend the allure of wood with the toughness of man-made substances, affording homeowners a near maintenance-free al fresco space.
The Upsides and Benefits of Composite Decking
With a mixture of repurposed wood fibers and plastic, composite decking is a resilient and Earth-friendly selection. This type of decking material is impervious to issues like warping, cracking, and color loss, guaranteeing a stunning and durable deck that needs little attention. Cleaning composite decks is hassle-free, as they just need the occasional washing to ensure that the outdoor area stays spotless.
Composite Materials: Industry-Leading Brands
Decks Unique takes pride in collaborating with top-tier composite decking brands like Trex, TimberTech, and Azek. As approved installers of these remarkable products, we can furnish Patchogue homeowners with premium materials for an elegant and lasting outdoor living area.
Design Your Deck with a Variety of Color and Texture Possibilities
A key benefit of composite decking is the broad spectrum of customization opportunities. A range of color and texture selections allows you to craft an outdoor space that complements your home's appearance. There is a composite decking option to match your preference for either the appearance of natural wood or a sleeker, more modern aesthetic.
Enhance Your Deck with Railing and Baluster Options
An impeccable deck isn't finished without the suitable railing and baluster system. With Decks Unique, you have access to a variety of options that enhance your deck design while guaranteeing safety and functionality in your outdoor area.
Wood Railing Systems: Traditional and Timeless
A wood railing system is an excellent choice for a classic and never-outdated appearance. Wood and composite decks alike can benefit from the addition of a wood railing system, providing a seamless integration and consistent style. Create a breathtaking finished look by painting or staining your wood railing system to complement your deck or the exterior of your Patchogue home.
Metal and Glass Railing Systems: Current and Refined
In case a modern and sleek design appeals to you, take into account utilizing metal or glass railing systems. These options provide a contemporary touch and can enhance the view from your deck, making them a popular choice for homeowners with picturesque surroundings.
Composite Railing Systems: Low-Maintenance, Chic Design
Those pursuing a fashionable and elegant option with low upkeep requirements will find composite railing systems to be the perfect choice. The resilient and captivating railings offer a consistent aesthetic when used in conjunction with composite decking, cultivating an exquisite outdoor space with low maintenance needs.
Regardless of your tastes, Decks Unique can assist you in selecting the ideal decking materials for your residence. Get in contact with us now to outline your requirements and initiate the creation of your perfect outdoor environment.
Raise the Bar for Your Outdoor Living Space with Our Additional Services in Patchogue
We at Decks Unique are dedicated to converting your outdoor living space into an opulent and functional part of your home. Not only do we excel in deck building services, but we also offer additional services such as constructing wooden awnings, cabanas, gazebos, pergolas, and porches. Our skilled professionals in Patchogue work closely with you to bring your vision to life while ensuring the highest quality and durability.
Wood Awnings: Enhance Your Outdoor Area with Shade and Style
Wood awnings are an outstanding means of providing both shade and sophistication to your outdoor setting. The competent team at Decks Unique is committed to helping you identify the most suitable design and materials for a beautiful and functional wood awning that enhances your home's look. These wood awnings not only serve to protect against harsh weather but also help raise your property's overall value.
Cabanas: Assemble a Sophisticated Retreat in Your Patchogue Outdoor Space
Providing a seamless mix of luxury, comfort, and seclusion, cabanas are an excellent enhancement to any outdoor space. You can count on our team of professionals to design and create a unique cabana that caters to your individual needs and preferences. Looking for a comfortable retreat to relax or a classy space to host events, we can design a cabana that transforms into your perfect outdoor haven.
Gazebos: An Attractive Extension to Your Garden or Patio
A lasting gazebo makes any garden or patio more appealing, presenting an attractive central feature and a shaded retreat for outdoor recreation. Our accomplished team makes it easy for you to choose the most suitable style, materials, and location for your gazebo, ensuring that it merges seamlessly with your existing outdoor area. Relying on our precision craftsmanship, we present a magnificent gazebo that adds to the charm of your outdoor environment for the long run.
Pergolas: Upgrade Your Exterior Area by Adding Architectural Intrigue and Purpose
Adding a pergola is a fantastic method for enhancing your outdoor area's architectural appeal and usefulness. By combining the benefits of shade with the ability to filter in natural light, these structures are perfect additions to garden walks, patios, and open-air dining spaces. Our adept professionals at Decks Unique are here to design and construct a custom-built pergola that suits your preferences, adding value to your living space.
Build a Porch: Increase Your Home's Curb Appeal and Outdoor Living Environment
A smartly designed porch not only strengthens your home's curb appeal but also delivers a cozy exterior living area for you and your household to revel in. Our qualified team will cooperate with you to construct an exclusive porch that blends with your home's architectural design and accommodates your functional needs. With our rigorous attentiveness to detail and unyielding dedication to exceptional quality, you can rest easy knowing your porch fabrication assignment is in trustworthy hands.
Reach out to Decks Unique to transform your Patchogue outdoor living space
Decks Unique specializes in delivering premium, custom-crafted outdoor living solutions to our Patchogue clients and the surrounding areas. Should you desire to add a wood awning, cabana, gazebo, pergola, or porch to your outdoor living environment, our adept team is here for support. Reach out to us today for a discussion about your project, and let us demonstrate how we can reshape your outdoor living area into a high-end and functional home extension.
Skillful Deck Design and Consultation Services in Patchogue
At Decks Unique, we take great pride in providing customized consultations and tailor-made deck designs to cater to the specific requirements of our customers. With over 20 years of industry know-how, our experienced deck designers will work side by side with you to create a deck that amplifies your home's appearance and practicality. Utilizing innovative 3D modeling and visualization approaches, we'll make your dream deck a reality, confirming that the finished result meets your standards.
High-Quality Deck Materials for Lasting Durability
Decks Unique, the leading deck builder in Long Island, is a certified installer for top composite deck brands like Trex, TimberTech, and Azek. Furthermore, we extend a multitude of wooden decking options geared to your tastes, including pressure-treated beams, cedar, redwood, and superior hardwoods. Our promise to use only top-of-the-line materials ensures your new deck's durability with the added benefit of low maintenance.
Exceptional Deck Construction Services in Patchogue
The competent deck construction crew at Decks Unique is committed to providing first-rate craftsmanship and efficiency across the entire building process. Leveraging our deep expertise in building codes, norms, and permits, you can entrust us with the full project from beginning to end, yielding an eye-catching and practical outdoor environment.
Defend and Resurrect Your Deck's Splendor
At Decks Unique, we understand the importance of routine maintenance in preserving the beauty and structural integrity of your deck. Our capable team can investigate and identify any harm or likely complications, delivering needed repairs to keep your deck in superior condition. Apart from that, we deliver deck refinishing and refurbishment services, including cleaning, staining, weather-resistant treatments, and sealing to preserve and augment your deck's attractiveness.
Upgrade Your Outdoor Area with Custom Features and Add-ons
For authentically crafting your deck into a standout alfresco haven, Decks Unique brings you a variety of individualized elements and add-ins, featuring lighting systems for decks, seats embedded within the layout, cooking zones suitable for outdoor use, and fire-related fixtures. These additions not only improve operation but also generate a soothing and receptive environment for your enjoyment and your guests.
Complete Decking Solutions and Beyond
Decks Unique, besides being skilled in deck design and construction, is also an expert in crafting other outdoor structures such as wood awnings, cabanas, gazebos, pergolas, and porch construction. These amenities can remarkably enhance your Long Island home's outdoor space, converting it into a perfect haven for relaxation and social gatherings.
Decks Unique is here to help with your Patchogue decking needs. Witness the improvement our focus on quality, professionalism, and customer happiness brings to your exterior space. Contact us today to book a free assessment and let us change your backyard into an astonishing piece of art.
Honored to serve the people of Patchogue, North New Hyde Park, New Hyde Park, Melville, Malverne, Kings Park, Hempstead along with other Long Island regions.
Offering Long Island Quality Deck Designs and Services: