Introducing Decks Unique - West Hempstead's Top-Rated Deck Construction Company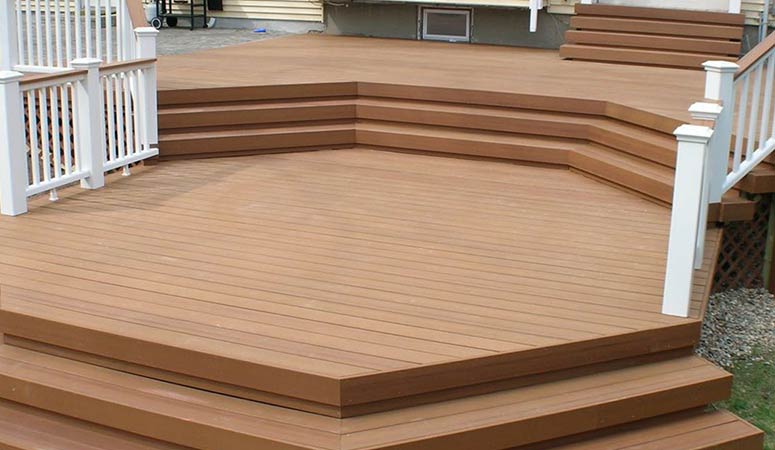 For over two decades, Decks Unique, a family-owned and operated enterprise, has offered custom deck design and construction services to the residents of Long Island and the surrounding areas, including West Hempstead. We have become the preeminent supplier of high-quality decks on Long Island through our passion for design and dedication to professionalism, honesty, and innovation, shaping the industry standards. Our specialization includes creating custom decks, porches, gazebos, pergolas, wooden awnings, and various outdoor structures that contribute to the value, charm, and utility of your Long Island home.
Expertise and Experience in Deck Building Services in West Hempstead
At Decks Unique, we believe that a well-thought-out deck design is a wise investment when considering home improvement. Our expert team of professional deck builders is dedicated to delivering superior quality, maintaining efficient production schedules, and ensuring that our warranties have true lasting value. This unwavering dedication to excellence has manifested in numerous delighted customers and impressive decks they can confidently display for years to follow.
On Long Island, our professional decking installers are approved to work with all major composite decking materials, like Trex, TimberTech, and Azek. We deliver cost-free home assessments and computer-modeled deck schemes for visualizing your project before it takes shape. Let's tackle your backyard as our next challenge!
Augment the Value of Your Residence with a Unique Deck
A great deck not only enhances the outdoor living space of your West Hempstead home but also adds significant value to your property. We take pride in our specialization at Decks Unique in the creation and construction of custom decks that cater to each client's particular needs and choices. No matter if you desire a comfy location for social events or a grand outdoor paradise to savor the charming weather, our staff will partner with you to create your ideal space.
It's clear that each homeowner possesses distinct tastes and necessities for their outside spaces. That is why we offer a wide range of materials, styles, and features to create the perfect deck that complements your home and lifestyle. We have suitable solutions for every budget and preference, including traditional wood types like pressure-treated lumber, cedar, and redwood, as well as low-maintenance composite and PVC decking.
Adherence to Exceptional Quality and Consumer Satisfaction
Decks Unique's commitment to first-class workmanship and customer happiness is unwavering. Our commitment to using only high-quality materials and employing skilled, experienced builders ensures that each project we undertake is completed to the highest standards.
In our experience, consistent communication is the foundation of a successful project, and we never falter in our commitment to keep clients apprised of progress. Throughout the entire journey, from the initial consultation and design to construction and the final inspection, our team is committed to being there to assuage any doubts, allay concerns, and ascertain your utmost satisfaction with your new deck.
Let Decks Unique transform your West Hempstead backyard into an outdoor living space you'll love. Get in touch with us today to arrange a complimentary consultation and discover the Decks Unique advantage firsthand.
In-depth Decking Assistance in West Hempstead
At Decks Unique, our goal is to offer a vast selection of tailored decking services, tailored to meet the needs of our West Hempstead clients. Our expertise covers everything from custom deck design and construction to repair, maintenance, and refinishing. Alongside our main services, we offer a selection of unique features and supplementary options to enrich your outdoor living experience. Let's take a closer look at the services we offer.
Custom Deck Design: Constructing Your Dream Deck for Your Enjoyment
Our skilled deck designers will closely collaborate with you to design a customized deck that showcases your individual taste, enhances your home, and caters to the specific needs of your property. Our masters will help you make discerning selections by providing guidance on material options, ensuring that your deck possesses long-lasting allure and hardiness.
Expert Deck Building: Excellent Workmanship for an Impressive Exterior Area
As the premier deck builder, we are committed to using only high-quality materials and employing safe, efficient workmanship. Our expert staff are certified installers of top composite decking brands, such as Trex, TimberTech, and Azek. With careful scrutiny of detail and a dedication to solid structure, we guarantee that your deck is not only aesthetically pleasing but also long-lasting.
Deck Care and Repairs: Keeping Your Investment Secure
To keep your deck beautiful and functional, regular maintenance is essential. We have a dedicated team that offers all-inclusive repair and upkeep services for both wood and composite decks. From detailed assessments to detect possible problems, to expert damage repairs due to weather or wear, we're the one-stop-shop for all of your deck maintenance requirements. Equipped with our scheduled maintenance programs, you can rest easy knowing that your deck will be kept in pristine condition all year long.
Deck Resurfacing and Restoration: Refresh Your Outside Area
In the course of time, even the most superior decks can reveal signs of wear or call for refinishing to uphold their appearance. Our expert group can recover your deck's beauty with the help of professional cleaning, staining, weatherproofing, and sealing services. We can also effectuate structural refinements, thereby ensuring your deck remains protected and functional for years.
Bespoke Features and Additions: Boost Your Deck Experiences
In order to uplift your outdoor living space, we extend a series of personalized features and additional components aimed at boosting your deck. These options consist of energy-wise deck lights, fixed seating, kitchens intended for open-air use, and fire configurations. By fusing these elements within the deck design, we cultivate a warm and comfy place for you and your kin to share memorable moments in West Hempstead.
Decks Unique specializes in offering clients high-quality deck services in their area and beyond. We've established a reputation for being professional, honest, and innovative, with 20 years of industry experience. Our adept team is eager to assist you with designing a brand-new deck or revamping your old one. Schedule a complimentary consultation with us today, and explore the possibilities to transform your outdoor space into a beautifully functional sanctuary.
Find Your Ultimate Deck Material: Wood vs. Composite Choices
Our commitment at Decks Unique is to help you establish an impeccable outdoor retreat for your dwelling. Thus, we have a vast assortment of decking materials, including alternatives made of wood and composite materials. Various materials have unique positive aspects, ensuring your ability to opt for the finest choice that caters to your personal necessities and proclivities.
Wood Decking Exudes an Everlasting Grace
Wood is a timeless and versatile material, providing natural warmth and charm to any outdoor space. We provide an assortment of wooden decking alternatives that can accommodate any design preference and budget.
Treated Wood: Budget-conscious and Long-lasting
Affordability and durability make pressure-treated lumber a favorite choice for numerous homeowners. The decking material benefits from a specific treatment, safeguarding it from rot and insects. Because of this, pressure-treated decks offer enduring performance with low maintenance requirements.
Cedar and Redwood: The Epitome of Luxurious and Resistant Materials
For individuals searching for a lavish choice, cedar and redwood decking are additionally available. These beautiful and high-end woods are naturally resistant to decay and insects, ensuring a long-lasting deck that ages gracefully. Cedar and redwood decks, adorned with intense colors and characteristic grain appearances, deliver an awe-inspiring aspect to any house.
Exotic Hardwoods: Strikingly Attractive and Durable
For a truly unparalleled and elegant choice, give some thought to exotic hardwoods such as Ipe, Tigerwood, or Cumaru. These incredibly dense and durable woods are known for their exceptional longevity and striking appearance. The vivid colors and elaborate patterns of exotic hardwood decks create an awe-inspiring centerpiece for your outdoor living space.
The Benefits of Low-Maintenance Living: Composite and PVC Decking
Should you desire an environmentally-friendly and low-maintenance option, look into composite and PVC decking. These modern materials unite the wood's aesthetic qualities with the hardiness of synthetics, presenting homeowners with an almost maintenance-free outdoor zone.
Composite Decking: Exploring Its Benefits and Advantages
Made from recycled wood fibers and plastic, composite decking is a strong and environmentally friendly preference. With resistance to warping, cracking, and discoloration, this decking material guarantees an attractive and enduring deck that requires little maintenance. Cleaning composite decks is a breeze, as they only require periodic washing to maintain a spotless and inviting outdoor space.
Industry-Leading Brands in Composite Materials
It is an honor for Decks Unique to collaborate with the best composite decking brands, including Trex, TimberTech, and Azek. As approved installers of these remarkable products, we can furnish West Hempstead homeowners with premium materials for an elegant and lasting outdoor living area.
Personalize Your Deck by Exploring Various Color and Texture Options
One main strength of composite decking is the numerous customization alternatives. You can put together a custom outdoor setting that reflects your home's aesthetics with the diverse color and texture options available. No matter if you appreciate the visuals of natural wood or a cutting-edge design, you'll find a composite decking solution that fits.
Optimize Your Deck's Design with Railing and Baluster Options
To be complete, the perfect deck calls for the appropriate railing and baluster system. At Decks Unique, we provide numerous choices to augment your deck design and maintain the security and practicality of your outdoor living space.
Timber Handrail Solutions: Time-honored and Lasting
A wood railing system is an excellent choice for a classic and never-outdated appearance. By integrating a wood railing system with either a wood or composite deck, you can achieve a smooth and consistent design. To create a visually appealing result, paint or stain your wood railing system so it complements your deck or the exterior of your West Hempstead home.
Metal and Glass Railing Systems: Contemporary and Elegant
For those who appreciate a stylish and up-to-date feel, metal or glass railing systems can be a wise choice. These alternatives offer a modern accent and can improve the scenic view from your deck, becoming a favorite selection among those who live in visually stunning locations.
Composite Railing Systems: Effortless Maintenance and Stylish
Those in search of a stylish yet low-maintenance alternative will find composite railing systems to be an excellent selection. Pairing these durable, eye-catching railings with composite decking generates a visually consistent look, transforming the area into a striking outdoor haven that requires little care.
Regardless of your favorite styles, Decks Unique is ready to help you identify the ideal decking components for your household. Contact us today to discuss your needs and begin designing the outdoor space of your dreams.
Enhance Your Outdoor Living Space with Our Additional Services in West Hempstead
Decks Unique aims to turn your outdoor living space into a charming and functional extension of your dwelling. We don't just provide exemplary deck building services; we also have a variety of extra services like wood awnings, cabanas, gazebos, pergolas, and porch construction. In West Hempstead, we have a team of skilled professionals who work closely with you to make your dream outdoor space a reality, while ensuring the highest quality and durability.
Wood Awnings: Add Fashion and Functionality for Your Outdoor Space
Through wood awnings, you can effortlessly introduce both shade and grace to your exterior area. At Decks Unique, our skilled team can assist you in selecting the appropriate design and materials for an attractive and practical wood awning that enhances your home's appearance. These wooden features not only act as a barrier against severe weather but also add to the total value of your property.
Cabanas: Design a Lavish Getaway in Your West Hempstead Garden
Cabanas deliver a flawless fusion of opulence, comfort, and seclusion, making them the ultimate addition to any outdoor setting. Our experienced team will work alongside you to plan and erect a unique cabana that caters to your distinct needs and preferences. Whether it's a homely corner for winding down or a polished space for hosting visitors, we can conjure up a cabana that stands as your flawless exterior retreat.
Gazebos: A Picturesque Addition for Your Backyard Garden or Patio
Incorporating a gazebo in a garden or patio lends perpetual elegance, offering an alluring centerpiece and a cool alcove for outdoor unwinding. Our expert team assists you in selecting the perfect design, materials, and placement for your gazebo, guaranteeing a smooth blend with your current outdoor environment. Our top-notch craftsmanship ensures an impressive gazebo that enriches your outdoor area and brings joy for numerous years.
Pergolas: Amplify Your Outdoor Setting's Distinction and Practicality with Architectural Elements
Integrating a pergola into your outdoor living area is an outstanding approach for increasing architectural attractiveness and functionality. Pergolas offer a balance of shading and natural illumination, which suits them well for use in garden walkways, outdoor patios, or dining areas. At Decks Unique, our qualified experts are capable of designing and constructing a personalized pergola that fits your aesthetic desires and adds worth to your residence.
Porch Building: Upgrade Your Home's Curb Appeal and Outdoor Living Space
A well-planned porch not only heightens your home's curb appeal but also furnishes a snug outdoor living environment for you and your kin to relish. Our experienced team will team up with you to establish a bespoke porch that matches your home's architecture and caters to your functional necessities. With our scrupulous focus on detail and loyalty to top-notch quality, you can relax knowing that your porch construction venture is in adept hands.
Communicate with Decks Unique for your West Hempstead outdoor living area transformation
Decks Unique specializes in delivering premium, custom-crafted outdoor living solutions to our West Hempstead clients and the surrounding areas. Whether it's a wood awning, cabana, gazebo, pergola, or porch you want to incorporate into your outdoor space, our professional team stands ready to help. Contact us right away to go over your project and learn how we can transform your outdoor area into a plush and purposeful extension of your living space.
Proven Deck Design and Consultation Excellence in West Hempstead
We, at Decks Unique, pride ourselves on delivering custom-tailored consultation and deck designs to suit the individual preferences of our clients. With a solid background of 20 years, our adept deck designers will collaborate with you in designing a deck that boosts your home's beauty and function. By harnessing the power of advanced 3D modeling and visualization techniques, we'll materialize your dream deck, while ensuring the final version fulfills your expectations.
High-grade Decking Elements for Sustained Durability
Decks Unique, the leading deck builder in Long Island, is a certified installer for top composite deck brands like Trex, TimberTech, and Azek. We also present an array of wooden decking alternatives to accommodate your preferences, like pressure-treated timber, cedarwood, redwood, and rare hardwoods. We are committed to using only superior materials, ensuring the durability of your new deck while keeping maintenance requirements minimal.
Top-Notch Deck Building Services in West Hempstead
Our gifted deck construction professionals at Decks Unique are devoted to ensuring top-tier quality and effectiveness during the full building process. With our extensive know-how of building codes, statutes, and permits, you can rely on us to steer the whole project from its start to finish, leaving you with a visually striking and practical outdoor living area.
Secure and Reinstate Your Deck's Grace
Decks Unique comprehends the crucial role of ongoing maintenance in preserving your deck's attractiveness and solid construction. Our skilled team can examine and detect any problems or potential concerns, offering required fixes to maintain your deck in excellent shape. At Decks Unique, we also propose deck revamping and restoration amenities, involving cleaning, staining, safeguarding against weather, and sealing to conserve and magnify your deck's appeal.
Custom Features and Add-ons to Elevate Your Outdoor Space
To honestly create a one-of-a-kind backyard sanctuary with your deck, Decks Unique makes available a selection of bespoke aspects and supplements, encompassing deck light systems, incorporated chairs, outdoor culinary spaces, and fire-based amenities. These upgrades not only increase utility, but they also foster an inviting and comfortable setting for you and those you invite to relish.
Broad Decking Options and Additional Support
Besides being proficient in deck design and construction, Decks Unique provides services in creating additional outdoor structures like wood awnings, cabanas, gazebos, pergolas, and porch construction. These additional structures can greatly contribute to the charm of your Long Island home's outdoor environment, turning it into an ideal place for relaxation and festivities.
Entrust all your West Hempstead decking needs to Decks Unique. Feel the distinction our devotion to quality, professionalism, and customer contentment makes in your outdoor setting. Reach out to us today for a free consultation, and let us convert your backyard into an exquisite showpiece.
With pride, offering our assistance to West Hempstead, Syosset, Shirley, Rocky Point, Old Westbury, North Bellmore, Mineola and additional Long Island locales.
Offering Long Island Quality Deck Designs and Services: