Discover Decks Unique - The Leading Deck Builder in Shirley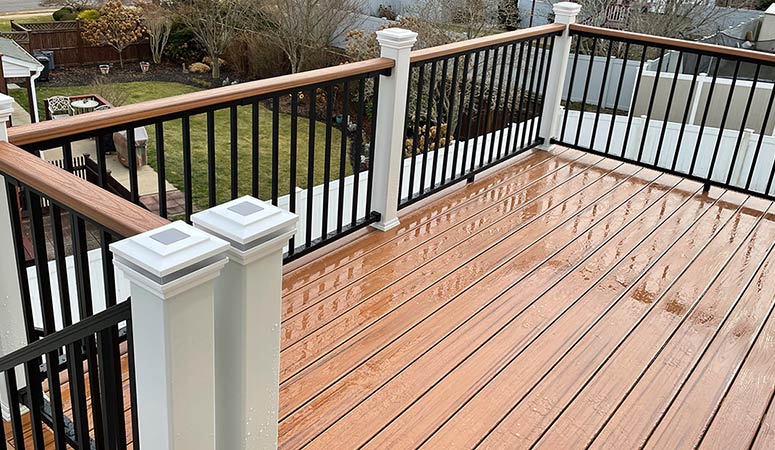 Decks Unique, a family-owned and operated custom deck design and construction business, has catered to the residents of Long Island and nearby areas, like Shirley, for more than 20 years. Decks Unique's dedication to design, professionalism, integrity, and innovation has elevated us to become the leading producer of high-quality decks in Long Island, defining industry standards. Our expertise lies in crafting custom decks, porches, gazebos, pergolas, wooden awnings, and other outdoor amenities that enhance the appeal, value, and practicality of your residence in Long Island.
Highly Skilled and Experienced Deck Construction Services in Shirley
At Decks Unique, our conviction is that a carefully planned deck design serves as a smart investment for home enhancements. Our adept squad of professional deck builders aims to achieve exceptional quality, maintain productivity in schedules, and assure our warranties come with true durable value. Our allegiance to exceptional quality has borne fruit in the form of myriad satisfied clients and beautifully crafted decks they can flaunt for the years ahead.
Our deck construction crews on Long Island are endorsed to deploy all renowned composite deck products, including Trex, TimberTech, and Azek. Enjoy our complimentary house visits and computer-rendered deck blueprints that let you perceive your deck before it's physically realized. Why not turn your backyard into our following endeavor?
Augment the Value of Your Residence with a Unique Deck
The addition of a fantastic deck not only expands your Shirley home's outdoor living space but also amplifies its market value. We, at Decks Unique, focus on the development and creation of bespoke decks that address the specific requirements and tastes of each client. Regardless of whether you want an inviting space to entertain loved ones or a haven to appreciate the delightful weather, we will work in harmony with you to actualize your vision.
In regards to outdoor areas, we understand that each homeowner has unique tastes and requirements. Consequently, we offer a broad assortment of materials, designs, and aspects to construct the perfect deck that matches your residence and your living habits. From classic wooden choices such as pressure-treated wood, cedar, and redwood, to the low-maintenance composite and PVC decking options, we have the ideal solution for any budget and taste.
Unparalleled Commitment to Quality and Customer Satisfaction
At Decks Unique, excellent workmanship and gratified clients are what we focus on. We're committed to employing the finest materials and experienced, talented builders to make certain that all our projects live up to the highest expectations.
For a project to be successful, we believe communication is key, and we place great importance on keeping our clients aware of every development. From beginning to end - initial consultation, design planning, construction, and final examination - our team stays engaged, ready to answer any questions you have, address any concerns, and wholeheartedly ensure you are delighted with your new deck.
Give Decks Unique the chance to modify your Shirley backyard into a cozy outdoor living space you'll love. Contact us immediately to set up a complimentary consultation and feel the Decks Unique superiority.
Comprehensive Decking Services in Shirley
Decks Unique is proud to deliver an array of customized decking services to cater to the diverse requirements of our clients in Shirley. We are experts in all aspects of deck services, from designing and building custom decks to repairs, maintenance, and refinishing. Moreover, Decks Unique furnishes an array of distinctive options and add-ons to enrich your outdoor living environment. Allow us to provide you with a more in-depth overview of our services.
Custom Deck Design: Creating the Perfect Dream Deck for You
Our adept deck designers will cooperate with you to create a personalized deck that expresses your distinctive style, accents your home, and accommodates the particular requirements of your property. To empower you to make well-versed decisions, our seasoned consultants will lead you through the material-picking phase, promising sustained grace and durability for your deck.
Superior Deck Construction: Exceptional Expertise for a Breathtaking Outdoor Area
As the leading deck builder, we pledge to use only top-notch materials and practice secure, effective workmanship. Our capable personnel are accredited installers of prestigious composite deck products, including Trex, TimberTech, and Azek. With rigorous attention to detail and a commitment to structural robustness, we confirm that your deck is not only striking but also stands firm for years to come.
Deck Preservation and Fixing: Sustaining Your Investment's Worth
Regular care is important for preserving both the beauty and functionality of your deck. Whether it's a wood or composite deck, our specialized team offers comprehensive repair and upkeep services. From meticulous inspections that reveal potential problems, to adept repairs for any damages stemming from weather or wear patterns, we are the comprehensive source for all your deck upkeep needs. With our regular maintenance schedules, you can relax, confident that your deck will be well-maintained and preserved year-round.
Deck Resurfacing and Restoration: Refresh Your Outside Area
As the years go by, even the highest-grade decks can demonstrate signs of wear or ask for refinishing to retain their attractiveness. Our knowledgeable team can recuperate your deck's attractiveness by utilizing expert cleaning, staining, weatherproofing, and sealing techniques. Additionally, we can make structural improvements, ensuring that your deck remains safe and functional for years to come.
Customized Elements and Added Components: Elevate Your Deck Pleasures
To step up your outdoor living zone, we bring forth a multitude of bespoke aspects and add-ons fashioned to amplify your deck. Some of the options are energy-efficient light fittings on decks, internal seating, exterior cooking areas, and fire-inspired features. Incorporating these aspects into the deck design, we generate a welcoming and snug habitat for you and your acquaintances to revel in Shirley.
Decks Unique specializes in offering clients high-quality deck services in their area and beyond. Boasting over 20 years of experience, we are known for our professionalism, trustworthiness, and innovative approach. Whether you are looking to design a new deck or revamp an existing one, our skilled team is here to help. Touch base with us today to organize a free consultation, and let us demonstrate how we can change your outdoor area into a beautiful and practical haven.
Compare Wood and Composite Options to Discover Your Perfect Deck Material
We, at Decks Unique, are devoted to aiding you in crafting the ultimate outdoor haven for your abode. That's the advantage of our extensive choice of decking materials, including both wood composite variants. Each material has its unique advantages, ensuring that you can choose the best option for your specific needs and preferences.
Wood Decking Provides an Ageless Beauty
Wood, with its enduring and adaptable properties, naturally lends warmth and charisma to any exterior area. A variety of wood decking options are offered to match each person's style and monetary constraints.
Treated Lumber: Inexpensive and Strong
Pressure-treated wood is a sought-after choice among many homeowners owing to its reasonably priced and enduring characteristics. Undergoing a unique treatment process, this decking material is protected against decay and bug infestations. Minimal maintenance is needed for these durable, pressure-treated decks as a result of the treatment.
High-End and Resilient Cedar and Redwood: A Natural Concoction
For people looking for an upscale option, we offer cedar and redwood decking too. The eye-catching and high-grade woods are organically immune to decay and bug damage, ensuring a deck that remains sturdy for years to come. With their rich colors and unique grain patterns, cedar and redwood decks make a stunning addition to any home.
Exotic Hardwoods: Elegant and Resilient
For a truly unparalleled and elegant choice, give some thought to exotic hardwoods such as Ipe, Tigerwood, or Cumaru. These remarkably strong and resilient woods are renowned for their extraordinary longevity and eye-catching looks. The vivid colors and elaborate patterns of exotic hardwood decks create an awe-inspiring centerpiece for your outdoor living space.
Achieve Low-Maintenance Living with the Use of Composite and PVC Decking
If you're after a green and low-maintenance substitute, evaluate the merits of composite and PVC decking. These innovative materials combine the beauty of wood with the durability of synthetic materials, providing homeowners with a nearly maintenance-free outdoor space.
Why Choose Composite Decking: Benefits and Advantages
Composite decking is made from a combination of recycled wood fibers and plastic, offering a highly durable and eco-friendly option. This type of decking material is impervious to issues like warping, cracking, and color loss, guaranteeing a stunning and durable deck that needs little attention. In addition, maintaining the cleanliness of composite decks is quite simple, requiring only a periodic wash to keep your outdoor area in pristine condition.
The Best Brands in the World of Composite Materials
Decks Unique is delighted to cooperate with the foremost brands in composite decking, including Trex, TimberTech, and Azek. As authorized installers of these exceptional products, we can provide Shirley homeowners with the highest quality materials, ensuring a gorgeous and long-lasting outdoor space.
Personalize Your Deck by Exploring Various Color and Texture Options
Composite decking comes with the advantage of a plethora of customization options. With a variety of color and texture choices, you can create a one-of-a-kind outdoor space that perfectly suits your home's aesthetic. You can find a fitting composite decking solution to satisfy your inclination for natural wood or modern design aesthetics.
Amplify Your Deck's Look with Railing and Baluster Additions
An ideal deck requires the appropriate railing and baluster system to be complete. Decks Unique delivers a wide variety of solutions to boost your deck design and uphold the safety and effectiveness of your outdoor space.
Wood Railing Systems: Traditional and Timeless
A wood railing system is worth considering for a classic and ageless look. By integrating a wood railing system with either a wood or composite deck, you can achieve a smooth and consistent design. For a striking finale, customize your wood railing system by painting or staining it to match your deck or the exterior of your Shirley home.
Metal and Glass Railing Systems: Modern and Sleek
Opt for metal or glass railing systems if you're inclined towards a sophisticated and current aesthetic. These alternatives offer a modern accent and can improve the scenic view from your deck, becoming a favorite selection among those who live in visually stunning locations.
Composite Railing Systems: Low-Care and Trendy
For individuals who desire a low-upkeep solution while maintaining sophistication and elegance, composite railing systems make an ideal choice. These strong and stylish railings, when matched with composite decking, bring about a cohesive appearance, resulting in a stunning low-maintenance outdoor space.
No matter what you like, Decks Unique is here to offer assistance in selecting the perfect deck materials for your abode. Connect with us today to explore your desires and kick off the design of the outdoor oasis you have always wanted.
Enhance Your Outdoor Living Space with Our Additional Services in Shirley
Our mission at Decks Unique is to convert your outdoor living area into a deluxe and practical extension of your abode. We don't just provide exemplary deck building services; we also have a variety of extra services like wood awnings, cabanas, gazebos, pergolas, and porch construction. The skilled professionals at Shirley diligently collaborate with you in order to transform your vision into reality while ensuring top-notch quality and durability.
Wooden Awnings: Combine Style and Shade in Your Outdoor Space
Through wood awnings, you can effortlessly introduce both shade and grace to your exterior area. Our proficient crew at Decks Unique will offer guidance in determining the perfect design and materials for a visually appealing and practical wood awning that goes well with your home's decor. These setups not only offer defense against tough weather conditions but also augment the overall market value of your property.
Cabanas: Establish an Elegant Haven in Your Shirley Greenspace
Combining luxury, comfort, and privacy expertly, cabanas are perfect for enhancing any open-air area. Our team of experts will work with you to design and build a custom cabana that meets your specific needs and preferences. Be it a warm, inviting spot for rest or a refined space for social engagements, we can build a cabana that becomes your dream outdoor getaway.
Gazebos: A Stunning Complement to Your Garden or Patio Space
Incorporating a gazebo in a garden or patio lends perpetual elegance, offering an alluring centerpiece and a cool alcove for outdoor unwinding. Our accomplished team makes it easy for you to choose the most suitable style, materials, and location for your gazebo, ensuring that it merges seamlessly with your existing outdoor area. Utilizing our exceptional craftsmanship, we provide a beautiful gazebo that bolsters the aesthetic appeal of your outdoor space for years to follow.
Pergolas: Elevate Your Outdoor Living Space's Interest and Utility through Architecture
Pergolas offer a brilliant solution for infusing architectural style and practical purposes into your outdoor environment. By combining the benefits of shade with the ability to filter in natural light, these structures are perfect additions to garden walks, patios, and open-air dining spaces. The team of skilled experts at Decks Unique can create and construct a tailor-made pergola that complements your taste and enhances your home's worth.
Porch Creation: Boost Your Home's Curb Appeal and Outdoor Living Space
A proficiently designed porch not only increases your home's curb appeal but also presents a comfortable open-air living space for you and your family to take pleasure in. Our skillful staff will coordinate with you to fashion a custom porch that goes well with your home's architecture and addresses your functional requirements. With our meticulous attention to detail and devotion to high standards, you can feel confident that your porch building project is in capable hands.
Reach out to Decks Unique to transform your Shirley outdoor living space
Decks Unique is committed to offering top-tier, made-to-order outdoor living solutions for our Shirley clients and their neighboring areas. If you're interested in incorporating a wood awning, cabana, gazebo, pergola, or porch to your exterior space, our team of experts is ready to assist. Give us a call today to discuss your vision, and we'll show you how we can upgrade your outdoor living area into a deluxe and useful extension of your home.
Expertly Crafted Deck Plans and Designs in Shirley
At Decks Unique, we are proud of our ability to offer personalized consultations and custom deck designs that accommodate the unique demands of each client. With a solid background of 20 years, our adept deck designers will collaborate with you in designing a deck that boosts your home's beauty and function. Utilizing innovative 3D modeling and visualization approaches, we'll make your dream deck a reality, confirming that the finished result meets your standards.
Durable Deck Materials for Extended Life Expectancy
Decks Unique, Long Island's leading deck builder, is accredited to install all major composite deck materials, including popular brands such as Trex, TimberTech, and Azek. We also furnish an assortment of wooden decking options to match your likings, including pressure-treated planks, cedar, redwood, and high-quality hardwoods. Our promise to use only top-of-the-line materials ensures your new deck's durability with the added benefit of low maintenance.
Exceptional Deck Construction Services in Shirley
Decks Unique's expert deck construction crew is committed to delivering outstanding workmanship and efficiency throughout the entire building process. With our expert knowledge of building codes, regulations, and permits, you can trust us to handle the entire project from start to finish, leaving you with a stunning and functional outdoor living space.
Hold and Re-establish Your Deck's Gorgeousness
At Decks Unique, we are conscious of the pivotal role regular maintenance plays in preserving your deck's visual charm and solid framework. The proficient team at Decks Unique can assess and pinpoint any damage or possible issues, carrying out vital repairs to ensure your deck remains in prime condition. At Decks Unique, we also propose deck revamping and restoration amenities, involving cleaning, staining, safeguarding against weather, and sealing to conserve and magnify your deck's appeal.
Upgrade Your Outdoor Area with Custom Features and Add-ons
For authentically crafting your deck into a standout alfresco haven, Decks Unique brings you a variety of individualized elements and add-ins, featuring lighting systems for decks, seats embedded within the layout, cooking zones suitable for outdoor use, and fire-related fixtures. These enhancements not only add functionality but also create a comfortable and inviting atmosphere for you and your guests to enjoy.
Exhaustive Deck Installation and Additional Features
Apart from our knowledge and experience in deck design and construction, Decks Unique also extends its expertise to additional outdoor structures such as wooden awnings, cabanas, gazebos, pergolas, and porches. Such structures can augment the beauty of your Long Island home's exterior, transforming it into an excellent space for leisure and socializing.
Turn to Decks Unique for addressing all your decking needs in Shirley. Feel the distinction our devotion to quality, professionalism, and customer contentment makes in your outdoor setting. Drop us a line today to set up a free consultation, and let us turn your backyard into a gorgeous masterpiece.
Honored to serve the people of Shirley, Ronkonkoma, Oyster Bay, North Massapequa, Nesconset, Mastic, Locust Valley along with other Long Island regions.
Offering Long Island Quality Deck Designs and Services: