Check out Decks Unique - Syosset's Exceptional Deck Building Professionals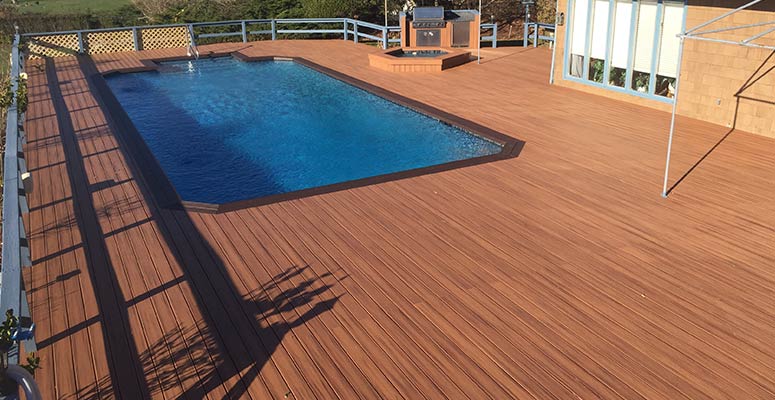 Decks Unique, a family-owned and operated company specializing in custom deck design and construction, has served the communities of Long Island and the surrounding areas, such as Syosset, for over two decades. Our fervor for design, coupled with a strong commitment to professionalism, integrity, and innovation, has positioned us as the foremost manufacturer of high-caliber decks in Long Island, raising the bar for the sector. At Decks Unique, we excel in constructing custom decks, porches, gazebos, pergolas, wood awnings, and additional outdoor structures that augment the aesthetics, worth, and functionality of your Long Island property.
Leading Expertise and Experience in Deck Building in Syosset
At Decks Unique, we are convinced that a well-organized deck layout offers a sensible investment in home improvement projects. Our highly skilled team of seasoned deck constructors consistently strives for exceptional quality, adheres to effective timetables, and guarantees long-lasting warranties. Our allegiance to exceptional quality has borne fruit in the form of myriad satisfied clients and beautifully crafted decks they can flaunt for the years ahead.
Our deck construction crews on Long Island are endorsed to deploy all renowned composite deck products, including Trex, TimberTech, and Azek. We present free home evaluations and computerized decking layouts to enable you to picture your project before it becomes reality. Choose your backyard as the focus of our next enterprise!
Increase the Value of Your Home with a Custom-Built Deck
With a high-quality deck, your Syosset house can see its outdoor living area improved and its property value significantly raised. We take pride in our specialization at Decks Unique in the creation and construction of custom decks that cater to each client's particular needs and choices. From a warm and welcoming spot for get-togethers to an elegant outdoor refuge for enjoying the splendid weather, our team will work intimately with you to fashion your desired space.
We recognize that every homeowner has unique preferences and needs for their outdoor areas. We supply a wide scope of materials, styles, and facets to build the superb deck that goes well with your dwelling and lifestyle. With options spanning from traditional wood varieties such as pressure-treated lumber, cedar, and redwood, to low-maintenance composite and PVC decking alternatives, we have the perfect solution for every financial plan and preference.
Unequaled Focus on Superior Standards and Customer Gratification
Decks Unique is deeply committed to delivering top-notch workmanship and ensuring our clients' satisfaction. Focusing on the employment of top-notch materials and the engagement of experienced, adept builders allows us to complete each project to the highest standards.
We consider open communication to be the cornerstone of a successful project, and we strive to keep our clients well-informed every step of the way. Throughout the entire process - from initial consultation and design to construction and final inspection - our team is on hand to field questions, respond to any worries, and ensure ultimate satisfaction with your finished deck.
Give Decks Unique the chance to modify your Syosset backyard into a cozy outdoor living space you'll love. Message us today to secure a free consultation and experience the exceptional Decks Unique service.
Full-range Decking Services in Syosset
At Decks Unique, our goal is to offer a vast selection of tailored decking services, tailored to meet the needs of our Syosset clients. Our expertise at Decks Unique ranges from crafting custom deck designs and construction to handling repair work, maintenance, and refinishing projects. Alongside our main services, we offer a selection of unique features and supplementary options to enrich your outdoor living experience. Take a more detailed look at the assortment of services we proudly offer.
Custom Deck Design: Crafting Your Dream Deck with Precision
Our talented deck designers will team up with you to generate a one-of-a-kind deck that represents your signature style, blends well with your home, and meets the special requirements of your property. To aid you in making well-informed decisions, our authorities will guide you in choosing appropriate materials, promising enduring elegance and sturdiness.
Professional Deck Development: Skillful Artisanship for a Captivating Outdoor Oasis
As the premier deck builder, we are committed to using only high-quality materials and employing safe, efficient workmanship. Our capable personnel are accredited installers of prestigious composite deck products, including Trex, TimberTech, and Azek. By paying attention to every detail and maintaining a focus on structural reliability, we secure that your deck not only looks remarkable but also endures the test of time.
Deck Upkeep and Restoration: Guarding Your Investment
Regular upkeep is vital for maintaining your deck's aesthetics and functionality. Our dedicated team offers comprehensive repair and maintenance services for both wood and composite decks. Whether it's thorough inspections to uncover potential issues, or professional repairs for weather-induced damage and wear, we can handle all your deck maintenance demands. With our regular maintenance schedules, you can relax, confident that your deck will be well-maintained and preserved year-round.
Deck Revamping and Restoration: Transform Your Outdoor Sanctuary
As the years go by, even the highest-grade decks can demonstrate signs of wear or ask for refinishing to retain their attractiveness. Our team of experts is capable of revitalizing your deck's beauty through thorough cleaning, staining, weatherproofing, and sealing. Plus, we can undertake structural alterations, confirming that your deck stays safe and usable for an extended period.
Personal Customizations and Upgrades: Enrich Your Deck Leisure
With the goal of elevating your outdoor living area, we put forth numerous individualized aspects and add-ons intended to accent your deck. Some of the options are energy-efficient light fittings on decks, internal seating, exterior cooking areas, and fire-inspired features. Incorporating these aspects into the deck design, we generate a welcoming and snug habitat for you and your acquaintances to revel in Syosset.
We, at Decks Unique, excel in delivering the finest decking solutions to our customers and areas nearby. Our 20-plus years of experience in the field have earned us a name for professionalism, integrity, and creativity. When it comes to designing a fresh deck or improving an existing one, our expert team is at your service. Get in touch with us today to arrange a complimentary consultation and uncover how we can convert your exterior space into an attractive, useful oasis.
Uncover the Ideal Deck Material for You: Comparing Wood and Composite Options
At Decks Unique, we are committed to helping you create the perfect outdoor oasis for your home. Hence, we put forth a broad selection of decking materials, consisting of wood and composite possibilities. Separate materials exhibit specific strengths so that you can determine the best option corresponding to your particular requirements and desires.
Classic Beauty with Wood Decking
Offering unparalleled warmth and charm, wood is an eternal and versatile choice for outdoor environments. We have an extensive range of wood deck choices designed to address every aesthetic and budget.
Pressure-Treated Wood: Cost-effective and Long-lasting
Due to its cost efficiency and resilience, pressure-treated lumber appeals to a lot of homeowners. This decking material receives a distinctive treatment, making it resistant to rotting and insect infestations. Pressure-treated decks last a long time and necessitate minimal care due to this treatment.
Cedar and Redwood: The Epitome of Luxurious and Resistant Materials
If you're interested in a more sophisticated solution, we also have cedar and redwood decking available. These refined and deluxe woods come with natural resistance to decomposition and insect activity, making for a long-lasting deck that stands the test of time. Cedar and redwood decks, showcasing rich coloration and individualistic grain patterns, bring a significant accent to any living space.
Exotic Hardwoods: Visually Striking and Rugged
If you're on the hunt for a genuinely distinct and sophisticated alternative, consider utilizing exotic hardwoods like Ipe, Tigerwood, or Cumaru. These remarkably strong and resilient woods are renowned for their extraordinary longevity and eye-catching looks. Exotic hardwood decks, featuring their bold colors and detailed patterns, make for an impressive centerpiece in any outdoor setting.
Achieve Low-Maintenance Living with the Use of Composite and PVC Decking
To find an eco-responsible and low-upkeep choice, take into account composite and PVC decking. These modern materials unite the wood's aesthetic qualities with the hardiness of synthetics, presenting homeowners with an almost maintenance-free outdoor zone.
Composite Decking: Exploring Its Benefits and Advantages
With a mixture of repurposed wood fibers and plastic, composite decking is a resilient and Earth-friendly selection. With resistance to warping, cracking, and discoloration, this decking material guarantees an attractive and enduring deck that requires little maintenance. Moreover, the ease of cleaning composite decks is an added advantage, making it a straightforward task to preserve the neat appearance of your outdoor space with periodic washes.
Composite Materials: Industry-Leading Brands
Decks Unique is honored to partner with renowned composite decking brands, including Trex, TimberTech, and Azek. We can deliver the best quality materials for an attractive and long-lasting outdoor space to Syosset homeowners, as we are authorized installers of these first-rate products.
Customize Your Deck with Color and Texture Options
The extensive array of personalization options is a crucial benefit of composite decking. You can put together a custom outdoor setting that reflects your home's aesthetics with the diverse color and texture options available. No matter if you appreciate the visuals of natural wood or a cutting-edge design, you'll find a composite decking solution that fits.
Revamp Your Deck Using Different Railing and Baluster Combinations
The perfect deck isn't complete without the right railing and baluster system. Decks Unique offers countless options to accentuate your deck design while ensuring a safe and practical outdoor environment.
Wooden Railing Designs: Everlasting and Traditional
To achieve a timeless and classic appearance, think about using a wood railing system. Wood and composite decks alike can benefit from the addition of a wood railing system, providing a seamless integration and consistent style. A remarkable final appearance can be achieved by painting or staining a wood railing system to correspond with your deck or the exterior of your Syosset home.
Metal and Glass Railing Systems: Innovative and Graceful
For those who appreciate a stylish and up-to-date feel, metal or glass railing systems can be a wise choice. Such choices add a modern twist and can elevate the vista from your outdoor space, making them an attractive option for homeowners with striking scenery.
Composite Railing Systems: Simple Maintenance and Sophisticated
For an ideal blend of style, elegance, and low-maintenance, composite railing systems are an excellent option. Featuring both durability and charm, these railings, when paired with composite decking, establish an attractive and consistent look, ultimately constructing a beautiful outdoor living area requiring limited upkeep.
No matter what you prefer, Decks Unique is available to guide you in choosing the best decking materials for your house. Touch base with us today to present your needs and launch the design of the outdoor sanctuary of your dreams.
Improve Your Outdoor Living Area with Our Additional Offerings in Syosset
Our mission at Decks Unique is to convert your outdoor living area into a deluxe and practical extension of your abode. Besides our excellent deck building services, we also deliver a wide array of extra services, including wood awnings, cabanas, gazebos, pergolas, and porch construction. In Syosset, we have a team of skilled professionals who work closely with you to make your dream outdoor space a reality, while ensuring the highest quality and durability.
Wooden Awnings: Infuse Style and Shade into Your Outdoor Space
Wood awnings offer an excellent way to create shade and style in your outdoor environment. The competent team at Decks Unique is committed to helping you identify the most suitable design and materials for a beautiful and functional wood awning that enhances your home's look. Such structures offer protection from inclement weather while simultaneously increasing your property's overall value.
Cabanas: Develop a Posh Hideaway in Your Syosset Outdoor Area
Cabanas are a fantastic combination of luxury, convenience, and privacy, making them the perfect addition to any outside area. With the assistance of our expert team, we will design and build for you a customized cabana that aligns with your specific needs and preferences. Whether you want a cozy space to relax or an elegant area to entertain guests, we can create a cabana that serves as a perfect outdoor retreat.
Gazebos: A Beautiful Addition for Your Outdoor Garden or Patio
A gazebo is a timeless addition to any garden or patio, providing a charming focal point and a shaded area for outdoor relaxation. Our accomplished team makes it easy for you to choose the most suitable style, materials, and location for your gazebo, ensuring that it merges seamlessly with your existing outdoor area. Relying on our precision craftsmanship, we present a magnificent gazebo that adds to the charm of your outdoor environment for the long run.
Pergolas: Add Architectural Interest and Functionality to Your Outdoor Area
Pergolas are an excellent way to add architectural interest and functionality to your outdoor living space. By combining the benefits of shade with the ability to filter in natural light, these structures are perfect additions to garden walks, patios, and open-air dining spaces. Let the skilled experts at Decks Unique craft a bespoke pergola that caters to your style and contributes to your home's overall value.
Creating a Porch: Upgrade Your Home's Curb Appeal and Outdoor Living Areas
A smartly designed porch not only strengthens your home's curb appeal but also delivers a cozy exterior living area for you and your household to revel in. Our seasoned group will join forces with you to execute a customized porch design that suits your home's architecture and meets your purposeful needs. With our painstaking observance of detail and fidelity to outstanding quality, you can be assured that your porch manufacturing enterprise is being managed by skilled professionals.
Talk to Decks Unique for improving your Syosset outdoor living space
At Decks Unique, providing superior, custom-made outdoor living options for our clients in Syosset and the adjacent areas is our mission. Our knowledgeable team is eager to assist if you're considering adding a wood awning, cabana, gazebo, pergola, or porch to your outdoor area. Reach out to us today to talk about your project and find out how we can turn your outdoor living space into an opulent and functional addition to your home.
Specialist Deck Consultation and Design Services in Syosset
Decks Unique prides itself on presenting custom consultations and deck designs, designed to cater to the distinctive needs of our clientele. Our seasoned deck designers, with over 20 years in the field, will partner with you to develop a deck that improves both your home's appearance and functionality. By applying modern 3D modeling and visualization techniques, we'll make your envisioned deck a tangible reality, confirming the final creation meets your demands.
Exceptional Deck Materials for Long-lasting Stability
Decks Unique, the preeminent deck builder on Long Island, is authorized to install all renowned composite decking products, featuring brands like Trex, TimberTech, and Azek. We have a range of wood decking options to cater to your needs, such as pressure-treated boards, cedar, redwood, and imported hardwoods. Our promise to use only top-of-the-line materials ensures your new deck's durability with the added benefit of low maintenance.
Professional Deck Construction Services in Syosset
Decks Unique's expert deck construction crew is committed to delivering outstanding workmanship and efficiency throughout the entire building process. Due to our profound expertise in building codes, standards, and permits, you can depend on us to oversee the complete project from inception to completion, delivering a striking and functional outdoor area.
Maintaining and Restoring Your Deck's Beauty
Decks Unique understands how vital routine upkeep is in protecting the appeal and infrastructure of your deck. Our experienced team can inspect and identify any damages or potential issues, providing necessary repairs to keep your deck in top condition. We additionally present deck refurbishing and restoration offerings, consisting of cleaning, staining, weatherproofing, and sealing strategies to fortify and boost your deck's visual quality.
Custom Features and Add-ons to Elevate Your Outdoor Space
To truly make your deck a unique outdoor oasis, Decks Unique offers a variety of custom features and add-ons such as deck lighting, built-in seating, outdoor kitchens, and fire features. These upgrades not only increase utility, but they also foster an inviting and comfortable setting for you and those you invite to relish.
Full-Scale Decking Services and More
Decks Unique, known for its expertise in deck design and construction, also offers expertise in other outdoor structures, including wood awnings, cabanas, gazebos, pergolas, and porch construction. These additional structures can greatly contribute to the charm of your Long Island home's outdoor environment, turning it into an ideal place for relaxation and festivities.
Let Decks Unique take care of all your decking needs in Syosset. Feel the distinction our devotion to quality, professionalism, and customer contentment makes in your outdoor setting. Reach out to us now for a complimentary discussion and let us convert your outdoor space into a mesmerizing marvel.
Joyfully helping the citizens in Syosset, Smithtown, Ronkonkoma, Oyster Bay, North Massapequa, Nassau County, Mastic, and other Long Island vicinities.
Offering Long Island Quality Deck Designs and Services: