Check out Decks Unique - North Bellmore's Exceptional Deck Building Professionals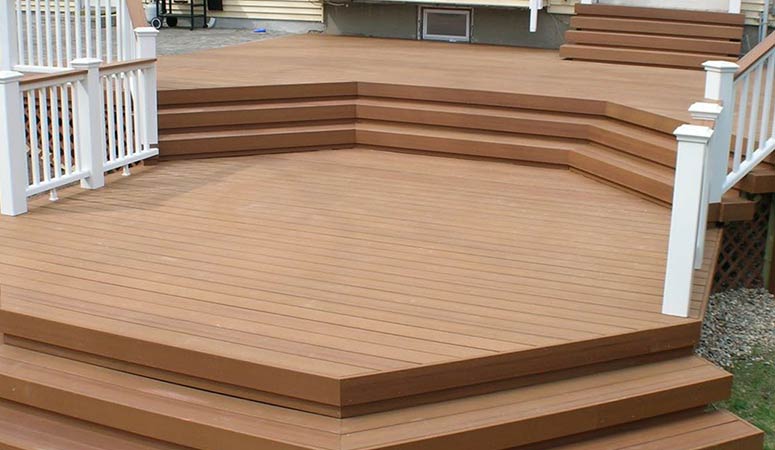 Decks Unique, a family-owned and operated company specializing in custom deck design and construction, has served the communities of Long Island and the surrounding areas, such as North Bellmore, for over two decades. Our enthusiasm for design, coupled with our dedication to professionalism, honesty, and innovation, has established us as the premier producer of top-notch decks throughout Long Island, and we've set industry benchmarks. Decks Unique is skilled in designing and constructing tailor-made decks, porches, gazebos, pergolas, wood awnings, and other exterior structures that increase the value, attractiveness, and practicality of your Long Island residence.
Highly Skilled and Experienced Deck Construction Services in North Bellmore
Decks Unique advocates that a meticulously designed deck is a sound investment when evaluating home improvement options. Our knowledgeable assembly of expert deck builders is determined to ensure top-quality outcomes, preserve efficiency in production, and ascertain that our warranties hold significant enduring value. This relentless dedication to superior workmanship has delivered countless gratified customers and exceptional decks they can take pride in for years.
On Long Island, our skilled deck builders are qualified to set up all leading composite deck materials, like Trex, TimberTech, and Azek. We present free home evaluations and computerized decking layouts to enable you to picture your project before it becomes reality. Entrust us with your backyard as our forthcoming assignment!
Boost Your Home's Worth with a Personalized Deck
A well-crafted deck contributes to both an increase in your North Bellmore home's outdoor living environment and the enhancement of its value. At Decks Unique, we specialize in designing and building custom decks that meet the unique needs and preferences of each client. No matter if you desire a comfy location for social events or a grand outdoor paradise to savor the charming weather, our staff will partner with you to create your ideal space.
We know that each property owner has their own distinct taste and requirements for their outdoor living areas. For this reason, we provide an extensive selection of materials, designs, and options to build the ideal deck to enhance your home and way of life. From time-honored wood choices such as pressure-treated lumber, cedar, and redwood to the low-maintenance advantages of composite and PVC decking, we offer an ideal solution for each budget and liking.
Unparalleled Commitment to Quality and Customer Satisfaction
High-quality workmanship and customer satisfaction are at the heart of what we do at Decks Unique. Focusing on the employment of top-notch materials and the engagement of experienced, adept builders allows us to complete each project to the highest standards.
We think that effective communication is crucial for project success, and it's our top priority to keep clients in the loop throughout the process. Throughout the entire journey, from the initial consultation and design to construction and the final inspection, our team is committed to being there to assuage any doubts, allay concerns, and ascertain your utmost satisfaction with your new deck.
Let Decks Unique transform your North Bellmore backyard into an outdoor living space you'll love. Reach out to us today to set up a no-cost consultation and feel the Decks Unique distinction yourself.
Exhaustive Decking Offerings in North Bellmore
In North Bellmore, Decks Unique boasts a comprehensive variety of decking services, all geared towards satisfying the unique demands of our clients. From creating custom decks and construction to repair, maintenance, and refinishing, Decks Unique offers a wide range of expert services. Additionally, we provide a variety of unique features and add-ons to enhance your outdoor living experience. Take a more detailed look at the assortment of services we proudly offer.
Custom Deck Design: Constructing Your Dream Deck for Your Enjoyment
Our masterful deck designers will work in conjunction with you to construct a made-to-order deck that reflects your individual panache, harmonizes with your home, and caters to the distinct prerequisites of your property. Our professionals are here to support you in making educated judgments by guiding you through the material selection process, ensuring the enduring appeal and robustness of your deck.
Outstanding Deck Construction: Unparalleled Craftsmanship for a Gorgeous Open-Air Space
Being the top deck builder, we are dedicated to utilizing only the best materials and ensuring the safety and efficiency of our workmanship. Our expert staff are certified installers of top composite decking brands, such as Trex, TimberTech, and Azek. By paying attention to every detail and maintaining a focus on structural reliability, we secure that your deck not only looks remarkable but also endures the test of time.
Repairing and Maintaining Decks: Retaining the Value of Your Investment
Regular care is important for preserving both the beauty and functionality of your deck. Our devoted team supplies a wide range of repair and maintenance services for wood and composite decks alike. From thorough inspections to identify potential issues, to expert repair of damages caused by weather or wear-and-tear, we are your go-to source for all your deck maintenance needs. Our organized maintenance plans deliver the confidence that your deck will maintain premium quality throughout the entire year.
Deck Resurfacing and Restoration: Refresh Your Outside Area
With time, even top-notch decks can exhibit signs of wear or necessitate refinishing in order to keep their aesthetic appeal. Our experienced team members can renew the visual appeal of your deck via expert cleaning, staining, weatherproofing, and sealing techniques. Additionally, we can make structural improvements, ensuring that your deck remains safe and functional for years to come.
Tailored Characteristics and Supplemental Items: Augment Your Deck Adventures
In order to uplift your outdoor living space, we extend a series of personalized features and additional components aimed at boosting your deck. The available options consist of energy-efficient illumination on decks, embedded seating, exterior kitchens, and fire amenities. By fusing these elements within the deck design, we cultivate a warm and comfy place for you and your kin to share memorable moments in North Bellmore.
Decks Unique focuses on offering unparalleled decking assistance to customers and areas close by. Our 20-plus years of experience in the field have earned us a name for professionalism, integrity, and creativity. If you want to build a new deck or refurbish your existing one, our highly skilled team is on hand to help. Contact us today to schedule a no-cost consultation and see how we can elevate your outdoor space into an elegant, functional sanctuary.
Compare Wood and Composite Options to Discover Your Perfect Deck Material
We, at Decks Unique, are devoted to aiding you in crafting the ultimate outdoor haven for your abode. For this purpose, we deliver a wide range of decking materials that include wooden and composite solutions. Every material comes with distinct benefits, guaranteeing the optimal option tailored to your individual requirements and tastes.
Experience the Classic Charm of Wood Decking
With a classic, versatile nature, wood gives an organic warmth and stylish appeal to open-air spaces. We present a wide assortment of wood deck options, ensuring compatibility with any style and budget.
Pressure-Treated Boards: Economically Viable and Robust
Pressure-treated lumber is a popular choice for many homeowners due to its affordability and durability. Undergoing a unique treatment process, this decking material is protected against decay and bug infestations. Because of this, pressure-treated decks offer enduring performance with low maintenance requirements.
Cedar and Redwood: Luxurious and Naturally Resistant
For a more luxurious selection, our offerings include cedar and redwood decking. Inherently impervious to decay and insects, these beautiful and premium woods assure a deck that withstands the elements and ages beautifully. Cedar and redwood decks, adorned with intense colors and characteristic grain appearances, deliver an awe-inspiring aspect to any house.
Exotic Hardwoods: Visually Striking and Rugged
For a truly unparalleled and elegant choice, give some thought to exotic hardwoods such as Ipe, Tigerwood, or Cumaru. These uncommonly sturdy and enduring woods are well known for their amazing long-lasting qualities and gorgeous appearance. Exotic hardwood decks, featuring their bold colors and detailed patterns, make for an impressive centerpiece in any outdoor setting.
Low-Maintenance Living with Composite and PVC Decking
In case you're searching for a low-maintenance and eco-centric alternative, give composite and PVC decking some thought. These groundbreaking materials fuse the visual appeal of wood with the ruggedness of synthetic ingredients, granting homeowners an essentially maintenance-free outdoor environment.
Advantageous Features and Benefits of Composite Decking
Composite decking, composed of both reused wood fibers and plastic, presents a robust and eco-friendly alternative. The decking material's ability to resist warping, cracking, and fading ensures a gorgeous and durable deck with a low level of necessary upkeep. Composite decks are also known for their ease of cleaning, requiring only infrequent washes to keep your outdoor space looking its best.
Key Players in the Composite Materials Market
Decks Unique is honored to partner with renowned composite decking brands, including Trex, TimberTech, and Azek. Being authorized installers of these extraordinary products allows us to give North Bellmore homeowners access to the highest quality materials for a gorgeous and long-lasting outdoor living space.
Custom-build Your Deck with a Range of Color and Texture Combinations
One main strength of composite decking is the numerous customization alternatives. You can put together a custom outdoor setting that reflects your home's aesthetics with the diverse color and texture options available. Your preference for natural wood visuals or a more state-of-the-art design can both be met with a composite decking option.
Amplify Your Deck's Look with Railing and Baluster Additions
To be complete, the perfect deck calls for the appropriate railing and baluster system. At Decks Unique, we offer a wide range of options to complement your deck design and ensure the safety and functionality of your outdoor space.
Wooden Railing Designs: Everlasting and Traditional
A wood railing system is worth considering for a classic and ageless look. The use of a wood railing system can create a harmonious, unified design for both wood and composite decks. Ensure a striking end result by customizing the finish of your wood railing system to match your deck or North Bellmore home exterior.
Metal and Glass Railing Systems: Contemporary and Elegant
Should you fancy a contemporary and streamlined look, think about opting for metal or glass railing systems. Metal and glass railing systems not only embody a fresh and modern charm, but they also heighten the visual experience from your deck - a popular choice for those blessed with stunning environments.
Composite Railing Systems: Simple Maintenance and Sophisticated
Composite railing systems present an exceptional option for those who want style and elegance without the hassle of constant maintenance. The combination of durability and beauty in these railings, alongside composite decking, fosters a cohesive design and a breathtaking outdoor setting with minimal maintenance efforts.
Regardless of your favorite styles, Decks Unique is ready to help you identify the ideal decking components for your household. Reach out to us today to discuss your goals and commence the design of your ideal outdoor space.
Elevate Your Outdoor Living Experience with Our Supplementary Services in North Bellmore
We at Decks Unique are dedicated to converting your outdoor living space into an opulent and functional part of your home. In addition to our outstanding deck construction services, we also provide a range of supplementary services like wooden awnings, cabanas, gazebos, pergolas, and building porches. Our proficient specialists in North Bellmore closely cooperate with you to materialize your vision, ensuring high quality and long-lasting durability.
Wood Awnings: Boost Your Outdoor Space's Style and Shade
Wood awnings are an outstanding means of providing both shade and sophistication to your outdoor setting. The proficient staff at Decks Unique will guide you in picking the perfect design and materials to fashion an appealing and functional wood awning that suits your home's style. These structures not only protect you from harsh weather conditions but also enhance the overall value of your property.
Cabanas: Put together a Plush Solace in Your North Bellmore Garden
Cabanas are unparalleled in providing luxury, comfort, and privacy, making them a top choice for inclusion in any exterior space. We'll have our team of specialists work closely with you to create and build a custom-made cabana in line with your specific requirements and inclinations. Whether you want a cozy space to relax or an elegant area to entertain guests, we can create a cabana that serves as a perfect outdoor retreat.
Gazebos: A Picture-Perfect Addition for Your Garden or Patio
A gazebo brings lasting appeal to gardens or patios, creating an inviting central attraction and a shaded space for outdoor downtime. The experienced team at Decks Unique will help you identify the perfect style, materials, and positioning for your gazebo, so it blends seamlessly with your existing landscape. Relying on our precision craftsmanship, we present a magnificent gazebo that adds to the charm of your outdoor environment for the long run.
Pergolas: Boost Your Outdoor Environment's Appeal and Functionality with Architectural Flair
A great way to boost architectural allure and functionality in your outdoor living area is by installing a pergola. By combining the benefits of shade with the ability to filter in natural light, these structures are perfect additions to garden walks, patios, and open-air dining spaces. At Decks Unique, our qualified experts are capable of designing and constructing a personalized pergola that fits your aesthetic desires and adds worth to your residence.
Porch Assembly: Augment Your Home's Curb Appeal and Outdoor Living Space
A well-designed porch not only enhances your home's curb appeal but also provides a comfortable outdoor living area for you and your family to enjoy. Our efficient group will work jointly with you to conceive a made-to-order porch that corresponds with your home's architecture and satisfies your conducive needs. With our comprehensive attention to even the smallest detail and steadfast pledge to premium quality, you can breathe easy knowing your porch assembly project is in proficient hands.
Reach out to Decks Unique to transform your North Bellmore outdoor living space
Decks Unique specializes in delivering premium, custom-crafted outdoor living solutions to our North Bellmore clients and the surrounding areas. Seeking to integrate a wood awning, cabana, gazebo, pergola, or porch into your outdoor area? Our team of specialists is prepared to help. Give us a call today to discuss your vision, and we'll show you how we can upgrade your outdoor living area into a deluxe and useful extension of your home.
Specialist Deck Consultation and Design Services in North Bellmore
At Decks Unique, we take great pride in providing customized consultations and tailor-made deck designs to cater to the specific requirements of our customers. Boasting more than two decades of expertise, our skilled deck designers collaborate with you to design a deck that augments your home's visual appeal and practicality. With state-of-the-art 3D modeling and visualization tools, we'll actualize your vision of the perfect deck, guaranteeing that the completed project satisfies your requirements.
Durable Deck Materials for Extended Life Expectancy
Long Island's elite deck builder, Decks Unique, is a licensed installer for all primary composite decking products, such as Trex, TimberTech, and Azek. Additionally, we offer a wide range of wood decking alternatives that suit your personal tastes, such as pressure-treated materials, cedar, redwood, and exclusive hardwoods. We are committed to using only superior materials, ensuring the durability of your new deck while keeping maintenance requirements minimal.
High-Quality Deck Construction Services in North Bellmore
Decks Unique's expert deck construction crew is committed to delivering outstanding workmanship and efficiency throughout the entire building process. Armed with our extensive understanding of building codes, rules, and permits, you can rely on us to manage the whole project from beginning to end, resulting in a breathtaking and practical outdoor space.
Secure and Reinstate Your Deck's Grace
The team at Decks Unique knows that consistent care is essential for maintaining the appearance and structural soundness of your deck. Our knowledgeable team can evaluate and detect any damage or potential risks, undertaking necessary repairs to retain your deck in the best possible condition. In addition, Decks Unique offers deck renewal and refinishing services, featuring cleaning, staining, weatherproofing, and sealing procedures to defend and enrich your deck's visual appeal.
Elevate Your Open-air Space with Tailor-made Features and Add-ons
To genuinely convert your deck into an exceptional exterior retreat, Decks Unique presents a range of custom characteristics and additions, including deck lights, built-in benches, alfresco kitchens, and features involving fire. These advancements not only heighten practical use, but they also build a pleasant and convivial milieu for you and your visitors to take pleasure in.
In-Depth Decking Assistance and More
Decks Unique specializes not only in deck design and building but also in constructing other outdoor structures such as wooden awnings, cabanas, gazebos, pergolas, and porches. These structures can further enhance your Long Island home's outdoor space, making it the perfect area for relaxation and entertainment.
Decks Unique can tackle your entire North Bellmore decking necessities. Explore the difference our devotion to high-quality work, professionalism, and happy customers brings to your outdoor space. Get in touch with us now to set up a complimentary consultation and watch us turn your backyard into a beautiful work of art.
Happy to support the communities of North Bellmore, Nassau County, Mastic, Locust Valley, Islip, Greenvale, Fort Salonga, and other areas throughout Long Island.
Offering Long Island Quality Deck Designs and Services: