Explore Decks Unique - Your Go-To Deck Building Experts in Rocky Point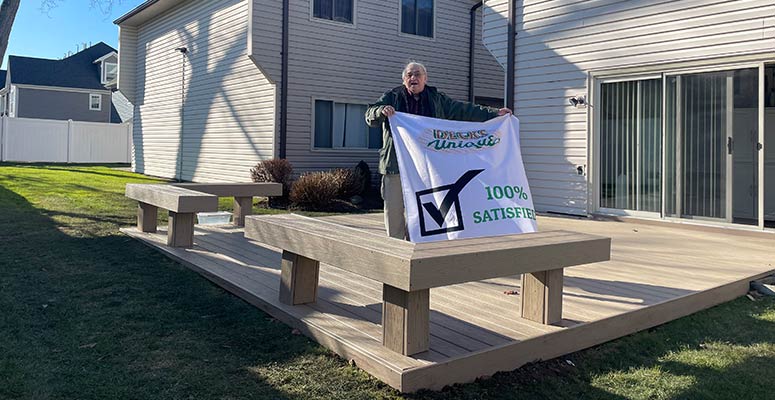 Family-owned and operated Decks Unique provides custom deck design and construction services to the people of Long Island and its surrounding areas, including Rocky Point, and has done so for over 20 years. Decks Unique's dedication to design, professionalism, integrity, and innovation has elevated us to become the leading producer of high-quality decks in Long Island, defining industry standards. Our expertise lies in crafting custom decks, porches, gazebos, pergolas, wooden awnings, and other outdoor amenities that enhance the appeal, value, and practicality of your residence in Long Island.
Rocky Point Deck Building Services with Expertise and Experience
At Decks Unique, we know that a well-executed deck design proves to be a great investment when pondering home enhancements. The Decks Unique team of experienced deck builders is committed to providing top-notch quality, keeping effective production timelines, and ensuring that our warranties offer enduring value. This unwavering dedication to excellence has manifested in numerous delighted customers and impressive decks they can confidently display for years to follow.
Our deck construction crews on Long Island are endorsed to deploy all renowned composite deck products, including Trex, TimberTech, and Azek. We furnish free home-based consultations along with tech-driven deck illustrations, so you can conceptualize your undertaking before its materialization. Choose your backyard as the focus of our next enterprise!
Increase the Value of Your Home with a Custom-Built Deck
Not only does an excellent deck boost your Rocky Point home's outdoor living area, but it also raises the overall property value. Decks Unique excels at creating and constructing tailor-made decks that cater to the distinct demands and desires of every customer. Whether you are looking for a cozy space to entertain friends and family or a luxurious outdoor oasis to enjoy the beautiful weather, our team will work closely with you to bring your vision to life.
It's clear that each homeowner possesses distinct tastes and necessities for their outside spaces. That's why we make available a large range of materials, designs, and components to fashion the perfect deck that aligns with your house and personal routines. Whether you prefer classic wood choices like pressure-treated lumber, cedar, and redwood, or easy-care composite and PVC decking options, we have the perfect solution for every budget and style.
Unrivaled Persistence in Upholding Quality and Ensuring Customer Delight
At Decks Unique, our focus is on exceptional workmanship and happy customers. Utilizing premium materials and employing accomplished builders allows us to uphold the highest standards in every project we handle.
To us, seamless communication is the backbone of successful projects, and we work diligently to ensure our clients are always in the know. Our reliable team is there for you, from the initial consultation and design brainstorming, through the construction journey, and even after the final review, to make sure all questions are answered, fears are addressed, and your satisfaction with the new deck is undeniable.
Allow Decks Unique to turn your Rocky Point backyard into an outdoor living area you'll adore. Contact us right away to plan a free consultation and see the Decks Unique difference in person.
All-inclusive Decking Solutions in Rocky Point
Decks Unique specializes in providing a wide assortment of decking services, designed to suit the preferences of our Rocky Point customers. We specialize in a variety of custom deck services, including designing and building decks, as well as providing repairs, maintenance and refinishing. Decks Unique also offers an assortment of standout features and add-ons to improve and elevate your outdoor living area. Join us in taking a closer look at the wide range of solutions we offer.
Custom Deck Design: Crafting Your Dream Deck with Precision
Our adept deck designers will cooperate with you to create a personalized deck that expresses your distinctive style, accents your home, and accommodates the particular requirements of your property. In order to assist you in making knowledgeable choices, our specialists will walk you through the process of selecting materials, guaranteeing lasting attractiveness and resilience.
Expert Deck Assembly: Fine Craftsmanship for an Attractive External Space
Being the top deck builder, we are dedicated to utilizing only the best materials and ensuring the safety and efficiency of our workmanship. Our expert staff are certified installers of top composite decking brands, such as Trex, TimberTech, and Azek. With thorough attention to detail and a concentration on sound construction, we ascertain that your deck is not only eye-catching but also resilient throughout the years.
Deck Upkeep and Restoration: Guarding Your Investment
Routine upkeep is fundamental for preserving your deck's beauty and function. For wood and composite decks, our diligent team offers complete maintenance and repair solutions. From thorough inspections to identify potential issues, to expert repair of damages caused by weather or wear-and-tear, we are your go-to source for all your deck maintenance needs. Through our pre-scheduled maintenance programs, you can enjoy the certainty that your deck's outstanding condition will be sustained year-round.
Deck Refinishing and Restoration: Rejuvenate Your Exterior Space
In the course of time, even the most superior decks can reveal signs of wear or call for refinishing to uphold their appearance. Our expert group can recover your deck's beauty with the help of professional cleaning, staining, weatherproofing, and sealing services. In addition, we can perform structural reinforcements, ensuring your deck remains secure and serves its purpose for years to come.
Adapted Facets and Complementary Elements: Optimize Your Deck Satisfaction
In order to uplift your outdoor living space, we extend a series of personalized features and additional components aimed at boosting your deck. Among these selections are energy-effective deck lights, inherent seating, kitchens designed for outdoor use, and features involving fire. By incorporating these elements into your deck design, we create a welcoming and comfortable space for you to enjoy with family and friends in Rocky Point.
Expertise in delivering prime decking services to clients and surrounding locations sets Decks Unique apart. In our 20 years of experience, we have garnered a reputation for being professional, sincere, and inventive. Should you need assistance in designing a new deck or improving a current one, our competent team has your back. Touch base with us today to organize a free consultation, and let us demonstrate how we can change your outdoor area into a beautiful and practical haven.
Compare Wood and Composite Options to Discover Your Perfect Deck Material
Here at Decks Unique, we are passionate about collaborating with you to develop the perfect outdoor hideaway for your house. That's the advantage of our extensive choice of decking materials, including both wood composite variants. Various materials have unique positive aspects, ensuring your ability to opt for the finest choice that caters to your personal necessities and proclivities.
Wood Decking Provides an Ageless Beauty
The flexibility and timelessness of wood provides a pleasant warmth and beauty to all kinds of outdoor spaces. We present a wide assortment of wood deck options, ensuring compatibility with any style and budget.
Pressure-Treated Boards: Economically Viable and Robust
For many homeowners, pressure-treated lumber is a preferred option because of its budget-friendly and tough nature. This type of decking material goes through a particular treatment, helping it resist decay and insect infestations. Minimal maintenance is needed for these durable, pressure-treated decks as a result of the treatment.
Premium and Resistant: Cedar and Redwood's Natural Features
We also provide cedar and redwood decking for those wanting a more extravagant option. These visually pleasing and superior woods are gifted with an innate resistance to decay and critters, providing a deck that lasts and grows old gracefully. Cedar and redwood decks, adorned with intense colors and characteristic grain appearances, deliver an awe-inspiring aspect to any house.
Exotic Hardwoods: Stunning and Enduring
For an absolutely unique and luxurious solution, explore the possibility of using exotic hardwoods like Ipe, Tigerwood, or Cumaru. These exceptionally dense and robust hardwoods boast impressive durability and a stunning appearance. Captivating colors and fascinating patterns of exotic hardwood decks contribute to a magnificent centerpiece for any outdoor environment.
Pursue a Low-Maintenance Lifestyle with Composite and PVC Decking Options
For those seeking a low-maintenance and eco-friendly alternative, consider composite and PVC decking. These groundbreaking materials fuse the visual appeal of wood with the ruggedness of synthetic ingredients, granting homeowners an essentially maintenance-free outdoor environment.
Composite Decking: Exploring Its Benefits and Advantages
By combining recycled wood fibers and plastic materials, composite decking offers a durable and eco-friendly option. With resistance to warping, cracking, and discoloration, this decking material guarantees an attractive and enduring deck that requires little maintenance. Another benefit is the effortless cleaning of composite decks, needing only an occasional wash to retain the freshness of the outdoor environment.
Top Brands in the Composite Materials Industry
Working with industry-leading composite decking brands such as Trex, TimberTech, and Azek is a source of pride for Decks Unique. As authorized installation experts of these unparalleled products, we can offer Rocky Point homeowners the highest-grade materials for an appealing, durable outdoor space.
Personalize Your Deck by Choosing Color and Texture Alternatives
A significant advantage of composite decking is the vast array of personalization possibilities. Various color and texture options enable you to establish an exceptional outdoor environment that fits your home's aesthetics. There is a composite decking option to match your preference for either the appearance of natural wood or a sleeker, more modern aesthetic.
Amplify Your Deck's Look with Railing and Baluster Additions
To be complete, the perfect deck calls for the appropriate railing and baluster system. Decks Unique presents a broad array of possibilities to enrich your deck's design and guarantee the safety and efficiency of your outdoor space.
Wooden Balustrade Systems: Classic and Eternal
To achieve a timeless and classic appearance, think about using a wood railing system. Wood railing systems work well with both wooden and composite decks, resulting in a harmonious and unified style. Painting or staining your wood railing system to align with your deck or Rocky Point home exterior helps ensure a captivating final aesthetic.
Metal and Glass Railing Systems: Modern and Sleek
If a cutting-edge and elegant style suits your taste, metal or glass railing systems could be a great option. Such choices add a modern twist and can elevate the vista from your outdoor space, making them an attractive option for homeowners with striking scenery.
Composite Railing Systems: Hassle-Free and Modern
For individuals who desire a low-upkeep solution while maintaining sophistication and elegance, composite railing systems make an ideal choice. These robust and appealing railings, when used alongside composite decking, create a harmonious appearance and a gorgeous outdoor area with little maintenance needed.
Regardless of your favorite styles, Decks Unique is ready to help you identify the ideal decking components for your household. Get in touch with us now to talk about your requirements and start creating your dream outdoor area.
Raise the Bar for Your Outdoor Living Space with Our Additional Services in Rocky Point
At Decks Unique, we believe in transforming your outdoor living space into a luxurious and functional extension of your home. Besides our excellent deck building services, we also deliver a wide array of extra services, including wood awnings, cabanas, gazebos, pergolas, and porch construction. Our professional experts in Rocky Point work hand in hand with you to bring your ideas to fruition while ensuring superior quality and lasting durability.
Wood Awnings: Bring Both Shade and Style to Your Outdoor Living Space
Wood awnings offer an excellent way to create shade and style in your outdoor environment. At Decks Unique, our skilled team can assist you in selecting the appropriate design and materials for an attractive and practical wood awning that enhances your home's appearance. These timber structures not only shield you from adverse weather but also enhance the total value of your property.
Cabanas: Put together a Plush Solace in Your Rocky Point Garden
Providing a seamless mix of luxury, comfort, and seclusion, cabanas are an excellent enhancement to any outdoor space. Our team of experts will work with you to design and build a custom cabana that meets your specific needs and preferences. Looking for a comfortable retreat to relax or a classy space to host events, we can design a cabana that transforms into your perfect outdoor haven.
Gazebos: A Dreamy Addition to Your Garden or Patio Area
Adding a gazebo to a garden or patio creates an ageless charm, providing a striking focal point, and a covered spot for outdoor relaxation. Our seasoned team supports you in determining the best style, materials, and spot for your gazebo, making sure it fuses effortlessly with your present outdoor space. Through our outstanding craftsmanship, we create a captivating gazebo that augments the splendor of your outdoor area for many years ahead.
Pergolas: Create Eye-catching Architectural Features and Functionality for Your Outdoor Living Area
The addition of a pergola can dramatically improve the architectural design and usefulness of your outdoor space. By combining the benefits of shade with the ability to filter in natural light, these structures are perfect additions to garden walks, patios, and open-air dining spaces. Decks Unique's team of seasoned professionals will custom-design and craft a pergola to suit your preferences, contributing to your home's value.
Porches: Enhancing Your Home's Curb Appeal and Expanding Outdoor Living Space
A tastefully designed porch not only enriches your home's curb appeal but also bestows a cozy alfresco living area for you and your family to enjoy. Our qualified team will cooperate with you to construct an exclusive porch that blends with your home's architectural design and accommodates your functional needs. With our precise eye for detail and resolute passion for top-quality work, you can be sure that your porch erection project is in safe hands.
Contact Decks Unique for Your Rocky Point Outdoor Living Space Transformation
At Decks Unique, we're committed to supplying our Rocky Point clients and those in the surrounding areas with outstanding, customized outdoor living solutions. If you're interested in incorporating a wood awning, cabana, gazebo, pergola, or porch to your exterior space, our team of experts is ready to assist. Reach out to us today to talk about your project and find out how we can turn your outdoor living space into an opulent and functional addition to your home.
Rocky Point's Expert Deck Design and Consultation
At Decks Unique, we take great pride in providing customized consultations and tailor-made deck designs to cater to the specific requirements of our customers. Our highly skilled deck designers, with over two decades of experience, will work intimately with you to build a deck that enhances your home's visual allure and features. Using advanced 3D modeling and visualization techniques, we'll bring your dream deck to life, ensuring the final product meets your expectations.
Outstanding Decking Materials for Long-lasting Resilience
Decks Unique, the preeminent deck builder on Long Island, is authorized to install all renowned composite decking products, featuring brands like Trex, TimberTech, and Azek. We also offer a variety of wood decking options to suit your preferences, such as pressure-treated lumber, cedar, redwood, and exotic hardwoods. Our commitment to using only the best materials ensures that your new deck will be built to last while requiring minimal maintenance.
Premier Deck Construction Services in Rocky Point
The competent deck construction crew at Decks Unique is committed to providing first-rate craftsmanship and efficiency across the entire building process. Utilizing our comprehensive knowledge of building codes, laws, and permits, you can have faith in us to handle the entire project from initiation to completion, resulting in an exquisite and functional outdoor living space.
Secure and Reinstate Your Deck's Grace
Decks Unique comprehends the crucial role of ongoing maintenance in preserving your deck's attractiveness and solid construction. The proficient team at Decks Unique can assess and pinpoint any damage or possible issues, carrying out vital repairs to ensure your deck remains in prime condition. Moreover, we render deck rejuvenation and refinishing solutions, such as cleaning, staining, weatherproofing, and sealing operations to maintain and enhance your deck's facade.
Augment Your Alfresco Space with Customized Enhancements and Features
To develop your deck into a matchless outdoor hideaway, Decks Unique delivers an abundance of specialized qualities and extensions, like lighting options for deck installations, seating merged with structural design, external kitchen setups, and fire-focused touches. These refinements not only contribute to usefulness, but they also establish a warm and alluring environment for you and your guests' enjoyment.
Exhaustive Deck Installation and Additional Features
Not only do we excel in deck design and construction at Decks Unique, but we also specialize in creating extra outdoor structures, including wood awnings, cabanas, gazebos, pergolas, and porch construction. These structures can further enhance your Long Island home's outdoor space, making it the perfect area for relaxation and entertainment.
For all your decking desires in Rocky Point, choose Decks Unique. See how our commitment to excellence, professionalism, and customer satisfaction enhances your outdoor space. Connect with us immediately to schedule a no-cost consultation, and let us turn your backyard into a brilliant creation.
Dedicated to attending to the needs of Rocky Point, Oyster Bay, North Massapequa, Nesconset, Mastic Beach, Locust Valley, Islip, and various other Long Island zones.
Offering Long Island Quality Deck Designs and Services: