Uncover Decks Unique - The Leading Deck Construction Solution in Old Westbury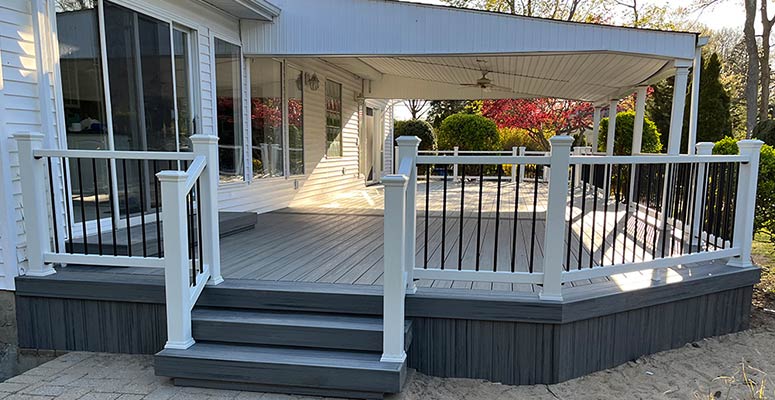 Over the past 20 years, Decks Unique, a family-owned and operated company, has been dedicated to offering custom deck design and construction services in Long Island and the surrounding areas, including Old Westbury. Our zeal for design and unwavering commitment to professionalism, truthfulness, and innovation have propelled us to become the top provider of high-quality decks on Long Island, setting precedence within the industry. We're experts in designing and building custom decks, porches, gazebos, pergolas, timber awnings, and other outdoor features that enhance the value, beauty, and functionality of your home in Long Island.
Skilled and Experienced Deck Building Services in Old Westbury
Decks Unique upholds the idea that a thoughtfully devised deck design constitutes a wise investment in home improvement. The Decks Unique team of master deck builders is resolute in offering optimum quality, sticking to smooth production schedules, and safeguarding the lasting merit of our warranties. Our unwavering dedication to outstanding results has produced countless satisfied clients and striking decks they can be proud of for years.
In Long Island, our expert deck builders have approval to install all chief composite decking choices, including Trex, TimberTech, and Azek. Take advantage of our free home consultations and computer-assisted decking designs to help you imagine your project before it's built. Allow us to transform your backyard into our upcoming venture!
Improve Your Dwelling's Value by Constructing a Custom Deck
Besides improving the exterior living area of your Old Westbury residence, an exceptional deck can also drive up property value. At Decks Unique, we specialize in designing and building custom decks that meet the unique needs and preferences of each client. Be it a homely location for entertaining your friends and family or a luxurious outdoor idyll to luxuriate in attractive weather, our team will join forces with you to make your ideal haven a reality.
We understand that each homeowner in has different tastes and requirements for their outdoor spaces. To accommodate these diverse preferences, we supply a wide array of materials, styles, and attributes for crafting the ideal deck to harmonize with your home and way of life. From conventional wood selections like pressure-treated lumber, cedar, and redwood to hassle-free composite and PVC decking alternatives, we possess the perfect solution for all budgets and inclinations.
Exceptional Attention to Premium Quality and Client Pleasure
Decks Unique is deeply committed to delivering top-notch workmanship and ensuring our clients' satisfaction. Focusing on the employment of top-notch materials and the engagement of experienced, adept builders allows us to complete each project to the highest standards.
We regard transparent communication as a critical component of project success, and we dedicate ourselves to keeping our clients informed at all times. From the moment our initial consultation begins, through the design and construction phases, and all the way up to the final inspection, our team is tirelessly committed to answering inquiries, tackling concerns, and guaranteeing your happiness with your new deck.
Trust Decks Unique to morph your Old Westbury backyard into an impressive outdoor living space you'll enjoy for years. Reach out to us today to set up a no-cost consultation and feel the Decks Unique distinction yourself.
Thorough Deck Building Solutions in Old Westbury
We at Decks Unique are proud to offer a broad selection of decking services, designed to address the specific needs of our customers in Old Westbury. We specialize in a variety of custom deck services, including designing and building decks, as well as providing repairs, maintenance and refinishing. At Decks Unique, we also supply a variety of distinct features and additional options to augment your outdoor living enjoyment. Allow us to provide you with a more in-depth overview of our services.
Custom Deck Design: Realizing Your Dream Deck through Expert Design
Our talented deck designers will team up with you to generate a one-of-a-kind deck that represents your signature style, blends well with your home, and meets the special requirements of your property. To empower you to make well-versed decisions, our seasoned consultants will lead you through the material-picking phase, promising sustained grace and durability for your deck.
Professional Deck Development: Skillful Artisanship for a Captivating Outdoor Oasis
As an elite deck builder, we are resolved to use only high-quality materials and employ safe, efficient craftsmanship. Our accomplished crew members are qualified installers of renowned composite deck materials, such as Trex, TimberTech, and Azek. With extreme care for details and keeping structural sturdiness in mind, we ensure your deck is not only visually stunning but also built to last.
Taking Care of Your Deck: Ensuring Your Investment Stays Protected
Consistent maintenance is key to maintaining the visual appeal and practicality of your deck. When it comes to wood or composite decks, our committed team covers all aspects of repair and maintenance. We cover everything from in-depth inspections for identifying possible issues, to skilled repairs for weather-related damage and everyday wear, making us your go-to resource for deck maintenance. Equipped with our scheduled maintenance programs, you can rest easy knowing that your deck will be kept in pristine condition all year long.
Deck Refinishing and Restoration: Rejuvenate Your Exterior Space
As time elapses, even the most exceptional decks can present signs of wear or need refinishing to maintain their aesthetic. Our expert group can recover your deck's beauty with the help of professional cleaning, staining, weatherproofing, and sealing services. Further, we can administer structural optimizations, keeping your deck safe and efficient for a considerable duration.
Personal Customizations and Upgrades: Enrich Your Deck Leisure
To enrich your outdoor living quarters, we supply a wide range of specialized characteristics and extras designed to improve your deck. The available options consist of energy-efficient illumination on decks, embedded seating, exterior kitchens, and fire amenities. By incorporating these elements into your deck design, we create a welcoming and comfortable space for you to enjoy with family and friends in Old Westbury.
Decks Unique specializes in offering clients high-quality deck services in their area and beyond. In our 20 years of experience, we have garnered a reputation for being professional, sincere, and inventive. When it comes to designing a fresh deck or improving an existing one, our expert team is at your service. Reach out to us now to book a cost-free consultation and find out how we can turn your outdoor area into a visually striking and practical haven.
Track Down the Best Deck Material for You: Weighing Wood and Composite Options
Decks Unique's primary focus is to support you in building the perfect exterior paradise at your home. Consequently, we supply various decking materials encompassing both wooden and composite choices. Each decking material possesses its advantages, which allows you to select the most suitable option for your particular necessity and preference.
Wooden Decks Showcase Timeless Sophistication
Wooden materials possess a lasting, adaptable nature that grants a sense of comfort and allure to any outdoor setting. We have an extensive range of wood deck choices designed to address every aesthetic and budget.
Treated Lumber: Inexpensive and Strong
Affordability and durability make pressure-treated lumber a favorite choice for numerous homeowners. This decking material undergoes a special treatment process, protecting it against rot and insect infestation. As a result, pressure-treated decks are long-lasting and require minimal maintenance.
Redwood and Cedar: Top-Notch Luxury with Intrinsic Durability
If you're in the market for a high-end solution, consider our cedar and redwood decking options. These gorgeous and top-tier woods boast natural resistance to rot and insect infestations, offering a lasting deck that matures gracefully. Cedar and redwood decks, adorned with intense colors and characteristic grain appearances, deliver an awe-inspiring aspect to any house.
Exotic Hardwoods: Gorgeous and Long-lasting
If a truly unique and remarkable choice is what you're after, think about using exotic hardwoods such as Ipe, Tigerwood, or Cumaru. These exceedingly solid and long-lasting woods stand out due to their commendable longevity and stunning appearance. Exotic hardwood decks, with their vibrant hues and elaborate designs, serve as breathtaking focal points in any outdoor area.
Achieve Low-Maintenance Living with the Use of Composite and PVC Decking
Those looking for a low-maintenance and green choice should think about composite and PVC decking. These modern materials unite the wood's aesthetic qualities with the hardiness of synthetics, presenting homeowners with an almost maintenance-free outdoor zone.
Composite Decking: Exploring Its Benefits and Advantages
Made from recycled wood fibers and plastic, composite decking is a strong and environmentally friendly preference. This decking material is resistant to warping, cracking, and fading, ensuring a beautiful and long-lasting deck with minimal upkeep. Also, composite decks are notably easy to clean, and a bit of occasional washing is sufficient to maintain a clean outdoor space.
Industry-Leading Brands in Composite Materials
It is an honor for Decks Unique to collaborate with the best composite decking brands, including Trex, TimberTech, and Azek. As authorized installers of these exceptional products, we can provide Old Westbury homeowners with the highest quality materials, ensuring a gorgeous and long-lasting outdoor space.
Tailor Your Deck through Selecting Color and Texture Varieties
The wide variety of customization possibilities is a major plus for composite decking. Various color and texture options enable you to establish an exceptional outdoor environment that fits your home's aesthetics. There is a composite decking option to match your preference for either the appearance of natural wood or a sleeker, more modern aesthetic.
Revamp Your Deck Using Different Railing and Baluster Combinations
An exceptional deck is missing something without the right railing and baluster system. At Decks Unique, we offer a wide range of options to complement your deck design and ensure the safety and functionality of your outdoor space.
Wooden Railing Systems: Classic and Everlasting
Opt for a wood railing system if you desire a timeless and sophisticated feel. A wood railing system can complement both wooden and composite decking, providing a cohesive and polished appearance. Ensure a striking end result by customizing the finish of your wood railing system to match your deck or Old Westbury home exterior.
Metal and Glass Railing Systems: Stylish and Streamlined
If a cutting-edge and elegant style suits your taste, metal or glass railing systems could be a great option. These railing systems bring a current flair while enhancing the panorama from your deck, which is highly appreciated by property owners with beautiful surroundings.
Composite Railing Systems: Easy-Care and Elegant
For those seeking a low-maintenance option that still offers style and elegance, composite railing systems are a perfect choice. The resilient and captivating railings offer a consistent aesthetic when used in conjunction with composite decking, cultivating an exquisite outdoor space with low maintenance needs.
Regardless of your tastes, Decks Unique can assist you in selecting the ideal decking materials for your residence. Communicate with us today to express your needs and start crafting the outdoor haven of your dreams.
Elevate Your Outdoor Living Experience with Our Supplementary Services in Old Westbury
At Decks Unique, our goal is to transform your outdoor living space into a luxurious, functional extension of your house. Not only do we specialize in deck building services, but we also offer a range of other services like wood awnings, cabanas, gazebos, pergolas, and porch construction. Our talented experts in Old Westbury partner with you to create your desired outdoor space, ensuring the utmost quality and lasting durability.
Wooden Awnings: Increase Shade and Style for Your Outdoor Space
Wood awnings are a perfect way to add both shade and elegance to your outdoor area. At Decks Unique, our experienced staff will assist you in the process of choosing the right design and materials to craft an elegant and functional wood awning that harmonizes with your home's aesthetic. These installations not only safeguard you from harsh weather but also contribute to the overall appreciation of your property's value.
Cabanas: Put together a Plush Solace in Your Old Westbury Garden
Cabanas deliver a flawless fusion of opulence, comfort, and seclusion, making them the ultimate addition to any outdoor setting. Our team of experts will work with you to design and build a custom cabana that meets your specific needs and preferences. Whether you need a soothing oasis for leisure or a fashionable area for entertaining guests, we shall produce a cabana that acts as the consummate outdoor refuge.
Gazebos: A Picturesque Addition for Your Backyard Garden or Patio
Incorporating a gazebo in a garden or patio lends perpetual elegance, offering an alluring centerpiece and a cool alcove for outdoor unwinding. Our adept team works with you to find the ideal appearance, materials, and setting for your gazebo, assuring flawless integration into your current garden or patio. Our top-notch craftsmanship ensures an impressive gazebo that enriches your outdoor area and brings joy for numerous years.
Pergolas: Elevate Your Outdoor Living Space's Interest and Utility through Architecture
Integrating a pergola into your outdoor living area is an outstanding approach for increasing architectural attractiveness and functionality. The design of these structures allows for a combination of shade and sunlight, which makes them perfect for garden trails, patio spaces, and open-air eating areas. The team of skilled experts at Decks Unique can create and construct a tailor-made pergola that complements your taste and enhances your home's worth.
Porch Assembly: Augment Your Home's Curb Appeal and Outdoor Living Space
A tastefully designed porch not only enriches your home's curb appeal but also bestows a cozy alfresco living area for you and your family to enjoy. Our qualified team will cooperate with you to construct an exclusive porch that blends with your home's architectural design and accommodates your functional needs. With our precise eye for detail and resolute passion for top-quality work, you can be sure that your porch erection project is in safe hands.
Connect with Decks Unique for your Old Westbury outdoor living space makeover
At Decks Unique, we take pride in providing high-quality, custom outdoor living solutions to our clients in Old Westbury and the surrounding areas. Our knowledgeable team is eager to assist if you're considering adding a wood awning, cabana, gazebo, pergola, or porch to your outdoor area. Reach out to us today to talk about your project and find out how we can turn your outdoor living space into an opulent and functional addition to your home.
Professional Deck Planning and Creation in Old Westbury
Decks Unique prides itself on presenting custom consultations and deck designs, designed to cater to the distinctive needs of our clientele. With a solid background of 20 years, our adept deck designers will collaborate with you in designing a deck that boosts your home's beauty and function. Utilizing innovative 3D modeling and visualization approaches, we'll make your dream deck a reality, confirming that the finished result meets your standards.
Finest Quality Deck Materials to Guarantee Durability
As the premier deck builder on Long Island, Decks Unique is an authorized installer of popular composite deck products like Trex, TimberTech, and Azek. We have a range of wood decking options to cater to your needs, such as pressure-treated boards, cedar, redwood, and imported hardwoods. We are committed to using only superior materials, ensuring the durability of your new deck while keeping maintenance requirements minimal.
Expert Deck Construction Services in Old Westbury
Our adept deck construction personnel at Decks Unique are passionate about maintaining top-of-the-line workmanship and efficiency in the entire building process. With our extensive know-how of building codes, statutes, and permits, you can rely on us to steer the whole project from its start to finish, leaving you with a visually striking and practical outdoor living area.
Retain and Rehabilitate Your Deck's Elegance
The team at Decks Unique knows that consistent care is essential for maintaining the appearance and structural soundness of your deck. Decks Unique's expert team can scrutinize and discover any issues or possible concerns, providing the necessary solutions to preserve your deck in peak condition. Besides, we make available deck refinishing and restoration conveniences, like cleaning, staining, defending against harsh weather, and sealing techniques to uphold and heighten your deck's aesthetic value.
Augment Your Alfresco Space with Customized Enhancements and Features
To design your deck into a distinctive open-air living space, Decks Unique proposes a wide selection of made-to-order facets and additions, such as lighting specifically for decks, seating integrated within the deck's design, kitchen areas meant for outdoor use, and fire-involved features. These optimizations not only broaden the functional aspects but also forge an amicable and snug setting for you and your invitees to relish.
Extensive Decking Solutions and Supplementary Services
Decks Unique specializes not only in deck design and building but also in constructing other outdoor structures such as wooden awnings, cabanas, gazebos, pergolas, and porches. These outdoor structures can elevate your Long Island property's outdoor appeal, making it a prime location for enjoying downtime and entertaining guests.
Allow Decks Unique to manage all your decking requirements in Old Westbury. Discover the impact our dedication to quality, professionalism, and customer satisfaction has on your outdoor area. Get in touch with us now to set up a complimentary consultation and watch us turn your backyard into a beautiful work of art.
Proudly serving Old Westbury, North Massapequa, Nesconset, Mastic Beach, Long Beach, Islip, Hampton Bays and other Long Island communities.
Offering Long Island Quality Deck Designs and Services: