Welcome to Decks Unique - Mineola's Premier Deck Builder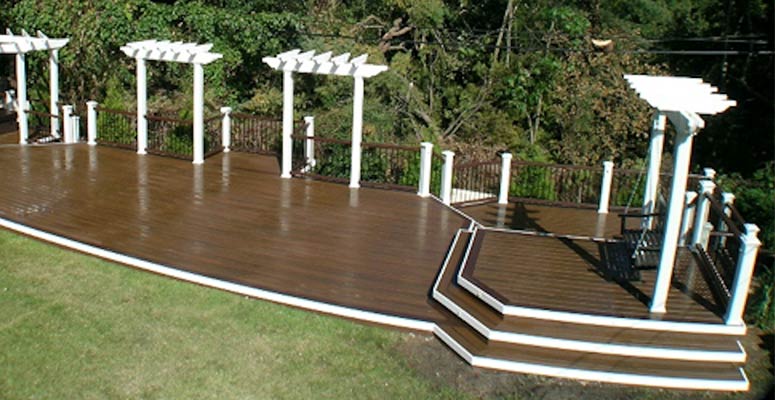 For over 20 years, Decks Unique, an establishment that is family-owned and operated, has been providing custom deck design and construction services to the residents of Long Island and surrounding locations, including Mineola. Our enthusiasm for design, coupled with our dedication to professionalism, honesty, and innovation, has established us as the premier producer of top-notch decks throughout Long Island, and we've set industry benchmarks. Our proficiency extends to designing and building custom decks, porches, gazebos, pergolas, wood awnings, and other outdoor fixtures that enrich the value, elegance, and usefulness of your dwelling on Long Island.
Highly Skilled and Experienced Deck Construction Services in Mineola
We at Decks Unique hold the belief that a well-considered deck plan makes for a prudent choice in the realm of home improvement. The Decks Unique team of expert deck builders holds a steadfast commitment to delivering unparalleled quality, upholding efficient production schedules, and guaranteeing the lasting value of our warranties. This unyielding determination to achieve the best has yielded thousands of happy customers and decks they are eager to showcase, now and in the future.
Our Long Island deck building specialists are licensed to install all top composite deck brands, such as Trex, TimberTech, and Azek. We offer free home consultations and computerized deck designs so that you can visualize your project before it comes to life. Let's tackle your backyard as our next challenge!
Augment the Value of Your Residence with a Unique Deck
A top-quality deck serves to enhance the open-air living quarters of your Mineola dwelling while also heightening its value. Decks Unique specializes in the planning and building of tailor-made decks that satisfy each of our clients' distinctive needs and inclinations. Whether a comfortable venue for socializing or a plush outdoor getaway to experience the terrific weather, our committed personnel will closely cooperate with you to manifest your ideal vision.
In regards to outdoor areas, we understand that each homeowner has unique tastes and requirements. This is the basis for our extensive variety of materials, styles, and elements to establish the flawless deck that lines up with your home and lifestyle. From standard wood options like pressure-treated lumber, cedar, and redwood to the easy upkeep of composite and PVC decking, we provide the right answer to accommodate every budget and personal taste.
Unmatched Dedication to Excellence and Client Contentment
At Decks Unique, we take immense pride in the quality of our workmanship and the satisfaction of our clients. Utilizing premium materials and employing accomplished builders allows us to uphold the highest standards in every project we handle.
We think that effective communication is crucial for project success, and it's our top priority to keep clients in the loop throughout the process. Throughout the entire process - from initial consultation and design to construction and final inspection - our team is on hand to field questions, respond to any worries, and ensure ultimate satisfaction with your finished deck.
Allow Decks Unique to create a beautiful outdoor living area in your Mineola backyard. Reach out to us today to set up a no-cost consultation and feel the Decks Unique distinction yourself.
Full-range Decking Services in Mineola
Decks Unique, located in Mineola, is proud to offer an extensive range of tailored decking services, designed to cater to client needs. We are experts in all aspects of deck services, from designing and building custom decks to repairs, maintenance, and refinishing. Besides our primary services, we also offer numerous distinctive features and upgrades to improve your outdoor living space. Allow us to provide you with a more in-depth overview of our services.
Custom Deck Design: Manifesting Your Dream Deck into Reality
Our masterful deck designers will work in conjunction with you to construct a made-to-order deck that reflects your individual panache, harmonizes with your home, and caters to the distinct prerequisites of your property. Our masters will help you make discerning selections by providing guidance on material options, ensuring that your deck possesses long-lasting allure and hardiness.
Masterful Deck Fabrication: Impressive Craftsmanship for an Elegant Exterior Space
As the premier deck builder, we are committed to using only high-quality materials and employing safe, efficient workmanship. Our expert staff are certified installers of top composite decking brands, such as Trex, TimberTech, and Azek. By giving close attention to detail and prioritizing structural strength, we ensure that your deck is not only breathtaking but also withstands the passage of time.
Deck Repair and Maintenance: Protecting Your Investment
To preserve the beauty and functionality of your deck, regular maintenance is crucial. Our expert team provides full repair and maintenance services for both wooden and composite decks. Whether you need thorough inspections to flag potential issues or expert repairs for weather-worn or damaged decks, we are the ideal partner for all your deck maintenance necessities. With our regular maintenance schedules, you can relax, confident that your deck will be well-maintained and preserved year-round.
Deck Refinishing and Restoration: Revive Your Outdoor Living Area
As time elapses, even the most exceptional decks can present signs of wear or need refinishing to maintain their aesthetic. Our skilled team can rejuvenate your deck's appearance with professional cleaning, staining, weatherproofing, and sealing. Further, we can administer structural optimizations, keeping your deck safe and efficient for a considerable duration.
Adapted Facets and Complementary Elements: Optimize Your Deck Satisfaction
In order to uplift your outdoor living space, we extend a series of personalized features and additional components aimed at boosting your deck. These options consist of energy-wise deck lights, fixed seating, kitchens intended for open-air use, and fire configurations. We merge these features into your deck's overall structure, creating an inviting and pleasant ambiance for you to cherish with family and friends in Mineola.
Decks Unique focuses on offering unparalleled decking assistance to customers and areas close by. With over 20 years of experience in the industry, we have built a reputation for professionalism, honesty, and innovation. If you want to build a new deck or refurbish your existing one, our highly skilled team is on hand to help. Connect with us today to set up a no-charge consultation and learn how your outdoor space can become a gorgeous, practical escape.
Uncover the Ideal Deck Material for You: Comparing Wood and Composite Options
Decks Unique's primary focus is to support you in building the perfect exterior paradise at your home. That's the advantage of our extensive choice of decking materials, including both wood composite variants. Each decking material possesses its advantages, which allows you to select the most suitable option for your particular necessity and preference.
Embrace the Timeless Beauty of Wooden Decks
The flexibility and timelessness of wood provides a pleasant warmth and beauty to all kinds of outdoor spaces. We provide an assortment of wooden decking alternatives that can accommodate any design preference and budget.
Pressure-Treated Wood: Cost-effective and Long-lasting
Many homeowners prefer pressure-treated lumber because it is cost-effective and long-lasting. The decking material is treated specially to guard against wood rot and insect invasion. As an outcome, decks made from pressure-treated wood last longer and call for lesser maintenance.
Redwood and Cedar: Top-Notch Luxury with Intrinsic Durability
For those pursuing a deluxe option, we feature cedar and redwood decking in our offerings. These elegant and premium woods possess natural resistance to decay and pests, guaranteeing a durable deck that matures with elegance. Cedar and redwood decks, featuring deep colors and one-of-a-kind grain patterns, add a striking touch to any household.
Exotic Hardwoods: Stunning and Enduring
In your quest for a truly matchless and opulent option, weigh the idea of choosing exotic hardwoods like Ipe, Tigerwood, or Cumaru. These exceptionally dense and robust hardwoods boast impressive durability and a stunning appearance. Exotic hardwood decks, featuring their bold colors and detailed patterns, make for an impressive centerpiece in any outdoor setting.
Pursue a Low-Maintenance Lifestyle with Composite and PVC Decking Options
For individuals in search of a low-maintenance, environmentally friendly option, composite and PVC decking are worth considering. These innovative materials combine the beauty of wood with the durability of synthetic materials, providing homeowners with a nearly maintenance-free outdoor space.
Composite Decking: Benefits and Advantages
By combining recycled wood fibers and plastic materials, composite decking offers a durable and eco-friendly option. With resistance to warping, cracking, and discoloration, this decking material guarantees an attractive and enduring deck that requires little maintenance. Cleaning composite decks is hassle-free, as they just need the occasional washing to ensure that the outdoor area stays spotless.
Top Brands in the Composite Materials Industry
Decks Unique takes great pride in working hand-in-hand with elite composite decking brands, including Trex, TimberTech, and Azek. We can supply Mineola homeowners with high-quality materials for an attractive, long-lasting outdoor environment as authorized installers of these superior products.
Design Your Deck with a Variety of Color and Texture Possibilities
One main strength of composite decking is the numerous customization alternatives. Having a myriad of color and texture options allows you to fashion a one-off outdoor space that connects with your home's design. You can find a fitting composite decking solution to satisfy your inclination for natural wood or modern design aesthetics.
Enhance Your Deck with Railing and Baluster Options
The ultimate deck won't be whole without the fitting railing and baluster system. Decks Unique delivers a wide variety of solutions to boost your deck design and uphold the safety and effectiveness of your outdoor space.
Wooden Railing Designs: Everlasting and Traditional
For a stylish and lasting design, a wood railing system should be considered. By integrating a wood railing system with either a wood or composite deck, you can achieve a smooth and consistent design. By matching the color of your wood railing system to your deck or Mineola home exterior through painting or staining, a visually stunning result is guaranteed.
Metal and Glass Railing Systems: Stylish and Streamlined
In case a modern and sleek design appeals to you, take into account utilizing metal or glass railing systems. Boosting the enjoyment of your deck view, these selections add a 21st-century touch and cater to homeowners who are lucky enough to have gorgeous surroundings.
Composite Railing Systems: Low-Maintenance, Chic Design
If you're looking for an elegant option with minimal upkeep, composite railing systems are a superb choice. These strong and stylish railings, when matched with composite decking, bring about a cohesive appearance, resulting in a stunning low-maintenance outdoor space.
Regardless of your favorite styles, Decks Unique is ready to help you identify the ideal decking components for your household. Contact us today to discuss your needs and begin designing the outdoor space of your dreams.
Boost Your Outdoor Living Space with Our Additional Services in Mineola
We at Decks Unique are dedicated to converting your outdoor living space into an opulent and functional part of your home. Our services extend beyond remarkable deck building, as we also provide a variety of supplementary services such as wood awnings, cabanas, gazebos, pergolas, and porch construction. Our professional experts in Mineola work hand in hand with you to bring your ideas to fruition while ensuring superior quality and lasting durability.
Wooden Awnings: Increase Shade and Style for Your Outdoor Space
Wood awnings offer an excellent way to create shade and style in your outdoor environment. Our proficient crew at Decks Unique will offer guidance in determining the perfect design and materials for a visually appealing and practical wood awning that goes well with your home's decor. These wooden features not only act as a barrier against severe weather but also add to the total value of your property.
Cabanas: Build an Opulent Sanctuary in Your Mineola Yard
Blending luxury, relaxation, and privacy perfectly, cabanas are an exceptional choice for upgrading any outdoor area. You can count on our team of professionals to design and create a unique cabana that caters to your individual needs and preferences. No matter if you're seeking a snug haven for relaxation or a stylish area for hosting gatherings, we can design a cabana that is the ideal outdoor escape.
Gazebos: A Picture-Perfect Addition for Your Garden or Patio
A gazebo remains a cherished inclusion in gardens and patios, lending an appealing visual interest and a comfortable shaded zone for outdoor leisure. Our professional team will help you choose the ideal style, materials, and location for your gazebo, ensuring a seamless integration with your existing landscape. Our skilled craftsmanship ensures a breathtaking gazebo that will elevate the appeal of your outdoor environment for years in the future.
Pergolas: Boost Your Outdoor Environment's Appeal and Functionality with Architectural Flair
The addition of a pergola can dramatically improve the architectural design and usefulness of your outdoor space. The design of these structures allows for a combination of shade and sunlight, which makes them perfect for garden trails, patio spaces, and open-air eating areas. Our specialists at Decks Unique have the expertise to engineer and erect a bespoke pergola that aligns with your design tastes and bolsters your property's worth.
Patio Construction: Raise Your Home's Curb Appeal and Outdoor Living Space
A proficiently designed porch not only increases your home's curb appeal but also presents a comfortable open-air living space for you and your family to take pleasure in. Our skillful staff will coordinate with you to fashion a custom porch that goes well with your home's architecture and addresses your functional requirements. With our rigorous attentiveness to detail and unyielding dedication to exceptional quality, you can rest easy knowing your porch fabrication assignment is in trustworthy hands.
Approach Decks Unique to enhance your Mineola outdoor living area
At Decks Unique, providing superior, custom-made outdoor living options for our clients in Mineola and the adjacent areas is our mission. To enhance your outdoor area with a wood awning, cabana, gazebo, pergola, or porch, rely on our team of experienced professionals for help. Give us a call today to discuss your vision, and we'll show you how we can upgrade your outdoor living area into a deluxe and useful extension of your home.
Top-notch Deck Consulting and Design Solutions in Mineola
We, at Decks Unique, pride ourselves on delivering custom-tailored consultation and deck designs to suit the individual preferences of our clients. With over 20 years of industry know-how, our experienced deck designers will work side by side with you to create a deck that amplifies your home's appearance and practicality. By applying modern 3D modeling and visualization techniques, we'll make your envisioned deck a tangible reality, confirming the final creation meets your demands.
High-grade Decking Elements for Sustained Durability
As the premier deck builder on Long Island, Decks Unique is an authorized installer of popular composite deck products like Trex, TimberTech, and Azek. Additionally, we offer a wide range of wood decking alternatives that suit your personal tastes, such as pressure-treated materials, cedar, redwood, and exclusive hardwoods. With a commitment to using only exceptional materials, you can trust that your new deck will be long-lasting and require minimal maintenance.
Outstanding Deck Building Services in Mineola
Decks Unique's expert deck construction crew is committed to delivering outstanding workmanship and efficiency throughout the entire building process. With our expert knowledge of building codes, regulations, and permits, you can trust us to handle the entire project from start to finish, leaving you with a stunning and functional outdoor living space.
Keep and Restore Your Deck's Attractiveness
Decks Unique comprehends the crucial role of ongoing maintenance in preserving your deck's attractiveness and solid construction. Our experienced team can inspect and identify any damages or potential issues, providing necessary repairs to keep your deck in top condition. Moreover, we render deck rejuvenation and refinishing solutions, such as cleaning, staining, weatherproofing, and sealing operations to maintain and enhance your deck's facade.
Upgrade Your Outdoor Area with Custom Features and Add-ons
For truly fashioning your deck into a singular open-air refuge, Decks Unique proffers an assortment of tailor-made components and augmentations, such as lighting solutions for decks, seats integrated into the design, kitchens designed for the outdoors, and flame-oriented installations. Such improvements not only boost practicality, but they also generate a cozy and welcoming ambiance for you and your visitors to appreciate.
Full-Scale Decking Services and More
Decks Unique not only excels in deck designing and construction but also focuses on additional outdoor structures, including wooden awnings, cabanas, gazebos, pergolas, and porch construction. By adding these structures, you can further enhance your Long Island house's outdoor space, creating an idyllic area for relaxing and entertaining.
Decks Unique can tackle your entire Mineola decking necessities. See how our commitment to excellence, professionalism, and customer satisfaction enhances your outdoor space. Reach out to us today for a free consultation, and let us convert your backyard into an exquisite showpiece.
Happy to support the communities of Mineola, Mastic, Locust Valley, Islip, Hampton Bays, Fort Salonga, East Norwich, and other areas throughout Long Island.
Offering Long Island Quality Deck Designs and Services: