Introducing Decks Unique - Port Washington's Top-Rated Deck Construction Company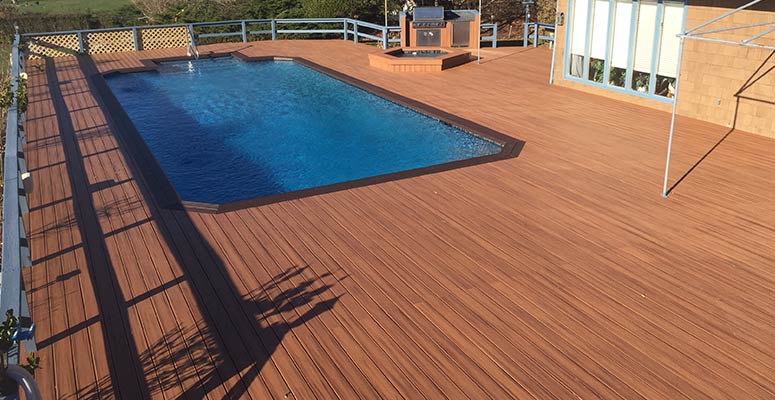 For over 20 years, Decks Unique has been a family-owned and operated company, specializing in custom deck design and construction, serving the people of Long Island and nearby areas, such as Port Washington. Decks Unique's love for design and unyielding commitment to professionalism, honesty, and innovation have made us the dominant producer of exceptional decks in Long Island, influencing the industry's standards. At Decks Unique, we excel in constructing custom decks, porches, gazebos, pergolas, wood awnings, and additional outdoor structures that augment the aesthetics, worth, and functionality of your Long Island property.
Port Washington Deck Building Services with Expertise and Experience
We at Decks Unique hold the belief that a well-considered deck plan makes for a prudent choice in the realm of home improvement. Our knowledgeable assembly of expert deck builders is determined to ensure top-quality outcomes, preserve efficiency in production, and ascertain that our warranties hold significant enduring value. This relentless dedication to superior workmanship has delivered countless gratified customers and exceptional decks they can take pride in for years.
All major composite decking products, such as Trex, TimberTech, and Azek, can be installed by our experienced Long Island deck construction teams. Take advantage of our free home consultations and computer-assisted decking designs to help you imagine your project before it's built. Choose your backyard as the focus of our next enterprise!
Heighten Your Home's Worth with Your Own Custom Deck
With a high-quality deck, your Port Washington house can see its outdoor living area improved and its property value significantly raised. We take pride in our specialization at Decks Unique in the creation and construction of custom decks that cater to each client's particular needs and choices. Be it a homely location for entertaining your friends and family or a luxurious outdoor idyll to luxuriate in attractive weather, our team will join forces with you to make your ideal haven a reality.
We comprehend that every homeowner has their own unique style and needs when it comes to their outdoor space. This is the basis for our extensive variety of materials, styles, and elements to establish the flawless deck that lines up with your home and lifestyle. From classic wooden choices such as pressure-treated wood, cedar, and redwood, to the low-maintenance composite and PVC decking options, we have the ideal solution for any budget and taste.
Unmatched Commitment to Awe-inspiring Quality and Client Comfort
High-quality workmanship and customer satisfaction are at the heart of what we do at Decks Unique. By using only the best materials and partnering with skilled, knowledgeable builders, we can assure that every project we undertake meets the highest quality standards.
To us, seamless communication is the backbone of successful projects, and we work diligently to ensure our clients are always in the know. Our team is at your service, from the very beginning with the consultation and design stage, throughout construction, and up until the final inspection, to address any queries or concerns and to make certain you are fully satisfied with your deck.
Give Decks Unique the chance to modify your Port Washington backyard into a cozy outdoor living space you'll love. Reach out to us today to set up a no-cost consultation and feel the Decks Unique distinction yourself.
Wide-ranging Decking Services for Port Washington
Decks Unique takes pride in providing an extensive array of decking services, customized to accommodate the requirements of our Port Washington clientele. Our expertise covers everything from custom deck design and construction to repair, maintenance, and refinishing. At Decks Unique, we also supply a variety of distinct features and additional options to augment your outdoor living enjoyment. Let's delve deeper into the services we have available.
Custom Deck Design: Materializing Your Dream Deck with Expertise
Our professional deck designers will work closely with you to create a custom deck that reflects your personal style, complements your home, and meets the unique requirements of your property. To aid you in making well-informed decisions, our authorities will guide you in choosing appropriate materials, promising enduring elegance and sturdiness.
Superior Deck Construction: Exceptional Expertise for a Breathtaking Outdoor Area
As an elite deck builder, we are resolved to use only high-quality materials and employ safe, efficient craftsmanship. Our accomplished crew members are qualified installers of renowned composite deck materials, such as Trex, TimberTech, and Azek. With considerable attention to detail and an emphasis on structural stability, we make certain that your deck is not only visually appealing but also durable over time.
Repairing and Maintaining Decks: Retaining the Value of Your Investment
Regular upkeep is vital for maintaining your deck's aesthetics and functionality. Our skilled team is available to provide detailed repair and maintenance services for wood and composite decks. From detailed assessments to detect possible problems, to expert damage repairs due to weather or wear, we're the one-stop-shop for all of your deck maintenance requirements. Our planned maintenance plans offer reassurance, ensuring your deck stays in top shape throughout the entire year.
Deck Resurfacing and Restoration: Refresh Your Outside Area
As time elapses, even the most exceptional decks can present signs of wear or need refinishing to maintain their aesthetic. Our proficient team can revive your deck's splendor by means of professional cleaning, staining, weatherproofing, and sealing. Moreover, we can implement structural enhancements, guaranteeing your deck's safety and function for the foreseeable future.
Customized Elements and Added Components: Elevate Your Deck Pleasures
To heighten your outdoor living space experience, we introduce an array of distinct features and add-on choices devised to augment your deck. Among these selections are energy-effective deck lights, inherent seating, kitchens designed for outdoor use, and features involving fire. We merge these features into your deck's overall structure, creating an inviting and pleasant ambiance for you to cherish with family and friends in Port Washington.
Decks Unique excels in furnishing clients and the surrounding communities with superior-quality decking services. We have established a strong reputation for professionalism, reliability, and originality, thanks to our 20 years in the industry. No matter if you're seeking to create a new deck or update your current one, our knowledgeable team is prepared to assist. Connect with us today to set up a no-charge consultation and learn how your outdoor space can become a gorgeous, practical escape.
Find Your Ultimate Deck Material: Wood vs. Composite Choices
Here at Decks Unique, we are passionate about collaborating with you to develop the perfect outdoor hideaway for your house. For this purpose, we deliver a wide range of decking materials that include wooden and composite solutions. Each of the materials has its own merits, helping you to decide on the top option that matches your distinct demands and inclinations.
Embrace the Timeless Beauty of Wooden Decks
Being both ageless and flexible, wood imbues a sense of inviting warmth and elegance to outdoor spaces. Numerous wood decking choices are available, suiting various tastes and budgetary requirements.
Treated Wood: Budget-conscious and Long-lasting
Pressure-treated wood is a sought-after choice among many homeowners owing to its reasonably priced and enduring characteristics. The decking material is treated specially to guard against wood rot and insect invasion. As a result, pressure-treated decks are long-lasting and require minimal maintenance.
Cedar and Redwood: The Epitome of Luxurious and Resistant Materials
For individuals searching for a lavish choice, cedar and redwood decking are additionally available. Inherently impervious to decay and insects, these beautiful and premium woods assure a deck that withstands the elements and ages beautifully. The strong colors and exclusive grain formations of cedar and redwood decks make them a visually appealing complement to any home.
Exotic Hardwoods: Beautiful and Durable
In your quest for a truly matchless and opulent option, weigh the idea of choosing exotic hardwoods like Ipe, Tigerwood, or Cumaru. These remarkable hardwoods are extremely dense and strong, making them known for their outstanding longevity and striking visual charm. Exotic hardwood decks, featuring their bold colors and detailed patterns, make for an impressive centerpiece in any outdoor setting.
Low-Maintenance Living with Composite and PVC Decking
In case you're searching for a low-maintenance and eco-centric alternative, give composite and PVC decking some thought. These state-of-the-art materials join the attractiveness of wood with the resilience of synthetics, supplying homeowners with an outdoor space that requires minimal maintenance.
Why Choose Composite Decking: Benefits and Advantages
Composite decking, featuring a mix of reused wood fibers and plastic, is an enduring and eco-friendly solution. Being able to withstand warping, cracking, and fading, this decking material promises a visually appealing and lasting deck with minimal effort. Cleaning composite decks is a breeze, as they only require periodic washing to maintain a spotless and inviting outdoor space.
Prominent Brands in Composite Materials Sector
Decks Unique is delighted to cooperate with the foremost brands in composite decking, including Trex, TimberTech, and Azek. As approved installers of these remarkable products, we can furnish Port Washington homeowners with premium materials for an elegant and lasting outdoor living area.
Create a Distinctive Deck with Color and Texture Selections
A significant advantage of composite decking is the vast array of personalization possibilities. A range of color and texture selections allows you to craft an outdoor space that complements your home's appearance. Any preference for natural wood aesthetics or contemporary designs can be accommodated with the right composite decking choice.
Upgrade Your Deck by Adding Railing and Baluster Choices
To be complete, the perfect deck calls for the appropriate railing and baluster system. Decks Unique offers an extensive selection of options to work seamlessly with your deck design and promote the safety and usefulness of your exterior area.
Timber Handrail Solutions: Time-honored and Lasting
For a stylish and lasting design, a wood railing system should be considered. The use of a wood railing system can create a harmonious, unified design for both wood and composite decks. For a striking finale, customize your wood railing system by painting or staining it to match your deck or the exterior of your Port Washington home.
Metal and Glass Railing Systems: Stylish and Streamlined
Desiring a more current and polished appearance, you might want to look into metal or glass railing systems. Such choices add a modern twist and can elevate the vista from your outdoor space, making them an attractive option for homeowners with striking scenery.
Composite Railing Systems: Effortless Maintenance and Stylish
For a low-maintenance, stylish, and elegant solution, composite railing systems are the perfect fit. The resilient and captivating railings offer a consistent aesthetic when used in conjunction with composite decking, cultivating an exquisite outdoor space with low maintenance needs.
No matter what you like, Decks Unique is here to offer assistance in selecting the perfect deck materials for your abode. Reach out to our team today to discuss your vision and begin shaping the outdoor area you've always imagined.
Optimize Your Outdoor Living Space with Our Extra Services in Port Washington
We believe in transforming your outside living space into a luxurious and functional part of your home at Decks Unique. In addition to our outstanding deck construction services, we also provide a range of supplementary services like wooden awnings, cabanas, gazebos, pergolas, and building porches. In Port Washington, our skilled team works closely with you to achieve your outdoor vision, guaranteeing top-quality and durable results.
Wood Awnings: Add Fashion and Functionality for Your Outdoor Space
Installing wood awnings is a fantastic approach to enhance your outdoor area with both shade and elegance. At Decks Unique, our experienced staff will assist you in the process of choosing the right design and materials to craft an elegant and functional wood awning that harmonizes with your home's aesthetic. These structures not only protect you from harsh weather conditions but also enhance the overall value of your property.
Cabanas: Create a Luxurious Retreat in Your Port Washington Backyard
Blending luxury, relaxation, and privacy perfectly, cabanas are an exceptional choice for upgrading any outdoor area. Our team of experts will work with you to design and build a custom cabana that meets your specific needs and preferences. Whether it's a homely corner for winding down or a polished space for hosting visitors, we can conjure up a cabana that stands as your flawless exterior retreat.
Gazebos: A Picture-Perfect Addition for Your Garden or Patio
A gazebo serves as a classic element in any garden or patio, offering an attractive centerpiece and a sheltered space for enjoying the outdoors. Our expert team assists you in selecting the perfect design, materials, and placement for your gazebo, guaranteeing a smooth blend with your current outdoor environment. Thanks to our superior craftsmanship, your gazebo will be a beautiful addition to your outdoor area and provide enjoyment for many years.
Pergolas: Integrate Architectural Style and Functionality into Your Open-air Space
Adding a pergola is a fantastic method for enhancing your outdoor area's architectural appeal and usefulness. Pergolas are adept at creating a sheltered yet sunlit environment, making them ideal for garden strolls, patio hangouts, or dining outdoors. Our adept professionals at Decks Unique are here to design and construct a custom-built pergola that suits your preferences, adding value to your living space.
Creating a Porch: Upgrade Your Home's Curb Appeal and Outdoor Living Areas
An expertly designed porch not only improves your home's curb appeal but also offers a cozy outdoor space for you and your loved ones to relish. Our qualified team will cooperate with you to construct an exclusive porch that blends with your home's architectural design and accommodates your functional needs. With our conscientious scrutiny of detail and allegiance to first-rate quality, you can be relaxed knowing that your porch building mission is in expert hands.
Connect with Decks Unique for your Port Washington outdoor living space makeover
Decks Unique takes pride in giving first-rate, personalized outdoor living solutions to people in Port Washington and the surrounding communities. Whether you want to add a wood awning, cabana, gazebo, pergola, or porch to your outdoor area, our team of professionals is here to help. Reach out to us today for a discussion about your project, and let us demonstrate how we can reshape your outdoor living area into a high-end and functional home extension.
Professional Deck Planning and Creation in Port Washington
At Decks Unique, personalizing consultations and crafting custom deck designs to align with the individual requirements of our clients is our top priority. Drawing from our 20-plus years of experience, our professional deck designers will closely collaborate with you to construct a deck that enriches your home's aesthetics and functions. Employing cutting-edge 3D modeling and visualization methods, we'll transform your dream deck into reality, making certain the end product aligns with your aspirations.
Exceptional Deck Materials for Long-lasting Stability
As the premier deck builder on Long Island, Decks Unique is an authorized installer of popular composite deck products like Trex, TimberTech, and Azek. We also propose a diverse set of wood decking choices to meet your specific preferences, such as pressure-treated building materials, cedar, redwood, and upscale hardwoods. Our devotion to employing only first-class materials ensures your new deck's longevity and minimal upkeep.
Outstanding Deck Building Services in Port Washington
Our skilled deck construction team at Decks Unique is dedicated to providing top-notch craftsmanship and efficiency during the entire building process. Armed with our extensive understanding of building codes, rules, and permits, you can rely on us to manage the whole project from beginning to end, resulting in a breathtaking and practical outdoor space.
Retain and Rehabilitate Your Deck's Elegance
Decks Unique comprehends the crucial role of ongoing maintenance in preserving your deck's attractiveness and solid construction. The proficient team at Decks Unique can assess and pinpoint any damage or possible issues, carrying out vital repairs to ensure your deck remains in prime condition. Additionally, we offer deck refinishing and restoration services, including cleaning, staining, weatherproofing, and sealing to protect and enhance your deck's appearance.
Custom Features and Add-ons to Elevate Your Outdoor Space
To shape your deck into an unparalleled open-space sanctuary, Decks Unique supplies a multitude of custom attributes and ancillary items, incorporating lights designed for decks, in-built chair arrangements, cooking facilities for open-air settings, and fire-centric highlights. These upgrades not only increase utility, but they also foster an inviting and comfortable setting for you and those you invite to relish.
Comprehensive Decking Services and More
Decks Unique, known for its expertise in deck design and construction, also offers expertise in other outdoor structures, including wood awnings, cabanas, gazebos, pergolas, and porch construction. These structures can further enhance your Long Island home's outdoor space, making it the perfect area for relaxation and entertainment.
In Port Washington, count on Decks Unique to cater to all your decking requirements. Witness the improvement our focus on quality, professionalism, and customer happiness brings to your exterior space. Get in touch with us now to set up a complimentary consultation and watch us turn your backyard into a beautiful work of art.
Dedicated to attending to the needs of Port Washington, North Wantagh, North Babylon, Middle Island, Manorville, Lake Ronkonkoma, Holbrook, and various other Long Island zones.
Offering Long Island Quality Deck Designs and Services: