Check out Decks Unique - Roslyn Heights's Exceptional Deck Building Professionals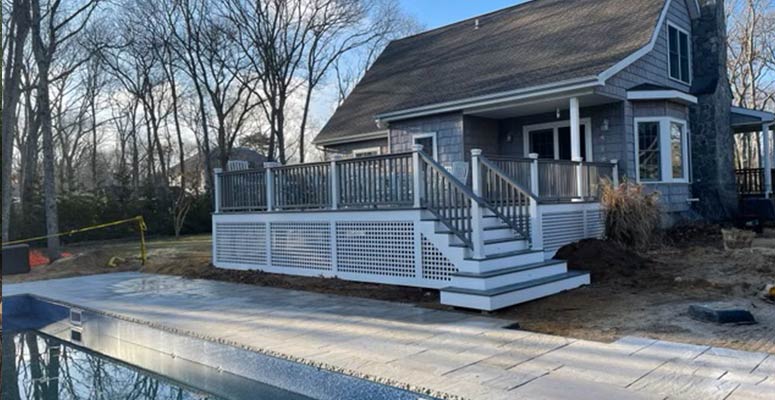 Decks Unique, a family-run business specializing in custom deck design and construction, has been serving the Long Island community and surrounding regions, including Roslyn Heights, for more than two decades. Our passion for design and commitment to professionalism, honesty, and innovation have made us the largest producer of high-quality decks on Long Island, setting the standards for the industry. We specialize in designing and building custom decks, porches, gazebos, pergolas, wood awnings, and other outdoor structures that add value, beauty, and functionality to your Long Island home.
Expertise and Experience in Deck Building Services in Roslyn Heights
At Decks Unique, we are convinced that a well-organized deck layout offers a sensible investment in home improvement projects. At Decks Unique, our skilled professionals in deck building are devoted to providing superior quality, working towards efficient scheduling, and making sure that our warranties retain true long-term value. This resolute commitment to maintaining excellence has garnered numerous fulfilled clients and stunning decks they are thrilled to exhibit for years to come.
Long Island-based deck building crews have authorization to use all major composite deck products, including Trex, TimberTech, and Azek. We extend free residential consultations and digitally-crafted deck layouts for you to preview your project before it gets underway. Let your backyard be the canvas for our next masterpiece!
Add Value to Your Home with a Custom Deck
An outstanding deck can both improve the exterior living area of your Roslyn Heights residence and substantially increase its worth. At Decks Unique, we specialize in designing and building custom decks that meet the unique needs and preferences of each client. No matter if you desire a comfy location for social events or a grand outdoor paradise to savor the charming weather, our staff will partner with you to create your ideal space.
Each homeowner has specific desires and requirements for their outdoor settings, which we acknowledge. To accommodate these diverse preferences, we supply a wide array of materials, styles, and attributes for crafting the ideal deck to harmonize with your home and way of life. From conventional wood selections like pressure-treated lumber, cedar, and redwood to hassle-free composite and PVC decking alternatives, we possess the perfect solution for all budgets and inclinations.
Unrivaled Persistence in Upholding Quality and Ensuring Customer Delight
Decks Unique aims to excel in workmanship quality and customer satisfaction. To ensure that all our projects are up to the highest standards, we are devoted to using only top-quality materials and hiring expert builders with a wealth of experience.
We're firm believers that strong communication is a major factor in a project's success, and we go above and beyond to maintain clear lines of communication with our clients. From the moment our initial consultation begins, through the design and construction phases, and all the way up to the final inspection, our team is tirelessly committed to answering inquiries, tackling concerns, and guaranteeing your happiness with your new deck.
Trust Decks Unique to morph your Roslyn Heights backyard into an impressive outdoor living space you'll enjoy for years. Contact us immediately to set up a complimentary consultation and feel the Decks Unique superiority.
In-depth Decking Assistance in Roslyn Heights
At Decks Unique, we pride ourselves on offering a wide range of decking services tailored to meet the needs of our clients in Roslyn Heights. At Decks Unique, we excel in everything from creating custom deck designs and constructions to carrying out repairs, maintenance, and refinishing. Besides our primary services, we also offer numerous distinctive features and upgrades to improve your outdoor living space. Let's delve deeper into the services we have available.
Custom Deck Design: Constructing Your Dream Deck for Your Enjoyment
Our skillful deck designers will collaborate intimately with you to assemble a custom-built deck that exemplifies your private style, seamlessly integrates with your home, and meets the peculiar specifications of your property. By assisting you in making informed choices, our connoisseurs will facilitate your material selection journey, assuring lasting charm and toughness.
Expert Deck Construction: Quality Craftsmanship for a Stunning Outdoor Space
As a prominent deck builder, we are committed to utilizing only top-quality materials and practicing secure, proficient workmanship. Our experienced crews are authorized installers of major composite deck products, such as Trex, TimberTech, and Azek. With meticulous attention to detail and a focus on structural integrity, we ensure that your deck not only looks stunning but also stands the test of time.
Taking Care of Your Deck: Ensuring Your Investment Stays Protected
Regular maintenance is essential to preserving the beauty and functionality of your deck. Our expert team provides full repair and maintenance services for both wooden and composite decks. Our services range from comprehensive inspections to pinpoint potential problems, to expert repairs for weather or wear damage, ensuring we're the ultimate solution for all your deck maintenance needs. Equipped with our scheduled maintenance programs, you can rest easy knowing that your deck will be kept in pristine condition all year long.
Deck Resurfacing and Restoration: Refresh Your Outside Area
Over time, even the highest quality decks may show signs of wear or require refinishing to maintain their appearance. Our team of experts is capable of revitalizing your deck's beauty through thorough cleaning, staining, weatherproofing, and sealing. Further, we can administer structural optimizations, keeping your deck safe and efficient for a considerable duration.
Personal Customizations and Upgrades: Enrich Your Deck Leisure
To elevate your outdoor living space, we offer a range of custom features and add-ons designed to complement your deck. The available options consist of energy-efficient illumination on decks, embedded seating, exterior kitchens, and fire amenities. By blending these factors into your deck's design, we fashion a hospitable and cozy setting for you to relish alongside your loved ones in Roslyn Heights.
Decks Unique focuses on offering unparalleled decking assistance to customers and areas close by. Our distinguished reputation has been built on 20 years of professionalism, integrity, and novel thinking. Should you need assistance in designing a new deck or improving a current one, our competent team has your back. Contact us today to schedule a no-cost consultation and see how we can elevate your outdoor space into an elegant, functional sanctuary.
Compare Wood and Composite Options to Discover Your Perfect Deck Material
Decks Unique is dedicated to assisting you in developing the ideal outdoor sanctuary for your residence. Consequently, we supply various decking materials encompassing both wooden and composite choices. Each material has its unique advantages, ensuring that you can choose the best option for your specific needs and preferences.
Experience the Classic Charm of Wood Decking
Being both ageless and flexible, wood imbues a sense of inviting warmth and elegance to outdoor spaces. Numerous wood decking choices are available, suiting various tastes and budgetary requirements.
Treated Wood: Budget-conscious and Long-lasting
Many homeowners opt for pressure-treated lumber on account of its economical and sturdy features. Protection from wood deterioration and insect issues is provided by a special treatment process for this decking material. Minimal maintenance is needed for these durable, pressure-treated decks as a result of the treatment.
Naturally Resistant Cedar and Redwood: A Grand Luxury
We also provide cedar and redwood decking for those wanting a more extravagant option. The eye-catching and high-grade woods are organically immune to decay and bug damage, ensuring a deck that remains sturdy for years to come. The vibrant hues and distinct grain designs of cedar and redwood decks create an impressive enhancement to any residence.
Exotic Hardwoods: Exquisite and Long-Lasting
If you're on the hunt for a genuinely distinct and sophisticated alternative, consider utilizing exotic hardwoods like Ipe, Tigerwood, or Cumaru. These exceedingly solid and long-lasting woods stand out due to their commendable longevity and stunning appearance. An exotic hardwood deck's dazzling colors and intricate designs make it a standout centerpiece in any outside space.
Embrace Low-Maintenance Living with the Help of Composite and PVC Decking
Should you desire an environmentally-friendly and low-maintenance option, look into composite and PVC decking. These state-of-the-art materials join the attractiveness of wood with the resilience of synthetics, supplying homeowners with an outdoor space that requires minimal maintenance.
Benefits and Advantages of Composite Decking
By combining recycled wood fibers and plastic materials, composite decking offers a durable and eco-friendly option. Being able to withstand warping, cracking, and fading, this decking material promises a visually appealing and lasting deck with minimal effort. Additionally, composite decks are easy to clean, requiring only occasional washing to keep your outdoor space looking pristine.
A Look at Industry-Leading Composite Materials Brands
Decks Unique is delighted to cooperate with the foremost brands in composite decking, including Trex, TimberTech, and Azek. As sanctioned installers of these exceptional products, we're able to provide Roslyn Heights homeowners with top-quality materials for a striking and long-lasting outdoor area.
Create a Distinctive Deck with Color and Texture Selections
One of the major benefits of composite decking is the wide range of customization options. You can put together a custom outdoor setting that reflects your home's aesthetics with the diverse color and texture options available. If you have a penchant for natural wood looks or more innovative designs, composite decking offers a compatible option.
Revamp Your Deck Using Different Railing and Baluster Combinations
An ideal deck requires the appropriate railing and baluster system to be complete. With Decks Unique, you have access to a variety of options that enhance your deck design while guaranteeing safety and functionality in your outdoor area.
Wooden Handrail Systems: Traditional and Timeless
A wood railing system is an excellent choice for a classic and never-outdated appearance. This option pairs beautifully with both wood and composite decks, creating a seamless and cohesive design. A remarkable final appearance can be achieved by painting or staining a wood railing system to correspond with your deck or the exterior of your Roslyn Heights home.
Metal and Glass Railing Systems: Up-to-date and Polished
If modern sophistication and sleekness catch your eye, metal or glass railing systems might be just the thing. These stylish options not only contribute a contemporary element, but they also accentuate the view from your deck, making them well-liked among those who live amidst breathtaking landscapes.
Composite Railing Systems: Low-Maintenance, Chic Design
For an ideal blend of style, elegance, and low-maintenance, composite railing systems are an excellent option. The resilient and captivating railings offer a consistent aesthetic when used in conjunction with composite decking, cultivating an exquisite outdoor space with low maintenance needs.
No matter your inclinations, Decks Unique is at your service to aid you in picking the perfect decking supplies for your home. Get in contact with us now to outline your requirements and initiate the creation of your perfect outdoor environment.
Raise the Bar for Your Outdoor Living Space with Our Additional Services in Roslyn Heights
Our objective at Decks Unique is to transition your outdoor living area into an elegant and useful home extension. In addition to top-notch deck building services, we also offer various other services, such as installing wood awnings, cabanas, gazebos, pergolas, and constructing porches. Our talented experts in Roslyn Heights partner with you to create your desired outdoor space, ensuring the utmost quality and lasting durability.
Wood Awnings: Bring Both Shade and Style to Your Outdoor Living Space
The use of wood awnings can impart both shade and refinement to your outdoor zone. Our proficient crew at Decks Unique will offer guidance in determining the perfect design and materials for a visually appealing and practical wood awning that goes well with your home's decor. These setups not only offer defense against tough weather conditions but also augment the overall market value of your property.
Cabanas: Construct a High-end Refuge in Your Roslyn Heights Yard
Combining luxury, comfort, and privacy expertly, cabanas are perfect for enhancing any open-air area. Our experienced team will work alongside you to plan and erect a unique cabana that caters to your distinct needs and preferences. Looking for a comfortable retreat to relax or a classy space to host events, we can design a cabana that transforms into your perfect outdoor haven.
Gazebos: A Visually Appealing Addition for Your Garden or Patio
Incorporating a gazebo in a garden or patio lends perpetual elegance, offering an alluring centerpiece and a cool alcove for outdoor unwinding. With the help of our skilled team, you'll be able to decide on the ideal style, materials, and placement for your gazebo, ensuring it integrates smoothly with your current outdoor space. Through our outstanding craftsmanship, we create a captivating gazebo that augments the splendor of your outdoor area for many years ahead.
Pergolas: Bring Architectural Charm and Functionality to Your Outdoor Domain
For those looking to enhance their outdoor living area's aesthetics and functionality, pergolas are an excellent choice. Pergolas inherently deliver a mix of shaded areas and sunlit spaces, ideally suiting them for the likes of garden promenades, terraces, or eateries outdoors. Our specialists at Decks Unique have the expertise to engineer and erect a bespoke pergola that aligns with your design tastes and bolsters your property's worth.
Porches: Enhancing Your Home's Curb Appeal and Expanding Outdoor Living Space
An expertly designed porch not only improves your home's curb appeal but also offers a cozy outdoor space for you and your loved ones to relish. Our talented team will combine efforts with you to craft a unique porch that parallels your home's architectural appearance and serves your functional prerequisites. With our keen eye for detail and dedication to excellence, you can have peace of mind knowing your porch construction endeavor is well taken care of.
Get in contact with Decks Unique for your Roslyn Heights outdoor living space renovation
Decks Unique is proud to deliver top-notch, tailor-made outdoor living solutions to customers in Roslyn Heights and nearby regions. If you're interested in incorporating a wood awning, cabana, gazebo, pergola, or porch to your exterior space, our team of experts is ready to assist. Reach out to us today to talk about your project and find out how we can turn your outdoor living space into an opulent and functional addition to your home.
Roslyn Heights's Expert Deck Design and Consultation
At Decks Unique, personalizing consultations and crafting custom deck designs to align with the individual requirements of our clients is our top priority. Leveraging their 20-year expertise, our accomplished deck designers will closely engage with you to craft a deck that accentuates your home's visual charm and practical aspects. By applying modern 3D modeling and visualization techniques, we'll make your envisioned deck a tangible reality, confirming the final creation meets your demands.
Top-Notch Decking Materials to Ensure Longevity
As the premier deck builder on Long Island, Decks Unique is an authorized installer of popular composite deck products like Trex, TimberTech, and Azek. We also propose a diverse set of wood decking choices to meet your specific preferences, such as pressure-treated building materials, cedar, redwood, and upscale hardwoods. Our pledge to utilize only the finest materials ensures that your new deck will withstand the test of time while demanding little maintenance.
Expert Deck Construction Services in Roslyn Heights
Our team of skilled deck builders at Decks Unique is focused on providing high-quality craftsmanship and effective execution during the whole construction journey. Utilizing our comprehensive knowledge of building codes, laws, and permits, you can have faith in us to handle the entire project from initiation to completion, resulting in an exquisite and functional outdoor living space.
Defend and Resurrect Your Deck's Splendor
The Decks Unique team acknowledges the importance of ongoing maintenance to conserve the appearance and structural reliability of your deck. Our seasoned team can conduct inspections and find any damages or potential problems, performing essential repairs to maintain your deck's prime state. We extend deck restoration and refinishing assistance, comprising cleaning, staining, weather protection, and sealing measures to secure and amplify your deck's appearance.
Elevate Your Outdoor Environment with Customized Features and Add-ons
To develop your deck into a matchless outdoor hideaway, Decks Unique delivers an abundance of specialized qualities and extensions, like lighting options for deck installations, seating merged with structural design, external kitchen setups, and fire-focused touches. These upgrades not only increase utility, but they also foster an inviting and comfortable setting for you and those you invite to relish.
Complete Decking Solutions and Beyond
In addition to our proficiency in deck design and building, Decks Unique also provides expertise in constructing supplementary outdoor structures like wooden awnings, cabanas, gazebos, pergolas, and porches. These structures can further enhance your Long Island home's outdoor space, making it the perfect area for relaxation and entertainment.
Let Decks Unique take care of all your decking needs in Roslyn Heights. Experience the difference that our commitment to quality, professionalism, and customer satisfaction brings to your outdoor living space. Connect with us immediately to schedule a no-cost consultation, and let us turn your backyard into a brilliant creation.
Dedicated to attending to the needs of Roslyn Heights, Ridge, North Wantagh, North Babylon, Middle Island, Manhasset, Lake Ronkonkoma, and various other Long Island zones.
Offering Long Island Quality Deck Designs and Services: