Welcome to Decks Unique - Melville's Premier Deck Builder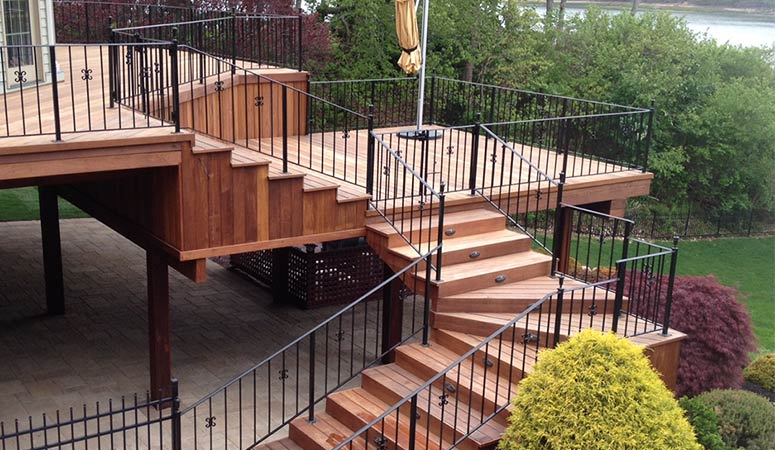 Decks Unique, a family-owned and operated company specializing in custom deck design and construction, has served the communities of Long Island and the surrounding areas, such as Melville, for over two decades. Thanks to our enthusiasm for design and steadfast commitment to professionalism, integrity, and innovation, we've emerged as the top producer of premium decks on Long Island, setting the benchmark for the industry. At Decks Unique, we excel in constructing custom decks, porches, gazebos, pergolas, wood awnings, and additional outdoor structures that augment the aesthetics, worth, and functionality of your Long Island property.
Deck Building Services with Expertise and Experience in Melville
We at Decks Unique hold the belief that a well-considered deck plan makes for a prudent choice in the realm of home improvement. Our knowledgeable assembly of expert deck builders is determined to ensure top-quality outcomes, preserve efficiency in production, and ascertain that our warranties hold significant enduring value. This relentless dedication to superior workmanship has delivered countless gratified customers and exceptional decks they can take pride in for years.
Our certified Long Island decking contractors can install all popular composite decking brands, including Trex, TimberTech, and Azek. Benefit from our complimentary at-home consultations and computer-aided deck templates so you can envisage your project ahead of construction. Allow us to transform your backyard into our upcoming venture!
Add Value to Your Home with a Custom Deck
A well-crafted deck contributes to both an increase in your Melville home's outdoor living environment and the enhancement of its value. Our area of expertise at Decks Unique lies in conceiving and erecting individualized decks that accommodate the unique necessities and preferences of our clients. Be it a snug spot to accommodate get-togethers or an opulent open-air retreat to bask in lovely weather, our crew will work hand-in-hand with you to materialize your aspirations.
For outdoor spaces, we understand that each homeowner has their own distinct tastes and necessities. For this reason, we provide an extensive selection of materials, designs, and options to build the ideal deck to enhance your home and way of life. From classic wooden choices such as pressure-treated wood, cedar, and redwood, to the low-maintenance composite and PVC decking options, we have the ideal solution for any budget and taste.
Incomparable Devotion to High Quality and Customer Fulfillment
Delivering outstanding workmanship and ensuring client contentment are of utmost importance at Decks Unique. Our dedication to the use of high-caliber materials and collaboration with skilled, seasoned builders guarantees each project we undertake is of the finest quality.
We believe that communication is the key to a successful project, and we make it a priority to keep our clients informed every step of the way. Our reliable team is there for you, from the initial consultation and design brainstorming, through the construction journey, and even after the final review, to make sure all questions are answered, fears are addressed, and your satisfaction with the new deck is undeniable.
Trust Decks Unique to morph your Melville backyard into an impressive outdoor living space you'll enjoy for years. Reach out to us now to organize a free consultation and understand the Decks Unique difference on your own.
Exhaustive Decking Offerings in Melville
Decks Unique takes pride in providing an extensive array of decking services, customized to accommodate the requirements of our Melville clientele. Our proficiency extends from designing and constructing tailor-made decks to managing repairs, maintenance, and refinishing tasks. Alongside our main services, we offer a selection of unique features and supplementary options to enrich your outdoor living experience. Let's take a closer look at the services we offer.
Custom Deck Design: Realizing Your Dream Deck through Expert Design
Our proficient deck designers will partner with you to develop a bespoke deck that embodies your personal preferences, augments your home, and fulfills the distinct requisites of your property. By assisting you in making informed choices, our connoisseurs will facilitate your material selection journey, assuring lasting charm and toughness.
Masterful Deck Fabrication: Impressive Craftsmanship for an Elegant Exterior Space
As the preeminent deck builder, our commitment is to use solely premium materials and execute safe, effective workmanship. Our accomplished crew members are qualified installers of renowned composite deck materials, such as Trex, TimberTech, and Azek. With considerable attention to detail and an emphasis on structural stability, we make certain that your deck is not only visually appealing but also durable over time.
Keeping Your Deck in Tip-Top Shape: Defending Your Investment
To keep your deck beautiful and functional, regular maintenance is essential. For both wood and composite decks, our committed team provides extensive maintenance and repair services. From detailed assessments to detect possible problems, to expert damage repairs due to weather or wear, we're the one-stop-shop for all of your deck maintenance requirements. With the help of our consistent maintenance plans, rest assured that your deck will continually be kept in superb condition, regardless of the time of year.
Deck Refinishing and Renewal: Bring Freshness to Your Outdoor Environment
Over the years, even the finest decks might manifest signs of wear or ask for refinishing to conserve their visual charm. Our team of experts is capable of revitalizing your deck's beauty through thorough cleaning, staining, weatherproofing, and sealing. In addition, we can perform structural reinforcements, ensuring your deck remains secure and serves its purpose for years to come.
Adapted Facets and Complementary Elements: Optimize Your Deck Satisfaction
To enhance your outdoor living area, we provide an assortment of tailor-made features and extras crafted to accentuate your deck. Included options involve energy-preserving lighting for your deck, integrated seating arrangements, outside kitchens, and fire facilities. We merge these features into your deck's overall structure, creating an inviting and pleasant ambiance for you to cherish with family and friends in Melville.
At Decks Unique, we specialize in providing top-quality decking services to clients and the surrounding areas. For more than 20 years, our experience has earned us a reputation for being professional, honest, and groundbreaking. Whether designing a novel deck or enhancing a current one, our proficient team is available for assistance. Contact us today to schedule a no-cost consultation and see how we can elevate your outdoor space into an elegant, functional sanctuary.
Explore the Perfect Deck Material for Your Needs: Wood and Composite Alternatives
Our commitment at Decks Unique is to help you establish an impeccable outdoor retreat for your dwelling. For this purpose, we deliver a wide range of decking materials that include wooden and composite solutions. All materials have exclusive benefits that let you settle on the best choice based on your specific desires and favorites.
Wood Decks Radiate Classic Appeal
Wood is a timeless and versatile material, providing natural warmth and charm to any outdoor space. Discover numerous wood decking solutions that cater to each individual's taste and budget requirements.
Pressure-Treated Wood: Cost-effective and Long-lasting
For many homeowners, pressure-treated lumber is a preferred option because of its budget-friendly and tough nature. This decking material receives a distinctive treatment, making it resistant to rotting and insect infestations. As a result, pressure-treated decks are long-lasting and require minimal maintenance.
High-End and Resilient Cedar and Redwood: A Natural Concoction
For those pursuing a deluxe option, we feature cedar and redwood decking in our offerings. These attractive and upscale woods have innate resistance to rot and infestation, resulting in a long-lasting deck that weathers beautifully. Sporting vivid tones and extraordinary grain textures, cedar and redwood decks serve as a remarkable addition to any dwelling.
Exotic Hardwoods: Exquisite and Long-Lasting
If a truly unique and remarkable choice is what you're after, think about using exotic hardwoods such as Ipe, Tigerwood, or Cumaru. These uncommonly sturdy and enduring woods are well known for their amazing long-lasting qualities and gorgeous appearance. Exotic hardwood decks, known for their brilliant colors and involved patterns, act as show-stopping centerpieces in all outdoor spaces.
The Benefits of Low-Maintenance Living: Composite and PVC Decking
In case you're searching for a low-maintenance and eco-centric alternative, give composite and PVC decking some thought. These contemporary materials integrate the appeal of wood and the sturdiness of synthetic elements, endowing homeowners with a largely maintenance-free outdoor living area.
Advantageous Features and Benefits of Composite Decking
With a mixture of repurposed wood fibers and plastic, composite decking is a resilient and Earth-friendly selection. This decking material is resistant to warping, cracking, and fading, ensuring a beautiful and long-lasting deck with minimal upkeep. Cleaning composite decks is hassle-free, as they just need the occasional washing to ensure that the outdoor area stays spotless.
The Best Brands in the World of Composite Materials
Decks Unique is proud to work with the leading brands in composite decking, including Trex, TimberTech, and Azek. As approved installers of these remarkable products, we can furnish Melville homeowners with premium materials for an elegant and lasting outdoor living area.
Enhance Your Deck's Appearance with Different Color and Texture Options
One of the major benefits of composite decking is the wide range of customization options. With a variety of color and texture choices, you can create a one-of-a-kind outdoor space that perfectly suits your home's aesthetic. Whether your liking leans towards natural wood or a more sophisticated design, composite decking has something for you.
Elevate Your Deck with a Variety of Railing and Baluster Options
A flawless deck needs the correct railing and baluster system to be fully realized. Decks Unique provides an ample range of options to elevate your deck design and warrant your outdoor area's safety and functionality.
Timber Railing Designs: Conventional and Unchanging
If you're after a classic and eternal look, a wood railing system could be the way to go. Wood railing systems work well with both wooden and composite decks, resulting in a harmonious and unified style. Painting or staining your wood railing system to align with your deck or Melville home exterior helps ensure a captivating final aesthetic.
Metal and Glass Railing Systems: Current and Refined
Contemporary and sleek styles might lead you to consider metal or glass railing systems. These railing systems bring a current flair while enhancing the panorama from your deck, which is highly appreciated by property owners with beautiful surroundings.
Composite Railing Systems: Simple Maintenance and Sophisticated
For those seeking a low-maintenance option that still offers style and elegance, composite railing systems are a perfect choice. These strong and stylish railings, when matched with composite decking, bring about a cohesive appearance, resulting in a stunning low-maintenance outdoor space.
No matter what you like, Decks Unique is here to offer assistance in selecting the perfect deck materials for your abode. Get in touch with us now to talk about your requirements and start creating your dream outdoor area.
Boost Your Outdoor Living Space with Our Additional Services in Melville
Decks Unique aims to turn your outdoor living space into a charming and functional extension of your dwelling. Our services extend beyond remarkable deck building, as we also provide a variety of supplementary services such as wood awnings, cabanas, gazebos, pergolas, and porch construction. The skilled professionals at Melville diligently collaborate with you in order to transform your vision into reality while ensuring top-notch quality and durability.
Wood Awnings: Add Shade and Style to Your Outdoor Space
Wood awnings are a perfect way to add both shade and elegance to your outdoor area. Our team of experts at Decks Unique is here to help you decide on the right design and materials, ensuring a stunning and functional wood awning that fits your home's look. These constructions provide both shelter from severe weather conditions and elevation in your property's total value.
Cabanas: Design a Lavish Getaway in Your Melville Garden
Providing a seamless mix of luxury, comfort, and seclusion, cabanas are an excellent enhancement to any outdoor space. Collaborating with our expert team, you'll be able to design and build a cabana customized to your precise needs and tastes. From a cozy sanctuary for relaxation to a chic locale for socializing with friends, we can craft a cabana that makes for the perfect open-air haven.
Gazebos: A Picture-Perfect Addition for Your Garden or Patio
A timeless gazebo enhances both gardens and patios, delivering a delightful focus and a sheltered area for outdoor rest. With our skilled team's guidance, you'll select the right style, materials, and site for your gazebo, ensuring harmonious integration with your existing surroundings. Our skilled craftsmanship ensures a breathtaking gazebo that will elevate the appeal of your outdoor environment for years in the future.
Pergolas: Enhance Your Outdoor Space with Architectural Beauty and Function
For those looking to enhance their outdoor living area's aesthetics and functionality, pergolas are an excellent choice. The interplay of sun and shade that pergolas provide makes them a great choice for garden pathways, outdoor terrace spaces, or al fresco dining venues. Decks Unique's team of seasoned professionals will custom-design and craft a pergola to suit your preferences, contributing to your home's value.
Porch Building: Upgrade Your Home's Curb Appeal and Outdoor Living Space
A meticulously designed porch not only augments your home's curb appeal but also affords a relaxing outdoor living zone for you and your relatives to delight in. Our expert team will work with you to create a custom-designed porch that complements your home's architecture and meets your functional needs. With our painstaking observance of detail and fidelity to outstanding quality, you can be assured that your porch manufacturing enterprise is being managed by skilled professionals.
Contact Decks Unique to revamp your Melville outdoor living area
Decks Unique takes pride in giving first-rate, personalized outdoor living solutions to people in Melville and the surrounding communities. Whether you want to add a wood awning, cabana, gazebo, pergola, or porch to your outdoor area, our team of professionals is here to help. Discuss your project with us today and find out how we can turn your outdoor living environment into a comfortable and efficient extension of your residence.
Skillful Deck Design and Consultation Services in Melville
Delivering personalized consultations and tailor-made deck designs that satisfy every client's specific needs is what sets Decks Unique apart. Leveraging their 20-year expertise, our accomplished deck designers will closely engage with you to craft a deck that accentuates your home's visual charm and practical aspects. By harnessing the power of advanced 3D modeling and visualization techniques, we'll materialize your dream deck, while ensuring the final version fulfills your expectations.
Premium Deck Construction Materials for Extended Durability
Long Island's foremost deck builder, Decks Unique, is an officially recognized installer of major composite deck materials, including brands like Trex, TimberTech, and Azek. Moreover, we supply a selection of wood decking possibilities to fit your desires, featuring pressure-treated lumber, cedar, redwood, and specialty hardwoods. Our promise to use only top-of-the-line materials ensures your new deck's durability with the added benefit of low maintenance.
First-Rate Deck Building Services in Melville
The competent deck construction crew at Decks Unique is committed to providing first-rate craftsmanship and efficiency across the entire building process. Leveraging our deep expertise in building codes, norms, and permits, you can entrust us with the full project from beginning to end, yielding an eye-catching and practical outdoor environment.
Keep and Restore Your Deck's Attractiveness
Decks Unique is well aware of the value of routine maintenance in sustaining both the visual allure and durability of your deck. Our seasoned team can conduct inspections and find any damages or potential problems, performing essential repairs to maintain your deck's prime state. Additionally, we offer deck refinishing and restoration services, including cleaning, staining, weatherproofing, and sealing to protect and enhance your deck's appearance.
Elevate Your Outdoor Environment with Customized Features and Add-ons
To shape your deck into an unparalleled open-space sanctuary, Decks Unique supplies a multitude of custom attributes and ancillary items, incorporating lights designed for decks, in-built chair arrangements, cooking facilities for open-air settings, and fire-centric highlights. These optimizations not only broaden the functional aspects but also forge an amicable and snug setting for you and your invitees to relish.
Thorough Decking Services and More
In addition to our proficiency in deck design and building, Decks Unique also provides expertise in constructing supplementary outdoor structures like wooden awnings, cabanas, gazebos, pergolas, and porches. These additional structures can greatly contribute to the charm of your Long Island home's outdoor environment, turning it into an ideal place for relaxation and festivities.
Let Decks Unique handle all of your decking needs in Melville. Observe the effect of our commitment to outstanding quality, professionalism, and customer satisfaction on your outdoor living space. Connect with us today to arrange a cost-free consultation, and allow us to transform your outdoor area into a breathtaking masterpiece.
Proudly serving Melville, Manhasset, Lake Ronkonkoma, Holbrook, Glen Head, Elwood, East Farmingdale and other Long Island communities.
Offering Long Island Quality Deck Designs and Services: