Introducing Decks Unique - South Huntington's Top-Rated Deck Construction Company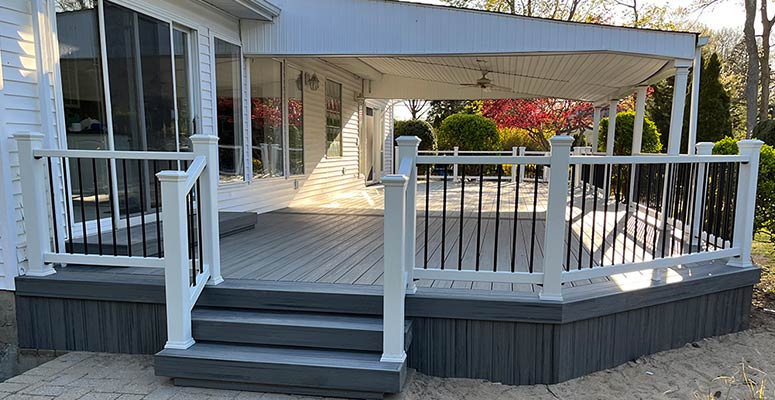 Decks Unique, a family-owned and operated custom deck design and construction business, has catered to the residents of Long Island and nearby areas, like South Huntington, for more than 20 years. Our passion for design and commitment to professionalism, honesty, and innovation have made us the largest producer of high-quality decks on Long Island, setting the standards for the industry. We specialize in designing and building custom decks, porches, gazebos, pergolas, wood awnings, and other outdoor structures that add value, beauty, and functionality to your Long Island home.
Specialized and Experienced Deck Building Providers in South Huntington
At Decks Unique, our perspective is that a well-crafted deck layout is an intelligent decision when looking at home upgrades. At Decks Unique, our skilled professionals in deck building are devoted to providing superior quality, working towards efficient scheduling, and making sure that our warranties retain true long-term value. This commitment to excellence has resulted in countless satisfied customers, and decks that they are proud to show off for many years to come.
Our Long Island decking crews are accredited to fit all primary composite deck options, such as Trex, TimberTech, and Azek. We offer free home consultations and computerized deck designs so that you can visualize your project before it comes to life. Entrust us with your backyard as our forthcoming assignment!
Not only does an excellent deck boost your South Huntington home's outdoor living area, but it also raises the overall property value. We take pride in our specialization at Decks Unique in the creation and construction of custom decks that cater to each client's particular needs and choices. No matter if you desire a comfy location for social events or a grand outdoor paradise to savor the charming weather, our staff will partner with you to create your ideal space.
We recognize that every homeowner has unique preferences and needs for their outdoor areas. For this reason, we provide an extensive selection of materials, designs, and options to build the ideal deck to enhance your home and way of life. We present solutions to suit any budget and preference, ranging from classic wood options like pressure-treated lumber, cedar, and redwood, to the maintenance-free world of composite and PVC decking.
Incomparable Devotion to High Quality and Customer Fulfillment
Decks Unique's commitment to first-class workmanship and customer happiness is unwavering. Every project we tackle meets the highest criteria, thanks to our commitment to using first-rate materials and working with proficient, seasoned builders.
We consider open communication to be the cornerstone of a successful project, and we strive to keep our clients well-informed every step of the way. From the moment our initial consultation begins, through the design and construction phases, and all the way up to the final inspection, our team is tirelessly committed to answering inquiries, tackling concerns, and guaranteeing your happiness with your new deck.
Let Decks Unique transform your South Huntington backyard into an outdoor living space you'll love. Get ahold of us today to schedule an obligation-free consultation and explore the Decks Unique benefits.
Comprehensive Decking Services in South Huntington
A vast array of personalized decking services are available at Decks Unique, aimed at fulfilling the requirements of our clients in South Huntington. At Decks Unique, we excel in everything from creating custom deck designs and constructions to carrying out repairs, maintenance, and refinishing. In addition to our core offerings, Decks Unique provides a variety of exceptional enhancements and additions to upgrade your outdoor living. Let's explore further the array of services we provide at Decks Unique.
Custom Deck Design: Manifesting Your Dream Deck into Reality
Our skilled deck designers will closely collaborate with you to design a customized deck that showcases your individual taste, enhances your home, and caters to the specific needs of your property. To enable you to make sound decisions, our adept advisors will steer you through the process of selecting the right materials, safeguarding enduring sophistication and solidity.
Exceptional Deck Creation: Superior Quality in Craftsmanship for an Eye-Catching Outside Space
As the foremost deck builder, we are devoted to employing first-rate materials and maintaining secure, productive workmanship. Our adept teams are sanctioned installers of major composite decking products like Trex, TimberTech, and Azek. With considerable attention to detail and an emphasis on structural stability, we make certain that your deck is not only visually appealing but also durable over time.
Keeping Your Deck in Tip-Top Shape: Defending Your Investment
Regular upkeep is vital for maintaining your deck's aesthetics and functionality. Our devoted team supplies a wide range of repair and maintenance services for wood and composite decks alike. We cover everything from in-depth inspections for identifying possible issues, to skilled repairs for weather-related damage and everyday wear, making us your go-to resource for deck maintenance. Through our pre-scheduled maintenance programs, you can enjoy the certainty that your deck's outstanding condition will be sustained year-round.
Deck Refinishing and Restoration: Breathe New Life Into Your Outdoor Space
Over an extended period, even the outstanding quality decks might exhibit symptoms of wear or require refinishing to preserve their attractiveness. Our adept team has the ability to bring back your deck's elegance using expert cleaning, staining, weatherproofing, and sealing services. Also, we can provide structural modifications, making certain that your deck continues to be safe and practical for many years ahead.
Individualized Aspects and Additional Pieces: Refine Your Deck Encounters
To refine your outdoor living space, we offer a collection of custom-fitted elements and added features conceived to elevate your deck. These possibilities entail energy-sparing deck lights, incorporated seating, outdoor cooking spaces, and fiery aspects. Embedding these particulars into your deck configuration, we help form a friendly and cozy atmosphere for you to treasure with your dear ones in South Huntington.
Decks Unique specializes in offering clients high-quality deck services in their area and beyond. Our distinguished reputation has been built on 20 years of professionalism, integrity, and novel thinking. Whether you are looking to design a new deck or revamp an existing one, our skilled team is here to help. Book a free consultation with us today, and find out how we can revamp your outdoor space into a stunning and functional retreat.
Discover Your Perfect Deck Material: Wood and Composite Options
Assisting you in creating the ultimate outdoor getaway for your home is our commitment at Decks Unique. As a result, we offer numerous decking materials, with options in both timber and composite varieties. Each material has its unique advantages, ensuring that you can choose the best option for your specific needs and preferences.
Wood Decking: A Refined Classic Look
Being both ageless and flexible, wood imbues a sense of inviting warmth and elegance to outdoor spaces. We have an extensive range of wood deck choices designed to address every aesthetic and budget.
Pressure-Treated Boards: Economically Viable and Robust
Pressure-treated wood is a sought-after choice among many homeowners owing to its reasonably priced and enduring characteristics. This decking material receives a distinctive treatment, making it resistant to rotting and insect infestations. Thus, pressure-treated decks provide enduring quality with reduced maintenance efforts.
The Luxury of Cedar and Redwood: A Natural Resistance
Should you seek a more sumptuous choice, we also present cedar and redwood decking. These attractive and upscale woods have innate resistance to rot and infestation, resulting in a long-lasting deck that weathers beautifully. The vibrant hues and distinct grain designs of cedar and redwood decks create an impressive enhancement to any residence.
Exotic Hardwoods: Stunning and Enduring
If you're looking for a truly unique and exquisite option, consider exotic hardwoods like Ipe, Tigerwood, or Cumaru. These incredibly dense and durable woods are known for their exceptional longevity and striking appearance. Exotic hardwood decks, with their vibrant hues and elaborate designs, serve as breathtaking focal points in any outdoor area.
Pursue a Low-Maintenance Lifestyle with Composite and PVC Decking Options
For anyone interested in an eco-friendly and easy-to-maintain alternative, explore composite and PVC decking. These revolutionary materials marry the elegance of wood with the strength of engineered materials, treating homeowners to a nearly maintenance-free outdoor retreat.
Discover the Benefits and Advantages of Composite Decking
Composite decking, which combines recycled wood fibers and plastic, is a sturdy and green choice. The decking material's ability to resist warping, cracking, and fading ensures a gorgeous and durable deck with a low level of necessary upkeep. Composite decks are also known for their ease of cleaning, requiring only infrequent washes to keep your outdoor space looking its best.
Key Players in the Composite Materials Market
Decks Unique is pleased to join forces with leading composite decking brands, such as Trex, TimberTech, and Azek. Being authorized installers of these extraordinary products allows us to give South Huntington homeowners access to the highest quality materials for a gorgeous and long-lasting outdoor living space.
Customize Your Deck with Color and Texture Options
The extensive array of personalization options is a crucial benefit of composite decking. Choose from many color and texture combinations to create a singular outdoor area that harmonizes with your home's décor. No matter if you appreciate the visuals of natural wood or a cutting-edge design, you'll find a composite decking solution that fits.
Optimize Your Deck's Design with Railing and Baluster Options
A top-notch deck demands the right railing and baluster system to be truly complete. With Decks Unique, you have access to a variety of options that enhance your deck design while guaranteeing safety and functionality in your outdoor area.
Timber Railing Systems: Conventional and Enduring
If you're after a classic and eternal look, a wood railing system could be the way to go. Wood and composite decks alike can benefit from the addition of a wood railing system, providing a seamless integration and consistent style. Painting or staining your wood railing system to align with your deck or South Huntington home exterior helps ensure a captivating final aesthetic.
Metal and Glass Railing Systems: Innovative and Graceful
In case a modern and sleek design appeals to you, take into account utilizing metal or glass railing systems. These options provide a contemporary touch and can enhance the view from your deck, making them a popular choice for homeowners with picturesque surroundings.
Composite Railing Systems: Low-Maintenance, Aesthetic Appeal
Those pursuing a fashionable and elegant option with low upkeep requirements will find composite railing systems to be the perfect choice. These durable and attractive railings provide a cohesive look when paired with composite decking, creating a stunning outdoor space that requires minimal upkeep.
Regardless of your personal preferences, Decks Unique stands ready to help you decide on the most suitable decking materials for your living space. Connect with us today to explore your desires and kick off the design of the outdoor oasis you have always wanted.
Enhance Your Outdoor Living Space with Our Additional Services in South Huntington
We believe in transforming your outside living space into a luxurious and functional part of your home at Decks Unique. Not only do we excel in deck building services, but we also offer additional services such as constructing wooden awnings, cabanas, gazebos, pergolas, and porches. Our proficient specialists in South Huntington closely cooperate with you to materialize your vision, ensuring high quality and long-lasting durability.
Wood Awnings: Add Fashion and Functionality for Your Outdoor Space
Wooden awnings present an ideal solution for incorporating both shade and sophistication to your outdoor space. Our proficient crew at Decks Unique will offer guidance in determining the perfect design and materials for a visually appealing and practical wood awning that goes well with your home's decor. Not only do these structures shield you from extreme weather, but they also boost your property's overall worth.
Cabanas: Set up a Deluxe Oasis in Your South Huntington Backyard
Blending luxury, relaxation, and privacy perfectly, cabanas are an exceptional choice for upgrading any outdoor area. Together with our expert team, you'll design and build a tailor-made cabana that perfectly suits your requirements and taste. Whether you want a cozy space to relax or an elegant area to entertain guests, we can create a cabana that serves as a perfect outdoor retreat.
Gazebos: An Attractive Extension to Your Garden or Patio
A gazebo is a timeless addition to any garden or patio, providing a charming focal point and a shaded area for outdoor relaxation. Our proficient team aids you in picking the optimal aesthetics, materials, and location to incorporate your gazebo seamlessly into your current landscape. Our top-notch craftsmanship ensures an impressive gazebo that enriches your outdoor area and brings joy for numerous years.
Pergolas: Create Eye-catching Architectural Features and Functionality for Your Outdoor Living Area
Adding a pergola is a fantastic method for enhancing your outdoor area's architectural appeal and usefulness. These structures adeptly merge shadow and light, creating an idyllic atmosphere for walkways in gardens, patios, or outdoor dining places. The team of skilled experts at Decks Unique can create and construct a tailor-made pergola that complements your taste and enhances your home's worth.
Porch Creation: Boost Your Home's Curb Appeal and Outdoor Living Space
A tastefully designed porch not only enriches your home's curb appeal but also bestows a cozy alfresco living area for you and your family to enjoy. Our skillful staff will coordinate with you to fashion a custom porch that goes well with your home's architecture and addresses your functional requirements. With our meticulous attention to detail and devotion to high standards, you can feel confident that your porch building project is in capable hands.
Reach out to Decks Unique to transform your South Huntington outdoor living space
Decks Unique is committed to offering top-tier, made-to-order outdoor living solutions for our South Huntington clients and their neighboring areas. Whether you want to add a wood awning, cabana, gazebo, pergola, or porch to your outdoor area, our team of professionals is here to help. Get in touch with us now to chat about your project and learn how we can convert your outdoor living area into a lavish and practical extension of your residence.
Proven Deck Design and Consultation Excellence in South Huntington
Decks Unique is renowned for providing individualized consultations and custom deck plans to fulfill the particular desires of our customers. Boasting more than two decades of expertise, our skilled deck designers collaborate with you to design a deck that augments your home's visual appeal and practicality. By harnessing the power of advanced 3D modeling and visualization techniques, we'll materialize your dream deck, while ensuring the final version fulfills your expectations.
High-grade Decking Elements for Sustained Durability
As the premier deck builder on Long Island, Decks Unique is an authorized installer of popular composite deck products like Trex, TimberTech, and Azek. We also present an array of wooden decking alternatives to accommodate your preferences, like pressure-treated timber, cedarwood, redwood, and rare hardwoods. The use of only premium materials in our work reflects our commitment to building durable, low-maintenance decks.
Exceptional Deck Construction Services in South Huntington
At Decks Unique, our talented deck building professionals are devoted to ensuring exceptional quality and efficiency in all phases of the construction process. With our expert knowledge of building codes, regulations, and permits, you can trust us to handle the entire project from start to finish, leaving you with a stunning and functional outdoor living space.
Maintaining & Restoring the Beauty of Your Deck
The team at Decks Unique knows that consistent care is essential for maintaining the appearance and structural soundness of your deck. Our proficient staff at Decks Unique can inspect and uncover any damages or potential problems, administering essential repairs to maintain your deck in an optimal state. We also supply deck resurfacing and revitalization services, encompassing cleaning, staining, protecting against the elements, and sealing for the preservation and enhancement of your deck's aesthetics.
Improve Your Outdoor Living Area with Custom-built Additions and Elements
To design your deck into a distinctive open-air living space, Decks Unique proposes a wide selection of made-to-order facets and additions, such as lighting specifically for decks, seating integrated within the deck's design, kitchen areas meant for outdoor use, and fire-involved features. These advancements not only heighten practical use, but they also build a pleasant and convivial milieu for you and your visitors to take pleasure in.
Wide-Ranging Decking Services and Extra Offerings
Besides being proficient in deck design and construction, Decks Unique provides services in creating additional outdoor structures like wood awnings, cabanas, gazebos, pergolas, and porch construction. With these extra outdoor installations, your Long Island home's outdoor ambience can be significantly improved, making it the best spot for relaxation and amusement.
In South Huntington, count on Decks Unique to cater to all your decking requirements. Observe the effect of our commitment to outstanding quality, professionalism, and customer satisfaction on your outdoor living space. Reach out to us today for a free consultation, and let us convert your backyard into an exquisite showpiece.
Eager to accommodate the residents of South Huntington, Sayville, Ridge, North Wantagh, North Babylon, Merrick, Manhasset, and other Long Island territories.
Offering Long Island Quality Deck Designs and Services: