Introducing Decks Unique - New Hyde Park's Top-Rated Deck Construction Company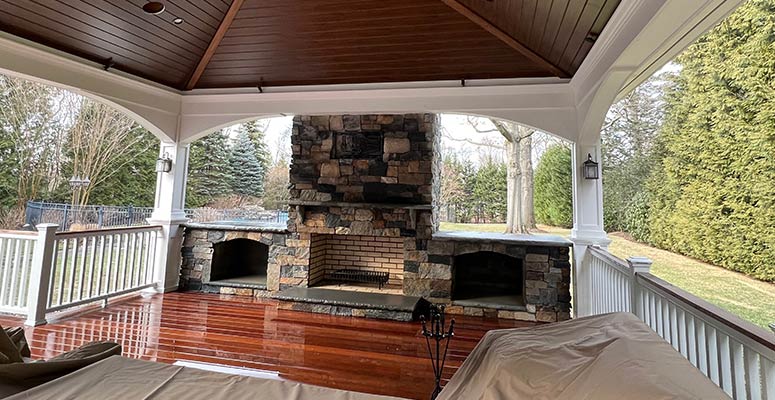 Decks Unique, a family-owned and operated company specializing in custom deck design and construction, has served the communities of Long Island and the surrounding areas, such as New Hyde Park, for over two decades. Our fervor for design, coupled with a strong commitment to professionalism, integrity, and innovation, has positioned us as the foremost manufacturer of high-caliber decks in Long Island, raising the bar for the sector. Decks Unique is skilled in designing and constructing tailor-made decks, porches, gazebos, pergolas, wood awnings, and other exterior structures that increase the value, attractiveness, and practicality of your Long Island residence.
Highly Skilled and Experienced Deck Construction Services in New Hyde Park
We at Decks Unique hold the belief that a well-considered deck plan makes for a prudent choice in the realm of home improvement. Our knowledgeable assembly of expert deck builders is determined to ensure top-quality outcomes, preserve efficiency in production, and ascertain that our warranties hold significant enduring value. This unwavering dedication to excellence has manifested in numerous delighted customers and impressive decks they can confidently display for years to follow.
Our certified Long Island decking contractors can install all popular composite decking brands, including Trex, TimberTech, and Azek. Take advantage of our free home consultations and computer-assisted decking designs to help you imagine your project before it's built. Allow us to transform your backyard into our upcoming venture!
Increase the Value of Your Home with a Custom-Built Deck
Your New Hyde Park home's outdoor living space is not only enriched by a fine deck but also experiences a boost in overall worth. Our team at Decks Unique is dedicated to designing and building custom-made decks that perfectly align with every client's individual needs and preferences. Be it a homely location for entertaining your friends and family or a luxurious outdoor idyll to luxuriate in attractive weather, our team will join forces with you to make your ideal haven a reality.
We recognize that every homeowner has unique preferences and needs for their outdoor areas. Therefore, we offer a vast array of materials, styles, and qualities to develop the perfect deck that blends with your abode and your daily life. We have suitable solutions for every budget and preference, including traditional wood types like pressure-treated lumber, cedar, and redwood, as well as low-maintenance composite and PVC decking.
Exceptional Attention to Premium Quality and Client Pleasure
Decks Unique is deeply committed to delivering top-notch workmanship and ensuring our clients' satisfaction. Our commitment to using only high-quality materials and employing skilled, experienced builders ensures that each project we undertake is completed to the highest standards.
We regard transparent communication as a critical component of project success, and we dedicate ourselves to keeping our clients informed at all times. Throughout the entire process - from initial consultation and design to construction and final inspection - our team is on hand to field questions, respond to any worries, and ensure ultimate satisfaction with your finished deck.
Let Decks Unique transform your New Hyde Park backyard into an outdoor living space you'll love. Contact us today to schedule a free consultation and experience the Decks Unique difference for yourself.
Total Deck Construction Solutions in New Hyde Park
Decks Unique is proud to deliver an array of customized decking services to cater to the diverse requirements of our clients in New Hyde Park. Our proficiency extends from designing and constructing tailor-made decks to managing repairs, maintenance, and refinishing tasks. Additionally, we provide a variety of unique features and add-ons to enhance your outdoor living experience. Take a more detailed look at the assortment of services we proudly offer.
Custom Deck Design: Transforming Your Ideal Deck into Reality
Our exceptional deck designers will work side-by-side with you to fashion a tailor-made deck that conveys your personal touch, perfectly matches your home, and handles the unique expectations of your property. Our masters will help you make discerning selections by providing guidance on material options, ensuring that your deck possesses long-lasting allure and hardiness.
Professional Deck Development: Skillful Artisanship for a Captivating Outdoor Oasis
Being an esteemed deck builder, we dedicate ourselves to using only first-class materials and ensuring safe, efficient labor. Our expert staff are certified installers of top composite decking brands, such as Trex, TimberTech, and Azek. With considerable attention to detail and an emphasis on structural stability, we make certain that your deck is not only visually appealing but also durable over time.
Deck Repair & Maintenance: Safeguarding Your Investment
Routine upkeep is fundamental for preserving your deck's beauty and function. When it comes to wood or composite decks, our committed team covers all aspects of repair and maintenance. Offering complete inspections to uncover potential issues and expert repair services for damages due to the elements or wear, we are your ultimate destination for all things related to deck maintenance. Our organized maintenance plans deliver the confidence that your deck will maintain premium quality throughout the entire year.
Deck Refinishing and Restoration: Revive Your Outdoor Living Area
Over time, even the highest quality decks may show signs of wear or require refinishing to maintain their appearance. Our expert group can recover your deck's beauty with the help of professional cleaning, staining, weatherproofing, and sealing services. Further, we can administer structural optimizations, keeping your deck safe and efficient for a considerable duration.
Made-to-order Qualities and Accessories: Strengthen Your Deck Recreation
To enrich your outdoor living quarters, we supply a wide range of specialized characteristics and extras designed to improve your deck. Included options involve energy-preserving lighting for your deck, integrated seating arrangements, outside kitchens, and fire facilities. We merge these features into your deck's overall structure, creating an inviting and pleasant ambiance for you to cherish with family and friends in New Hyde Park.
Decks Unique specializes in offering clients high-quality deck services in their area and beyond. For more than 20 years, our experience has earned us a reputation for being professional, honest, and groundbreaking. When it comes to designing a fresh deck or improving an existing one, our expert team is at your service. Touch base with us today to organize a free consultation, and let us demonstrate how we can change your outdoor area into a beautiful and practical haven.
Identify the Ideal Deck Material: Wood and Composite Choices
Decks Unique is dedicated to assisting you in developing the ideal outdoor sanctuary for your residence. This is the reason we provide an extensive array of decking materials, encompassing wood and composite selections. Separate materials exhibit specific strengths so that you can determine the best option corresponding to your particular requirements and desires.
Wood Decking Exudes an Everlasting Grace
Timber brings a classic, adaptable quality while offering organic coziness and appeal for all outside areas. Our collection of wood deck possibilities is tailored to fit all styles and financial considerations.
Pressure-Treated Boards: Economically Viable and Robust
A significant number of homeowners find pressure-treated lumber appealing for its inexpensive and durable aspects. This decking material undergoes a special treatment process, protecting it against rot and insect infestation. As a result, pressure-treated decks are long-lasting and require minimal maintenance.
High-End and Resilient Cedar and Redwood: A Natural Concoction
If you're in the market for a high-end solution, consider our cedar and redwood decking options. These visually pleasing and superior woods are gifted with an innate resistance to decay and critters, providing a deck that lasts and grows old gracefully. Cedar and redwood decks, adorned with intense colors and characteristic grain appearances, deliver an awe-inspiring aspect to any house.
Exotic Hardwoods: Sophisticated and Long-lived
For those in search of a genuinely distinctive and splendid option, ponder over selecting exotic hardwoods like Ipe, Tigerwood, or Cumaru. These remarkably strong and resilient woods are renowned for their extraordinary longevity and eye-catching looks. Exotic hardwood decks, known for their brilliant colors and involved patterns, act as show-stopping centerpieces in all outdoor spaces.
Turn to Composite and PVC Decking for a Low-Maintenance Lifestyle
Those looking for a low-maintenance and green choice should think about composite and PVC decking. These inventive materials amalgamate the natural beauty of wood with the durability of synthetic compounds, bestowing homeowners with a virtually maintenance-free outside setting.
Composite Decking: Benefits and Advantages
Constructed from a mix of repurposed wood fibers and plastic, composite decking provides a strong, environmentally conscious choice. This decking option can withstand warping, cracking, and fading, leading to a beautiful and resilient deck that requires little care. Furthermore, composite decks are simple to maintain, needing just infrequent washing to preserve the cleanliness of your outdoor area.
A Look at Industry-Leading Composite Materials Brands
Decks Unique is proud to work with the leading brands in composite decking, including Trex, TimberTech, and Azek. Being certified installers of these outstanding products, we're able to supply New Hyde Park residents with top-notch materials for stunning and durable outdoor spaces.
Personalize Your Deck by Exploring Various Color and Texture Options
A significant advantage of composite decking is the vast array of personalization possibilities. You can design a bespoke outdoor area that matches your home's aesthetic, thanks to various color and texture possibilities. If you have a penchant for natural wood looks or more innovative designs, composite decking offers a compatible option.
Upgrade Your Deck Experience with Railing and Baluster Possibilities
The perfect deck isn't complete without the right railing and baluster system. At Decks Unique, we offer a wide range of options to complement your deck design and ensure the safety and functionality of your outdoor space.
Timber Railing Designs: Conventional and Unchanging
A wood railing system is an excellent choice for a classic and never-outdated appearance. Wood railing systems work well with both wooden and composite decks, resulting in a harmonious and unified style. Create a breathtaking finished look by painting or staining your wood railing system to complement your deck or the exterior of your New Hyde Park home.
Metal and Glass Railing Systems: Trendy and Slick
Should you fancy a contemporary and streamlined look, think about opting for metal or glass railing systems. These railing systems bring a current flair while enhancing the panorama from your deck, which is highly appreciated by property owners with beautiful surroundings.
Composite Railing Systems: Easy-Care and Elegant
For individuals who desire a low-upkeep solution while maintaining sophistication and elegance, composite railing systems make an ideal choice. Featuring both durability and charm, these railings, when paired with composite decking, establish an attractive and consistent look, ultimately constructing a beautiful outdoor living area requiring limited upkeep.
No matter what you prefer, Decks Unique is available to guide you in choosing the best decking materials for your house. Touch base with us today to present your needs and launch the design of the outdoor sanctuary of your dreams.
Improve Your Outdoor Living Area with Our Additional Offerings in New Hyde Park
Decks Unique aims to turn your outdoor living space into a charming and functional extension of your dwelling. In addition to our outstanding deck construction services, we also provide a range of supplementary services like wooden awnings, cabanas, gazebos, pergolas, and building porches. Our adept experts in New Hyde Park collaborate with you to manifest your vision, while guaranteeing exceptional quality and enduring durability.
Wooden Awnings: Add a Touch of Style and Shade to Your Outdoor Space
The use of wood awnings can impart both shade and refinement to your outdoor zone. The proficient staff at Decks Unique will guide you in picking the perfect design and materials to fashion an appealing and functional wood awning that suits your home's style. These timber structures not only shield you from adverse weather but also enhance the total value of your property.
Cabanas: Assemble a Sophisticated Retreat in Your New Hyde Park Outdoor Space
Providing a seamless mix of luxury, comfort, and seclusion, cabanas are an excellent enhancement to any outdoor space. Together with our expert team, you'll design and build a tailor-made cabana that perfectly suits your requirements and taste. From a cozy sanctuary for relaxation to a chic locale for socializing with friends, we can craft a cabana that makes for the perfect open-air haven.
Gazebos: A Dreamy Addition to Your Garden or Patio Area
Incorporating a gazebo in a garden or patio lends perpetual elegance, offering an alluring centerpiece and a cool alcove for outdoor unwinding. The experienced team at Decks Unique will help you identify the perfect style, materials, and positioning for your gazebo, so it blends seamlessly with your existing landscape. With our expert craftsmanship, you can enjoy a stunning gazebo that enhances the beauty of your outdoor space for years to come.
Pergolas: Create Eye-catching Architectural Features and Functionality for Your Outdoor Living Area
Integrating a pergola into your outdoor living area is an outstanding approach for increasing architectural attractiveness and functionality. Pergolas offer a balance of shading and natural illumination, which suits them well for use in garden walkways, outdoor patios, or dining areas. Let Decks Unique's knowledgeable professionals plan and build a customized pergola to match your style, and in doing so, increase your home's value.
Porch Assembly: Augment Your Home's Curb Appeal and Outdoor Living Space
An artfully designed porch not only advances your home's curb appeal but also serves up a comfy outdoor living spot for you and your family to cherish. Our professional team will collaborate with you to develop a tailor-made porch that harmonizes with your home's architectural style and fulfills your practical requirements. With our keen eye for detail and dedication to excellence, you can have peace of mind knowing your porch construction endeavor is well taken care of.
Talk to Decks Unique for improving your New Hyde Park outdoor living space
Decks Unique specializes in delivering premium, custom-crafted outdoor living solutions to our New Hyde Park clients and the surrounding areas. Seeking to integrate a wood awning, cabana, gazebo, pergola, or porch into your outdoor area? Our team of specialists is prepared to help. Reach out to us today to talk about your project and find out how we can turn your outdoor living space into an opulent and functional addition to your home.
New Hyde Park's Premier Deck Consultation and Design Experts
Decks Unique is renowned for providing individualized consultations and custom deck plans to fulfill the particular desires of our customers. With over 20 years of know-how, our expert deck designers will cooperate closely with you to devise a deck that elevates your home's looks and utility. Using advanced 3D modeling and visualization techniques, we'll bring your dream deck to life, ensuring the final product meets your expectations.
Outstanding Decking Materials for Long-lasting Resilience
Decks Unique, Long Island's leading deck builder, is accredited to install all major composite deck materials, including popular brands such as Trex, TimberTech, and Azek. We have a range of wood decking options to cater to your needs, such as pressure-treated boards, cedar, redwood, and imported hardwoods. Our devotion to employing only first-class materials ensures your new deck's longevity and minimal upkeep.
Premier Deck Construction Services in New Hyde Park
At Decks Unique, our talented deck building professionals are devoted to ensuring exceptional quality and efficiency in all phases of the construction process. Armed with our extensive understanding of building codes, rules, and permits, you can rely on us to manage the whole project from beginning to end, resulting in a breathtaking and practical outdoor space.
Hold and Re-establish Your Deck's Gorgeousness
At Decks Unique, we are conscious of the pivotal role regular maintenance plays in preserving your deck's visual charm and solid framework. Our experienced team can inspect and identify any damages or potential issues, providing necessary repairs to keep your deck in top condition. Additionally, we offer deck refinishing and restoration services, including cleaning, staining, weatherproofing, and sealing to protect and enhance your deck's appearance.
Boost Your Outdoor Setting with Custom Solutions and Add-ons
To design your deck into a distinctive open-air living space, Decks Unique proposes a wide selection of made-to-order facets and additions, such as lighting specifically for decks, seating integrated within the deck's design, kitchen areas meant for outdoor use, and fire-involved features. These embellishments not only extend usability, but they also create a snug and appealing air for you and your guests to find joy in.
Thorough Decking Services and More
Decks Unique not only excels in deck designing and construction but also focuses on additional outdoor structures, including wooden awnings, cabanas, gazebos, pergolas, and porch construction. These outdoor structures can elevate your Long Island property's outdoor appeal, making it a prime location for enjoying downtime and entertaining guests.
For all your decking desires in New Hyde Park, choose Decks Unique. See how our commitment to excellence, professionalism, and customer satisfaction enhances your outdoor space. Connect with us today to arrange a cost-free consultation, and allow us to transform your outdoor area into a breathtaking masterpiece.
Eager to accommodate the residents of New Hyde Park, Merrick, Manhasset, Lake Ronkonkoma, Holbrook, Glen Cove, Elwood, and other Long Island territories.
Offering Long Island Quality Deck Designs and Services: