Discover Decks Unique - The Leading Deck Builder in North Valley Stream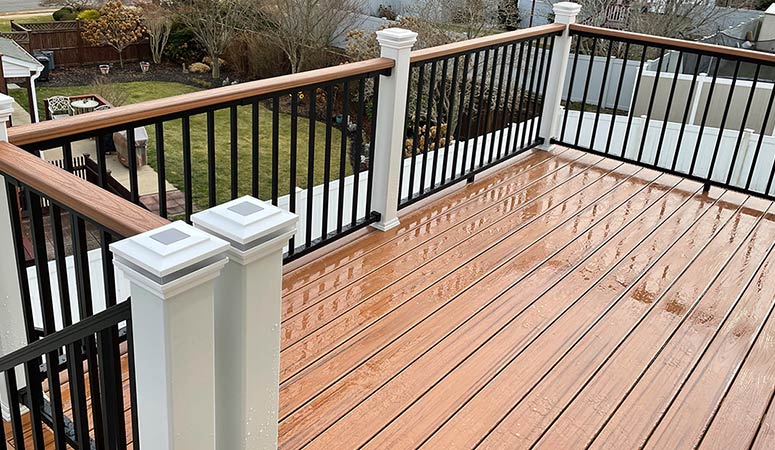 Decks Unique, a family-owned and operated custom deck design and construction business, has catered to the residents of Long Island and nearby areas, like North Valley Stream, for more than 20 years. Decks Unique's dedication to design, professionalism, integrity, and innovation has elevated us to become the leading producer of high-quality decks in Long Island, defining industry standards. We're adept at designing and constructing personalized decks, porches, gazebos, pergolas, wooden awnings, and a variety of outdoor installations that improve the value, aesthetics, and practicality of your Long Island household.
North Valley Stream Deck Building Services with Expertise and Experience
At Decks Unique, we know that a well-executed deck design proves to be a great investment when pondering home enhancements. Our knowledgeable assembly of expert deck builders is determined to ensure top-quality outcomes, preserve efficiency in production, and ascertain that our warranties hold significant enduring value. This relentless dedication to superior workmanship has delivered countless gratified customers and exceptional decks they can take pride in for years.
Our Long Island deck building crews are authorized installers of all major composite deck products, such as Trex, TimberTech, and Azek. Enjoy our complimentary house visits and computer-rendered deck blueprints that let you perceive your deck before it's physically realized. Make your backyard the site for our subsequent project!
Raise Your Home's Value by Installing a Bespoke Deck
A superior deck not only augments the external living space of your North Valley Stream home but also bolsters its property value. Decks Unique specializes in the planning and building of tailor-made decks that satisfy each of our clients' distinctive needs and inclinations. Regardless of whether you want an inviting space to entertain loved ones or a haven to appreciate the delightful weather, we will work in harmony with you to actualize your vision.
We appreciate that every homeowner has distinct preferences and needs for their outdoor environments. That's why we make available a large range of materials, designs, and components to fashion the perfect deck that aligns with your house and personal routines. Whether you prefer classic wood choices like pressure-treated lumber, cedar, and redwood, or easy-care composite and PVC decking options, we have the perfect solution for every budget and style.
Unparalleled Commitment to Quality and Customer Satisfaction
Providing exceptional workmanship and keeping our clients satisfied is our top priority at Decks Unique. Our devotion to first-class materials and engaging the services of experienced contractors guarantees the superior completion of each project we take on.
For a project to be successful, we believe communication is key, and we place great importance on keeping our clients aware of every development. Throughout the entire process - from initial consultation and design to construction and final inspection - our team is on hand to field questions, respond to any worries, and ensure ultimate satisfaction with your finished deck.
Give Decks Unique the chance to modify your North Valley Stream backyard into a cozy outdoor living space you'll love. Don't hesitate to contact us today for a free consultation and to witness the Decks Unique experience.
In-depth Decking Assistance in North Valley Stream
Decks Unique is proud to deliver an array of customized decking services to cater to the diverse requirements of our clients in North Valley Stream. Our proficiency extends from designing and constructing tailor-made decks to managing repairs, maintenance, and refinishing tasks. In addition to our core offerings, Decks Unique provides a variety of exceptional enhancements and additions to upgrade your outdoor living. Take a closer look at the comprehensive list of services we have to offer.
Custom Deck Design: Creating the Perfect Dream Deck for You
Our expert deck designers will work hand-in-hand with you to produce a tailored deck that mirrors your personal flair, complements your residence, and addresses the exclusive demands of your property. With the purpose of helping you make smart decisions, our experts will navigate you through choosing materials, securing a long-lasting and beautiful result that stands the test of time.
Professional Deck Development: Skillful Artisanship for a Captivating Outdoor Oasis
As an elite deck builder, we are resolved to use only high-quality materials and employ safe, efficient craftsmanship. Our adept teams are sanctioned installers of major composite decking products like Trex, TimberTech, and Azek. With rigorous attention to detail and a commitment to structural robustness, we confirm that your deck is not only striking but also stands firm for years to come.
Keeping Your Deck in Tip-Top Shape: Defending Your Investment
Keeping your deck beautiful and functional requires regular maintenance. For both wood and composite decks, our committed team provides extensive maintenance and repair services. We cover everything from in-depth inspections for identifying possible issues, to skilled repairs for weather-related damage and everyday wear, making us your go-to resource for deck maintenance. Our systematic maintenance programs ensure that you can trust your deck to maintain its excellence all year long.
Deck Restoration and Refinishing: Reimagine Your Outdoor Sphere
As time passes, even the most excellent decks could show indications of wear or demand refinishing to sustain their visual allure. Our adept team has the ability to bring back your deck's elegance using expert cleaning, staining, weatherproofing, and sealing services. Plus, we can undertake structural alterations, confirming that your deck stays safe and usable for an extended period.
Adapted Facets and Complementary Elements: Optimize Your Deck Satisfaction
In order to uplift your outdoor living space, we extend a series of personalized features and additional components aimed at boosting your deck. Included options involve energy-preserving lighting for your deck, integrated seating arrangements, outside kitchens, and fire facilities. Embedding these particulars into your deck configuration, we help form a friendly and cozy atmosphere for you to treasure with your dear ones in North Valley Stream.
At Decks Unique, we specialize in providing top-quality decking services to clients and the surrounding areas. Over our 20 years in the business, we've carved out a reputation for professionalism, dependability, and innovation. If you want to build a new deck or refurbish your existing one, our highly skilled team is on hand to help. Get in touch with us today to arrange a complimentary consultation and uncover how we can convert your exterior space into an attractive, useful oasis.
Compare Wood and Composite Options to Discover Your Perfect Deck Material
Our commitment at Decks Unique is to help you establish an impeccable outdoor retreat for your dwelling. This is why we have an expansive array of decking materials at our disposal, featuring both wood and composite options. Each material has its unique advantages, ensuring that you can choose the best option for your specific needs and preferences.
Experience the Classic Charm of Wood Decking
Timber brings a classic, adaptable quality while offering organic coziness and appeal for all outside areas. Discover numerous wood decking solutions that cater to each individual's taste and budget requirements.
Treated Wood: Budget-conscious and Long-lasting
For many homeowners, pressure-treated lumber is a preferred option because of its budget-friendly and tough nature. The decking material is treated specially to guard against wood rot and insect invasion. Pressure-treated decks, as a consequence, stand the test of time and demand little maintenance.
Cedar and Redwood: Nature's Luxury with Built-In Resistance
For those seeking a more luxurious option, we also offer cedar and redwood decking. The eye-catching and high-grade woods are organically immune to decay and bug damage, ensuring a deck that remains sturdy for years to come. Sporting vivid tones and extraordinary grain textures, cedar and redwood decks serve as a remarkable addition to any dwelling.
Exotic Hardwoods: Elegant and Resilient
For a truly unparalleled and elegant choice, give some thought to exotic hardwoods such as Ipe, Tigerwood, or Cumaru. These uncommonly sturdy and enduring woods are well known for their amazing long-lasting qualities and gorgeous appearance. Captivating colors and fascinating patterns of exotic hardwood decks contribute to a magnificent centerpiece for any outdoor environment.
Embrace Low-Maintenance Living with the Help of Composite and PVC Decking
Those looking for a low-maintenance and green choice should think about composite and PVC decking. These innovative materials combine the beauty of wood with the durability of synthetic materials, providing homeowners with a nearly maintenance-free outdoor space.
Understanding the Benefits and Advantages of Composite Decking
Constructed from a mix of repurposed wood fibers and plastic, composite decking provides a strong, environmentally conscious choice. This type of decking material is impervious to issues like warping, cracking, and color loss, guaranteeing a stunning and durable deck that needs little attention. In addition, maintaining the cleanliness of composite decks is quite simple, requiring only a periodic wash to keep your outdoor area in pristine condition.
Key Players in the Composite Materials Market
Decks Unique is proud to work with the leading brands in composite decking, including Trex, TimberTech, and Azek. We can deliver the best quality materials for an attractive and long-lasting outdoor space to North Valley Stream homeowners, as we are authorized installers of these first-rate products.
Create a Distinctive Deck with Color and Texture Selections
A significant advantage of composite decking is the vast array of personalization possibilities. Having a myriad of color and texture options allows you to fashion a one-off outdoor space that connects with your home's design. Any preference for natural wood aesthetics or contemporary designs can be accommodated with the right composite decking choice.
Upgrade Your Deck Experience with Railing and Baluster Possibilities
To be complete, the perfect deck calls for the appropriate railing and baluster system. At Decks Unique, we feature a vast collection of alternatives to match your deck design and ensure your outdoor area remains safe and functional.
Timber Railing Systems: Conventional and Enduring
If you want a classic and enduring aesthetic, contemplate a wood railing system. Both wood and composite decks can be perfectly matched by a wood railing system, ensuring a smooth and integrated look. Wood railing systems can be painted or stained to match your deck or North Valley Stream home exterior, ensuring a stunning final result.
Metal and Glass Railing Systems: Contemporary and Elegant
In case a modern and sleek design appeals to you, take into account utilizing metal or glass railing systems. These railing systems bring a current flair while enhancing the panorama from your deck, which is highly appreciated by property owners with beautiful surroundings.
Composite Railing Systems: Low Fuss and Attractive
For a low-maintenance, stylish, and elegant solution, composite railing systems are the perfect fit. These strong and stylish railings, when matched with composite decking, bring about a cohesive appearance, resulting in a stunning low-maintenance outdoor space.
Regardless of your favorite styles, Decks Unique is ready to help you identify the ideal decking components for your household. Connect with us today to explore your desires and kick off the design of the outdoor oasis you have always wanted.
Elevate Your Outdoor Living Experience with Our Supplementary Services in North Valley Stream
We at Decks Unique are dedicated to converting your outdoor living space into an opulent and functional part of your home. In addition to our outstanding deck construction services, we also provide a range of supplementary services like wooden awnings, cabanas, gazebos, pergolas, and building porches. The skilled professionals at North Valley Stream diligently collaborate with you in order to transform your vision into reality while ensuring top-notch quality and durability.
Wood Awnings: Enhance Your Outdoor Area with Shade and Style
Adding wood awnings is a superb method to introduce shade and elegance to your outdoor space. At Decks Unique, our adept team will support you in selecting the correct design and materials to build a stunning and effective wood awning that complements your home's appearance. These installations not only safeguard you from harsh weather but also contribute to the overall appreciation of your property's value.
Cabanas: Establish an Elegant Haven in Your North Valley Stream Greenspace
Cabanas boast a unique mix of lavishness, relaxation, and privacy, making them an attractive addition to any outside environment. Our skilled professionals will partner with you in designing and constructing a personalized cabana that fulfills your unique necessities and preferences. Whether you're looking for a comfortable nook to unwind or a sophisticated space to entertain visitors, we can fashion a cabana that becomes your ultimate al fresco getaway.
Gazebos: A Dreamy Addition to Your Garden or Patio Area
A gazebo is a timeless addition to any garden or patio, providing a charming focal point and a shaded area for outdoor relaxation. With our skilled team's guidance, you'll select the right style, materials, and site for your gazebo, ensuring harmonious integration with your existing surroundings. Our top-notch craftsmanship ensures an impressive gazebo that enriches your outdoor area and brings joy for numerous years.
Pergolas: Elevate Your Outdoor Living Space's Interest and Utility through Architecture
Pergolas offer a brilliant solution for infusing architectural style and practical purposes into your outdoor environment. These structures provide partial shade while still allowing natural light to filter through, making them perfect for garden walkways, patios, or outdoor dining areas. At Decks Unique, our experienced professionals will design and build a custom pergola that matches your style and adds value to your home.
Porch Development: Elevate Your Home's Curb Appeal and Outdoor Lifestyle
A thoughtfully designed porch not only elevates your home's curb appeal but also supplies a pleasant outdoor living area for you and your family to appreciate. Our seasoned group will join forces with you to execute a customized porch design that suits your home's architecture and meets your purposeful needs. With our comprehensive attention to even the smallest detail and steadfast pledge to premium quality, you can breathe easy knowing your porch assembly project is in proficient hands.
Reach out to Decks Unique to transform your North Valley Stream outdoor living space
Decks Unique is devoted to providing high-caliber, customized outdoor living possibilities to those in North Valley Stream and nearby locations. If you're interested in incorporating a wood awning, cabana, gazebo, pergola, or porch to your exterior space, our team of experts is ready to assist. Discuss your project with us today and find out how we can turn your outdoor living environment into a comfortable and efficient extension of your residence.
Top-notch Deck Consulting and Design Solutions in North Valley Stream
Decks Unique specializes in delivering bespoke consultations and customized deck plans, ensuring that every client's needs are met. With over 20 years of experience, our professional deck designers will work closely with you to create a deck that enhances your home's aesthetics and functionalities. We'll employ top-tier 3D modeling and visualization strategies to turn your dream deck into a reality, guaranteeing that the resulting product lives up to your anticipations.
Durable Deck Materials for Extended Life Expectancy
Decks Unique, the preeminent deck builder on Long Island, is authorized to install all renowned composite decking products, featuring brands like Trex, TimberTech, and Azek. Moreover, we supply a selection of wood decking possibilities to fit your desires, featuring pressure-treated lumber, cedar, redwood, and specialty hardwoods. Our dedication to using top-quality materials guarantees a long-lasting, low-maintenance deck for your home.
High-Quality Deck Construction Services in North Valley Stream
The proficient deck construction team at Decks Unique takes pride in offering excellent craftsmanship and streamlined efficiency during every step of the building process. Due to our profound expertise in building codes, standards, and permits, you can depend on us to oversee the complete project from inception to completion, delivering a striking and functional outdoor area.
Preserving and Rejuvenating Your Deck's Aesthetics
Decks Unique understands how vital routine upkeep is in protecting the appeal and infrastructure of your deck. Our knowledgeable team can evaluate and detect any damage or potential risks, undertaking necessary repairs to retain your deck in the best possible condition. In addition, Decks Unique offers deck renewal and refinishing services, featuring cleaning, staining, weatherproofing, and sealing procedures to defend and enrich your deck's visual appeal.
Raise the Standard of Your Outside Area with Unique Features and Add-ons
To shape your deck into an unparalleled open-space sanctuary, Decks Unique supplies a multitude of custom attributes and ancillary items, incorporating lights designed for decks, in-built chair arrangements, cooking facilities for open-air settings, and fire-centric highlights. These embellishments not only extend usability, but they also create a snug and appealing air for you and your guests to find joy in.
All-Inclusive Decking Offerings and Additional Services
Decks Unique specializes not only in deck design and building but also in constructing other outdoor structures such as wooden awnings, cabanas, gazebos, pergolas, and porches. These extra structures will considerably enrich your Long Island home's outdoor area, providing the perfect space for both relaxation and entertainment.
Rely on Decks Unique for all of your decking demands in North Valley Stream. Explore the difference our devotion to high-quality work, professionalism, and happy customers brings to your outdoor space. Reach out to us today for a free consultation, and let us convert your backyard into an exquisite showpiece.
Happy to support the communities of North Valley Stream, North Babylon, Middle Island, Manorville, Lawrence, Holbrook, Glen Head, and other areas throughout Long Island.
Offering Long Island Quality Deck Designs and Services: