Check out Decks Unique - Medford's Exceptional Deck Building Professionals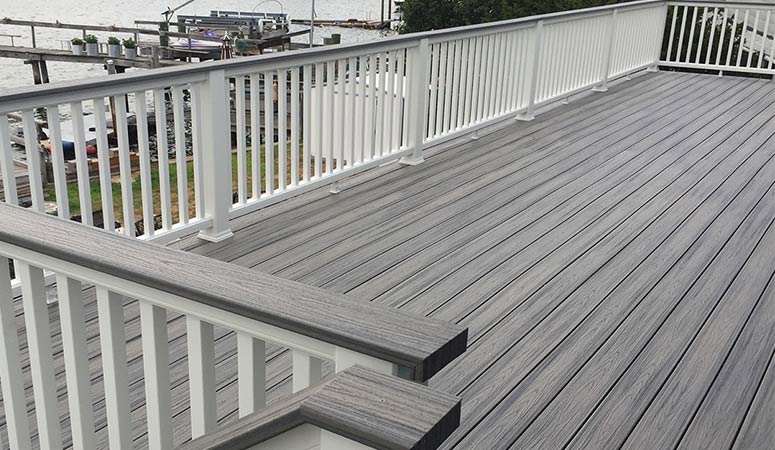 Decks Unique, a family-owned and operated company specializing in custom deck design and construction, has served the communities of Long Island and the surrounding areas, such as Medford, for over two decades. Thanks to our enthusiasm for design and steadfast commitment to professionalism, integrity, and innovation, we've emerged as the top producer of premium decks on Long Island, setting the benchmark for the industry. We're adept at designing and constructing personalized decks, porches, gazebos, pergolas, wooden awnings, and a variety of outdoor installations that improve the value, aesthetics, and practicality of your Long Island household.
Deck Building Services with Expertise and Experience in Medford
Decks Unique upholds the idea that a thoughtfully devised deck design constitutes a wise investment in home improvement. Our proficient group of skilled deck craftspeople prioritizes first-rate quality, adheres to streamlined production timelines, and lets you rest assured knowing our warranties carry lasting worth. This unyielding determination to achieve the best has yielded thousands of happy customers and decks they are eager to showcase, now and in the future.
Our Long Island decking crews are accredited to fit all primary composite deck options, such as Trex, TimberTech, and Azek. Enjoy our complimentary house visits and computer-rendered deck blueprints that let you perceive your deck before it's physically realized. Let your backyard be the canvas for our next masterpiece!
Heighten Your Home's Worth with Your Own Custom Deck
A top-quality deck serves to enhance the open-air living quarters of your Medford dwelling while also heightening its value. Decks Unique's forte is in the design and production of bespoke decks that adhere to the distinct demands and tastes of all our customers. If you want a casual space for hosting gatherings or an upscale oasis to soak up the beautiful weather, our professionals will diligently work alongside you to realize your vision.
We understand that each homeowner in has different tastes and requirements for their outdoor spaces. Consequently, we offer a broad assortment of materials, designs, and aspects to construct the perfect deck that matches your residence and your living habits. From classic wooden choices such as pressure-treated wood, cedar, and redwood, to the low-maintenance composite and PVC decking options, we have the ideal solution for any budget and taste.
Incomparable Devotion to High Quality and Customer Fulfillment
We take great pride in our high-quality workmanship and client satisfaction at Decks Unique. Utilizing premium materials and employing accomplished builders allows us to uphold the highest standards in every project we handle.
We think that effective communication is crucial for project success, and it's our top priority to keep clients in the loop throughout the process. Starting with the initial consultation, through the design and construction phases, all the way to the final inspection, our team remains accessible to answer any questions, alleviate concerns, and guarantee complete satisfaction with your new deck.
Enable Decks Unique to make your Medford backyard into an inviting outdoor living environment you'll appreciate. Contact us right away to plan a free consultation and see the Decks Unique difference in person.
All-inclusive Decking Solutions in Medford
At Decks Unique, we pride ourselves on offering a wide range of decking services tailored to meet the needs of our clients in Medford. We specialize in a variety of custom deck services, including designing and building decks, as well as providing repairs, maintenance and refinishing. At Decks Unique, we also supply a variety of distinct features and additional options to augment your outdoor living enjoyment. Let's take a closer look at the services we offer.
Custom Deck Design: Realizing Your Dream Deck through Expert Design
Our adept deck designers will cooperate with you to create a personalized deck that expresses your distinctive style, accents your home, and accommodates the particular requirements of your property. To empower you to make well-versed decisions, our seasoned consultants will lead you through the material-picking phase, promising sustained grace and durability for your deck.
Top-Notch Deck Construction: High-Quality Craftsmanship for a Beautiful Outdoor Living Space
Being an esteemed deck builder, we dedicate ourselves to using only first-class materials and ensuring safe, efficient labor. Our accomplished crew members are qualified installers of renowned composite deck materials, such as Trex, TimberTech, and Azek. With considerable attention to detail and an emphasis on structural stability, we make certain that your deck is not only visually appealing but also durable over time.
Deck Repair and Maintenance: Protecting Your Investment
Routine maintenance is necessary for preserving the attractiveness and usefulness of your deck. We have a dedicated team that offers all-inclusive repair and upkeep services for both wood and composite decks. Our services range from comprehensive inspections to pinpoint potential problems, to expert repairs for weather or wear damage, ensuring we're the ultimate solution for all your deck maintenance needs. Our organized maintenance plans deliver the confidence that your deck will maintain premium quality throughout the entire year.
Deck Refinishing and Restoration: Rejuvenate Your Exterior Space
Over the years, even the finest decks might manifest signs of wear or ask for refinishing to conserve their visual charm. Our proficient team can revive your deck's splendor by means of professional cleaning, staining, weatherproofing, and sealing. Furthermore, we can carry out structural upgrades to make sure your deck stays secure and operational in the long term.
Individualized Aspects and Additional Pieces: Refine Your Deck Encounters
In order to uplift your outdoor living space, we extend a series of personalized features and additional components aimed at boosting your deck. Some of the options are energy-efficient light fittings on decks, internal seating, exterior cooking areas, and fire-inspired features. We merge these features into your deck's overall structure, creating an inviting and pleasant ambiance for you to cherish with family and friends in Medford.
Decks Unique excels in furnishing clients and the surrounding communities with superior-quality decking services. With over 20 years of experience in the industry, we have built a reputation for professionalism, honesty, and innovation. Our talented team is ready to assist, whether you'd like to create a new deck or upgrade an existing one. Schedule a complimentary consultation with us today, and explore the possibilities to transform your outdoor space into a beautifully functional sanctuary.
Explore the Perfect Deck Material for Your Needs: Wood and Composite Alternatives
Decks Unique is all about empowering you to create an amazing outdoor utopia within your home. That's why we offer a wide variety of decking materials, including both wood and composite options. All of the materials come with their distinct advantages, allowing you to handpick the most appropriate alternative based on your specified needs and preferences.
Wood Decking Offers Timeless Elegance
Wood, with its enduring and adaptable properties, naturally lends warmth and charisma to any exterior area. Our selection of wooden deck options caters to an array of preferences and financial plans.
Treated Lumber: Inexpensive and Strong
Pressure-treated lumber is a popular choice for many homeowners due to its affordability and durability. Protection from wood deterioration and insect issues is provided by a special treatment process for this decking material. Pressure-treated decks last a long time and necessitate minimal care due to this treatment.
Luxury Meets Durability: The Wonders of Cedar and Redwood
For those seeking a more luxurious option, we also offer cedar and redwood decking. These beautiful and high-end woods are naturally resistant to decay and insects, ensuring a long-lasting deck that ages gracefully. With their deep pigments and singular grain markings, cedar and redwood decks offer a captivating augmentation to any home.
Exotic Hardwoods: Beautiful and Durable
For those in search of a genuinely distinctive and splendid option, ponder over selecting exotic hardwoods like Ipe, Tigerwood, or Cumaru. Thanks to their substantial density and ruggedness, these woods are celebrated for their incredible durability and strikingly beautiful appearance. With vivid colors and detailed patterns, exotic hardwood decks provide a striking focal point for outdoor spaces.
Experience Low-Maintenance Living through Composite and PVC Decking
If you're after a green and low-maintenance substitute, evaluate the merits of composite and PVC decking. These state-of-the-art materials join the attractiveness of wood with the resilience of synthetics, supplying homeowners with an outdoor space that requires minimal maintenance.
Advantageous Features and Benefits of Composite Decking
With a mixture of repurposed wood fibers and plastic, composite decking is a resilient and Earth-friendly selection. Thanks to its resistance to warping, cracking, and fading, this decking material yields an eye-catching, long-lasting deck that demands minimal maintenance. In addition, maintaining the cleanliness of composite decks is quite simple, requiring only a periodic wash to keep your outdoor area in pristine condition.
Top Brands in the Composite Materials Industry
Teaming up with prominent composite decking brands like Trex, TimberTech, and Azek is a matter of pride for Decks Unique. Being authorized installers of these extraordinary products allows us to give Medford homeowners access to the highest quality materials for a gorgeous and long-lasting outdoor living space.
Create a Distinctive Deck with Color and Texture Selections
One of the major benefits of composite decking is the wide range of customization options. With numerous color and texture options, you can design a unique outdoor area tailored to your home's style. You can find a fitting composite decking solution to satisfy your inclination for natural wood or modern design aesthetics.
Upgrade Your Deck Experience with Railing and Baluster Possibilities
The ultimate deck won't be whole without the fitting railing and baluster system. At Decks Unique, we provide numerous choices to augment your deck design and maintain the security and practicality of your outdoor living space.
Wood Railing Systems: Traditional and Timeless
When aiming for a classic and perpetual style, a wood railing system might be the perfect choice. Wood railing systems can be used with both wooden and composite decking for a well-coordinated and seamless design. Wood railing systems can be painted or stained to match your deck or Medford home exterior, ensuring a stunning final result.
Metal and Glass Railing Systems: Current and Refined
In case a modern and sleek design appeals to you, take into account utilizing metal or glass railing systems. Both metal and glass railing systems deliver a contemporary feel while also augmenting the viewpoint from your deck area, winning over homeowners with captivating settings.
Composite Railing Systems: Effortless Maintenance and Stylish
For individuals who desire a low-upkeep solution while maintaining sophistication and elegance, composite railing systems make an ideal choice. The resilient and captivating railings offer a consistent aesthetic when used in conjunction with composite decking, cultivating an exquisite outdoor space with low maintenance needs.
Regardless of your favorite styles, Decks Unique is ready to help you identify the ideal decking components for your household. Contact us today to discuss your needs and begin designing the outdoor space of your dreams.
Take Your Outdoor Living Space to the Next Level with Our Added Services in Medford
We at Decks Unique are dedicated to converting your outdoor living space into an opulent and functional part of your home. Our services extend beyond remarkable deck building, as we also provide a variety of supplementary services such as wood awnings, cabanas, gazebos, pergolas, and porch construction. Our proficient specialists in Medford closely cooperate with you to materialize your vision, ensuring high quality and long-lasting durability.
Wood Awnings: Boost Your Outdoor Space's Style and Shade
Wood awnings serve as an effective way to integrate both shade and elegance into your outdoor surroundings. The competent team at Decks Unique is committed to helping you identify the most suitable design and materials for a beautiful and functional wood awning that enhances your home's look. The wood awnings not only ensure protection from extreme weather conditions but also improve your property's overall worth.
Cabanas: Build an Opulent Sanctuary in Your Medford Yard
With a remarkable marriage of luxury, ease, and privacy, cabanas make for an outstanding complement to any outdoor space. Our experienced team will work alongside you to plan and erect a unique cabana that caters to your distinct needs and preferences. Whether you want a cozy space to relax or an elegant area to entertain guests, we can create a cabana that serves as a perfect outdoor retreat.
Gazebos: An Elegant Inclusion in Your Garden or Patio
A gazebo brings lasting appeal to gardens or patios, creating an inviting central attraction and a shaded space for outdoor downtime. Our adept team works with you to find the ideal appearance, materials, and setting for your gazebo, assuring flawless integration into your current garden or patio. With our high-quality craftsmanship, you'll have a gorgeous gazebo that not only complements but also enhances your outdoor space for years to come.
Pergolas: Create Eye-catching Architectural Features and Functionality for Your Outdoor Living Area
Integrating a pergola into your outdoor living area is an outstanding approach for increasing architectural attractiveness and functionality. Pergolas inherently deliver a mix of shaded areas and sunlit spaces, ideally suiting them for the likes of garden promenades, terraces, or eateries outdoors. At Decks Unique, our experienced professionals will design and build a custom pergola that matches your style and adds value to your home.
Porch Construction: Enhance Your Home's Curb Appeal and Outdoor Living Space
A proficiently designed porch not only increases your home's curb appeal but also presents a comfortable open-air living space for you and your family to take pleasure in. Our knowledgeable team will partner with you to build a personalized porch that fits your home's architectural theme and adheres to your functional demands. With our rigorous attentiveness to detail and unyielding dedication to exceptional quality, you can rest easy knowing your porch fabrication assignment is in trustworthy hands.
Reach out to Decks Unique to transform your Medford outdoor living space
At Decks Unique, providing superior, custom-made outdoor living options for our clients in Medford and the adjacent areas is our mission. Should you desire to add a wood awning, cabana, gazebo, pergola, or porch to your outdoor living environment, our adept team is here for support. Let's chat about your project today, and we'll reveal how we can change your outdoor living space into a luxurious and practical component of your home.
Specialist Deck Consultation and Design Services in Medford
At Decks Unique, personalizing consultations and crafting custom deck designs to align with the individual requirements of our clients is our top priority. Our seasoned deck designers, with over 20 years in the field, will partner with you to develop a deck that improves both your home's appearance and functionality. By harnessing the power of advanced 3D modeling and visualization techniques, we'll materialize your dream deck, while ensuring the final version fulfills your expectations.
Finest Quality Deck Materials to Guarantee Durability
On Long Island, Decks Unique is the top deck builder and authorized installer for leading composite deck products such as Trex, TimberTech, and Azek. We also offer a variety of wood decking options to suit your preferences, such as pressure-treated lumber, cedar, redwood, and exotic hardwoods. Our promise to use only top-of-the-line materials ensures your new deck's durability with the added benefit of low maintenance.
Outstanding Deck Building Services in Medford
Decks Unique's seasoned deck construction team is all about offering unparalleled artistry and streamlining efficiency throughout the entire construction process. With our extensive know-how of building codes, statutes, and permits, you can rely on us to steer the whole project from its start to finish, leaving you with a visually striking and practical outdoor living area.
Sustain and Renew Your Deck's Appeal
Decks Unique comprehends the crucial role of ongoing maintenance in preserving your deck's attractiveness and solid construction. Our adept team has the ability to check and recognize any damages or potential troubles, executing required repairs to sustain your deck's top-notch condition. In addition, Decks Unique offers deck renewal and refinishing services, featuring cleaning, staining, weatherproofing, and sealing procedures to defend and enrich your deck's visual appeal.
Improve Your Outdoor Living Area with Custom-built Additions and Elements
To shape your deck into an unparalleled open-space sanctuary, Decks Unique supplies a multitude of custom attributes and ancillary items, incorporating lights designed for decks, in-built chair arrangements, cooking facilities for open-air settings, and fire-centric highlights. These modifications not only enhance the function, but they also shape a hospitable and relaxed atmosphere for you and your attendees to delight in.
All-Inclusive Decking Offerings and Additional Services
In addition to our proficiency in deck design and building, Decks Unique also provides expertise in constructing supplementary outdoor structures like wooden awnings, cabanas, gazebos, pergolas, and porches. These extra structures will considerably enrich your Long Island home's outdoor area, providing the perfect space for both relaxation and entertainment.
Rely on Decks Unique for all of your decking demands in Medford. Explore the difference our devotion to high-quality work, professionalism, and happy customers brings to your outdoor space. Get in touch with us now to set up a complimentary consultation and watch us turn your backyard into a beautiful work of art.
Eager to accommodate the residents of Medford, Malverne, Lake Grove, Hicksville, Glen Cove, Elmont, Dix Hills, and other Long Island territories.
Offering Long Island Quality Deck Designs and Services: