Uncover Decks Unique - The Leading Deck Construction Solution in North New Hyde Park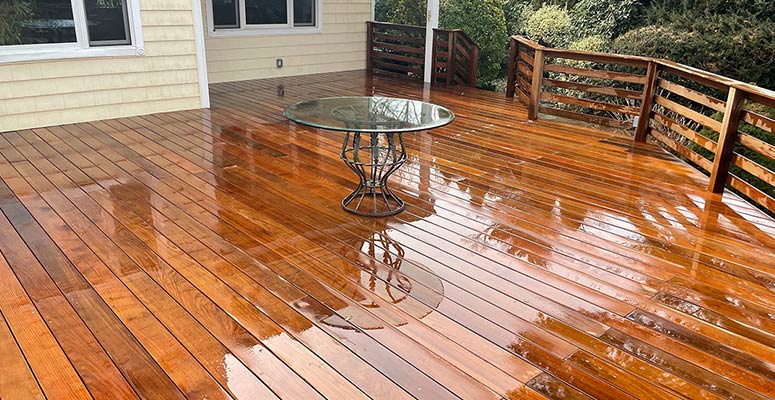 For over 20 years, Decks Unique has been a family-owned and operated company, specializing in custom deck design and construction, serving the people of Long Island and nearby areas, such as North New Hyde Park. Owing to our zeal for design and unwavering dedication to professionalism, honesty, and innovation, we've become the largest producer of high-end decks on Long Island, establishing industry standards. At Decks Unique, we excel in constructing custom decks, porches, gazebos, pergolas, wood awnings, and additional outdoor structures that augment the aesthetics, worth, and functionality of your Long Island property.
In North New Hyde Park, Proficient and Knowledgeable Deck Building Services
At Decks Unique, we believe that a well-thought-out deck design is a wise investment when considering home improvement. The Decks Unique team of expert deck builders holds a steadfast commitment to delivering unparalleled quality, upholding efficient production schedules, and guaranteeing the lasting value of our warranties. This unwavering dedication to excellence has manifested in numerous delighted customers and impressive decks they can confidently display for years to follow.
All major composite decking products, such as Trex, TimberTech, and Azek, can be installed by our experienced Long Island deck construction teams. Benefit from our complimentary at-home consultations and computer-aided deck templates so you can envisage your project ahead of construction. Let's tackle your backyard as our next challenge!
Improve Your Dwelling's Value by Constructing a Custom Deck
Not only does an excellent deck boost your North New Hyde Park home's outdoor living area, but it also raises the overall property value. Decks Unique is specialized in crafting and assembling personalized decks that fulfill the requirements and appeals of our diverse clientele. No matter if you desire a comfy location for social events or a grand outdoor paradise to savor the charming weather, our staff will partner with you to create your ideal space.
We comprehend that every homeowner has their own unique style and needs when it comes to their outdoor space. For this reason, we provide an extensive selection of materials, designs, and options to build the ideal deck to enhance your home and way of life. We present solutions to suit any budget and preference, ranging from classic wood options like pressure-treated lumber, cedar, and redwood, to the maintenance-free world of composite and PVC decking.
Unparalleled Commitment to Quality and Customer Satisfaction
At Decks Unique, our focus is on exceptional workmanship and happy customers. Our devotion to first-class materials and engaging the services of experienced contractors guarantees the superior completion of each project we take on.
To us, seamless communication is the backbone of successful projects, and we work diligently to ensure our clients are always in the know. From the initial consultation and design process through construction and final inspection, our team is always available to answer questions, address concerns, and ensure that you are completely satisfied with your new deck.
Give Decks Unique the chance to modify your North New Hyde Park backyard into a cozy outdoor living space you'll love. Contact us immediately to set up a complimentary consultation and feel the Decks Unique superiority.
Extensive Deck Construction Services in North New Hyde Park
At Decks Unique, we pride ourselves on offering a wide range of decking services tailored to meet the needs of our clients in North New Hyde Park. We specialize in a variety of custom deck services, including designing and building decks, as well as providing repairs, maintenance and refinishing. Additionally, we provide a variety of unique features and add-ons to enhance your outdoor living experience. Let's delve deeper into the services we have available.
Custom Deck Design: Materializing Your Dream Deck with Expertise
Our proficient deck designers will partner with you to develop a bespoke deck that embodies your personal preferences, augments your home, and fulfills the distinct requisites of your property. For the sake of assisting you in making confident choices, our expert personnel will take you through material assessments, guaranteeing sustained refinement and stability in your deck.
Expert Deck Assembly: Fine Craftsmanship for an Attractive External Space
As a prominent deck builder, we are committed to utilizing only top-quality materials and practicing secure, proficient workmanship. Our adept teams are sanctioned installers of major composite decking products like Trex, TimberTech, and Azek. With meticulous attention to detail and a focus on structural integrity, we ensure that your deck not only looks stunning but also stands the test of time.
Repairing and Maintaining Decks: Retaining the Value of Your Investment
Routine upkeep is fundamental for preserving your deck's beauty and function. Our skilled team is available to provide detailed repair and maintenance services for wood and composite decks. From exhaustive assessments aimed at spotting potential concerns, to professional repair of damages resulting from weather or age, consider us your all-encompassing deck maintenance provider. Through our pre-scheduled maintenance programs, you can enjoy the certainty that your deck's outstanding condition will be sustained year-round.
Deck Refinishing and Restoration: Rejuvenate Your Exterior Space
With time, even top-notch decks can exhibit signs of wear or necessitate refinishing in order to keep their aesthetic appeal. Our knowledgeable team can recuperate your deck's attractiveness by utilizing expert cleaning, staining, weatherproofing, and sealing techniques. We can also effectuate structural refinements, thereby ensuring your deck remains protected and functional for years.
Personalized Attributes and Extras: Improve Your Deck Enjoyment
To enrich your outdoor living quarters, we supply a wide range of specialized characteristics and extras designed to improve your deck. These options include energy-efficient deck lighting, built-in seating, outdoor kitchens, and fire features. By incorporating these elements into your deck design, we create a welcoming and comfortable space for you to enjoy with family and friends in North New Hyde Park.
Decks Unique is dedicated to providing premium decking services to clients in the surrounding areas. With two decades of industry experience, we have cultivated a reputation for professionalism, genuineness, and forward thinking. If you want to build a new deck or refurbish your existing one, our highly skilled team is on hand to help. Contact us today to schedule a free consultation and discover how we can transform your outdoor space into a stunning and functional retreat.
Explore the Perfect Deck Material for Your Needs: Wood and Composite Alternatives
Decks Unique's primary focus is to support you in building the perfect exterior paradise at your home. This is why we have an expansive array of decking materials at our disposal, featuring both wood and composite options. Each decking material possesses its advantages, which allows you to select the most suitable option for your particular necessity and preference.
Embrace the Timeless Beauty of Wooden Decks
With a classic, versatile nature, wood gives an organic warmth and stylish appeal to open-air spaces. Our collection of wood deck possibilities is tailored to fit all styles and financial considerations.
Pressure-Treated Wood: Cost-effective and Long-lasting
Pressure-treated lumber attracts many homeowners because of its cost-saving and long-lasting properties. A specialized process protects the decking material from both decay and insect-related damage. Minimal maintenance is needed for these durable, pressure-treated decks as a result of the treatment.
Naturally Resistant Cedar and Redwood: A Grand Luxury
In case you desire a more opulent alternative, we provide cedar and redwood decking as well. The eye-catching and high-grade woods are organically immune to decay and bug damage, ensuring a deck that remains sturdy for years to come. The vibrant hues and distinct grain designs of cedar and redwood decks create an impressive enhancement to any residence.
Exotic Hardwoods: Sophisticated and Long-lived
In your quest for a truly matchless and opulent option, weigh the idea of choosing exotic hardwoods like Ipe, Tigerwood, or Cumaru. These incredibly dense and durable woods are known for their exceptional longevity and striking appearance. Captivating colors and fascinating patterns of exotic hardwood decks contribute to a magnificent centerpiece for any outdoor environment.
Pursue a Low-Maintenance Lifestyle with Composite and PVC Decking Options
For people who want an environmentally conscious and low-maintenance possibility, examine composite and PVC decking. These advanced materials merge wooden charm with synthetic endurance, offering homeowners an almost maintenance-free open-air space.
Understanding the Benefits and Advantages of Composite Decking
Composite decking is made from a combination of recycled wood fibers and plastic, offering a highly durable and eco-friendly option. Being able to withstand warping, cracking, and fading, this decking material promises a visually appealing and lasting deck with minimal effort. Cleaning composite decks is a breeze, as they only require periodic washing to maintain a spotless and inviting outdoor space.
Composite Materials: Industry-Leading Brands
Decks Unique is delighted to cooperate with the foremost brands in composite decking, including Trex, TimberTech, and Azek. As accredited installers of these extraordinary products, we offer North New Hyde Park homeowners the finest materials to create beautiful and enduring outdoor areas.
Custom-build Your Deck with a Range of Color and Texture Combinations
Composite decking comes with the advantage of a plethora of customization options. With numerous color and texture options, you can design a unique outdoor area tailored to your home's style. Composite decking caters to your taste, whether you favor traditional wood or a more up-to-date design.
Upgrade Your Deck by Adding Railing and Baluster Choices
An ideal deck requires the appropriate railing and baluster system to be complete. Decks Unique offers countless options to accentuate your deck design while ensuring a safe and practical outdoor environment.
Timber Railing Systems: Conventional and Enduring
For a look that is both elegant and long-lasting, consider incorporating a wood railing system. For a look that complements both wood and composite decking, a wood railing system is an excellent choice, delivering a congruous and refined design. To create a visually appealing result, paint or stain your wood railing system so it complements your deck or the exterior of your North New Hyde Park home.
Metal and Glass Railing Systems: Sophisticated and Well-defined
If modern sophistication and sleekness catch your eye, metal or glass railing systems might be just the thing. These railing systems bring a current flair while enhancing the panorama from your deck, which is highly appreciated by property owners with beautiful surroundings.
Composite Railing Systems: Simple Maintenance and Sophisticated
People searching for a low-maintenance solution that doesn't compromise on style and elegance should consider composite railing systems. Not only are these railings durable and visually appealing, but they also create a unified appearance when combined with composite decking, resulting in an impressive outdoor area that demands minimal tending.
No matter your design preferences, Decks Unique is on hand to provide guidance in choosing the best decking materials for your home. Reach out to us today to discuss your goals and commence the design of your ideal outdoor space.
Elevate Your Outdoor Living Experience with Our Supplementary Services in North New Hyde Park
Our mission at Decks Unique is to convert your outdoor living area into a deluxe and practical extension of your abode. Besides our excellent deck building services, we also deliver a wide array of extra services, including wood awnings, cabanas, gazebos, pergolas, and porch construction. Our proficient specialists in North New Hyde Park closely cooperate with you to materialize your vision, ensuring high quality and long-lasting durability.
Wood Awnings: Boost Your Outdoor Space's Style and Shade
Adding wood awnings is a superb method to introduce shade and elegance to your outdoor space. The proficient staff at Decks Unique will guide you in picking the perfect design and materials to fashion an appealing and functional wood awning that suits your home's style. These wood awnings not only serve to protect against harsh weather but also help raise your property's overall value.
Cabanas: Put together a Plush Solace in Your North New Hyde Park Garden
Cabanas strike a perfect balance between luxury, comfort, and privacy, making them a great fit for any outdoor space. Our adept team will cooperate with you in the design and construction of a one-of-a-kind cabana that addresses your particular needs and desires. Whether you're looking for a comfortable nook to unwind or a sophisticated space to entertain visitors, we can fashion a cabana that becomes your ultimate al fresco getaway.
Gazebos: A Picture-Perfect Addition for Your Garden or Patio
A gazebo adds a quaint touch to any garden or patio, creating an eye-catching centerpiece and offering shade for outdoor lounging. The experienced team at Decks Unique will help you identify the perfect style, materials, and positioning for your gazebo, so it blends seamlessly with your existing landscape. Relying on our precision craftsmanship, we present a magnificent gazebo that adds to the charm of your outdoor environment for the long run.
Pergolas: Bring Architectural Charm and Functionality to Your Outdoor Domain
Pergolas are an excellent way to add architectural interest and functionality to your outdoor living space. Pergolas are adept at creating a sheltered yet sunlit environment, making them ideal for garden strolls, patio hangouts, or dining outdoors. Choose Decks Unique's experienced team to conceive and erect a made-to-order pergola that reflects your individual style and boosts your property's worth.
Porch Assembly: Augment Your Home's Curb Appeal and Outdoor Living Space
An artfully designed porch not only advances your home's curb appeal but also serves up a comfy outdoor living spot for you and your family to cherish. Our experienced team will team up with you to establish a bespoke porch that matches your home's architecture and caters to your functional necessities. With our painstaking observance of detail and fidelity to outstanding quality, you can be assured that your porch manufacturing enterprise is being managed by skilled professionals.
Contact Decks Unique for Your North New Hyde Park Outdoor Living Space Transformation
At Decks Unique, providing superior, custom-made outdoor living options for our clients in North New Hyde Park and the adjacent areas is our mission. Should you desire to add a wood awning, cabana, gazebo, pergola, or porch to your outdoor living environment, our adept team is here for support. Give us a call today to discuss your vision, and we'll show you how we can upgrade your outdoor living area into a deluxe and useful extension of your home.
Expert Deck Consultation and Design in North New Hyde Park
At Decks Unique, we are proud of our ability to offer personalized consultations and custom deck designs that accommodate the unique demands of each client. With over 20 years of industry know-how, our experienced deck designers will work side by side with you to create a deck that amplifies your home's appearance and practicality. Using advanced 3D modeling and visualization techniques, we'll bring your dream deck to life, ensuring the final product meets your expectations.
Durable Deck Materials for Extended Life Expectancy
Long Island's elite deck builder, Decks Unique, is a licensed installer for all primary composite decking products, such as Trex, TimberTech, and Azek. We also put forward various wood decking options to conform to your preferences, like pressure-treated wood pieces, cedar, redwood, and luxurious hardwoods. With a commitment to using only exceptional materials, you can trust that your new deck will be long-lasting and require minimal maintenance.
Superior Deck Construction Services in North New Hyde Park
At Decks Unique, our talented deck building professionals are devoted to ensuring exceptional quality and efficiency in all phases of the construction process. With our exceptional understanding of building codes, requirements, and permits, you can count on us to navigate the entire project from its inception to culmination, leaving you with a stunning and functional outdoor living space.
Secure and Reinstate Your Deck's Grace
At Decks Unique, we understand the importance of routine maintenance in preserving the beauty and structural integrity of your deck. Our experienced team can inspect and identify any damages or potential issues, providing necessary repairs to keep your deck in top condition. In addition, Decks Unique offers deck renewal and refinishing services, featuring cleaning, staining, weatherproofing, and sealing procedures to defend and enrich your deck's visual appeal.
Enhance Your Exterior Living Space with Bespoke Additions and Features
To develop your deck into a matchless outdoor hideaway, Decks Unique delivers an abundance of specialized qualities and extensions, like lighting options for deck installations, seating merged with structural design, external kitchen setups, and fire-focused touches. These augmentations not only amplify effectiveness, but they also cultivate a friendly and cozy aura for you and your company to enjoy.
In-Depth Decking Assistance and More
Apart from our knowledge and experience in deck design and construction, Decks Unique also extends its expertise to additional outdoor structures such as wooden awnings, cabanas, gazebos, pergolas, and porches. These extra structures will considerably enrich your Long Island home's outdoor area, providing the perfect space for both relaxation and entertainment.
Rely on Decks Unique for all of your decking demands in North New Hyde Park. Notice the transformation our dedication to quality, expertise, and client satisfaction creates in your outdoor living area. Contact us today to schedule a free consultation and let us transform your backyard into a stunning masterpiece.
With pride, offering our assistance to North New Hyde Park, North Amityville, Merrick, Manhasset, Lake Ronkonkoma, Hicksville, Glen Cove and additional Long Island locales.
Offering Long Island Quality Deck Designs and Services: