Explore Decks Unique - Your Go-To Deck Building Experts in Terryville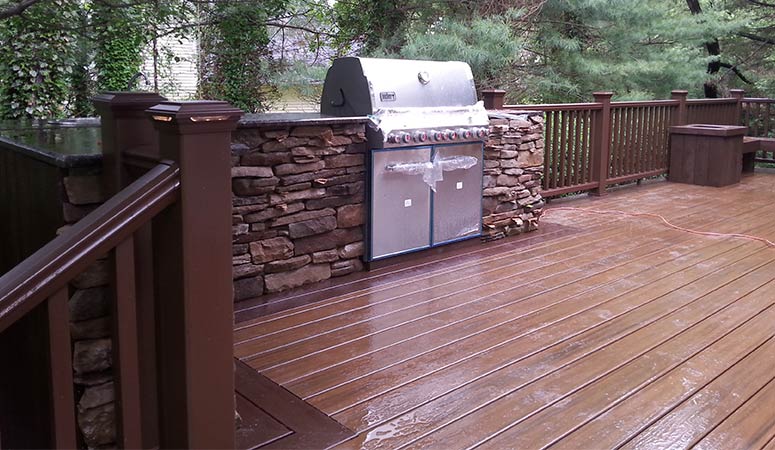 For over two decades, Decks Unique, a family-owned and operated enterprise, has offered custom deck design and construction services to the residents of Long Island and the surrounding areas, including Terryville. Thanks to our enthusiasm for design and steadfast commitment to professionalism, integrity, and innovation, we've emerged as the top producer of premium decks on Long Island, setting the benchmark for the industry. Our specialization includes creating custom decks, porches, gazebos, pergolas, wooden awnings, and various outdoor structures that contribute to the value, charm, and utility of your Long Island home.
Comprehensive and Experienced Deck Building Services in Terryville
At Decks Unique, our conviction is that a carefully planned deck design serves as a smart investment for home enhancements. Decks Unique's highly trained team of deck builders pledges to deliver the highest quality, keep up with effective production timeframes, and guarantee that our warranties possess genuine lasting value. Our devotion to superior standards has led to innumerable content clients and decks they can happily display for the foreseeable future.
All major composite decking products, such as Trex, TimberTech, and Azek, can be installed by our experienced Long Island deck construction teams. Enjoy our complimentary house visits and computer-rendered deck blueprints that let you perceive your deck before it's physically realized. Permit us to create an amazing transformation in your backyard for our next project!
Enhance Your Home's Value through a Tailor-Made Deck
An outstanding deck can both improve the exterior living area of your Terryville residence and substantially increase its worth. Decks Unique is specialized in crafting and assembling personalized decks that fulfill the requirements and appeals of our diverse clientele. Whether a comfortable venue for socializing or a plush outdoor getaway to experience the terrific weather, our committed personnel will closely cooperate with you to manifest your ideal vision.
For outdoor spaces, we understand that each homeowner has their own distinct tastes and necessities. That's why we make available a large range of materials, designs, and components to fashion the perfect deck that aligns with your house and personal routines. With options spanning from traditional wood varieties such as pressure-treated lumber, cedar, and redwood, to low-maintenance composite and PVC decking alternatives, we have the perfect solution for every financial plan and preference.
Extraordinary Concentration on Outstanding Performance and Customer Happiness
Decks Unique aims to excel in workmanship quality and customer satisfaction. Every project we tackle meets the highest criteria, thanks to our commitment to using first-rate materials and working with proficient, seasoned builders.
We consider open communication to be the cornerstone of a successful project, and we strive to keep our clients well-informed every step of the way. Starting with the initial consultation and design phase, continuing through construction, and finishing with the final inspection - our team is dedicated to answering questions, easing worries, and ensuring you're overjoyed with your new deck.
Let Decks Unique remodel your Terryville backyard into an outdoor living oasis you'll relish. Contact us right away to plan a free consultation and see the Decks Unique difference in person.
Exhaustive Decking Offerings in Terryville
We take great pride in delivering a diverse range of decking services at Decks Unique, all tailored to meet the expectations of our Terryville clientele. At Decks Unique, we excel in everything from creating custom deck designs and constructions to carrying out repairs, maintenance, and refinishing. Additionally, we provide a variety of unique features and add-ons to enhance your outdoor living experience. Let's delve deeper into the services we have available.
Custom Deck Design: Manifesting Your Dream Deck into Reality
Our exceptional deck designers will work side-by-side with you to fashion a tailor-made deck that conveys your personal touch, perfectly matches your home, and handles the unique expectations of your property. To aid you in making well-informed decisions, our authorities will guide you in choosing appropriate materials, promising enduring elegance and sturdiness.
Expert Deck Assembly: Fine Craftsmanship for an Attractive External Space
Being an esteemed deck builder, we dedicate ourselves to using only first-class materials and ensuring safe, efficient labor. Our adept teams are sanctioned installers of major composite decking products like Trex, TimberTech, and Azek. By meticulously focusing on details and emphasizing structural quality, we make sure your deck is not only attractive but also withstands time's challenges.
Deck Upkeep and Restoration: Guarding Your Investment
To preserve the beauty and functionality of your deck, regular maintenance is crucial. We have a dedicated team that offers all-inclusive repair and upkeep services for both wood and composite decks. From meticulous inspections that reveal potential problems, to adept repairs for any damages stemming from weather or wear patterns, we are the comprehensive source for all your deck upkeep needs. Our organized maintenance plans deliver the confidence that your deck will maintain premium quality throughout the entire year.
Deck Refinishing and Restoration: Breathe New Life Into Your Outdoor Space
Over an extended period, even the outstanding quality decks might exhibit symptoms of wear or require refinishing to preserve their attractiveness. Our expert group can recover your deck's beauty with the help of professional cleaning, staining, weatherproofing, and sealing services. Plus, we can undertake structural alterations, confirming that your deck stays safe and usable for an extended period.
Individualized Aspects and Additional Pieces: Refine Your Deck Encounters
To upgrade your outdoor living space, we present a variety of custom-made elements and additional options meant to enrich your deck. These offerings contain energy-saving lighting solutions for decks, built-in places to sit, outdoor culinary areas, and fire-related elements. Incorporating these components into your deck layout, we'll develop a warm and inviting area for you, your family, and friends to relish in Terryville.
At Decks Unique, our expertise lies in providing exceptional decking services to clients and neighboring regions. We have established a strong reputation for professionalism, reliability, and originality, thanks to our 20 years in the industry. Whether you are looking to design a new deck or revamp an existing one, our skilled team is here to help. Touch base with us today to organize a free consultation, and let us demonstrate how we can change your outdoor area into a beautiful and practical haven.
Track Down the Best Deck Material for You: Weighing Wood and Composite Options
We, at Decks Unique, are devoted to aiding you in crafting the ultimate outdoor haven for your abode. That's the advantage of our extensive choice of decking materials, including both wood composite variants. All of the materials come with their distinct advantages, allowing you to handpick the most appropriate alternative based on your specified needs and preferences.
Wood Decking Offers Timeless Elegance
Wood is a timeless and versatile material, providing natural warmth and charm to any outdoor space. Our selection of wooden deck options caters to an array of preferences and financial plans.
Treated Wood: Budget-conscious and Long-lasting
Pressure-treated lumber is a popular choice for many homeowners due to its affordability and durability. Undergoing a unique treatment process, this decking material is protected against decay and bug infestations. Consequently, pressure-treated decks have a lengthy life and demand limited upkeep.
Premium and Resistant: Cedar and Redwood's Natural Features
For those seeking a more luxurious option, we also offer cedar and redwood decking. These gorgeous and top-tier woods boast natural resistance to rot and insect infestations, offering a lasting deck that matures gracefully. Cedar and redwood decks, featuring deep colors and one-of-a-kind grain patterns, add a striking touch to any household.
Exotic Hardwoods: Strikingly Attractive and Durable
If you're on the hunt for a genuinely distinct and sophisticated alternative, consider utilizing exotic hardwoods like Ipe, Tigerwood, or Cumaru. These remarkable hardwoods are extremely dense and strong, making them known for their outstanding longevity and striking visual charm. Exotic hardwood decks, with their vibrant hues and elaborate designs, serve as breathtaking focal points in any outdoor area.
Discover the Ease of Low-Maintenance Living by Choosing Composite and PVC Decking
To find an eco-responsible and low-upkeep choice, take into account composite and PVC decking. These pioneering materials blend the allure of wood with the toughness of man-made substances, affording homeowners a near maintenance-free al fresco space.
Discover the Benefits and Advantages of Composite Decking
Using a blend of reclaimed wood fibers and plastic, composite decking delivers a long-lasting and environmentally friendly solution. By resisting warping, cracking, and fading, this decking material ensures an attractive and long-lasting deck, while keeping maintenance to a minimum. Cleaning composite decks is hassle-free, as they just need the occasional washing to ensure that the outdoor area stays spotless.
Top Brands in the Composite Materials Industry
Decks Unique takes pride in collaborating with top-tier composite decking brands like Trex, TimberTech, and Azek. Being licensed installers of these impressive products, we can equip Terryville homeowners with the finest materials to ensure an exquisite and durable outdoor setting.
Customize Your Deck with Color and Texture Options
The extensive range of customization choices is a primary perk of composite decking. Various color and texture options enable you to establish an exceptional outdoor environment that fits your home's aesthetics. Your preference for natural wood visuals or a more state-of-the-art design can both be met with a composite decking option.
Amplify Your Deck's Look with Railing and Baluster Additions
The ultimate deck won't be whole without the fitting railing and baluster system. Decks Unique offers an extensive selection of options to work seamlessly with your deck design and promote the safety and usefulness of your exterior area.
Timber Railing Systems: Conventional and Enduring
For a stylish and lasting design, a wood railing system should be considered. A wood railing system can complement both wooden and composite decking, providing a cohesive and polished appearance. Ensure a striking end result by customizing the finish of your wood railing system to match your deck or Terryville home exterior.
Metal and Glass Railing Systems: Contemporary and Elegant
When a refined and modern vibe is what you're after, metal or glass railing systems may be perfect for you. These railing systems bring a current flair while enhancing the panorama from your deck, which is highly appreciated by property owners with beautiful surroundings.
Composite Railing Systems: Low-Maintenance, Aesthetic Appeal
For an ideal blend of style, elegance, and low-maintenance, composite railing systems are an excellent option. The combination of durability and beauty in these railings, alongside composite decking, fosters a cohesive design and a breathtaking outdoor setting with minimal maintenance efforts.
No matter your design preferences, Decks Unique is on hand to provide guidance in choosing the best decking materials for your home. Connect with us today to explore your desires and kick off the design of the outdoor oasis you have always wanted.
Upgrade Your Outdoor Living Environment with Our Extra Services in Terryville
Decks Unique focuses on making your outdoor living space a splendid and functional addition to your home. In addition to top-notch deck building services, we also offer various other services, such as installing wood awnings, cabanas, gazebos, pergolas, and constructing porches. Our proficient specialists in Terryville closely cooperate with you to materialize your vision, ensuring high quality and long-lasting durability.
Wooden Awnings: Add a Touch of Style and Shade to Your Outdoor Space
Wooden awnings present an ideal solution for incorporating both shade and sophistication to your outdoor space. At Decks Unique, our skilled team can assist you in selecting the appropriate design and materials for an attractive and practical wood awning that enhances your home's appearance. These installations not only safeguard you from harsh weather but also contribute to the overall appreciation of your property's value.
Cabanas: Develop a Posh Hideaway in Your Terryville Outdoor Area
Cabanas boast a unique mix of lavishness, relaxation, and privacy, making them an attractive addition to any outside environment. Our skilled professionals will partner with you in designing and constructing a personalized cabana that fulfills your unique necessities and preferences. Whether your desire is a welcoming respite for relaxation or an elegant setting for entertaining guests, we can create a cabana that presents an idyllic outdoor escape.
Gazebos: A Visually Appealing Addition for Your Garden or Patio
A gazebo serves as a classic element in any garden or patio, offering an attractive centerpiece and a sheltered space for enjoying the outdoors. With our skilled team's guidance, you'll select the right style, materials, and site for your gazebo, ensuring harmonious integration with your existing surroundings. Relying on our precision craftsmanship, we present a magnificent gazebo that adds to the charm of your outdoor environment for the long run.
Pergolas: Add Architectural Interest and Functionality to Your Outdoor Area
A great way to boost architectural allure and functionality in your outdoor living area is by installing a pergola. Such structures offer a mix of shade and natural light, making them ideal for garden paths, terrace areas, or al fresco dining spots. The team of skilled experts at Decks Unique can create and construct a tailor-made pergola that complements your taste and enhances your home's worth.
Constructing a Porch: Improve Your Home's Exterior Attractiveness and Outdoor Living Area
An artfully designed porch not only advances your home's curb appeal but also serves up a comfy outdoor living spot for you and your family to cherish. Our adept squad will come together with you to formulate a distinctive porch that integrates with your home's architectural layout and meets your functional preferences. With our conscientious scrutiny of detail and allegiance to first-rate quality, you can be relaxed knowing that your porch building mission is in expert hands.
Get ahold of Decks Unique for upgrading your Terryville outdoor living space
At Decks Unique, we take pride in providing high-quality, custom outdoor living solutions to our clients in Terryville and the surrounding areas. Our team of skilled professionals is here to help you enhance your outdoor space with a wood awning, cabana, gazebo, pergola, or porch. Discuss your project with us today and find out how we can turn your outdoor living environment into a comfortable and efficient extension of your residence.
Terryville's Expert Deck Design and Consultation
Decks Unique prides itself on presenting custom consultations and deck designs, designed to cater to the distinctive needs of our clientele. Leveraging their 20-year expertise, our accomplished deck designers will closely engage with you to craft a deck that accentuates your home's visual charm and practical aspects. By harnessing the power of advanced 3D modeling and visualization techniques, we'll materialize your dream deck, while ensuring the final version fulfills your expectations.
Outstanding Decking Materials for Long-lasting Resilience
Decks Unique, the leading deck builder in Long Island, is a certified installer for top composite deck brands like Trex, TimberTech, and Azek. Additionally, we provide various wood decking choices tailored to your taste, including pressure-treated wood, cedar, redwood, and unique hardwoods. Our dedication to using top-quality materials guarantees a long-lasting, low-maintenance deck for your home.
Exceptional Deck Construction Services in Terryville
Our gifted deck construction professionals at Decks Unique are devoted to ensuring top-tier quality and effectiveness during the full building process. With our exceptional understanding of building codes, requirements, and permits, you can count on us to navigate the entire project from its inception to culmination, leaving you with a stunning and functional outdoor living space.
Hold and Re-establish Your Deck's Gorgeousness
At Decks Unique, we understand the importance of routine maintenance in preserving the beauty and structural integrity of your deck. Decks Unique's expert team can scrutinize and discover any issues or possible concerns, providing the necessary solutions to preserve your deck in peak condition. Moreover, we render deck rejuvenation and refinishing solutions, such as cleaning, staining, weatherproofing, and sealing operations to maintain and enhance your deck's facade.
Elevate Your Outdoor Environment with Customized Features and Add-ons
To shape your deck into an unparalleled open-space sanctuary, Decks Unique supplies a multitude of custom attributes and ancillary items, incorporating lights designed for decks, in-built chair arrangements, cooking facilities for open-air settings, and fire-centric highlights. These augmentations not only amplify effectiveness, but they also cultivate a friendly and cozy aura for you and your company to enjoy.
All-Inclusive Decking Offerings and Additional Services
Decks Unique, known for its expertise in deck design and construction, also offers expertise in other outdoor structures, including wood awnings, cabanas, gazebos, pergolas, and porch construction. These extra structures will considerably enrich your Long Island home's outdoor area, providing the perfect space for both relaxation and entertainment.
Entrust all your Terryville decking needs to Decks Unique. Discover the impact our dedication to quality, professionalism, and customer satisfaction has on your outdoor area. Contact us today to schedule a free consultation and let us transform your backyard into a stunning masterpiece.
Honored to serve the people of Terryville, Sound Beach, Roosevelt, Patchogue, North Merrick, Nesconset, Mastic Beach along with other Long Island regions.
Offering Long Island Quality Deck Designs and Services: