Welcome to Decks Unique - Mastic Beach's Premier Deck Builder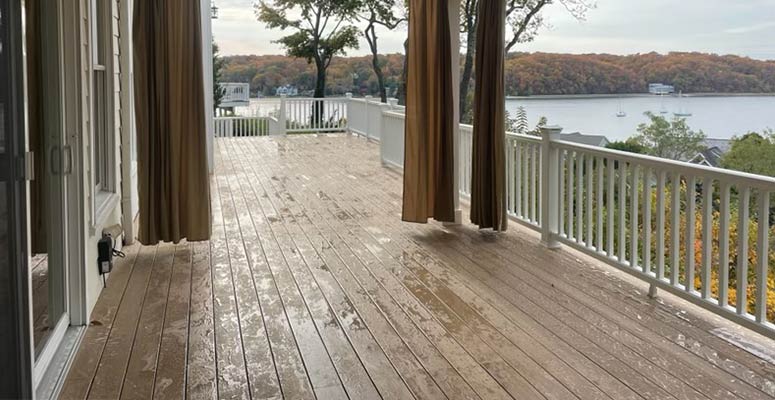 For over 20 years, Decks Unique has been a family-owned and operated company, specializing in custom deck design and construction, serving the people of Long Island and nearby areas, such as Mastic Beach. Owing to our zeal for design and unwavering dedication to professionalism, honesty, and innovation, we've become the largest producer of high-end decks on Long Island, establishing industry standards. We specialize in designing and building custom decks, porches, gazebos, pergolas, wood awnings, and other outdoor structures that add value, beauty, and functionality to your Long Island home.
Leading Expertise and Experience in Deck Building in Mastic Beach
The belief at Decks Unique is that a well planned deck configuration presents a shrewd investment for upgrading one's home. At Decks Unique, our skilled professionals in deck building are devoted to providing superior quality, working towards efficient scheduling, and making sure that our warranties retain true long-term value. This commitment to excellence has resulted in countless satisfied customers, and decks that they are proud to show off for many years to come.
On Long Island, our skilled deck builders are qualified to set up all leading composite deck materials, like Trex, TimberTech, and Azek. We extend free residential consultations and digitally-crafted deck layouts for you to preview your project before it gets underway. Let your backyard be the canvas for our next masterpiece!
Add Value to Your Home with a Custom Deck
Your Mastic Beach home's outdoor living space is not only enriched by a fine deck but also experiences a boost in overall worth. At Decks Unique, we specialize in designing and building custom decks that meet the unique needs and preferences of each client. No matter if you desire a comfy location for social events or a grand outdoor paradise to savor the charming weather, our staff will partner with you to create your ideal space.
We comprehend that every homeowner has their own unique style and needs when it comes to their outdoor space. That is why we offer a wide range of materials, styles, and features to create the perfect deck that complements your home and lifestyle. From traditional wood options like pressure-treated lumber, cedar, and redwood to low-maintenance composite and PVC decking, we have the right solution for every budget and preference.
Unmatched Dedication to Excellence and Client Contentment
High-quality workmanship and customer satisfaction are at the heart of what we do at Decks Unique. We are dedicated to utilizing only top-grade materials and partnering with expert, seasoned builders to guarantee our projects meet the most stringent standards.
To us, seamless communication is the backbone of successful projects, and we work diligently to ensure our clients are always in the know. Our team is at your service, from the very beginning with the consultation and design stage, throughout construction, and up until the final inspection, to address any queries or concerns and to make certain you are fully satisfied with your deck.
Give Decks Unique the chance to modify your Mastic Beach backyard into a cozy outdoor living space you'll love. Message us today to secure a free consultation and experience the exceptional Decks Unique service.
Extensive Deck Construction Services in Mastic Beach
Decks Unique specializes in providing a wide assortment of decking services, designed to suit the preferences of our Mastic Beach customers. We specialize in a variety of custom deck services, including designing and building decks, as well as providing repairs, maintenance and refinishing. Besides our primary services, we also offer numerous distinctive features and upgrades to improve your outdoor living space. Allow us to provide you with a more in-depth overview of our services.
Custom Deck Design: Materializing Your Dream Deck with Expertise
Our skilled deck designers will closely collaborate with you to design a customized deck that showcases your individual taste, enhances your home, and caters to the specific needs of your property. To help you make informed decisions, our experts will also guide you through material selection, ensuring long-lasting beauty and durability.
High-Quality Deck Production: First-Class Workmanship for a Magnificent Outdoor Environment
As the foremost deck builder, we are devoted to employing first-rate materials and maintaining secure, productive workmanship. Our accomplished crew members are qualified installers of renowned composite deck materials, such as Trex, TimberTech, and Azek. With extreme care for details and keeping structural sturdiness in mind, we ensure your deck is not only visually stunning but also built to last.
Repairing and Maintaining Decks: Retaining the Value of Your Investment
Consistent maintenance is key to maintaining the visual appeal and practicality of your deck. Our team of specialists delivers thorough maintenance and repair services for both wooden and composite decks. From thorough inspections to identify potential issues, to expert repair of damages caused by weather or wear-and-tear, we are your go-to source for all your deck maintenance needs. With the help of our consistent maintenance plans, rest assured that your deck will continually be kept in superb condition, regardless of the time of year.
Deck Refinishing and Renewal: Bring Freshness to Your Outdoor Environment
With time, even top-notch decks can exhibit signs of wear or necessitate refinishing in order to keep their aesthetic appeal. Our expert group can recover your deck's beauty with the help of professional cleaning, staining, weatherproofing, and sealing services. Plus, we can undertake structural alterations, confirming that your deck stays safe and usable for an extended period.
Bespoke Features and Additions: Boost Your Deck Experiences
To heighten your outdoor living space experience, we introduce an array of distinct features and add-on choices devised to augment your deck. Such choices encompass energy-saving lighting for decks, integrated seating, alfresco kitchens, and fire elements. Embedding these particulars into your deck configuration, we help form a friendly and cozy atmosphere for you to treasure with your dear ones in Mastic Beach.
Providing top-notch decking solutions to clients and nearby areas is a specialty of Decks Unique. Our 20-plus years of experience in the field have earned us a name for professionalism, integrity, and creativity. Should you need assistance in designing a new deck or improving a current one, our competent team has your back. Reach out to us now to book a cost-free consultation and find out how we can turn your outdoor area into a visually striking and practical haven.
Compare Wood and Composite Options to Discover Your Perfect Deck Material
Our commitment at Decks Unique is to help you establish an impeccable outdoor retreat for your dwelling. Hence, we put forth a broad selection of decking materials, consisting of wood and composite possibilities. Each of the materials has its own merits, helping you to decide on the top option that matches your distinct demands and inclinations.
Discover the Classic Appeal of Wood Decking
Being both ageless and flexible, wood imbues a sense of inviting warmth and elegance to outdoor spaces. Our selection of wooden deck options caters to an array of preferences and financial plans.
Pressure-Treated Timber: Economical and Resilient
For many homeowners, pressure-treated lumber is a preferred option because of its budget-friendly and tough nature. This decking material undergoes a special treatment process, protecting it against rot and insect infestation. As a result, pressure-treated decks are long-lasting and require minimal maintenance.
The Luxury of Cedar and Redwood: A Natural Resistance
Should you seek a more sumptuous choice, we also present cedar and redwood decking. These beautiful and high-end woods are naturally resistant to decay and insects, ensuring a long-lasting deck that ages gracefully. With their deep pigments and singular grain markings, cedar and redwood decks offer a captivating augmentation to any home.
Exotic Hardwoods: Beautiful and Durable
For those in search of a genuinely distinctive and splendid option, ponder over selecting exotic hardwoods like Ipe, Tigerwood, or Cumaru. These exceedingly solid and long-lasting woods stand out due to their commendable longevity and stunning appearance. Exotic hardwood decks, with their vibrant hues and elaborate designs, serve as breathtaking focal points in any outdoor area.
Achieve Low-Maintenance Living with the Use of Composite and PVC Decking
Should you desire an environmentally-friendly and low-maintenance option, look into composite and PVC decking. These groundbreaking materials fuse the visual appeal of wood with the ruggedness of synthetic ingredients, granting homeowners an essentially maintenance-free outdoor environment.
The Upsides and Benefits of Composite Decking
Composite decking is made from a combination of recycled wood fibers and plastic, offering a highly durable and eco-friendly option. This type of decking material is impervious to issues like warping, cracking, and color loss, guaranteeing a stunning and durable deck that needs little attention. Cleaning composite decks is hassle-free, as they just need the occasional washing to ensure that the outdoor area stays spotless.
The Foremost Brands in Composite Materials Industry
Decks Unique is proud of their association with top composite decking brands like Trex, TimberTech, and Azek. Being certified installers of these outstanding products, we're able to supply Mastic Beach residents with top-notch materials for stunning and durable outdoor spaces.
Custom-build Your Deck with a Range of Color and Texture Combinations
The extensive array of personalization options is a crucial benefit of composite decking. With a variety of color and texture choices, you can create a one-of-a-kind outdoor space that perfectly suits your home's aesthetic. If you have a penchant for natural wood looks or more innovative designs, composite decking offers a compatible option.
Revamp Your Deck Using Different Railing and Baluster Combinations
A top-notch deck demands the right railing and baluster system to be truly complete. Decks Unique offers an extensive selection of options to work seamlessly with your deck design and promote the safety and usefulness of your exterior area.
Wooden Railing Systems: Classic and Everlasting
A wood railing system is an excellent choice for a classic and never-outdated appearance. Wood railing systems can be used with both wooden and composite decking for a well-coordinated and seamless design. Painting or staining your wood railing system to align with your deck or Mastic Beach home exterior helps ensure a captivating final aesthetic.
Metal and Glass Railing Systems: Fashionable and Uncluttered
For those who appreciate a stylish and up-to-date feel, metal or glass railing systems can be a wise choice. Such choices add a modern twist and can elevate the vista from your outdoor space, making them an attractive option for homeowners with striking scenery.
Composite Railing Systems: Easy-Care and Elegant
Those in search of a stylish yet low-maintenance alternative will find composite railing systems to be an excellent selection. The resilient and captivating railings offer a consistent aesthetic when used in conjunction with composite decking, cultivating an exquisite outdoor space with low maintenance needs.
No matter your design preferences, Decks Unique is on hand to provide guidance in choosing the best decking materials for your home. Connect with us today to explore your desires and kick off the design of the outdoor oasis you have always wanted.
Boost Your Outdoor Living Space with Our Additional Services in Mastic Beach
At Decks Unique, our goal is to transform your outdoor living space into a luxurious, functional extension of your house. Aside from our superior deck building services, we also deliver a variety of extra services, including wooden awnings, cabanas, gazebos, pergolas, and porch construction. Our proficient specialists in Mastic Beach closely cooperate with you to materialize your vision, ensuring high quality and long-lasting durability.
Wood Awnings: Add Shade and Style to Your Outdoor Space
Wood awnings are a perfect way to add both shade and elegance to your outdoor area. Our experienced team at Decks Unique will help you choose the right design and materials to create a beautiful and functional wood awning that complements your home's aesthetic. These wooden features not only act as a barrier against severe weather but also add to the total value of your property.
Cabanas: Establish an Elegant Haven in Your Mastic Beach Greenspace
Cabanas strike a perfect balance between luxury, comfort, and privacy, making them a great fit for any outdoor space. Our experienced team will work alongside you to plan and erect a unique cabana that caters to your distinct needs and preferences. Regardless of whether you want an intimate hideaway for unwinding or an upscale space for entertaining company, we can construct a cabana that serves as your ideal outdoor sanctuary.
Gazebos: A Beautiful Addition for Your Outdoor Garden or Patio
In any garden or patio, a gazebo is an enduring addition that supplies an appealing focal point and a cool refuge for outdoor leisure. Our adept team works with you to find the ideal appearance, materials, and setting for your gazebo, assuring flawless integration into your current garden or patio. Due to our excellent craftsmanship, you can experience a remarkable gazebo that improves the visual appeal of your outdoor space throughout the years.
Pergolas: Bring Architectural Charm and Functionality to Your Outdoor Domain
A great way to boost architectural allure and functionality in your outdoor living area is by installing a pergola. Pergolas inherently deliver a mix of shaded areas and sunlit spaces, ideally suiting them for the likes of garden promenades, terraces, or eateries outdoors. The proficient staff at Decks Unique can develop and assemble a custom-designed pergola to harmonize with your tastes and augment your home's value.
Porch Development: Elevate Your Home's Curb Appeal and Outdoor Lifestyle
An expertly designed porch not only improves your home's curb appeal but also offers a cozy outdoor space for you and your loved ones to relish. Our expert team will work with you to create a custom-designed porch that complements your home's architecture and meets your functional needs. With our comprehensive attention to even the smallest detail and steadfast pledge to premium quality, you can breathe easy knowing your porch assembly project is in proficient hands.
Communicate with Decks Unique for your Mastic Beach outdoor living area transformation
Decks Unique specializes in delivering premium, custom-crafted outdoor living solutions to our Mastic Beach clients and the surrounding areas. Our knowledgeable team is eager to assist if you're considering adding a wood awning, cabana, gazebo, pergola, or porch to your outdoor area. Connect with us today to explore your project's possibilities and see how we can make your outdoor living space a luxurious and efficient extension of your household.
High-Quality Deck Consultation and Design in Mastic Beach
Decks Unique prides itself on presenting custom consultations and deck designs, designed to cater to the distinctive needs of our clientele. Our seasoned deck designers, with over 20 years in the field, will partner with you to develop a deck that improves both your home's appearance and functionality. Utilizing innovative 3D modeling and visualization approaches, we'll make your dream deck a reality, confirming that the finished result meets your standards.
Top-Notch Decking Materials to Ensure Longevity
Decks Unique, the preeminent deck builder on Long Island, is authorized to install all renowned composite decking products, featuring brands like Trex, TimberTech, and Azek. Additionally, we offer a wide range of wood decking alternatives that suit your personal tastes, such as pressure-treated materials, cedar, redwood, and exclusive hardwoods. Our promise to use only top-of-the-line materials ensures your new deck's durability with the added benefit of low maintenance.
Outstanding Deck Building Services in Mastic Beach
The competent deck construction crew at Decks Unique is committed to providing first-rate craftsmanship and efficiency across the entire building process. Given our considerable insight into building codes, specifications, and permits, you can trust in us to undertake the entire endeavor from inception to completion, providing you a captivating and efficient outdoor area.
Defend and Resurrect Your Deck's Splendor
We, at Decks Unique, grasp the necessity of regular maintenance to uphold your deck's beauty and structural resilience. Our proficient staff at Decks Unique can inspect and uncover any damages or potential problems, administering essential repairs to maintain your deck in an optimal state. At Decks Unique, we also propose deck revamping and restoration amenities, involving cleaning, staining, safeguarding against weather, and sealing to conserve and magnify your deck's appeal.
Boost Your Outdoor Setting with Custom Solutions and Add-ons
To develop your deck into a matchless outdoor hideaway, Decks Unique delivers an abundance of specialized qualities and extensions, like lighting options for deck installations, seating merged with structural design, external kitchen setups, and fire-focused touches. These embellishments not only extend usability, but they also create a snug and appealing air for you and your guests to find joy in.
Extensive Decking Solutions and Supplementary Services
Decks Unique is well-versed in both deck design and construction as well as additional outdoor structures like wood awnings, cabanas, gazebos, pergolas, and porch construction. These structures can further enhance your Long Island home's outdoor space, making it the perfect area for relaxation and entertainment.
Let Decks Unique handle all of your decking needs in Mastic Beach. Notice the transformation our dedication to quality, expertise, and client satisfaction creates in your outdoor living area. Contact us today to book a free assessment and let us change your backyard into an astonishing piece of art.
With pride, offering our assistance to Mastic Beach, Lynbrook, Kings Park, Hempstead, Garden City, East Rockaway, Deer Park and additional Long Island locales.
Offering Long Island Quality Deck Designs and Services: