Discover Decks Unique - The Leading Deck Builder in North Amityville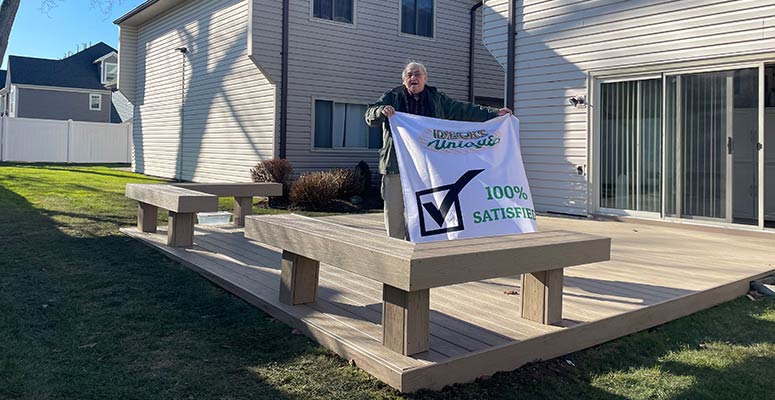 As a family-owned and operated business for over 20 years, Decks Unique has provided custom deck design and construction services to the people of Long Island and neighboring regions, such as North Amityville. Our passion for design and commitment to professionalism, honesty, and innovation have made us the largest producer of high-quality decks on Long Island, setting the standards for the industry. We pride ourselves on developing and constructing custom decks, porches, gazebos, pergolas, wood awnings, and assorted outdoor structures that bolster the appeal, worth, and function of your Long Island home.
Skilled and Experienced Deck Building Services in North Amityville
Decks Unique maintains that a well-designed deck is a smart investment when thinking about ways to improve your home. Our highly skilled team of seasoned deck constructors consistently strives for exceptional quality, adheres to effective timetables, and guarantees long-lasting warranties. Our steadfast pursuit of excellence has culminated in numerous pleased clients and deck constructions they are proud to exhibit for many years down the line.
Our certified Long Island decking contractors can install all popular composite decking brands, including Trex, TimberTech, and Azek. Take advantage of our free home consultations and computer-assisted decking designs to help you imagine your project before it's built. Make your backyard the site for our subsequent project!
Elevate Your House's Worth by Adding a Custom Deck
A well-crafted deck contributes to both an increase in your North Amityville home's outdoor living environment and the enhancement of its value. Decks Unique specializes in the planning and building of tailor-made decks that satisfy each of our clients' distinctive needs and inclinations. From a warm and welcoming spot for get-togethers to an elegant outdoor refuge for enjoying the splendid weather, our team will work intimately with you to fashion your desired space.
We comprehend that every homeowner has their own unique style and needs when it comes to their outdoor space. That's why we have a diverse array of materials, styles, and features to help you create a deck that fits your home and life. From traditional wood options like pressure-treated lumber, cedar, and redwood to low-maintenance composite and PVC decking, we have the right solution for every budget and preference.
Exceptional Attention to Premium Quality and Client Pleasure
At Decks Unique, we take immense pride in the quality of our workmanship and the satisfaction of our clients. Utilizing premium materials and employing accomplished builders allows us to uphold the highest standards in every project we handle.
We think that effective communication is crucial for project success, and it's our top priority to keep clients in the loop throughout the process. From the moment our initial consultation begins, through the design and construction phases, and all the way up to the final inspection, our team is tirelessly committed to answering inquiries, tackling concerns, and guaranteeing your happiness with your new deck.
Let Decks Unique transform your North Amityville backyard into an outdoor living space you'll love. Connect with us today to book a free consultation and find out what sets Decks Unique apart.
In-depth Decking Assistance in North Amityville
At Decks Unique, we pride ourselves on offering a wide range of decking services tailored to meet the needs of our clients in North Amityville. We specialize in a variety of custom deck services, including designing and building decks, as well as providing repairs, maintenance and refinishing. At Decks Unique, we also supply a variety of distinct features and additional options to augment your outdoor living enjoyment. Take a more detailed look at the assortment of services we proudly offer.
Custom Deck Design: Making Your Dream Deck Come True
Our adept deck designers will cooperate with you to create a personalized deck that expresses your distinctive style, accents your home, and accommodates the particular requirements of your property. To empower you to make well-versed decisions, our seasoned consultants will lead you through the material-picking phase, promising sustained grace and durability for your deck.
High-Quality Deck Production: First-Class Workmanship for a Magnificent Outdoor Environment
As a prominent deck builder, we are committed to utilizing only top-quality materials and practicing secure, proficient workmanship. Our accomplished crew members are qualified installers of renowned composite deck materials, such as Trex, TimberTech, and Azek. With extreme care for details and keeping structural sturdiness in mind, we ensure your deck is not only visually stunning but also built to last.
Repairing and Maintaining Decks: Retaining the Value of Your Investment
To preserve the beauty and functionality of your deck, regular maintenance is crucial. For both wood and composite decks, our committed team provides extensive maintenance and repair services. Whether you need thorough inspections to flag potential issues or expert repairs for weather-worn or damaged decks, we are the ideal partner for all your deck maintenance necessities. Equipped with our scheduled maintenance programs, you can rest easy knowing that your deck will be kept in pristine condition all year long.
Deck Refinishing and Renewal: Bring Freshness to Your Outdoor Environment
In the course of time, even the most superior decks can reveal signs of wear or call for refinishing to uphold their appearance. Our experienced team members can renew the visual appeal of your deck via expert cleaning, staining, weatherproofing, and sealing techniques. Plus, we can undertake structural alterations, confirming that your deck stays safe and usable for an extended period.
Made-to-order Qualities and Accessories: Strengthen Your Deck Recreation
To elevate your outdoor living space, we offer a range of custom features and add-ons designed to complement your deck. These offerings contain energy-saving lighting solutions for decks, built-in places to sit, outdoor culinary areas, and fire-related elements. Embedding these particulars into your deck configuration, we help form a friendly and cozy atmosphere for you to treasure with your dear ones in North Amityville.
Providing top-notch decking solutions to clients and nearby areas is a specialty of Decks Unique. In our 20 years of experience, we have garnered a reputation for being professional, sincere, and inventive. When it comes to designing a fresh deck or improving an existing one, our expert team is at your service. Give us a call today to plan a free consultation, and let us show you how to morph your outdoor area into an impressive, functional refuge.
Choose the Right Deck Material for Your Home: Wood and Composite Selections
Decks Unique is all about empowering you to create an amazing outdoor utopia within your home. Consequently, we supply various decking materials encompassing both wooden and composite choices. Separate materials exhibit specific strengths so that you can determine the best option corresponding to your particular requirements and desires.
Discover the Classic Appeal of Wood Decking
Wood's timeless versatility makes it an ideal material for adding warmth and charm to outdoor environments. We present a wide assortment of wood deck options, ensuring compatibility with any style and budget.
Pressure-Treated Wood: Cost-effective and Long-lasting
Because of its budget-friendliness and lasting quality, pressure-treated lumber is popular among numerous homeowners. A certain treatment process ensures this decking material remains resistant to rot and insect infiltrations. As a result, pressure-treated decks are long-lasting and require minimal maintenance.
Elegance and Resilience: Cedar and Redwood's Natural Qualities
For those pursuing a deluxe option, we feature cedar and redwood decking in our offerings. The stunning and high-quality woods are naturally resistant to deterioration and bug infestations, ensuring a deck that lasts and ages with charm. The strong colors and exclusive grain formations of cedar and redwood decks make them a visually appealing complement to any home.
Exotic Hardwoods: Beautiful and Durable
If you're on the hunt for a genuinely distinct and sophisticated alternative, consider utilizing exotic hardwoods like Ipe, Tigerwood, or Cumaru. These exceptionally dense and robust hardwoods boast impressive durability and a stunning appearance. Accentuating any outdoor area, exotic hardwood decks offer eye-catching colors and ornate patterns as a stunning centerpiece.
Composite and PVC Decking: Your Path to Low-Maintenance Living
For those seeking a low-maintenance and eco-friendly alternative, consider composite and PVC decking. These innovative materials combine the beauty of wood with the durability of synthetic materials, providing homeowners with a nearly maintenance-free outdoor space.
Understanding the Benefits and Advantages of Composite Decking
Composite decking, which combines recycled wood fibers and plastic, is a sturdy and green choice. Thanks to its resistance to warping, cracking, and fading, this decking material yields an eye-catching, long-lasting deck that demands minimal maintenance. Composite decks also have an advantage in their ease of cleaning, with only sporadic washing needed to keep the outdoor area immaculate.
Leading Brands in the Field of Composite Materials
Decks Unique takes great pride in working hand-in-hand with elite composite decking brands, including Trex, TimberTech, and Azek. Being authorized installers of these extraordinary products allows us to give North Amityville homeowners access to the highest quality materials for a gorgeous and long-lasting outdoor living space.
Custom-build Your Deck with a Range of Color and Texture Combinations
The wide variety of customization possibilities is a major plus for composite decking. With a variety of color and texture choices, you can create a one-of-a-kind outdoor space that perfectly suits your home's aesthetic. Whether your liking leans towards natural wood or a more sophisticated design, composite decking has something for you.
Boost Your Deck's Appeal with Railing and Baluster Alternatives
The ideal deck isn't all it can be without the proper railing and baluster system. Decks Unique offers countless options to accentuate your deck design while ensuring a safe and practical outdoor environment.
Wooden Balustrade Systems: Classic and Eternal
For a classic and timeless look, consider a wood railing system. Wood railing systems can be used with both wooden and composite decking for a well-coordinated and seamless design. Wood railing systems can be painted or stained to match your deck or North Amityville home exterior, ensuring a stunning final result.
Metal and Glass Railing Systems: Current and Refined
When a refined and modern vibe is what you're after, metal or glass railing systems may be perfect for you. These options provide a contemporary touch and can enhance the view from your deck, making them a popular choice for homeowners with picturesque surroundings.
Composite Railing Systems: Low-Maintenance and Stylish
Composite railing systems present an exceptional option for those who want style and elegance without the hassle of constant maintenance. Featuring both durability and charm, these railings, when paired with composite decking, establish an attractive and consistent look, ultimately constructing a beautiful outdoor living area requiring limited upkeep.
Regardless of your favorite styles, Decks Unique is ready to help you identify the ideal decking components for your household. Engage with us today to convey your needs and embark on the journey to design your dream outdoor space.
Elevate Your Outdoor Living Experience with Our Supplementary Services in North Amityville
Decks Unique is committed to turning your outdoor living area into a lavish and practical extension of your residence. In addition to our outstanding deck construction services, we also provide a range of supplementary services like wooden awnings, cabanas, gazebos, pergolas, and building porches. In North Amityville, we have a team of skilled professionals who work closely with you to make your dream outdoor space a reality, while ensuring the highest quality and durability.
Wood Awnings: Add Fashion and Functionality for Your Outdoor Space
Adding wood awnings is a superb method to introduce shade and elegance to your outdoor space. Our team of experts at Decks Unique is here to help you decide on the right design and materials, ensuring a stunning and functional wood awning that fits your home's look. These installations not only safeguard you from harsh weather but also contribute to the overall appreciation of your property's value.
Cabanas: Design a Lavish Getaway in Your North Amityville Garden
Cabanas boast a unique mix of lavishness, relaxation, and privacy, making them an attractive addition to any outside environment. We'll have our team of specialists work closely with you to create and build a custom-made cabana in line with your specific requirements and inclinations. Whether you want a cozy space to relax or an elegant area to entertain guests, we can create a cabana that serves as a perfect outdoor retreat.
Gazebos: A Captivating Addition to Your Garden or Patio Environment
A gazebo remains a cherished inclusion in gardens and patios, lending an appealing visual interest and a comfortable shaded zone for outdoor leisure. With the help of our skilled team, you'll be able to decide on the ideal style, materials, and placement for your gazebo, ensuring it integrates smoothly with your current outdoor space. Due to our excellent craftsmanship, you can experience a remarkable gazebo that improves the visual appeal of your outdoor space throughout the years.
Pergolas: Combine Architectural Aesthetics and Utility for Your Outdoor Retreat
Pergolas are an excellent way to add architectural interest and functionality to your outdoor living space. Such structures offer a mix of shade and natural light, making them ideal for garden paths, terrace areas, or al fresco dining spots. Let the skilled experts at Decks Unique craft a bespoke pergola that caters to your style and contributes to your home's overall value.
Porch Construction: Enhance Your Home's Curb Appeal and Outdoor Living Space
An expertly designed porch not only improves your home's curb appeal but also offers a cozy outdoor space for you and your loved ones to relish. Our skillful staff will coordinate with you to fashion a custom porch that goes well with your home's architecture and addresses your functional requirements. With our painstaking observance of detail and fidelity to outstanding quality, you can be assured that your porch manufacturing enterprise is being managed by skilled professionals.
Reach out to Decks Unique to transform your North Amityville outdoor living space
Decks Unique is committed to offering top-tier, made-to-order outdoor living solutions for our North Amityville clients and their neighboring areas. Should you desire to add a wood awning, cabana, gazebo, pergola, or porch to your outdoor living environment, our adept team is here for support. Reach out to us today for a discussion about your project, and let us demonstrate how we can reshape your outdoor living area into a high-end and functional home extension.
North Amityville's Expert Deck Design and Consultation
Delivering personalized consultations and tailor-made deck designs that satisfy every client's specific needs is what sets Decks Unique apart. With over 20 years of know-how, our expert deck designers will cooperate closely with you to devise a deck that elevates your home's looks and utility. With state-of-the-art 3D modeling and visualization tools, we'll actualize your vision of the perfect deck, guaranteeing that the completed project satisfies your requirements.
Premium Deck Construction Materials for Extended Durability
On Long Island, Decks Unique is the top deck builder and authorized installer for leading composite deck products such as Trex, TimberTech, and Azek. We also propose a diverse set of wood decking choices to meet your specific preferences, such as pressure-treated building materials, cedar, redwood, and upscale hardwoods. Our resolve to employ only high-quality materials ensures a long-lasting, easy-to-maintain deck for your property.
First-Rate Deck Building Services in North Amityville
Our gifted deck construction professionals at Decks Unique are devoted to ensuring top-tier quality and effectiveness during the full building process. With our extensive know-how of building codes, statutes, and permits, you can rely on us to steer the whole project from its start to finish, leaving you with a visually striking and practical outdoor living area.
Uphold and Revamp Your Deck's Charm
We, at Decks Unique, grasp the necessity of regular maintenance to uphold your deck's beauty and structural resilience. Our experienced team can inspect and identify any damages or potential issues, providing necessary repairs to keep your deck in top condition. We also supply deck resurfacing and revitalization services, encompassing cleaning, staining, protecting against the elements, and sealing for the preservation and enhancement of your deck's aesthetics.
Boost Your Outdoor Setting with Custom Solutions and Add-ons
To shape your deck into an unparalleled open-space sanctuary, Decks Unique supplies a multitude of custom attributes and ancillary items, incorporating lights designed for decks, in-built chair arrangements, cooking facilities for open-air settings, and fire-centric highlights. These additions not only improve operation but also generate a soothing and receptive environment for your enjoyment and your guests.
Full-Scale Decking Services and More
Not only do we excel in deck design and construction at Decks Unique, but we also specialize in creating extra outdoor structures, including wood awnings, cabanas, gazebos, pergolas, and porch construction. These amenities can remarkably enhance your Long Island home's outdoor space, converting it into a perfect haven for relaxation and social gatherings.
Let Decks Unique handle all of your decking needs in North Amityville. Find out how our dedication to top-notch quality, professionalism, and customer satisfaction affects your outdoor area. Reach out to us today for a free consultation, and let us convert your backyard into an exquisite showpiece.
Proudly serving North Amityville, Middle Island, Manorville, Lawrence, Holtsville, Glen Head, Farmingdale and other Long Island communities.
Offering Long Island Quality Deck Designs and Services: