Meet Decks Unique - The Finest Deck Builders Serving Malverne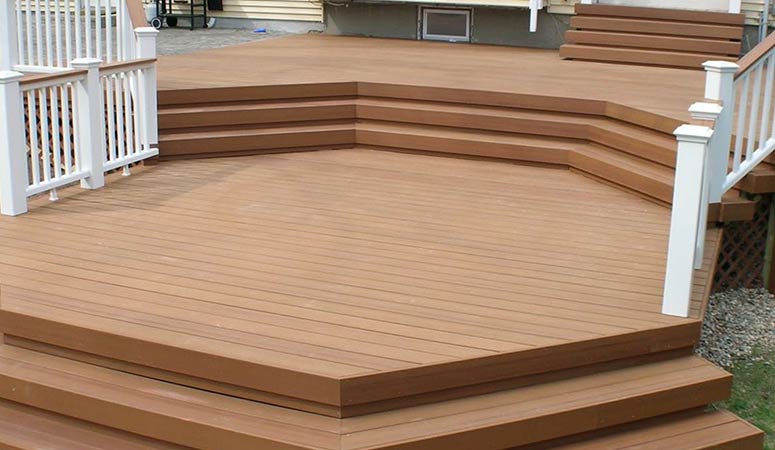 Family-owned and operated Decks Unique provides custom deck design and construction services to the people of Long Island and its surrounding areas, including Malverne, and has done so for over 20 years. Our fervor for design, coupled with a strong commitment to professionalism, integrity, and innovation, has positioned us as the foremost manufacturer of high-caliber decks in Long Island, raising the bar for the sector. Our expertise lies in crafting custom decks, porches, gazebos, pergolas, wooden awnings, and other outdoor amenities that enhance the appeal, value, and practicality of your residence in Long Island.
Leading Expertise and Experience in Deck Building in Malverne
At Decks Unique, we believe that a well-thought-out deck design is a wise investment when considering home improvement. The Decks Unique team of expert deck builders holds a steadfast commitment to delivering unparalleled quality, upholding efficient production schedules, and guaranteeing the lasting value of our warranties. Our steadfast pursuit of excellence has culminated in numerous pleased clients and deck constructions they are proud to exhibit for many years down the line.
In Long Island, our expert deck builders have approval to install all chief composite decking choices, including Trex, TimberTech, and Azek. We present free home evaluations and computerized decking layouts to enable you to picture your project before it becomes reality. Permit us to create an amazing transformation in your backyard for our next project!
Raise Your Home's Value by Installing a Bespoke Deck
A well-crafted deck contributes to both an increase in your Malverne home's outdoor living environment and the enhancement of its value. We take pride in our specialization at Decks Unique in the creation and construction of custom decks that cater to each client's particular needs and choices. No matter if you desire a comfy location for social events or a grand outdoor paradise to savor the charming weather, our staff will partner with you to create your ideal space.
It's clear that each homeowner possesses distinct tastes and necessities for their outside spaces. This is the basis for our extensive variety of materials, styles, and elements to establish the flawless deck that lines up with your home and lifestyle. From standard wood options like pressure-treated lumber, cedar, and redwood to the easy upkeep of composite and PVC decking, we provide the right answer to accommodate every budget and personal taste.
Unparalleled Commitment to Quality and Customer Satisfaction
At Decks Unique, we take immense pride in the quality of our workmanship and the satisfaction of our clients. Every project we tackle meets the highest criteria, thanks to our commitment to using first-rate materials and working with proficient, seasoned builders.
We consider open communication to be the cornerstone of a successful project, and we strive to keep our clients well-informed every step of the way. From beginning to end - initial consultation, design planning, construction, and final examination - our team stays engaged, ready to answer any questions you have, address any concerns, and wholeheartedly ensure you are delighted with your new deck.
Trust Decks Unique to morph your Malverne backyard into an impressive outdoor living space you'll enjoy for years. Contact us right away to plan a free consultation and see the Decks Unique difference in person.
Extensive Deck Construction Services in Malverne
In Malverne, Decks Unique boasts a comprehensive variety of decking services, all geared towards satisfying the unique demands of our clients. Our team is skilled in providing a holistic suite of services, from custom deck design and construction to repair, maintenance, and refinishing. Additionally, we provide a variety of unique features and add-ons to enhance your outdoor living experience. Let's take a closer look at the services we offer.
Custom Deck Design: Creating the Perfect Dream Deck for You
Our expert deck designers will work hand-in-hand with you to produce a tailored deck that mirrors your personal flair, complements your residence, and addresses the exclusive demands of your property. With the purpose of helping you make smart decisions, our experts will navigate you through choosing materials, securing a long-lasting and beautiful result that stands the test of time.
Expert Deck Construction: Quality Craftsmanship for a Stunning Outdoor Space
Being an esteemed deck builder, we dedicate ourselves to using only first-class materials and ensuring safe, efficient labor. Our proficient crews are authorized to install well-known composite deck materials, including Trex, TimberTech, and Azek. By giving close attention to detail and prioritizing structural strength, we ensure that your deck is not only breathtaking but also withstands the passage of time.
Repairing and Maintaining Decks: Retaining the Value of Your Investment
Keeping your deck beautiful and functional requires regular maintenance. Our devoted team supplies a wide range of repair and maintenance services for wood and composite decks alike. Our services range from comprehensive inspections to pinpoint potential problems, to expert repairs for weather or wear damage, ensuring we're the ultimate solution for all your deck maintenance needs. Through our pre-scheduled maintenance programs, you can enjoy the certainty that your deck's outstanding condition will be sustained year-round.
Deck Refinishing and Revitalization: Energize Your Exterior Living Space
With the passage of time, even first-rate decks might show evidence of wear or need refinishing in order to continue looking great. Our experienced team members can renew the visual appeal of your deck via expert cleaning, staining, weatherproofing, and sealing techniques. Further, we can administer structural optimizations, keeping your deck safe and efficient for a considerable duration.
Customized Elements and Added Components: Elevate Your Deck Pleasures
With the goal of elevating your outdoor living area, we put forth numerous individualized aspects and add-ons intended to accent your deck. These offerings contain energy-saving lighting solutions for decks, built-in places to sit, outdoor culinary areas, and fire-related elements. By assimilating these constituents into your deck's blueprint, we construct a charming and relaxing space for you to savor with close ones in Malverne.
Decks Unique is dedicated to providing premium decking services to clients in the surrounding areas. For more than 20 years, our experience has earned us a reputation for being professional, honest, and groundbreaking. If you want to build a new deck or refurbish your existing one, our highly skilled team is on hand to help. Contact us today to schedule a no-cost consultation and see how we can elevate your outdoor space into an elegant, functional sanctuary.
Discover Your Perfect Deck Material: Wood and Composite Options
Here at Decks Unique, we are passionate about collaborating with you to develop the perfect outdoor hideaway for your house. That's the advantage of our extensive choice of decking materials, including both wood composite variants. Each decking material possesses its advantages, which allows you to select the most suitable option for your particular necessity and preference.
Wood Decks Radiate Classic Appeal
Wood is a timeless and versatile material, providing natural warmth and charm to any outdoor space. Our selection of wooden deck options caters to an array of preferences and financial plans.
Pressure-Treated Lumber: Affordable and Durable
Many homeowners prefer pressure-treated lumber because it is cost-effective and long-lasting. Undergoing a unique treatment process, this decking material is protected against decay and bug infestations. This makes pressure-treated decks not only durable but also low-maintenance.
Premium and Resistant: Cedar and Redwood's Natural Features
We also provide cedar and redwood decking for those wanting a more extravagant option. These attractive and upscale woods have innate resistance to rot and infestation, resulting in a long-lasting deck that weathers beautifully. Cedar and redwood decks, adorned with intense colors and characteristic grain appearances, deliver an awe-inspiring aspect to any house.
Exotic Hardwoods: Exquisite and Hardwearing
If a truly unique and remarkable choice is what you're after, think about using exotic hardwoods such as Ipe, Tigerwood, or Cumaru. Thanks to their substantial density and ruggedness, these woods are celebrated for their incredible durability and strikingly beautiful appearance. Exotic hardwood decks, featuring their bold colors and detailed patterns, make for an impressive centerpiece in any outdoor setting.
Experience Low-Maintenance Living through Composite and PVC Decking
To find an eco-responsible and low-upkeep choice, take into account composite and PVC decking. These contemporary materials integrate the appeal of wood and the sturdiness of synthetic elements, endowing homeowners with a largely maintenance-free outdoor living area.
The Upsides and Benefits of Composite Decking
Composite decking, featuring a mix of reused wood fibers and plastic, is an enduring and eco-friendly solution. Warping, cracking, and fading are no match for this decking material, which ensures a beautiful and long-lasting deck with minimal effort required. Composite decks also have an advantage in their ease of cleaning, with only sporadic washing needed to keep the outdoor area immaculate.
The Foremost Brands in Composite Materials Industry
Decks Unique is pleased to join forces with leading composite decking brands, such as Trex, TimberTech, and Azek. Being licensed installers of these impressive products, we can equip Malverne homeowners with the finest materials to ensure an exquisite and durable outdoor setting.
Custom-build Your Deck with a Range of Color and Texture Combinations
A significant advantage of composite decking is the vast array of personalization possibilities. With a variety of color and texture choices, you can create a one-of-a-kind outdoor space that perfectly suits your home's aesthetic. If you have a penchant for natural wood looks or more innovative designs, composite decking offers a compatible option.
Upgrade Your Deck by Adding Railing and Baluster Choices
An exceptional deck is missing something without the right railing and baluster system. Decks Unique provides an ample range of options to elevate your deck design and warrant your outdoor area's safety and functionality.
Wooden Railing Systems: Classic and Everlasting
A wood railing system is worth considering for a classic and ageless look. Wood railing systems work well with both wooden and composite decks, resulting in a harmonious and unified style. Wood railing systems can be painted or stained to match your deck or Malverne home exterior, ensuring a stunning final result.
Metal and Glass Railing Systems: Contemporary and Elegant
If you prefer a more modern and sleek aesthetic, consider metal or glass railing systems. Metal and glass railing systems not only embody a fresh and modern charm, but they also heighten the visual experience from your deck - a popular choice for those blessed with stunning environments.
Composite Railing Systems: Minimal Upkeep and Fashionable
Composite railing systems provide a great option for those who seek low-maintenance alternatives without sacrificing style and elegance. When combined with composite decking, these rugged and elegant railings contribute to a seamless appearance, crafting a striking outdoor sanctuary with minimal required maintenance.
No matter what you prefer, Decks Unique is available to guide you in choosing the best decking materials for your house. Reach out to our team today to discuss your vision and begin shaping the outdoor area you've always imagined.
Raise the Bar for Your Outdoor Living Space with Our Additional Services in Malverne
We at Decks Unique are dedicated to converting your outdoor living space into an opulent and functional part of your home. Aside from our superior deck building services, we also deliver a variety of extra services, including wooden awnings, cabanas, gazebos, pergolas, and porch construction. Our adept experts in Malverne collaborate with you to manifest your vision, while guaranteeing exceptional quality and enduring durability.
Wooden Awnings: Infuse Style and Shade into Your Outdoor Space
Through wood awnings, you can effortlessly introduce both shade and grace to your exterior area. Our team of experts at Decks Unique is here to help you decide on the right design and materials, ensuring a stunning and functional wood awning that fits your home's look. These installations not only safeguard you from harsh weather but also contribute to the overall appreciation of your property's value.
Cabanas: Construct a High-end Refuge in Your Malverne Yard
Cabanas strike a perfect balance between luxury, comfort, and privacy, making them a great fit for any outdoor space. Our experienced team will work alongside you to plan and erect a unique cabana that caters to your distinct needs and preferences. From a cozy sanctuary for relaxation to a chic locale for socializing with friends, we can craft a cabana that makes for the perfect open-air haven.
Gazebos: An Elegant Inclusion in Your Garden or Patio
Incorporating a gazebo in a garden or patio lends perpetual elegance, offering an alluring centerpiece and a cool alcove for outdoor unwinding. Our professional team will help you choose the ideal style, materials, and location for your gazebo, ensuring a seamless integration with your existing landscape. Through our outstanding craftsmanship, we create a captivating gazebo that augments the splendor of your outdoor area for many years ahead.
Pergolas: Create Eye-catching Architectural Features and Functionality for Your Outdoor Living Area
A great way to boost architectural allure and functionality in your outdoor living area is by installing a pergola. Such structures offer a mix of shade and natural light, making them ideal for garden paths, terrace areas, or al fresco dining spots. Let Decks Unique's knowledgeable professionals plan and build a customized pergola to match your style, and in doing so, increase your home's value.
Porch Building: Upgrade Your Home's Curb Appeal and Outdoor Living Space
A tastefully designed porch not only enriches your home's curb appeal but also bestows a cozy alfresco living area for you and your family to enjoy. Our skillful staff will coordinate with you to fashion a custom porch that goes well with your home's architecture and addresses your functional requirements. With our rigorous attentiveness to detail and unyielding dedication to exceptional quality, you can rest easy knowing your porch fabrication assignment is in trustworthy hands.
Get in touch with Decks Unique for transforming your Malverne outdoor living area
Decks Unique takes pride in giving first-rate, personalized outdoor living solutions to people in Malverne and the surrounding communities. To enhance your outdoor area with a wood awning, cabana, gazebo, pergola, or porch, rely on our team of experienced professionals for help. Connect with us today to explore your project's possibilities and see how we can make your outdoor living space a luxurious and efficient extension of your household.
Skillful Deck Design and Consultation Services in Malverne
Decks Unique is renowned for providing individualized consultations and custom deck plans to fulfill the particular desires of our customers. With over 20 years of experience, our professional deck designers will work closely with you to create a deck that enhances your home's aesthetics and functionalities. Employing cutting-edge 3D modeling and visualization methods, we'll transform your dream deck into reality, making certain the end product aligns with your aspirations.
Exceptional Deck Materials for Long-lasting Stability
As the premier deck builder on Long Island, Decks Unique is an authorized installer of popular composite deck products like Trex, TimberTech, and Azek. Moreover, we supply a selection of wood decking possibilities to fit your desires, featuring pressure-treated lumber, cedar, redwood, and specialty hardwoods. The use of only premium materials in our work reflects our commitment to building durable, low-maintenance decks.
Professional Deck Construction Services in Malverne
Our skilled deck construction team at Decks Unique is dedicated to providing top-notch craftsmanship and efficiency during the entire building process. With our in-depth grasp of building codes, guidelines, and permits, you can have confidence in us to take care of the entire project, from inception to conclusion, providing you with an impressive and usable outdoor space.
Preserving and Rejuvenating Your Deck's Aesthetics
At Decks Unique, we understand the importance of routine maintenance in preserving the beauty and structural integrity of your deck. Our knowledgeable team can evaluate and detect any damage or potential risks, undertaking necessary repairs to retain your deck in the best possible condition. In addition, Decks Unique offers deck renewal and refinishing services, featuring cleaning, staining, weatherproofing, and sealing procedures to defend and enrich your deck's visual appeal.
Improve Your Outdoor Living Area with Custom-built Additions and Elements
To develop your deck into a matchless outdoor hideaway, Decks Unique delivers an abundance of specialized qualities and extensions, like lighting options for deck installations, seating merged with structural design, external kitchen setups, and fire-focused touches. These optimizations not only broaden the functional aspects but also forge an amicable and snug setting for you and your invitees to relish.
Broad Decking Options and Additional Support
Decks Unique specializes not only in deck design and building but also in constructing other outdoor structures such as wooden awnings, cabanas, gazebos, pergolas, and porches. Incorporating such structures will enhance the attractiveness of your Long Island property's outdoor space, making it an exceptional area for relaxation and hosting events.
For all your decking desires in Malverne, choose Decks Unique. Experience the difference that our commitment to quality, professionalism, and customer satisfaction brings to your outdoor living space. Get in touch right away to arrange a free consultation and let us transform your backyard into an impressive work.
Joyfully helping the citizens in Malverne, Lake Ronkonkoma, Holbrook, Glen Head, Farmingdale, East Farmingdale, Brentwood, and other Long Island vicinities.
Offering Long Island Quality Deck Designs and Services: