Get to know Decks Unique - Smithtown's Trusted Deck Building Specialists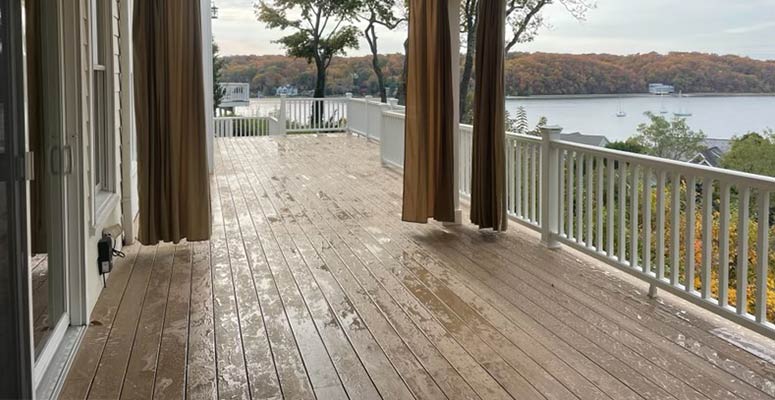 Decks Unique is a family-owned and operated custom deck design and construction company, serving the residents of Long Island and surrounding areas, including Smithtown, for over 20 years. Driven by our passion for design and a strong commitment to professionalism, honesty, and innovation, we have become the leading producer of top-quality decks in Long Island, setting the standards for our industry. We specialize in designing and building custom decks, porches, gazebos, pergolas, wood awnings, and other outdoor structures that add value, beauty, and functionality to your Long Island home.
Smithtown Deck Building Services with Expertise and Experience
At Decks Unique, our conviction is that a carefully planned deck design serves as a smart investment for home enhancements. Our adept squad of professional deck builders aims to achieve exceptional quality, maintain productivity in schedules, and assure our warranties come with true durable value. This unyielding determination to achieve the best has yielded thousands of happy customers and decks they are eager to showcase, now and in the future.
Our certified Long Island decking contractors can install all popular composite decking brands, including Trex, TimberTech, and Azek. Take advantage of our free home consultations and computer-assisted decking designs to help you imagine your project before it's built. Why not turn your backyard into our following endeavor?
Heighten Your Home's Worth with Your Own Custom Deck
A great deck not only enhances the outdoor living space of your Smithtown home but also adds significant value to your property. Our area of expertise at Decks Unique lies in conceiving and erecting individualized decks that accommodate the unique necessities and preferences of our clients. If you're seeking an intimate area for hosting gatherings or a lavish exterior sanctuary to revel in pleasant weather, we will collaborate closely with you to make your dream a reality.
We comprehend that every homeowner has their own unique style and needs when it comes to their outdoor space. For this reason, we provide an extensive selection of materials, designs, and options to build the ideal deck to enhance your home and way of life. We have suitable solutions for every budget and preference, including traditional wood types like pressure-treated lumber, cedar, and redwood, as well as low-maintenance composite and PVC decking.
Exceptional Attention to Premium Quality and Client Pleasure
We take great pride in our high-quality workmanship and client satisfaction at Decks Unique. Our dedication to the use of high-caliber materials and collaboration with skilled, seasoned builders guarantees each project we undertake is of the finest quality.
In our experience, consistent communication is the foundation of a successful project, and we never falter in our commitment to keep clients apprised of progress. From the initial consultation and design process through construction and final inspection, our team is always available to answer questions, address concerns, and ensure that you are completely satisfied with your new deck.
Give Decks Unique the chance to modify your Smithtown backyard into a cozy outdoor living space you'll love. Don't hesitate to contact us today for a free consultation and to witness the Decks Unique experience.
Complete Deck Building Services in Smithtown
We take great pride in delivering a diverse range of decking services at Decks Unique, all tailored to meet the expectations of our Smithtown clientele. Our proficiency extends from designing and constructing tailor-made decks to managing repairs, maintenance, and refinishing tasks. Besides our primary services, we also offer numerous distinctive features and upgrades to improve your outdoor living space. Let us examine the range of services we provide in greater detail.
Custom Deck Design: Transforming Your Ideal Deck into Reality
Our professional deck designers will work closely with you to create a custom deck that reflects your personal style, complements your home, and meets the unique requirements of your property. To empower you to make well-versed decisions, our seasoned consultants will lead you through the material-picking phase, promising sustained grace and durability for your deck.
Outstanding Deck Construction: Unparalleled Craftsmanship for a Gorgeous Open-Air Space
As an elite deck builder, we are resolved to use only high-quality materials and employ safe, efficient craftsmanship. Our skilled personnel are licensed installers of prominent composite deck products, like Trex, TimberTech, and Azek. By meticulously focusing on details and emphasizing structural quality, we make sure your deck is not only attractive but also withstands time's challenges.
Deck Upkeep and Restoration: Guarding Your Investment
Maintaining the appearance and function of your deck depends on regular maintenance. Our skilled team is available to provide detailed repair and maintenance services for wood and composite decks. Providing extensive inspections to identify possible challenges, coupled with expert repairs tackling weather or wear-and-tear damages, we serve as your primary choice for all deck maintenance tasks. With our regular maintenance schedules, you can relax, confident that your deck will be well-maintained and preserved year-round.
Deck Refinishing and Revitalization: Energize Your Exterior Living Space
Over time, even the highest quality decks may show signs of wear or require refinishing to maintain their appearance. Our team of specialists can reinstate the aesthetic charm of your deck through professional cleaning, staining, weatherproofing, and sealing procedures. Further, we can administer structural optimizations, keeping your deck safe and efficient for a considerable duration.
Custom Features and Add-ons: Enhance Your Deck Experience
To refine your outdoor living space, we offer a collection of custom-fitted elements and added features conceived to elevate your deck. These options consist of energy-wise deck lights, fixed seating, kitchens intended for open-air use, and fire configurations. By incorporating these elements into your deck design, we create a welcoming and comfortable space for you to enjoy with family and friends in Smithtown.
We, at Decks Unique, excel in delivering the finest decking solutions to our customers and areas nearby. Our 20-plus years of experience in the field have earned us a name for professionalism, integrity, and creativity. Our talented team is ready to assist, whether you'd like to create a new deck or upgrade an existing one. Get in touch with us today to arrange a complimentary consultation and uncover how we can convert your exterior space into an attractive, useful oasis.
Determine the Best Deck Material for Your Space: Wood and Composite Possibilities
Assisting you in creating the ultimate outdoor getaway for your home is our commitment at Decks Unique. This is the reason we provide an extensive array of decking materials, encompassing wood and composite selections. Each material has its unique advantages, ensuring that you can choose the best option for your specific needs and preferences.
Discover the Classic Appeal of Wood Decking
The flexibility and timelessness of wood provides a pleasant warmth and beauty to all kinds of outdoor spaces. A variety of wood decking options are offered to match each person's style and monetary constraints.
Pressure-Processed Wood: Wallet-friendly and Durable
A significant number of homeowners find pressure-treated lumber appealing for its inexpensive and durable aspects. A specific treatment process shields this decking material from decomposing and insect problems. Consequently, pressure-treated decks have a lengthy life and demand limited upkeep.
High-End and Resilient Cedar and Redwood: A Natural Concoction
If you're in the market for a high-end solution, consider our cedar and redwood decking options. These attractive and upscale woods have innate resistance to rot and infestation, resulting in a long-lasting deck that weathers beautifully. The strong colors and exclusive grain formations of cedar and redwood decks make them a visually appealing complement to any home.
Exotic Hardwoods: Stunning and Enduring
If you're looking for a truly unique and exquisite option, consider exotic hardwoods like Ipe, Tigerwood, or Cumaru. These incredibly dense and durable woods are known for their exceptional longevity and striking appearance. Captivating colors and fascinating patterns of exotic hardwood decks contribute to a magnificent centerpiece for any outdoor environment.
The Benefits of Low-Maintenance Living: Composite and PVC Decking
To find an eco-responsible and low-upkeep choice, take into account composite and PVC decking. These revolutionary materials marry the elegance of wood with the strength of engineered materials, treating homeowners to a nearly maintenance-free outdoor retreat.
Composite Decking: Exploring Its Benefits and Advantages
With a mixture of repurposed wood fibers and plastic, composite decking is a resilient and Earth-friendly selection. Thanks to its resistance to warping, cracking, and fading, this decking material yields an eye-catching, long-lasting deck that demands minimal maintenance. Cleaning composite decks is a breeze, as they only require periodic washing to maintain a spotless and inviting outdoor space.
Key Players in the Composite Materials Market
Decks Unique is honored to partner with renowned composite decking brands, including Trex, TimberTech, and Azek. As authorized installation experts of these unparalleled products, we can offer Smithtown homeowners the highest-grade materials for an appealing, durable outdoor space.
Enhance Your Deck's Appearance with Different Color and Texture Options
A key benefit of composite decking is the broad spectrum of customization opportunities. A range of color and texture selections allows you to craft an outdoor space that complements your home's appearance. Any preference for natural wood aesthetics or contemporary designs can be accommodated with the right composite decking choice.
Revamp Your Deck Using Different Railing and Baluster Combinations
The ultimate deck won't be whole without the fitting railing and baluster system. At Decks Unique, we provide numerous choices to augment your deck design and maintain the security and practicality of your outdoor living space.
Wooden Barrier Systems: Timeless and Classic
For a look that is both elegant and long-lasting, consider incorporating a wood railing system. Wood and composite decks alike can benefit from the addition of a wood railing system, providing a seamless integration and consistent style. A remarkable final appearance can be achieved by painting or staining a wood railing system to correspond with your deck or the exterior of your Smithtown home.
Metal and Glass Railing Systems: Fashionable and Uncluttered
Desiring a more current and polished appearance, you might want to look into metal or glass railing systems. Providing a fresh, up-to-date feel, these options can also boost the visuals enjoyed from your deck, appealing to homeowners who are surrounded by idyllic landscapes.
Composite Railing Systems: Effortless Maintenance and Stylish
People searching for a low-maintenance solution that doesn't compromise on style and elegance should consider composite railing systems. These durable and attractive railings provide a cohesive look when paired with composite decking, creating a stunning outdoor space that requires minimal upkeep.
No matter what your tastes are, Decks Unique is committed to helping you find the perfect decking materials for your living quarters. Reach out to our team today to discuss your vision and begin shaping the outdoor area you've always imagined.
Boost Your Outdoor Living Space with Our Additional Services in Smithtown
Decks Unique is committed to turning your outdoor living area into a lavish and practical extension of your residence. Not only do we excel in deck building services, but we also offer additional services such as constructing wooden awnings, cabanas, gazebos, pergolas, and porches. Our talented experts in Smithtown partner with you to create your desired outdoor space, ensuring the utmost quality and lasting durability.
Wooden Awnings: Add a Touch of Style and Shade to Your Outdoor Space
Installing wood awnings is a fantastic approach to enhance your outdoor area with both shade and elegance. At Decks Unique, our skilled team can assist you in selecting the appropriate design and materials for an attractive and practical wood awning that enhances your home's appearance. These wood awnings not only serve to protect against harsh weather but also help raise your property's overall value.
Cabanas: Create a Sumptuous Escape in Your Smithtown Lawn
Blending luxury, relaxation, and privacy perfectly, cabanas are an exceptional choice for upgrading any outdoor area. Our adept team will cooperate with you in the design and construction of a one-of-a-kind cabana that addresses your particular needs and desires. Whether you're looking for a comfortable nook to unwind or a sophisticated space to entertain visitors, we can fashion a cabana that becomes your ultimate al fresco getaway.
Gazebos: A Captivating Addition to Your Garden or Patio Environment
Adding a gazebo to a garden or patio creates an ageless charm, providing a striking focal point, and a covered spot for outdoor relaxation. Our proficient team aids you in picking the optimal aesthetics, materials, and location to incorporate your gazebo seamlessly into your current landscape. Through our outstanding craftsmanship, we create a captivating gazebo that augments the splendor of your outdoor area for many years ahead.
Pergolas: Elevate Your Outdoor Living Space's Interest and Utility through Architecture
For those looking to enhance their outdoor living area's aesthetics and functionality, pergolas are an excellent choice. The design of these structures allows for a combination of shade and sunlight, which makes them perfect for garden trails, patio spaces, and open-air eating areas. Choose Decks Unique's experienced team to conceive and erect a made-to-order pergola that reflects your individual style and boosts your property's worth.
Constructing a Porch: Improve Your Home's Exterior Attractiveness and Outdoor Living Area
A thoughtfully designed porch not only elevates your home's curb appeal but also supplies a pleasant outdoor living area for you and your family to appreciate. Our talented team will combine efforts with you to craft a unique porch that parallels your home's architectural appearance and serves your functional prerequisites. With our precise eye for detail and resolute passion for top-quality work, you can be sure that your porch erection project is in safe hands.
Get ahold of Decks Unique for upgrading your Smithtown outdoor living space
At Decks Unique, providing superior, custom-made outdoor living options for our clients in Smithtown and the adjacent areas is our mission. If adding a wood awning, cabana, gazebo, pergola, or porch to your outdoor space is what you're after, our proficient team is here to guide you. Get in touch with us now to chat about your project and learn how we can convert your outdoor living area into a lavish and practical extension of your residence.
Skillful Deck Design and Consultation Services in Smithtown
Decks Unique specializes in delivering bespoke consultations and customized deck plans, ensuring that every client's needs are met. Drawing from our 20-plus years of experience, our professional deck designers will closely collaborate with you to construct a deck that enriches your home's aesthetics and functions. Our use of sophisticated 3D modeling and visualization technology ensures that your ideal deck is brought to life, matching your expectations in the final outcome.
Durable Deck Materials for Extended Life Expectancy
Decks Unique, the preeminent deck builder on Long Island, is authorized to install all renowned composite decking products, featuring brands like Trex, TimberTech, and Azek. We also furnish an assortment of wooden decking options to match your likings, including pressure-treated planks, cedar, redwood, and high-quality hardwoods. The use of only premium materials in our work reflects our commitment to building durable, low-maintenance decks.
Reliable Deck Construction Services in Smithtown
At Decks Unique, our highly trained deck construction crew is dedicated to upholding superior craftsmanship and optimal efficiency during the complete building venture. Due to our profound expertise in building codes, standards, and permits, you can depend on us to oversee the complete project from inception to completion, delivering a striking and functional outdoor area.
Maintaining and Restoring Your Deck's Beauty
We, at Decks Unique, grasp the necessity of regular maintenance to uphold your deck's beauty and structural resilience. Our seasoned team can conduct inspections and find any damages or potential problems, performing essential repairs to maintain your deck's prime state. We also supply deck resurfacing and revitalization services, encompassing cleaning, staining, protecting against the elements, and sealing for the preservation and enhancement of your deck's aesthetics.
Raise the Standard of Your Outside Area with Unique Features and Add-ons
For authentically crafting your deck into a standout alfresco haven, Decks Unique brings you a variety of individualized elements and add-ins, featuring lighting systems for decks, seats embedded within the layout, cooking zones suitable for outdoor use, and fire-related fixtures. These refinements not only contribute to usefulness, but they also establish a warm and alluring environment for you and your guests' enjoyment.
Complete Decking Solutions and Beyond
Not only do we excel in deck design and construction at Decks Unique, but we also specialize in creating extra outdoor structures, including wood awnings, cabanas, gazebos, pergolas, and porch construction. These amenities can remarkably enhance your Long Island home's outdoor space, converting it into a perfect haven for relaxation and social gatherings.
Turn to Decks Unique for addressing all your decking needs in Smithtown. Discover the impact our dedication to quality, professionalism, and customer satisfaction has on your outdoor area. Connect with us today to arrange a cost-free consultation, and allow us to transform your outdoor area into a breathtaking masterpiece.
Eager to accommodate the residents of Smithtown, Roosevelt, Patchogue, North Merrick, New Cassel, Mastic Beach, Long Beach, and other Long Island territories.
Offering Long Island Quality Deck Designs and Services: