Meet Decks Unique - The Finest Deck Builders Serving Long Beach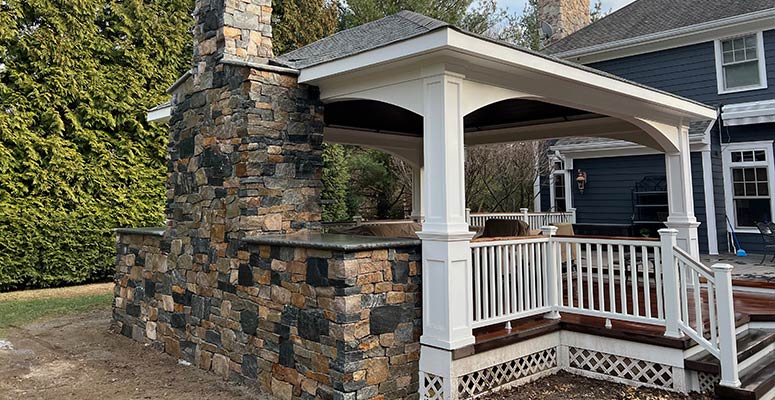 For over two decades, Decks Unique, a family-owned and operated enterprise, has offered custom deck design and construction services to the residents of Long Island and the surrounding areas, including Long Beach. Decks Unique's dedication to design, professionalism, integrity, and innovation has elevated us to become the leading producer of high-quality decks in Long Island, defining industry standards. We're experts in designing and building custom decks, porches, gazebos, pergolas, timber awnings, and other outdoor features that enhance the value, beauty, and functionality of your home in Long Island.
Long Beach Deck Building Services with Expertise and Experience
Decks Unique maintains that a well-designed deck is a smart investment when thinking about ways to improve your home. Decks Unique's highly trained team of deck builders pledges to deliver the highest quality, keep up with effective production timeframes, and guarantee that our warranties possess genuine lasting value. This resolute commitment to maintaining excellence has garnered numerous fulfilled clients and stunning decks they are thrilled to exhibit for years to come.
Our deck construction crews on Long Island are endorsed to deploy all renowned composite deck products, including Trex, TimberTech, and Azek. We extend free residential consultations and digitally-crafted deck layouts for you to preview your project before it gets underway. Let your backyard be the canvas for our next masterpiece!
Improve Your Dwelling's Value by Constructing a Custom Deck
The addition of a fantastic deck not only expands your Long Beach home's outdoor living space but also amplifies its market value. At Decks Unique, our team is committed to conceiving and constructing custom decks that match the individual requirements and predilections of every client. Regardless of whether you want an inviting space to entertain loved ones or a haven to appreciate the delightful weather, we will work in harmony with you to actualize your vision.
We recognize that every homeowner has unique preferences and needs for their outdoor areas. That's why we have a diverse array of materials, styles, and features to help you create a deck that fits your home and life. Starting from conventional wood materials like pressure-treated lumber, cedar, and redwood, through to the low-maintenance compound and PVC decking options, we cater to every budget and predilection.
Unparalleled Commitment to Quality and Customer Satisfaction
At Decks Unique, we take immense pride in the quality of our workmanship and the satisfaction of our clients. To ensure that all our projects are up to the highest standards, we are devoted to using only top-quality materials and hiring expert builders with a wealth of experience.
We're firm believers that strong communication is a major factor in a project's success, and we go above and beyond to maintain clear lines of communication with our clients. Starting with the initial consultation and design phase, continuing through construction, and finishing with the final inspection - our team is dedicated to answering questions, easing worries, and ensuring you're overjoyed with your new deck.
Let Decks Unique enhance your Long Beach backyard with an outdoor living space you'll be proud of. Contact us immediately to set up a complimentary consultation and feel the Decks Unique superiority.
Full-range Decking Services in Long Beach
Decks Unique takes pride in providing an extensive array of decking services, customized to accommodate the requirements of our Long Beach clientele. Our team possesses the skills necessary for every step of the process, from designing and constructing custom decks to repairs, upkeep, and refinishing. Besides our standard services, Decks Unique provides an assortment of unique features and add-ons to elevate your outdoor living experience. Let's explore further the array of services we provide at Decks Unique.
Custom Deck Design: Manifesting Your Dream Deck into Reality
Our professional deck designers will work closely with you to create a custom deck that reflects your personal style, complements your home, and meets the unique requirements of your property. With the purpose of helping you make smart decisions, our experts will navigate you through choosing materials, securing a long-lasting and beautiful result that stands the test of time.
Top-Notch Deck Construction: High-Quality Craftsmanship for a Beautiful Outdoor Living Space
As the superior deck builder, we are determined to use only exceptional materials and adhere to safe, efficient workmanship. Our adept teams are sanctioned installers of major composite decking products like Trex, TimberTech, and Azek. By giving close attention to detail and prioritizing structural strength, we ensure that your deck is not only breathtaking but also withstands the passage of time.
Maintaining and Repairing Decks: Preserving Your Investment
Regular maintenance is essential to preserving the beauty and functionality of your deck. Whether it's a wood or composite deck, our specialized team offers comprehensive repair and upkeep services. Whether it's thorough inspections to uncover potential issues, or professional repairs for weather-induced damage and wear, we can handle all your deck maintenance demands. Through our pre-scheduled maintenance programs, you can enjoy the certainty that your deck's outstanding condition will be sustained year-round.
Deck Resurfacing and Restoration: Refresh Your Outside Area
In the course of time, even the most superior decks can reveal signs of wear or call for refinishing to uphold their appearance. Our team of experts is capable of revitalizing your deck's beauty through thorough cleaning, staining, weatherproofing, and sealing. Furthermore, we can carry out structural upgrades to make sure your deck stays secure and operational in the long term.
Customized Elements and Added Components: Elevate Your Deck Pleasures
To enhance your outdoor living area, we provide an assortment of tailor-made features and extras crafted to accentuate your deck. These possibilities entail energy-sparing deck lights, incorporated seating, outdoor cooking spaces, and fiery aspects. Embedding these particulars into your deck configuration, we help form a friendly and cozy atmosphere for you to treasure with your dear ones in Long Beach.
Expertise in delivering prime decking services to clients and surrounding locations sets Decks Unique apart. Boasting over 20 years of experience, we are known for our professionalism, trustworthiness, and innovative approach. When it comes to designing a fresh deck or improving an existing one, our expert team is at your service. Touch base with us today to organize a free consultation, and let us demonstrate how we can change your outdoor area into a beautiful and practical haven.
Determine the Best Deck Material for Your Space: Wood and Composite Possibilities
At Decks Unique, our mission is to guide you in designing your dream outdoor refuge for your house. Thus, we have a vast assortment of decking materials, including alternatives made of wood and composite materials. Every material comes with distinct benefits, guaranteeing the optimal option tailored to your individual requirements and tastes.
Wooden Decks Showcase Timeless Sophistication
With a classic, versatile nature, wood gives an organic warmth and stylish appeal to open-air spaces. We have an extensive range of wood deck choices designed to address every aesthetic and budget.
Pressure-Treated Lumber: Affordable and Durable
Affordability and durability make pressure-treated lumber a favorite choice for numerous homeowners. This decking material undergoes a special treatment process, protecting it against rot and insect infestation. Pressure-treated decks last a long time and necessitate minimal care due to this treatment.
Naturally Resistant Cedar and Redwood: A Grand Luxury
Should you seek a more sumptuous choice, we also present cedar and redwood decking. These visually pleasing and superior woods are gifted with an innate resistance to decay and critters, providing a deck that lasts and grows old gracefully. The bold shades and unmatched grain structures of cedar and redwood decks contribute a breathtaking element to any abode.
Exotic Hardwoods: Attractive and Sturdy
If you desire a truly rare and refined option, think of using exotic hardwoods like Ipe, Tigerwood, or Cumaru. These dense and hard-wearing woods are famous for their amazing durability and striking visual appeal. Accentuating any outdoor area, exotic hardwood decks offer eye-catching colors and ornate patterns as a stunning centerpiece.
Experience Low-Maintenance Living through Composite and PVC Decking
For those seeking a low-maintenance and eco-friendly alternative, consider composite and PVC decking. These groundbreaking materials fuse the visual appeal of wood with the ruggedness of synthetic ingredients, granting homeowners an essentially maintenance-free outdoor environment.
Composite Decking: Benefits and Advantages
Using a blend of reclaimed wood fibers and plastic, composite decking delivers a long-lasting and environmentally friendly solution. With resistance to warping, cracking, and discoloration, this decking material guarantees an attractive and enduring deck that requires little maintenance. Additionally, composite decks are easy to clean, requiring only occasional washing to keep your outdoor space looking pristine.
The Foremost Brands in Composite Materials Industry
Decks Unique is pleased to join forces with leading composite decking brands, such as Trex, TimberTech, and Azek. Being authorized installers of these extraordinary products allows us to give Long Beach homeowners access to the highest quality materials for a gorgeous and long-lasting outdoor living space.
Tailor Your Deck through Selecting Color and Texture Varieties
The wide variety of customization possibilities is a major plus for composite decking. A range of color and texture selections allows you to craft an outdoor space that complements your home's appearance. Any preference for natural wood aesthetics or contemporary designs can be accommodated with the right composite decking choice.
Transform Your Deck with Various Railing and Baluster Choices
A flawless deck needs the correct railing and baluster system to be fully realized. With Decks Unique, you have access to a variety of options that enhance your deck design while guaranteeing safety and functionality in your outdoor area.
Wooden Railing Designs: Everlasting and Traditional
A wood railing system is worth considering for a classic and ageless look. A wood railing system can complement both wooden and composite decking, providing a cohesive and polished appearance. To guarantee a beautiful final product, paint or stain your wood railing system to coordinate with your deck or Long Beach home exterior.
Metal and Glass Railing Systems: Up-to-date and Polished
For those who appreciate a stylish and up-to-date feel, metal or glass railing systems can be a wise choice. These options provide a contemporary touch and can enhance the view from your deck, making them a popular choice for homeowners with picturesque surroundings.
Composite Railing Systems: Low-Maintenance, Aesthetic Appeal
Composite railing systems provide a great option for those who seek low-maintenance alternatives without sacrificing style and elegance. Pairing these durable, eye-catching railings with composite decking generates a visually consistent look, transforming the area into a striking outdoor haven that requires little care.
No matter what you prefer, Decks Unique is available to guide you in choosing the best decking materials for your house. Contact our team today to share your needs and initiate the planning process for your dream outdoor living space.
Revamp Your Outdoor Living Area with Our Additional Services in Long Beach
Decks Unique strives to change your outdoor living space into a lavish and efficient extension of your home. We don't just provide exemplary deck building services; we also have a variety of extra services like wood awnings, cabanas, gazebos, pergolas, and porch construction. In Long Beach, our experienced professionals collaborate closely with you to turn your dreams into reality while maintaining exceptional quality and durable construction.
Wooden Awnings: Increase Shade and Style for Your Outdoor Space
Wood awnings are a perfect way to add both shade and elegance to your outdoor area. The competent team at Decks Unique is committed to helping you identify the most suitable design and materials for a beautiful and functional wood awning that enhances your home's look. These timber structures not only shield you from adverse weather but also enhance the total value of your property.
Cabanas: Build an Opulent Sanctuary in Your Long Beach Yard
Cabanas are unparalleled in providing luxury, comfort, and privacy, making them a top choice for inclusion in any exterior space. Our adept team will cooperate with you in the design and construction of a one-of-a-kind cabana that addresses your particular needs and desires. Be it a warm, inviting spot for rest or a refined space for social engagements, we can build a cabana that becomes your dream outdoor getaway.
Gazebos: An Elegant Inclusion in Your Garden or Patio
Incorporating a gazebo in a garden or patio lends perpetual elegance, offering an alluring centerpiece and a cool alcove for outdoor unwinding. Our knowledgeable team guides you through the process of choosing the perfect style, materials, and location for your gazebo, guaranteeing harmonious fusion with your existing landscape. Due to our excellent craftsmanship, you can experience a remarkable gazebo that improves the visual appeal of your outdoor space throughout the years.
Pergolas: Integrate Architectural Style and Functionality into Your Open-air Space
Adding a pergola is a fantastic method for enhancing your outdoor area's architectural appeal and usefulness. These structures provide partial shade while still allowing natural light to filter through, making them perfect for garden walkways, patios, or outdoor dining areas. Our specialists at Decks Unique have the expertise to engineer and erect a bespoke pergola that aligns with your design tastes and bolsters your property's worth.
Porch Creation: Boost Your Home's Curb Appeal and Outdoor Living Space
A meticulously designed porch not only augments your home's curb appeal but also affords a relaxing outdoor living zone for you and your relatives to delight in. Our talented team will combine efforts with you to craft a unique porch that parallels your home's architectural appearance and serves your functional prerequisites. With our conscientious scrutiny of detail and allegiance to first-rate quality, you can be relaxed knowing that your porch building mission is in expert hands.
Connect with Decks Unique for your Long Beach outdoor living space makeover
Decks Unique is committed to offering top-tier, made-to-order outdoor living solutions for our Long Beach clients and their neighboring areas. Our team of skilled professionals is here to help you enhance your outdoor space with a wood awning, cabana, gazebo, pergola, or porch. Contact us right away to go over your project and learn how we can transform your outdoor area into a plush and purposeful extension of your living space.
Expertly Crafted Deck Plans and Designs in Long Beach
At Decks Unique, we pride ourselves on offering personalized consultation and custom deck designs to fit the individual needs of our clients. With over 20 years of experience, our professional deck designers will work closely with you to create a deck that enhances your home's aesthetics and functionalities. Through the use of progressive 3D modeling and visualization practices, we'll breathe life into your dream deck, ensuring the end product surpasses your expectations.
High-Quality Deck Materials for Lasting Durability
Decks Unique, the leading deck builder in Long Island, is a certified installer for top composite deck brands like Trex, TimberTech, and Azek. We have a range of wood decking options to cater to your needs, such as pressure-treated boards, cedar, redwood, and imported hardwoods. The use of only premium materials in our work reflects our commitment to building durable, low-maintenance decks.
Reliable Deck Construction Services in Long Beach
Our team of skilled deck builders at Decks Unique is focused on providing high-quality craftsmanship and effective execution during the whole construction journey. With our expert knowledge of building codes, regulations, and permits, you can trust us to handle the entire project from start to finish, leaving you with a stunning and functional outdoor living space.
Maintaining & Restoring the Beauty of Your Deck
At Decks Unique, we are conscious of the pivotal role regular maintenance plays in preserving your deck's visual charm and solid framework. Our seasoned team can conduct inspections and find any damages or potential problems, performing essential repairs to maintain your deck's prime state. Moreover, we render deck rejuvenation and refinishing solutions, such as cleaning, staining, weatherproofing, and sealing operations to maintain and enhance your deck's facade.
Enhance Your Exterior Living Space with Bespoke Additions and Features
For authentically crafting your deck into a standout alfresco haven, Decks Unique brings you a variety of individualized elements and add-ins, featuring lighting systems for decks, seats embedded within the layout, cooking zones suitable for outdoor use, and fire-related fixtures. Such improvements not only boost practicality, but they also generate a cozy and welcoming ambiance for you and your visitors to appreciate.
Extensive Decking Solutions and Supplementary Services
Besides being proficient in deck design and construction, Decks Unique provides services in creating additional outdoor structures like wood awnings, cabanas, gazebos, pergolas, and porch construction. These additional structures can greatly contribute to the charm of your Long Island home's outdoor environment, turning it into an ideal place for relaxation and festivities.
Decks Unique can tackle your entire Long Beach decking necessities. Witness the improvement our focus on quality, professionalism, and customer happiness brings to your exterior space. Get in touch with us now to set up a complimentary consultation and watch us turn your backyard into a beautiful work of art.
Joyfully helping the citizens in Long Beach, Kings Park, Hempstead, Garden City, Elmont, Deer Park, Bethpage, and other Long Island vicinities.
Offering Long Island Quality Deck Designs and Services: