Visit Decks Unique - Locust Valley's Most Reliable Deck Builder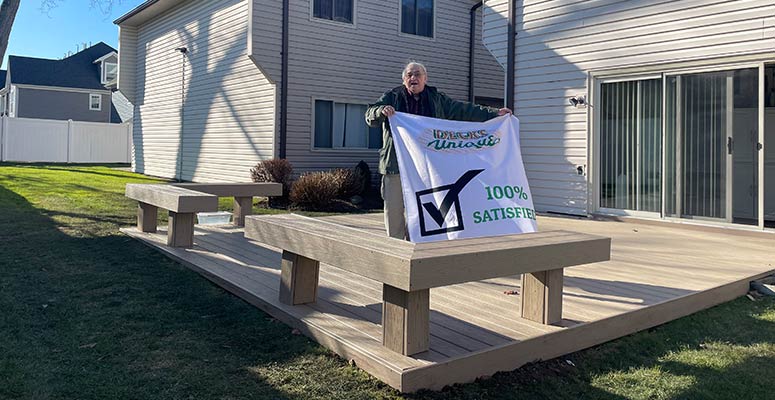 For over 20 years, Decks Unique has been a family-owned and operated company, specializing in custom deck design and construction, serving the people of Long Island and nearby areas, such as Locust Valley. Our passion for design and commitment to professionalism, honesty, and innovation have made us the largest producer of high-quality decks on Long Island, setting the standards for the industry. Decks Unique is skilled in designing and constructing tailor-made decks, porches, gazebos, pergolas, wood awnings, and other exterior structures that increase the value, attractiveness, and practicality of your Long Island residence.
Deck Building Services with Expertise and Experience in Locust Valley
We at Decks Unique hold the belief that a well-considered deck plan makes for a prudent choice in the realm of home improvement. Decks Unique's highly trained team of deck builders pledges to deliver the highest quality, keep up with effective production timeframes, and guarantee that our warranties possess genuine lasting value. Our devotion to superior standards has led to innumerable content clients and decks they can happily display for the foreseeable future.
All major composite decking products, such as Trex, TimberTech, and Azek, can be installed by our experienced Long Island deck construction teams. Enjoy our complimentary house visits and computer-rendered deck blueprints that let you perceive your deck before it's physically realized. Let us make your backyard our next project!
Upgrade Your Home and Its Value with a Custom-Designed Deck
Not only does an excellent deck boost your Locust Valley home's outdoor living area, but it also raises the overall property value. Decks Unique is specialized in crafting and assembling personalized decks that fulfill the requirements and appeals of our diverse clientele. Be it a snug spot to accommodate get-togethers or an opulent open-air retreat to bask in lovely weather, our crew will work hand-in-hand with you to materialize your aspirations.
We appreciate that every homeowner has distinct preferences and needs for their outdoor environments. We supply a wide scope of materials, styles, and facets to build the superb deck that goes well with your dwelling and lifestyle. Whether you prefer classic wood choices like pressure-treated lumber, cedar, and redwood, or easy-care composite and PVC decking options, we have the perfect solution for every budget and style.
Unparalleled Commitment to Quality and Customer Satisfaction
At Decks Unique, excellent workmanship and gratified clients are what we focus on. Our dedication to the use of high-caliber materials and collaboration with skilled, seasoned builders guarantees each project we undertake is of the finest quality.
The crux of a project's success, in our opinion, is effective communication; as such, we prioritize keeping our clients constantly informed. From the moment our initial consultation begins, through the design and construction phases, and all the way up to the final inspection, our team is tirelessly committed to answering inquiries, tackling concerns, and guaranteeing your happiness with your new deck.
Let Decks Unique enhance your Locust Valley backyard with an outdoor living space you'll be proud of. Get ahold of us today to schedule an obligation-free consultation and explore the Decks Unique benefits.
All-inclusive Decking Solutions in Locust Valley
We take great pride in delivering a diverse range of decking services at Decks Unique, all tailored to meet the expectations of our Locust Valley clientele. At Decks Unique, we excel in everything from creating custom deck designs and constructions to carrying out repairs, maintenance, and refinishing. At Decks Unique, we also supply a variety of distinct features and additional options to augment your outdoor living enjoyment. Allow us to provide you with a more in-depth overview of our services.
Custom Deck Design: Transforming Your Ideal Deck into Reality
Our professional deck designers will work closely with you to create a custom deck that reflects your personal style, complements your home, and meets the unique requirements of your property. To aid you in making well-informed decisions, our authorities will guide you in choosing appropriate materials, promising enduring elegance and sturdiness.
Outstanding Deck Construction: Unparalleled Craftsmanship for a Gorgeous Open-Air Space
Being an esteemed deck builder, we dedicate ourselves to using only first-class materials and ensuring safe, efficient labor. Our accomplished crew members are qualified installers of renowned composite deck materials, such as Trex, TimberTech, and Azek. By meticulously focusing on details and emphasizing structural quality, we make sure your deck is not only attractive but also withstands time's challenges.
Taking Care of Your Deck: Ensuring Your Investment Stays Protected
Consistent maintenance is key to maintaining the visual appeal and practicality of your deck. We have a dedicated team that offers all-inclusive repair and upkeep services for both wood and composite decks. Providing extensive inspections to identify possible challenges, coupled with expert repairs tackling weather or wear-and-tear damages, we serve as your primary choice for all deck maintenance tasks. Our timely maintenance programs give you the comfort of knowing that your deck will always be in outstanding condition, no matter the season.
Deck Refinishing and Restoration: Rejuvenate Your Exterior Space
With the passage of time, even first-rate decks might show evidence of wear or need refinishing in order to continue looking great. Our skilled team can rejuvenate your deck's appearance with professional cleaning, staining, weatherproofing, and sealing. Moreover, we can implement structural enhancements, guaranteeing your deck's safety and function for the foreseeable future.
Personal Customizations and Upgrades: Enrich Your Deck Leisure
For improving your outdoor living environment, we propose a selection of customized attributes and add-ons intended to supplement your deck. Such choices encompass energy-saving lighting for decks, integrated seating, alfresco kitchens, and fire elements. Incorporating these components into your deck layout, we'll develop a warm and inviting area for you, your family, and friends to relish in Locust Valley.
Decks Unique focuses on offering unparalleled decking assistance to customers and areas close by. Our 20-plus years of experience in the field have earned us a name for professionalism, integrity, and creativity. Whether you are looking to design a new deck or revamp an existing one, our skilled team is here to help. Arrange a no-obligation consultation with us today, and learn how we can help turn your outside area into an amazing, functional hideaway.
Explore the Perfect Deck Material for Your Needs: Wood and Composite Alternatives
Decks Unique's primary focus is to support you in building the perfect exterior paradise at your home. Hence, we put forth a broad selection of decking materials, consisting of wood and composite possibilities. Individual materials offer distinct advantages, making certain that you have the capability to pick the ideal option that aligns with your needs and likes.
Wood Decking Offers Timeless Elegance
With a classic, versatile nature, wood gives an organic warmth and stylish appeal to open-air spaces. Numerous wood decking choices are available, suiting various tastes and budgetary requirements.
Pressure-Treated Wood: Cost-effective and Long-lasting
Because of its budget-friendliness and lasting quality, pressure-treated lumber is popular among numerous homeowners. This type of decking material goes through a particular treatment, helping it resist decay and insect infestations. Thus, pressure-treated decks provide enduring quality with reduced maintenance efforts.
Naturally Resistant Cedar and Redwood: A Grand Luxury
For a more luxurious selection, our offerings include cedar and redwood decking. Inherently impervious to decay and insects, these beautiful and premium woods assure a deck that withstands the elements and ages beautifully. Cedar and redwood decks, showcasing rich coloration and individualistic grain patterns, bring a significant accent to any living space.
Exotic Hardwoods: Stunning and Enduring
For an absolutely unique and luxurious solution, explore the possibility of using exotic hardwoods like Ipe, Tigerwood, or Cumaru. These woods, with their incredible density and toughness, are recognized for their lasting quality and remarkable aesthetics. Exotic hardwood decks, with their vibrant hues and elaborate designs, serve as breathtaking focal points in any outdoor area.
Experience Low-Maintenance Living through Composite and PVC Decking
For those seeking a low-maintenance and eco-friendly alternative, consider composite and PVC decking. These modern materials unite the wood's aesthetic qualities with the hardiness of synthetics, presenting homeowners with an almost maintenance-free outdoor zone.
Composite Decking: Benefits and Advantages
Composite decking, which combines recycled wood fibers and plastic, is a sturdy and green choice. Being able to withstand warping, cracking, and fading, this decking material promises a visually appealing and lasting deck with minimal effort. Cleaning composite decks is a breeze, as they only require periodic washing to maintain a spotless and inviting outdoor space.
Leading Brands in the Field of Composite Materials
It is an honor for Decks Unique to collaborate with the best composite decking brands, including Trex, TimberTech, and Azek. As accredited installers of these extraordinary products, we offer Locust Valley homeowners the finest materials to create beautiful and enduring outdoor areas.
Personalize Your Deck by Choosing Color and Texture Alternatives
One of the major benefits of composite decking is the wide range of customization options. Having a myriad of color and texture options allows you to fashion a one-off outdoor space that connects with your home's design. There is a composite decking option to match your preference for either the appearance of natural wood or a sleeker, more modern aesthetic.
Optimize Your Deck's Design with Railing and Baluster Options
An ideal deck requires the appropriate railing and baluster system to be complete. At Decks Unique, we feature a vast collection of alternatives to match your deck design and ensure your outdoor area remains safe and functional.
Timber Handrail Solutions: Time-honored and Lasting
For a stylish and lasting design, a wood railing system should be considered. The use of a wood railing system can create a harmonious, unified design for both wood and composite decks. To create a visually appealing result, paint or stain your wood railing system so it complements your deck or the exterior of your Locust Valley home.
Metal and Glass Railing Systems: Current and Refined
In case a modern and sleek design appeals to you, take into account utilizing metal or glass railing systems. These stylish options not only contribute a contemporary element, but they also accentuate the view from your deck, making them well-liked among those who live amidst breathtaking landscapes.
Composite Railing Systems: Low-Maintenance and Stylish
Those in search of a stylish yet low-maintenance alternative will find composite railing systems to be an excellent selection. By combining these sturdy and attractive railings with composite decking, you can achieve a harmonious look and establish a stunning outdoor environment with minimal maintenance.
No matter your preferences, Decks Unique is here to help you choose the perfect decking materials for your home. Reach out to our team today to discuss your vision and begin shaping the outdoor area you've always imagined.
Raise the Bar for Your Outdoor Living Space with Our Additional Services in Locust Valley
We believe in transforming your outside living space into a luxurious and functional part of your home at Decks Unique. In addition to our outstanding deck construction services, we also provide a range of supplementary services like wooden awnings, cabanas, gazebos, pergolas, and building porches. Our professional experts in Locust Valley work hand in hand with you to bring your ideas to fruition while ensuring superior quality and lasting durability.
Wood Awnings: Add Fashion and Functionality for Your Outdoor Space
Wood awnings are a perfect way to add both shade and elegance to your outdoor area. Our team of experts at Decks Unique is here to help you decide on the right design and materials, ensuring a stunning and functional wood awning that fits your home's look. These installations not only safeguard you from harsh weather but also contribute to the overall appreciation of your property's value.
Cabanas: Create a Sumptuous Escape in Your Locust Valley Lawn
Cabanas are a fantastic combination of luxury, convenience, and privacy, making them the perfect addition to any outside area. You can count on our team of professionals to design and create a unique cabana that caters to your individual needs and preferences. Be it a warm, inviting spot for rest or a refined space for social engagements, we can build a cabana that becomes your dream outdoor getaway.
Gazebos: A Stunning Complement to Your Garden or Patio Space
A timeless gazebo enhances both gardens and patios, delivering a delightful focus and a sheltered area for outdoor rest. Our adept team works with you to find the ideal appearance, materials, and setting for your gazebo, assuring flawless integration into your current garden or patio. With our high-quality craftsmanship, you'll have a gorgeous gazebo that not only complements but also enhances your outdoor space for years to come.
Pergolas: Create Eye-catching Architectural Features and Functionality for Your Outdoor Living Area
The addition of a pergola can dramatically improve the architectural design and usefulness of your outdoor space. Pergolas offer a balance of shading and natural illumination, which suits them well for use in garden walkways, outdoor patios, or dining areas. Let Decks Unique's knowledgeable professionals plan and build a customized pergola to match your style, and in doing so, increase your home's value.
Constructing a Porch: Improve Your Home's Exterior Attractiveness and Outdoor Living Area
A proficiently designed porch not only increases your home's curb appeal but also presents a comfortable open-air living space for you and your family to take pleasure in. Our seasoned group will join forces with you to execute a customized porch design that suits your home's architecture and meets your purposeful needs. With our attention to detail and commitment to quality, you can rest assured knowing your porch construction project is in good hands.
Contact Decks Unique to revamp your Locust Valley outdoor living area
We at Decks Unique are dedicated to offering exceptional, bespoke outdoor living solutions for our Locust Valley clientele and the neighboring areas. Our team of skilled professionals is here to help you enhance your outdoor space with a wood awning, cabana, gazebo, pergola, or porch. Get in touch with us now to chat about your project and learn how we can convert your outdoor living area into a lavish and practical extension of your residence.
Skillful Deck Design and Consultation Services in Locust Valley
Decks Unique prides itself on presenting custom consultations and deck designs, designed to cater to the distinctive needs of our clientele. Leveraging their 20-year expertise, our accomplished deck designers will closely engage with you to craft a deck that accentuates your home's visual charm and practical aspects. Employing cutting-edge 3D modeling and visualization methods, we'll transform your dream deck into reality, making certain the end product aligns with your aspirations.
Outstanding Decking Materials for Long-lasting Resilience
As Long Island's premier deck builder, Decks Unique is an authorized installer of all major composite deck products, including Trex, TimberTech, and Azek. Moreover, we supply a selection of wood decking possibilities to fit your desires, featuring pressure-treated lumber, cedar, redwood, and specialty hardwoods. The use of only premium materials in our work reflects our commitment to building durable, low-maintenance decks.
Expert Deck Construction Services in Locust Valley
Our gifted deck construction professionals at Decks Unique are devoted to ensuring top-tier quality and effectiveness during the full building process. Leveraging our deep expertise in building codes, norms, and permits, you can entrust us with the full project from beginning to end, yielding an eye-catching and practical outdoor environment.
Preserving and Rejuvenating Your Deck's Aesthetics
Decks Unique understands how vital routine upkeep is in protecting the appeal and infrastructure of your deck. Our seasoned team can conduct inspections and find any damages or potential problems, performing essential repairs to maintain your deck's prime state. We additionally present deck refurbishing and restoration offerings, consisting of cleaning, staining, weatherproofing, and sealing strategies to fortify and boost your deck's visual quality.
Elevate Your Open-air Space with Tailor-made Features and Add-ons
To honestly create a one-of-a-kind backyard sanctuary with your deck, Decks Unique makes available a selection of bespoke aspects and supplements, encompassing deck light systems, incorporated chairs, outdoor culinary spaces, and fire-based amenities. These refinements not only contribute to usefulness, but they also establish a warm and alluring environment for you and your guests' enjoyment.
Wide-Ranging Decking Services and Extra Offerings
Decks Unique, besides being skilled in deck design and construction, is also an expert in crafting other outdoor structures such as wood awnings, cabanas, gazebos, pergolas, and porch construction. These extra structures will considerably enrich your Long Island home's outdoor area, providing the perfect space for both relaxation and entertainment.
Rely on Decks Unique for all of your decking demands in Locust Valley. See how our commitment to excellence, professionalism, and customer satisfaction enhances your outdoor space. Connect with us immediately to schedule a no-cost consultation, and let us turn your backyard into a brilliant creation.
Thrilled to provide service for Locust Valley, Jericho, Hauppauge, Freeport, East Rockaway, Coram, Bellmore, as well as other communities in Long Island.
Offering Long Island Quality Deck Designs and Services: