Check out Decks Unique - Islip's Exceptional Deck Building Professionals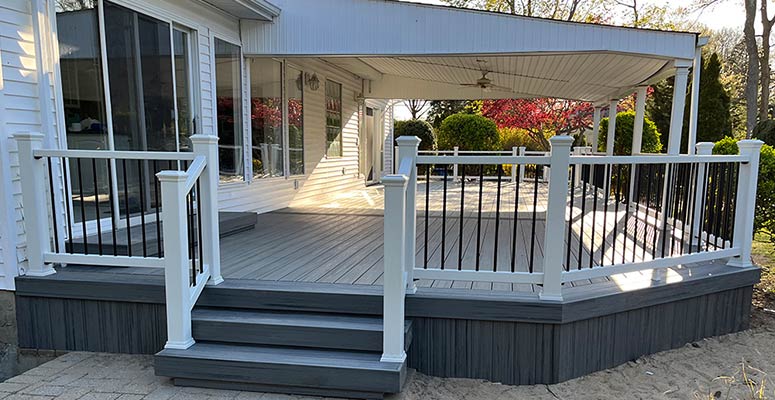 Decks Unique, a family-owned and operated custom deck design and construction business, has catered to the residents of Long Island and nearby areas, like Islip, for more than 20 years. Owing to our zeal for design and unwavering dedication to professionalism, honesty, and innovation, we've become the largest producer of high-end decks on Long Island, establishing industry standards. We specialize in designing and building custom decks, porches, gazebos, pergolas, wood awnings, and other outdoor structures that add value, beauty, and functionality to your Long Island home.
Deck Building Services with Expertise and Experience in Islip
At Decks Unique, our conviction is that a carefully planned deck design serves as a smart investment for home enhancements. The Decks Unique team of master deck builders is resolute in offering optimum quality, sticking to smooth production schedules, and safeguarding the lasting merit of our warranties. Our unwavering dedication to outstanding results has produced countless satisfied clients and striking decks they can be proud of for years.
Our Long Island decking crews are accredited to fit all primary composite deck options, such as Trex, TimberTech, and Azek. We present free home evaluations and computerized decking layouts to enable you to picture your project before it becomes reality. Permit us to create an amazing transformation in your backyard for our next project!
Increase the Value of Your Home with a Custom-Built Deck
With a high-quality deck, your Islip house can see its outdoor living area improved and its property value significantly raised. We, at Decks Unique, focus on the development and creation of bespoke decks that address the specific requirements and tastes of each client. Regardless of whether you want an inviting space to entertain loved ones or a haven to appreciate the delightful weather, we will work in harmony with you to actualize your vision.
In regards to outdoor areas, we understand that each homeowner has unique tastes and requirements. We supply a wide scope of materials, styles, and facets to build the superb deck that goes well with your dwelling and lifestyle. From traditional wood options like pressure-treated lumber, cedar, and redwood to low-maintenance composite and PVC decking, we have the right solution for every budget and preference.
Unequaled Focus on Superior Standards and Customer Gratification
Decks Unique's commitment to first-class workmanship and customer happiness is unwavering. By using only the best materials and partnering with skilled, knowledgeable builders, we can assure that every project we undertake meets the highest quality standards.
We're firm believers that strong communication is a major factor in a project's success, and we go above and beyond to maintain clear lines of communication with our clients. From the initial consultation and design process through construction and final inspection, our team is always available to answer questions, address concerns, and ensure that you are completely satisfied with your new deck.
Allow Decks Unique to create a beautiful outdoor living area in your Islip backyard. Connect with us today to book a free consultation and find out what sets Decks Unique apart.
Complete Deck Building Services in Islip
Decks Unique specializes in providing a wide assortment of decking services, designed to suit the preferences of our Islip customers. We specialize in a variety of custom deck services, including designing and building decks, as well as providing repairs, maintenance and refinishing. In addition to our core offerings, Decks Unique provides a variety of exceptional enhancements and additions to upgrade your outdoor living. Take a closer look at the comprehensive list of services we have to offer.
Custom Deck Design: Developing Your Picture-Perfect Dream Deck
Our expert deck designers will work hand-in-hand with you to produce a tailored deck that mirrors your personal flair, complements your residence, and addresses the exclusive demands of your property. To empower you to make well-versed decisions, our seasoned consultants will lead you through the material-picking phase, promising sustained grace and durability for your deck.
Outstanding Deck Construction: Unparalleled Craftsmanship for a Gorgeous Open-Air Space
As the preeminent deck builder, our commitment is to use solely premium materials and execute safe, effective workmanship. Our seasoned teams are approved installers of leading composite decking materials, including Trex, TimberTech, and Azek. By closely examining details and focusing on structural durability, we assure that your deck will not only look beautiful but also remain strong over time.
Deck Repair & Maintenance: Safeguarding Your Investment
To preserve the beauty and functionality of your deck, regular maintenance is crucial. Our devoted team supplies a wide range of repair and maintenance services for wood and composite decks alike. From meticulous inspections that reveal potential problems, to adept repairs for any damages stemming from weather or wear patterns, we are the comprehensive source for all your deck upkeep needs. Equipped with our scheduled maintenance programs, you can rest easy knowing that your deck will be kept in pristine condition all year long.
Deck Restoration and Refinishing: Reimagine Your Outdoor Sphere
As the years go by, even the highest-grade decks can demonstrate signs of wear or ask for refinishing to retain their attractiveness. Our knowledgeable team can recuperate your deck's attractiveness by utilizing expert cleaning, staining, weatherproofing, and sealing techniques. Notably, we can apply structural ameliorations, securing your deck's safety and utility for the future.
Made-to-order Qualities and Accessories: Strengthen Your Deck Recreation
To upgrade your outdoor living space, we present a variety of custom-made elements and additional options meant to enrich your deck. Such choices encompass energy-saving lighting for decks, integrated seating, alfresco kitchens, and fire elements. Incorporating these components into your deck layout, we'll develop a warm and inviting area for you, your family, and friends to relish in Islip.
Decks Unique excels in furnishing clients and the surrounding communities with superior-quality decking services. Our distinguished reputation has been built on 20 years of professionalism, integrity, and novel thinking. Whether you are looking to design a new deck or revamp an existing one, our skilled team is here to help. Get in touch with us today to arrange a complimentary consultation and uncover how we can convert your exterior space into an attractive, useful oasis.
Compare Wood and Composite Options to Discover Your Perfect Deck Material
We, at Decks Unique, are devoted to aiding you in crafting the ultimate outdoor haven for your abode. Hence, we put forth a broad selection of decking materials, consisting of wood and composite possibilities. Each material has its unique advantages, ensuring that you can choose the best option for your specific needs and preferences.
Wooden Decks Showcase Timeless Sophistication
Wood's timeless versatility makes it an ideal material for adding warmth and charm to outdoor environments. We present a wide assortment of wood deck options, ensuring compatibility with any style and budget.
Treated Timber: Low-cost and Sturdy
Affordability and durability make pressure-treated lumber a favorite choice for numerous homeowners. This decking material undergoes a special treatment process, protecting it against rot and insect infestation. Pressure-treated decks, as a consequence, stand the test of time and demand little maintenance.
Elegance and Resilience: Cedar and Redwood's Natural Qualities
For a more luxurious selection, our offerings include cedar and redwood decking. These gorgeous and top-tier woods boast natural resistance to rot and insect infestations, offering a lasting deck that matures gracefully. The bold shades and unmatched grain structures of cedar and redwood decks contribute a breathtaking element to any abode.
Exotic Hardwoods: Gorgeous and Long-lasting
To find an extraordinary and outstanding option, contemplate using exotic hardwoods like Ipe, Tigerwood, or Cumaru. These woods, with their incredible density and toughness, are recognized for their lasting quality and remarkable aesthetics. With their striking colors and intricate patterns, exotic hardwood decks are a show-stopping centerpiece for any outdoor space.
Composite and PVC Decking: Your Path to Low-Maintenance Living
Those looking for a low-maintenance and green choice should think about composite and PVC decking. These state-of-the-art materials join the attractiveness of wood with the resilience of synthetics, supplying homeowners with an outdoor space that requires minimal maintenance.
Why Choose Composite Decking: Benefits and Advantages
Composite decking, which combines recycled wood fibers and plastic, is a sturdy and green choice. This decking option can withstand warping, cracking, and fading, leading to a beautiful and resilient deck that requires little care. Moreover, the ease of cleaning composite decks is an added advantage, making it a straightforward task to preserve the neat appearance of your outdoor space with periodic washes.
The Best Brands in the World of Composite Materials
Decks Unique is pleased to join forces with leading composite decking brands, such as Trex, TimberTech, and Azek. Being licensed installers of these impressive products, we can equip Islip homeowners with the finest materials to ensure an exquisite and durable outdoor setting.
Personalize Your Deck by Choosing Color and Texture Alternatives
One of the major benefits of composite decking is the wide range of customization options. Various color and texture options enable you to establish an exceptional outdoor environment that fits your home's aesthetics. Whether your liking leans towards natural wood or a more sophisticated design, composite decking has something for you.
Optimize Your Deck's Design with Railing and Baluster Options
The perfect deck is incomplete without the proper railing and baluster system. Decks Unique presents a broad array of possibilities to enrich your deck's design and guarantee the safety and efficiency of your outdoor space.
Wooden Balustrade Systems: Classic and Eternal
For a stylish and lasting design, a wood railing system should be considered. For a look that complements both wood and composite decking, a wood railing system is an excellent choice, delivering a congruous and refined design. By painting or staining a wood railing system, you can create a perfect match for your deck or your Islip home's exterior, delivering an impressive outcome.
Metal and Glass Railing Systems: Stylish and Streamlined
Opt for metal or glass railing systems if you're inclined towards a sophisticated and current aesthetic. Providing a fresh, up-to-date feel, these options can also boost the visuals enjoyed from your deck, appealing to homeowners who are surrounded by idyllic landscapes.
Composite Railing Systems: Low-Maintenance and Stylish
For a low-maintenance, stylish, and elegant solution, composite railing systems are the perfect fit. By combining these sturdy and attractive railings with composite decking, you can achieve a harmonious look and establish a stunning outdoor environment with minimal maintenance.
No matter your design preferences, Decks Unique is on hand to provide guidance in choosing the best decking materials for your home. Reach out to us today to discuss your goals and commence the design of your ideal outdoor space.
Elevate Your Outdoor Living Experience with Our Supplementary Services in Islip
We believe in transforming your outside living space into a luxurious and functional part of your home at Decks Unique. We don't just provide exemplary deck building services; we also have a variety of extra services like wood awnings, cabanas, gazebos, pergolas, and porch construction. Our professional experts in Islip work hand in hand with you to bring your ideas to fruition while ensuring superior quality and lasting durability.
Wooden Awnings: Add a Touch of Style and Shade to Your Outdoor Space
The addition of wood awnings provides both shade and a touch of elegance to your exterior living area. At Decks Unique, our experienced staff will assist you in the process of choosing the right design and materials to craft an elegant and functional wood awning that harmonizes with your home's aesthetic. These structures not only protect you from harsh weather conditions but also enhance the overall value of your property.
Cabanas: Construct a High-end Refuge in Your Islip Yard
Cabanas are unparalleled in providing luxury, comfort, and privacy, making them a top choice for inclusion in any exterior space. Our adept team will cooperate with you in the design and construction of a one-of-a-kind cabana that addresses your particular needs and desires. No matter if you're seeking a snug haven for relaxation or a stylish area for hosting gatherings, we can design a cabana that is the ideal outdoor escape.
Gazebos: A Captivating Addition to Your Garden or Patio Environment
A gazebo brings lasting appeal to gardens or patios, creating an inviting central attraction and a shaded space for outdoor downtime. With our skilled team's guidance, you'll select the right style, materials, and site for your gazebo, ensuring harmonious integration with your existing surroundings. Relying on our precision craftsmanship, we present a magnificent gazebo that adds to the charm of your outdoor environment for the long run.
Pergolas: Bring Architectural Charm and Functionality to Your Outdoor Domain
Integrating a pergola into your outdoor living area is an outstanding approach for increasing architectural attractiveness and functionality. The design of these structures allows for a combination of shade and sunlight, which makes them perfect for garden trails, patio spaces, and open-air eating areas. Decks Unique's team of seasoned professionals will custom-design and craft a pergola to suit your preferences, contributing to your home's value.
Creating a Porch: Upgrade Your Home's Curb Appeal and Outdoor Living Areas
An artfully designed porch not only advances your home's curb appeal but also serves up a comfy outdoor living spot for you and your family to cherish. Our efficient group will work jointly with you to conceive a made-to-order porch that corresponds with your home's architecture and satisfies your conducive needs. With our attention to detail and commitment to quality, you can rest assured knowing your porch construction project is in good hands.
Get ahold of Decks Unique for upgrading your Islip outdoor living space
We pride ourselves on bringing top-quality, tailored outdoor living solutions to our customers in Islip and the neighboring regions at Decks Unique. Should you desire to add a wood awning, cabana, gazebo, pergola, or porch to your outdoor living environment, our adept team is here for support. Reach out to us today for a discussion about your project, and let us demonstrate how we can reshape your outdoor living area into a high-end and functional home extension.
Specialist Deck Consultation and Design Services in Islip
At Decks Unique, we pride ourselves on offering personalized consultation and custom deck designs to fit the individual needs of our clients. Our highly skilled deck designers, with over two decades of experience, will work intimately with you to build a deck that enhances your home's visual allure and features. Utilizing innovative 3D modeling and visualization approaches, we'll make your dream deck a reality, confirming that the finished result meets your standards.
High-grade Decking Elements for Sustained Durability
Decks Unique, the top Long Island-based deck builder, is an approved installer for all major composite decking brands, including Trex, TimberTech, and Azek. Moreover, we supply a selection of wood decking possibilities to fit your desires, featuring pressure-treated lumber, cedar, redwood, and specialty hardwoods. We guarantee that, by using only the best materials, your new deck will be durable and require minimal upkeep.
Premier Deck Construction Services in Islip
Our skilled deck construction team at Decks Unique is dedicated to providing top-notch craftsmanship and efficiency during the entire building process. With our in-depth grasp of building codes, guidelines, and permits, you can have confidence in us to take care of the entire project, from inception to conclusion, providing you with an impressive and usable outdoor space.
Defend and Resurrect Your Deck's Splendor
The team at Decks Unique knows that consistent care is essential for maintaining the appearance and structural soundness of your deck. Our knowledgeable team can evaluate and detect any damage or potential risks, undertaking necessary repairs to retain your deck in the best possible condition. Besides, we make available deck refinishing and restoration conveniences, like cleaning, staining, defending against harsh weather, and sealing techniques to uphold and heighten your deck's aesthetic value.
Improve Your Outdoor Living Area with Custom-built Additions and Elements
To honestly create a one-of-a-kind backyard sanctuary with your deck, Decks Unique makes available a selection of bespoke aspects and supplements, encompassing deck light systems, incorporated chairs, outdoor culinary spaces, and fire-based amenities. Such improvements not only boost practicality, but they also generate a cozy and welcoming ambiance for you and your visitors to appreciate.
Comprehensive Decking Services and More
Decks Unique is well-versed in both deck design and construction as well as additional outdoor structures like wood awnings, cabanas, gazebos, pergolas, and porch construction. With these extra outdoor installations, your Long Island home's outdoor ambience can be significantly improved, making it the best spot for relaxation and amusement.
Allow Decks Unique to manage all your decking requirements in Islip. Discover the impact our dedication to quality, professionalism, and customer satisfaction has on your outdoor area. Get in touch right away to arrange a free consultation and let us transform your backyard into an impressive work.
Joyfully helping the citizens in Islip, Hauppauge, Freeport, East Rockaway, Deer Park, Bellmore, Westbury, and other Long Island vicinities.
Offering Long Island Quality Deck Designs and Services: