Welcome to Decks Unique - Oyster Bay's Premier Deck Builder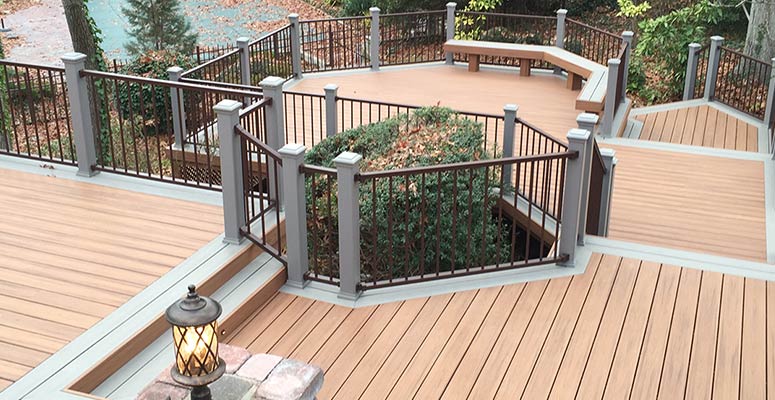 Decks Unique, a family-owned and operated custom deck design and construction business, has catered to the residents of Long Island and nearby areas, like Oyster Bay, for more than 20 years. Decks Unique's dedication to design, professionalism, integrity, and innovation has elevated us to become the leading producer of high-quality decks in Long Island, defining industry standards. Our area of expertise involves creating and building custom decks, verandas, gazebos, pergolas, wooden awnings, and other external structures that add worth, allure, and functionality to your Long Island abode.
Expertise and Experience in Deck Building Services in Oyster Bay
Decks Unique upholds the idea that a thoughtfully devised deck design constitutes a wise investment in home improvement. The Decks Unique team of experienced deck builders is committed to providing top-notch quality, keeping effective production timelines, and ensuring that our warranties offer enduring value. This commitment to excellence has resulted in countless satisfied customers, and decks that they are proud to show off for many years to come.
On Long Island, our skilled deck builders are qualified to set up all leading composite deck materials, like Trex, TimberTech, and Azek. We extend free residential consultations and digitally-crafted deck layouts for you to preview your project before it gets underway. Choose your backyard as the focus of our next enterprise!
Upgrade Your Home and Its Value with a Custom-Designed Deck
The addition of a fantastic deck not only expands your Oyster Bay home's outdoor living space but also amplifies its market value. Decks Unique is specialized in crafting and assembling personalized decks that fulfill the requirements and appeals of our diverse clientele. Whether a comfortable venue for socializing or a plush outdoor getaway to experience the terrific weather, our committed personnel will closely cooperate with you to manifest your ideal vision.
We recognize that every homeowner has unique preferences and needs for their outdoor areas. That is why we offer a wide range of materials, styles, and features to create the perfect deck that complements your home and lifestyle. With options spanning from traditional wood varieties such as pressure-treated lumber, cedar, and redwood, to low-maintenance composite and PVC decking alternatives, we have the perfect solution for every financial plan and preference.
Unequaled Focus on Superior Standards and Customer Gratification
High-quality workmanship and customer satisfaction are at the heart of what we do at Decks Unique. Every project we tackle meets the highest criteria, thanks to our commitment to using first-rate materials and working with proficient, seasoned builders.
To us, seamless communication is the backbone of successful projects, and we work diligently to ensure our clients are always in the know. From the initial consultation and design process through construction and final inspection, our team is always available to answer questions, address concerns, and ensure that you are completely satisfied with your new deck.
Permit Decks Unique to convert your Oyster Bay backyard into a delightful outdoor living space. Reach out to us now to organize a free consultation and understand the Decks Unique difference on your own.
Comprehensive Decking Services in Oyster Bay
Decks Unique specializes in providing a wide assortment of decking services, designed to suit the preferences of our Oyster Bay customers. Our expertise at Decks Unique ranges from crafting custom deck designs and construction to handling repair work, maintenance, and refinishing projects. We further supply a range of special features and add-ons designed to elevate your outdoor living quality. Let's explore further the array of services we provide at Decks Unique.
Custom Deck Design: Making Your Dream Deck Come True
Our masterful deck designers will work in conjunction with you to construct a made-to-order deck that reflects your individual panache, harmonizes with your home, and caters to the distinct prerequisites of your property. By assisting you in making informed choices, our connoisseurs will facilitate your material selection journey, assuring lasting charm and toughness.
Superior Deck Construction: Exceptional Expertise for a Breathtaking Outdoor Area
As the foremost deck builder, we are devoted to employing first-rate materials and maintaining secure, productive workmanship. Our adept teams are sanctioned installers of major composite decking products like Trex, TimberTech, and Azek. By meticulously focusing on details and emphasizing structural quality, we make sure your deck is not only attractive but also withstands time's challenges.
Deck Preservation and Fixing: Sustaining Your Investment's Worth
Regular maintenance is essential to preserving the beauty and functionality of your deck. For wood and composite decks, our diligent team offers complete maintenance and repair solutions. From exhaustive assessments aimed at spotting potential concerns, to professional repair of damages resulting from weather or age, consider us your all-encompassing deck maintenance provider. You'll have peace of mind with the knowledge that your deck will remain in exceptional condition year-round, thanks to our regular maintenance programs.
Deck Resurfacing and Restoration: Refresh Your Outside Area
As time passes, even the most excellent decks could show indications of wear or demand refinishing to sustain their visual allure. Our expert group can recover your deck's beauty with the help of professional cleaning, staining, weatherproofing, and sealing services. Also, we can provide structural modifications, making certain that your deck continues to be safe and practical for many years ahead.
Made-to-order Qualities and Accessories: Strengthen Your Deck Recreation
In order to uplift your outdoor living space, we extend a series of personalized features and additional components aimed at boosting your deck. Such choices encompass energy-saving lighting for decks, integrated seating, alfresco kitchens, and fire elements. By blending these factors into your deck's design, we fashion a hospitable and cozy setting for you to relish alongside your loved ones in Oyster Bay.
Decks Unique focuses on offering unparalleled decking assistance to customers and areas close by. Our 20-plus years of experience in the field have earned us a name for professionalism, integrity, and creativity. If you're interested in designing a new deck or renovating your current one, our experienced team can help. Touch base with us today to organize a free consultation, and let us demonstrate how we can change your outdoor area into a beautiful and practical haven.
Determine the Best Deck Material for Your Space: Wood and Composite Possibilities
Here at Decks Unique, we are passionate about collaborating with you to develop the perfect outdoor hideaway for your house. This is why we have an expansive array of decking materials at our disposal, featuring both wood and composite options. Separate materials exhibit specific strengths so that you can determine the best option corresponding to your particular requirements and desires.
Wood Decking Provides an Ageless Beauty
Wood, with its enduring and adaptable properties, naturally lends warmth and charisma to any exterior area. Our collection of wood deck possibilities is tailored to fit all styles and financial considerations.
Treated Timber: Low-cost and Sturdy
Affordability and durability make pressure-treated lumber a favorite choice for numerous homeowners. A specialized process protects the decking material from both decay and insect-related damage. Pressure-treated decks last a long time and necessitate minimal care due to this treatment.
Redwood and Cedar: Top-Notch Luxury with Intrinsic Durability
If you're interested in a more sophisticated solution, we also have cedar and redwood decking available. The eye-catching and high-grade woods are organically immune to decay and bug damage, ensuring a deck that remains sturdy for years to come. The bold shades and unmatched grain structures of cedar and redwood decks contribute a breathtaking element to any abode.
Exotic Hardwoods: Exquisite and Long-Lasting
In your quest for a truly matchless and opulent option, weigh the idea of choosing exotic hardwoods like Ipe, Tigerwood, or Cumaru. These exceedingly solid and long-lasting woods stand out due to their commendable longevity and stunning appearance. Exotic hardwood decks, featuring their bold colors and detailed patterns, make for an impressive centerpiece in any outdoor setting.
Low-Maintenance Living is Easy with Composite and PVC Decking Solutions
For those seeking a low-maintenance and eco-friendly alternative, consider composite and PVC decking. These modern materials unite the wood's aesthetic qualities with the hardiness of synthetics, presenting homeowners with an almost maintenance-free outdoor zone.
Composite Decking: Exploring Its Benefits and Advantages
Made from recycled wood fibers and plastic, composite decking is a strong and environmentally friendly preference. Warping, cracking, and fading are no match for this decking material, which ensures a beautiful and long-lasting deck with minimal effort required. Cleaning composite decks is hassle-free, as they just need the occasional washing to ensure that the outdoor area stays spotless.
The Foremost Brands in Composite Materials Industry
Decks Unique is delighted to cooperate with the foremost brands in composite decking, including Trex, TimberTech, and Azek. As authorized installers of these exceptional products, we can provide Oyster Bay homeowners with the highest quality materials, ensuring a gorgeous and long-lasting outdoor space.
Enhance Your Deck's Appearance with Different Color and Texture Options
The extensive array of personalization options is a crucial benefit of composite decking. You can design a bespoke outdoor area that matches your home's aesthetic, thanks to various color and texture possibilities. Whether you prefer the look of natural wood or a more contemporary design, there's a composite decking option for you.
Enhance Your Deck with Railing and Baluster Options
The ultimate deck won't be whole without the fitting railing and baluster system. We furnish a multitude of choices at Decks Unique to amplify your deck design and confirm the security and utility of your outdoor setting.
Timber Railing Systems: Conventional and Enduring
Opt for a wood railing system if you desire a timeless and sophisticated feel. For a look that complements both wood and composite decking, a wood railing system is an excellent choice, delivering a congruous and refined design. Wood railing systems can be painted or stained to match your deck or Oyster Bay home exterior, ensuring a stunning final result.
Metal and Glass Railing Systems: Chic and Smooth
If modern sophistication and sleekness catch your eye, metal or glass railing systems might be just the thing. Such choices add a modern twist and can elevate the vista from your outdoor space, making them an attractive option for homeowners with striking scenery.
Composite Railing Systems: Simple Maintenance and Sophisticated
For those seeking a low-maintenance option that still offers style and elegance, composite railing systems are a perfect choice. Pairing these durable, eye-catching railings with composite decking generates a visually consistent look, transforming the area into a striking outdoor haven that requires little care.
No matter your design preferences, Decks Unique is on hand to provide guidance in choosing the best decking materials for your home. Touch base with us today to present your needs and launch the design of the outdoor sanctuary of your dreams.
Raise the Bar for Your Outdoor Living Space with Our Additional Services in Oyster Bay
We believe in transforming your outside living space into a luxurious and functional part of your home at Decks Unique. Apart from our exceptional deck building services, we also offer a variety of additional services such as wood awnings, cabanas, gazebos, pergolas, and porch construction. In Oyster Bay, our skilled team works closely with you to achieve your outdoor vision, guaranteeing top-quality and durable results.
Wooden Awnings: Infuse Style and Shade into Your Outdoor Space
Adding wood awnings is a superb method to introduce shade and elegance to your outdoor space. Our experienced team at Decks Unique will help you choose the right design and materials to create a beautiful and functional wood awning that complements your home's aesthetic. Such structures offer protection from inclement weather while simultaneously increasing your property's overall value.
Cabanas: Set up a Deluxe Oasis in Your Oyster Bay Backyard
With a remarkable marriage of luxury, ease, and privacy, cabanas make for an outstanding complement to any outdoor space. Our team of experts will work with you to design and build a custom cabana that meets your specific needs and preferences. No matter if you're seeking a snug haven for relaxation or a stylish area for hosting gatherings, we can design a cabana that is the ideal outdoor escape.
Gazebos: A Picturesque Addition for Your Backyard Garden or Patio
A gazebo remains a cherished inclusion in gardens and patios, lending an appealing visual interest and a comfortable shaded zone for outdoor leisure. Our seasoned team supports you in determining the best style, materials, and spot for your gazebo, making sure it fuses effortlessly with your present outdoor space. Our skilled craftsmanship ensures a breathtaking gazebo that will elevate the appeal of your outdoor environment for years in the future.
Pergolas: Combine Architectural Aesthetics and Utility for Your Outdoor Retreat
One effective way to enrich your outdoor living space with architectural appeal and utility is by constructing a pergola. Pergolas inherently deliver a mix of shaded areas and sunlit spaces, ideally suiting them for the likes of garden promenades, terraces, or eateries outdoors. At Decks Unique, our experienced professionals will design and build a custom pergola that matches your style and adds value to your home.
Porches: Enhancing Your Home's Curb Appeal and Expanding Outdoor Living Space
A well-designed porch not only enhances your home's curb appeal but also provides a comfortable outdoor living area for you and your family to enjoy. Our experienced team will team up with you to establish a bespoke porch that matches your home's architecture and caters to your functional necessities. With our rigorous attentiveness to detail and unyielding dedication to exceptional quality, you can rest easy knowing your porch fabrication assignment is in trustworthy hands.
Approach Decks Unique to enhance your Oyster Bay outdoor living area
At Decks Unique, we take pride in providing high-quality, custom outdoor living solutions to our clients in Oyster Bay and the surrounding areas. Should you desire to add a wood awning, cabana, gazebo, pergola, or porch to your outdoor living environment, our adept team is here for support. Contact us today to discuss your project and discover how we can transform your outdoor living space into a luxurious and functional extension of your home.
High-Quality Deck Consultation and Design in Oyster Bay
Delivering personalized consultations and tailor-made deck designs that satisfy every client's specific needs is what sets Decks Unique apart. Drawing from our 20-plus years of experience, our professional deck designers will closely collaborate with you to construct a deck that enriches your home's aesthetics and functions. We'll employ top-tier 3D modeling and visualization strategies to turn your dream deck into a reality, guaranteeing that the resulting product lives up to your anticipations.
Top-Notch Decking Materials to Ensure Longevity
Long Island's elite deck builder, Decks Unique, is a licensed installer for all primary composite decking products, such as Trex, TimberTech, and Azek. We also propose a diverse set of wood decking choices to meet your specific preferences, such as pressure-treated building materials, cedar, redwood, and upscale hardwoods. We guarantee that, by using only the best materials, your new deck will be durable and require minimal upkeep.
Professional Deck Construction Services in Oyster Bay
Our team of skilled deck builders at Decks Unique is focused on providing high-quality craftsmanship and effective execution during the whole construction journey. Due to our profound expertise in building codes, standards, and permits, you can depend on us to oversee the complete project from inception to completion, delivering a striking and functional outdoor area.
Maintaining & Restoring the Beauty of Your Deck
At Decks Unique, we understand the importance of routine maintenance in preserving the beauty and structural integrity of your deck. The experienced professionals at Decks Unique can survey and determine any issues or prospective challenges, offering crucial repairs to uphold your deck's excellent quality. Furthermore, we provide deck restoration and refinishing services, which cover cleaning, staining, weatherproofing, and sealing to safeguard and improve your deck's looks.
Custom Features and Add-ons to Elevate Your Outdoor Space
To genuinely convert your deck into an exceptional exterior retreat, Decks Unique presents a range of custom characteristics and additions, including deck lights, built-in benches, alfresco kitchens, and features involving fire. These upgrades not only increase utility, but they also foster an inviting and comfortable setting for you and those you invite to relish.
Wide-Ranging Decking Services and Extra Offerings
Decks Unique, known for its expertise in deck design and construction, also offers expertise in other outdoor structures, including wood awnings, cabanas, gazebos, pergolas, and porch construction. These additions can greatly improve your Long Island residence's outdoor area, turning it into an ideal spot for unwinding and entertaining guests.
Let Decks Unique take care of all your decking needs in Oyster Bay. Discover the impact our dedication to quality, professionalism, and customer satisfaction has on your outdoor area. Get in touch right away to arrange a free consultation and let us transform your backyard into an impressive work.
Happy to support the communities of Oyster Bay, North Merrick, New Cassel, Medford, Lynbrook, Jericho, Hauppauge, and other areas throughout Long Island.
Offering Long Island Quality Deck Designs and Services: