Uncover Decks Unique - The Leading Deck Construction Solution in Kings Park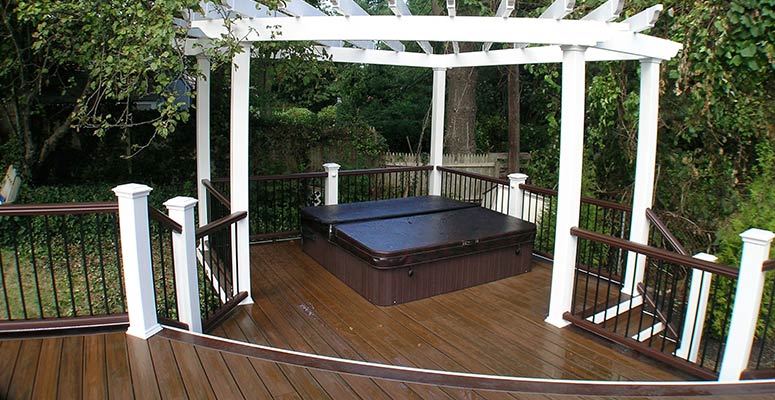 Over the past 20 years, Decks Unique, a family-owned and operated company, has been dedicated to offering custom deck design and construction services in Long Island and the surrounding areas, including Kings Park. We have become the preeminent supplier of high-quality decks on Long Island through our passion for design and dedication to professionalism, honesty, and innovation, shaping the industry standards. We're experts in designing and building custom decks, porches, gazebos, pergolas, timber awnings, and other outdoor features that enhance the value, beauty, and functionality of your home in Long Island.
Specialized and Experienced Deck Building Providers in Kings Park
At Decks Unique, we are convinced that a well-organized deck layout offers a sensible investment in home improvement projects. At Decks Unique, our skilled professionals in deck building are devoted to providing superior quality, working towards efficient scheduling, and making sure that our warranties retain true long-term value. This unwavering dedication to excellence has manifested in numerous delighted customers and impressive decks they can confidently display for years to follow.
Our deck construction crews on Long Island are endorsed to deploy all renowned composite deck products, including Trex, TimberTech, and Azek. We deliver cost-free home assessments and computer-modeled deck schemes for visualizing your project before it takes shape. Make your backyard the site for our subsequent project!
Increase the Value of Your Home with a Custom-Built Deck
With a high-quality deck, your Kings Park house can see its outdoor living area improved and its property value significantly raised. Our area of expertise at Decks Unique lies in conceiving and erecting individualized decks that accommodate the unique necessities and preferences of our clients. If you want a casual space for hosting gatherings or an upscale oasis to soak up the beautiful weather, our professionals will diligently work alongside you to realize your vision.
We recognize that every homeowner has unique preferences and needs for their outdoor areas. That's why we make available a large range of materials, designs, and components to fashion the perfect deck that aligns with your house and personal routines. With options spanning from traditional wood varieties such as pressure-treated lumber, cedar, and redwood, to low-maintenance composite and PVC decking alternatives, we have the perfect solution for every financial plan and preference.
Unparalleled Commitment to Quality and Customer Satisfaction
High-quality workmanship and customer satisfaction are at the heart of what we do at Decks Unique. Our devotion to first-class materials and engaging the services of experienced contractors guarantees the superior completion of each project we take on.
We consider open communication to be the cornerstone of a successful project, and we strive to keep our clients well-informed every step of the way. Our team is at your service, from the very beginning with the consultation and design stage, throughout construction, and up until the final inspection, to address any queries or concerns and to make certain you are fully satisfied with your deck.
Trust Decks Unique to morph your Kings Park backyard into an impressive outdoor living space you'll enjoy for years. Reach out to us today to set up a no-cost consultation and feel the Decks Unique distinction yourself.
All-inclusive Decking Solutions in Kings Park
A vast array of personalized decking services are available at Decks Unique, aimed at fulfilling the requirements of our clients in Kings Park. At Decks Unique, we excel in everything from creating custom deck designs and constructions to carrying out repairs, maintenance, and refinishing. Besides our standard services, Decks Unique provides an assortment of unique features and add-ons to elevate your outdoor living experience. Let's delve deeper into the services we have available.
Custom Deck Design: Constructing Your Dream Deck for Your Enjoyment
Our exceptional deck designers will work side-by-side with you to fashion a tailor-made deck that conveys your personal touch, perfectly matches your home, and handles the unique expectations of your property. To empower you to make well-versed decisions, our seasoned consultants will lead you through the material-picking phase, promising sustained grace and durability for your deck.
Outstanding Deck Construction: Unparalleled Craftsmanship for a Gorgeous Open-Air Space
As the foremost deck builder, we are devoted to employing first-rate materials and maintaining secure, productive workmanship. Our competent crews are licensed to install top-tier composite decking materials, such as Trex, TimberTech, and Azek. With extreme care for details and keeping structural sturdiness in mind, we ensure your deck is not only visually stunning but also built to last.
Deck Preservation and Fixing: Sustaining Your Investment's Worth
To preserve the beauty and functionality of your deck, regular maintenance is crucial. Our team of specialists delivers thorough maintenance and repair services for both wooden and composite decks. Whether you need thorough inspections to flag potential issues or expert repairs for weather-worn or damaged decks, we are the ideal partner for all your deck maintenance necessities. Through our pre-scheduled maintenance programs, you can enjoy the certainty that your deck's outstanding condition will be sustained year-round.
Deck Restoration and Refinishing: Reimagine Your Outdoor Sphere
As time elapses, even the most exceptional decks can present signs of wear or need refinishing to maintain their aesthetic. Our experienced team members can renew the visual appeal of your deck via expert cleaning, staining, weatherproofing, and sealing techniques. Further, we can administer structural optimizations, keeping your deck safe and efficient for a considerable duration.
Adapted Facets and Complementary Elements: Optimize Your Deck Satisfaction
In order to uplift your outdoor living space, we extend a series of personalized features and additional components aimed at boosting your deck. These options consist of energy-wise deck lights, fixed seating, kitchens intended for open-air use, and fire configurations. Incorporating these components into your deck layout, we'll develop a warm and inviting area for you, your family, and friends to relish in Kings Park.
Expertise in delivering prime decking services to clients and surrounding locations sets Decks Unique apart. Our 20-plus years of experience in the field have earned us a name for professionalism, integrity, and creativity. Whether designing a novel deck or enhancing a current one, our proficient team is available for assistance. Get in touch with us today to arrange a complimentary consultation and uncover how we can convert your exterior space into an attractive, useful oasis.
Identify the Ideal Deck Material: Wood and Composite Choices
At Decks Unique, our mission is to guide you in designing your dream outdoor refuge for your house. That's the advantage of our extensive choice of decking materials, including both wood composite variants. Each material has its unique advantages, ensuring that you can choose the best option for your specific needs and preferences.
Classic Beauty with Wood Decking
Timber brings a classic, adaptable quality while offering organic coziness and appeal for all outside areas. We present a wide assortment of wood deck options, ensuring compatibility with any style and budget.
Treated Timber: Low-cost and Sturdy
Because of its budget-friendliness and lasting quality, pressure-treated lumber is popular among numerous homeowners. Undergoing a unique treatment process, this decking material is protected against decay and bug infestations. As a result, pressure-treated decks are long-lasting and require minimal maintenance.
Cedar and Redwood: The Epitome of Luxurious and Resistant Materials
For those seeking a more luxurious option, we also offer cedar and redwood decking. These refined and deluxe woods come with natural resistance to decomposition and insect activity, making for a long-lasting deck that stands the test of time. Cedar and redwood decks, adorned with intense colors and characteristic grain appearances, deliver an awe-inspiring aspect to any house.
Exotic Hardwoods: Stunning and Enduring
If you want an exceptional and one-of-a-kind option, look into using exotic hardwoods like Ipe, Tigerwood, or Cumaru for your project. Thanks to their substantial density and ruggedness, these woods are celebrated for their incredible durability and strikingly beautiful appearance. With vivid colors and detailed patterns, exotic hardwood decks provide a striking focal point for outdoor spaces.
Embrace Low-Maintenance Living with the Help of Composite and PVC Decking
For individuals in search of a low-maintenance, environmentally friendly option, composite and PVC decking are worth considering. These innovative materials combine the beauty of wood with the durability of synthetic materials, providing homeowners with a nearly maintenance-free outdoor space.
Understanding the Benefits and Advantages of Composite Decking
Composite decking, featuring a mix of reused wood fibers and plastic, is an enduring and eco-friendly solution. Thanks to its resistance to warping, cracking, and fading, this decking material yields an eye-catching, long-lasting deck that demands minimal maintenance. Cleaning composite decks is hassle-free, as they just need the occasional washing to ensure that the outdoor area stays spotless.
Industry-Leading Brands in Composite Materials
Decks Unique is proud to work with the leading brands in composite decking, including Trex, TimberTech, and Azek. As sanctioned installers of these exceptional products, we're able to provide Kings Park homeowners with top-quality materials for a striking and long-lasting outdoor area.
Upgrade Your Deck with Various Color and Texture Choices
Composite decking comes with the advantage of a plethora of customization options. A range of color and texture selections allows you to craft an outdoor space that complements your home's appearance. There is a composite decking option to match your preference for either the appearance of natural wood or a sleeker, more modern aesthetic.
Revamp Your Deck Using Different Railing and Baluster Combinations
The ideal deck isn't all it can be without the proper railing and baluster system. With Decks Unique, you have access to a variety of options that enhance your deck design while guaranteeing safety and functionality in your outdoor area.
Wooden Barrier Systems: Timeless and Classic
When aiming for a classic and perpetual style, a wood railing system might be the perfect choice. Both wood and composite decks can be perfectly matched by a wood railing system, ensuring a smooth and integrated look. To guarantee a beautiful final product, paint or stain your wood railing system to coordinate with your deck or Kings Park home exterior.
Metal and Glass Railing Systems: Modern and Sleek
Desiring a more current and polished appearance, you might want to look into metal or glass railing systems. Boosting the enjoyment of your deck view, these selections add a 21st-century touch and cater to homeowners who are lucky enough to have gorgeous surroundings.
Composite Railing Systems: Low-Maintenance, Chic Design
For a low-maintenance, stylish, and elegant solution, composite railing systems are the perfect fit. These strong and stylish railings, when matched with composite decking, bring about a cohesive appearance, resulting in a stunning low-maintenance outdoor space.
No matter your design preferences, Decks Unique is on hand to provide guidance in choosing the best decking materials for your home. Reach out to our team today to discuss your vision and begin shaping the outdoor area you've always imagined.
Boost Your Outdoor Living Space with Our Additional Services in Kings Park
Decks Unique strives to change your outdoor living space into a lavish and efficient extension of your home. We don't just provide exemplary deck building services; we also have a variety of extra services like wood awnings, cabanas, gazebos, pergolas, and porch construction. Our adept experts in Kings Park collaborate with you to manifest your vision, while guaranteeing exceptional quality and enduring durability.
Wood Awnings: Enhance Your Outdoor Area with Shade and Style
Wood awnings are a perfect way to add both shade and elegance to your outdoor area. At Decks Unique, our skilled team can assist you in selecting the appropriate design and materials for an attractive and practical wood awning that enhances your home's appearance. Not only do these structures shield you from extreme weather, but they also boost your property's overall worth.
Cabanas: Assemble a Sophisticated Retreat in Your Kings Park Outdoor Space
Blending luxury, relaxation, and privacy perfectly, cabanas are an exceptional choice for upgrading any outdoor area. With the assistance of our expert team, we will design and build for you a customized cabana that aligns with your specific needs and preferences. Looking for a comfortable retreat to relax or a classy space to host events, we can design a cabana that transforms into your perfect outdoor haven.
Gazebos: A Picturesque Addition for Your Backyard Garden or Patio
Incorporating a gazebo in a garden or patio lends perpetual elegance, offering an alluring centerpiece and a cool alcove for outdoor unwinding. The experienced team at Decks Unique will help you identify the perfect style, materials, and positioning for your gazebo, so it blends seamlessly with your existing landscape. Utilizing our exceptional craftsmanship, we provide a beautiful gazebo that bolsters the aesthetic appeal of your outdoor space for years to follow.
Pergolas: Integrate Architectural Style and Functionality into Your Open-air Space
Adding a pergola is a fantastic method for enhancing your outdoor area's architectural appeal and usefulness. Pergolas are adept at creating a sheltered yet sunlit environment, making them ideal for garden strolls, patio hangouts, or dining outdoors. The team of skilled experts at Decks Unique can create and construct a tailor-made pergola that complements your taste and enhances your home's worth.
Porch Building: Upgrade Your Home's Curb Appeal and Outdoor Living Space
A tastefully designed porch not only enriches your home's curb appeal but also bestows a cozy alfresco living area for you and your family to enjoy. Our professional team will collaborate with you to develop a tailor-made porch that harmonizes with your home's architectural style and fulfills your practical requirements. With our attention to detail and commitment to quality, you can rest assured knowing your porch construction project is in good hands.
Get in contact with Decks Unique for your Kings Park outdoor living space renovation
At Decks Unique, we take pride in providing high-quality, custom outdoor living solutions to our clients in Kings Park and the surrounding areas. Our knowledgeable team is eager to assist if you're considering adding a wood awning, cabana, gazebo, pergola, or porch to your outdoor area. Don't hesitate to get in touch with us today to talk about your project and unveil how we can morph your outdoor living space into a sumptuous and functional part of your home.
Kings Park's Expert Deck Design and Consultation
Decks Unique specializes in delivering bespoke consultations and customized deck plans, ensuring that every client's needs are met. Possessing over 20 years of experience, our proficient deck designers will work hand-in-hand with you to create a deck that complements your home's aesthetics and usefulness. Employing cutting-edge 3D modeling and visualization methods, we'll transform your dream deck into reality, making certain the end product aligns with your aspirations.
High-Quality Deck Materials for Lasting Durability
Decks Unique, Long Island's leading deck builder, is accredited to install all major composite deck materials, including popular brands such as Trex, TimberTech, and Azek. Additionally, we provide various wood decking choices tailored to your taste, including pressure-treated wood, cedar, redwood, and unique hardwoods. With a commitment to using only exceptional materials, you can trust that your new deck will be long-lasting and require minimal maintenance.
First-Rate Deck Building Services in Kings Park
Our adept deck construction personnel at Decks Unique are passionate about maintaining top-of-the-line workmanship and efficiency in the entire building process. With our extensive know-how of building codes, statutes, and permits, you can rely on us to steer the whole project from its start to finish, leaving you with a visually striking and practical outdoor living area.
Uphold and Revamp Your Deck's Charm
At Decks Unique, we are conscious of the pivotal role regular maintenance plays in preserving your deck's visual charm and solid framework. Our adept team has the ability to check and recognize any damages or potential troubles, executing required repairs to sustain your deck's top-notch condition. We additionally present deck refurbishing and restoration offerings, consisting of cleaning, staining, weatherproofing, and sealing strategies to fortify and boost your deck's visual quality.
Elevate Your Open-air Space with Tailor-made Features and Add-ons
To honestly create a one-of-a-kind backyard sanctuary with your deck, Decks Unique makes available a selection of bespoke aspects and supplements, encompassing deck light systems, incorporated chairs, outdoor culinary spaces, and fire-based amenities. These upgrades not only increase utility, but they also foster an inviting and comfortable setting for you and those you invite to relish.
Thorough Decking Services and More
Decks Unique, besides being skilled in deck design and construction, is also an expert in crafting other outdoor structures such as wood awnings, cabanas, gazebos, pergolas, and porch construction. These structures can further enhance your Long Island home's outdoor space, making it the perfect area for relaxation and entertainment.
For all your decking desires in Kings Park, choose Decks Unique. Uncover the change our pledge of quality, professionalism, and customer delight brings to your outdoor environment. Get in touch with us now to set up a complimentary consultation and watch us turn your backyard into a beautiful work of art.
Eager to accommodate the residents of Kings Park, Hicksville, Glen Cove, Elwood, East Farmingdale, Bohemia, West Islip, and other Long Island territories.
Offering Long Island Quality Deck Designs and Services: